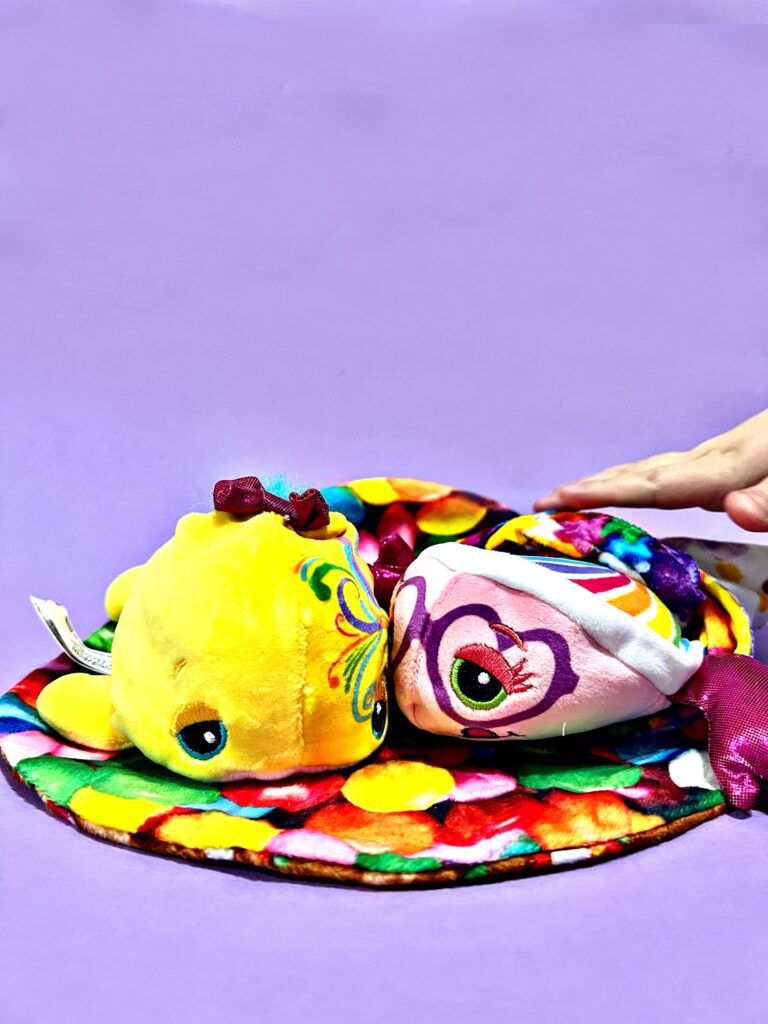 The latest range are here to "get the party started". There are eight different characters to collect in the brand new range from Cutetitos. These cuddly creatures come wrapped up in their own blanket which you have to open and unroll to reveal your character. Partyitos range and there are four different patterns to the wraps too.
Arlo unwrapped two Partyitos and revealed a bright yellow whale almost 20cm in length and then a delightful multicoloured crab too. He loved the aquatic theme! Each character has a little balloon detail embroidered on its side and this let us know how "sweet" they are – "so sweet" "extra sweet" "super sweet" – a handy little chart fell out of each roll for us to check the names of our characters and find out how rare they are. Of course Arlo was lucky to find Pinwheelito – super sweet and rare!
Quality
I love the quality and the attention to detail, with embroidery in contracting colours on each Partyitos plushie giving them individual features. From the balloon detail to patterns and swirls each of these characters are undeniably unique. The clever incorporation of the sweet theme was spotted at once by Arlo who said his crab reminded him of a lollipop. He instantly fell in love.
The opening experience
The charcater selection is entirely random, each is sealed in a pouch which has an easy to tear open seal. They are tightly rolled up in their blankets and tucked in to paper just like a burrito. Arlo was able to manage this independantly and the first thing he noticed was the scent. He said at first that it was like chocolate and couldn't wait to share this experience with me. I've not seen this in any other toys and so this was a novelty and the scent is still just as strong almost a week after opening.
As Arlo opened the blankets he paused to check the patterns – our first wrap looked just like the top of a birthday cake with chocolate frosting and sprinkles. It was covered in rainbow candies on the inside too. The characters are easy to pull out and the reveal is a great colourful surprise. I will add that it was also pretty easy to roll the characters back up, a simple tuck and a velcro tab make this an easy task. Great for role play beyond the opening.
https://www.instagram.com/reel/CbhCwoVlGjP/?utm_medium=copy_link
Collectibles
There are lots of different ranges to collect, from pizza to unicorns and carnivals too. Theres soemthing for everyone and we think they make a lovely gift idea. Not only for the surprise element and collectible nature but also because the plushies make for an excellent toy to keep, play with, cuddle and to treasure. Currently available at Smyths.