We are such huge fans of construction toys in this house so we jumped at the chance to review a new range and as soon as we received a box containing pieces which light upthe kids wanted to dive right in. We were sent two Laser Pegs construction kits – both of which are 'multi models' which means that you can create 4 different build projects with each kit using the same bricks in different combinations. Inside each box is the usual booklet with step by step instructions for one model and then the images on the box show you different forms the kit can take and you can find info on the website to try these out.
I wasn't sure that a light up brick would be anything other than a gimmick, the packaging has a 'try me' button to test the light out but I wondered how this would work within a build and then I quickly realised once we opened the boxes that most of the pieces in the kit are transparent which made complete sense. the instructions themselves were intuitive for Logan to follow immediately with the diagrams being close to scale.
The pieces are split in to different bags inside the box and we like to use party platter type trays (that's a mum hack for you all to try out) – we pour out the pieces and attempt to keep them in some sort of order – especially for longer building projects if we have to leave them over night but as it happens we became so engrossed with these kits that we managed them in one go. The yellow one was built almost entirely independently by Logan aged 9. He had a little issue with the orientation of some pieces at a difficult stage but for the most part this kept him amused for over an hour and Arlo waited patiently the entire time taking on the role of supervising project manager as he wanted the finished digger to play with.
What age are they for?
Arlo loves building too but based on the level of difficulty of the instructions I would say that the age rating is spot on at 8+ – there's hundreds of fiddly pieces in each kit which make for really interesting final builds. We (Logan and I) feel that not only do they make functional vehicles for play but with the lights they make awesome display models for older children too. This is the kind of gift I love for Christmas as it's one the kids can pull out and enjoy over the holidays to stave off boredom or to use as a bonding experience with other adults.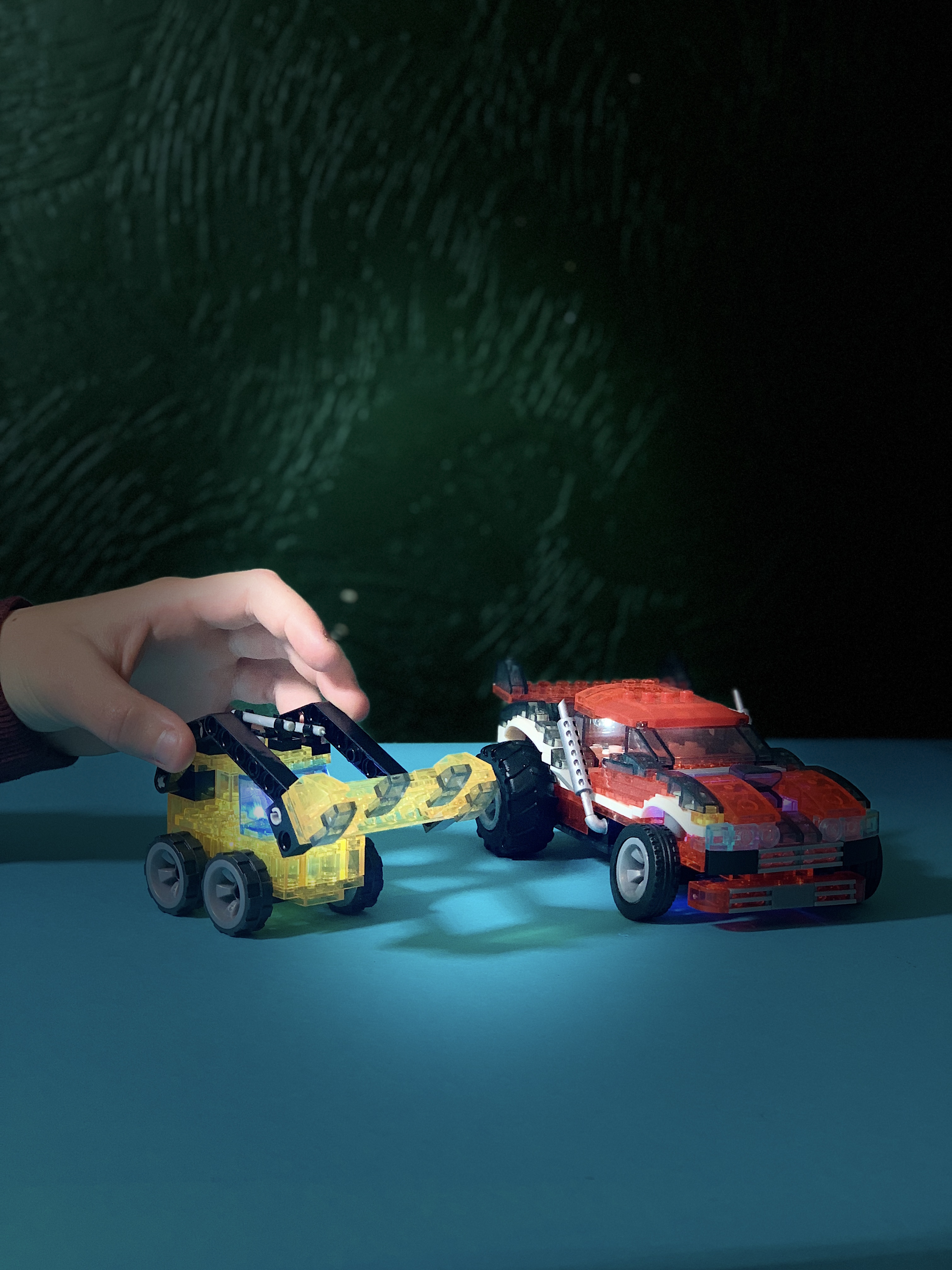 Are laser pegs good?
We did find a couple of pieces to be fiddly during the build, including putting the tyres on to the wheels but it didn't take anything away from the build experience. We love toys like this which deliver excellent play value, the red racer took us slightly longer to build collaboratively as it had more pieces and steps. With clear instructions and an impressive final build We give laser pegs a solid 4 out of 5.
Are laser pegs good value for money?
Overall I'm impressed, I did a quick check and found these models and others in the Laser Pegs range available at a variety of retailers from £15 to £30. Logan has gone away to research the other build steps but he didn't want to dismantle these so I guess they'll be residing on the mantle piece amongst the Christmas decorations for a while.
Are laser pegs compatible with Lego?
In short yes they are. Our kits have now been dismantled and absorbed in to the main loose parts box and they have been incorporated in to all manner of creative builds. Especially the light up bricks which make great robot features. I will say that just like many other generic brands they can be tougher to take apart but nothing the handy Lego tool can't help with.
Summary
Reviewer
Review Date
Reviewed Item
Author Rating




Product Name
Laser Pegs 4 in 1 multi model
Price
Product Availability