Superthings are the ultimate collectible toy for kids so we were excited to get our hands on the brand new Superthings Vehicles. If you haven't heard about the guardians of Kazoom yet then where have you been? Superthings are mini figures that come in a variety of sizes and styles based on normal household items and they have their own popular YouTube series too. So now for something new – the Superthings Vehicles. Each vehicle is designed with their theme in mind which made for a fun unboxing and exploring experience.
Unboxing Superthings Vehicles
The Superthings Vehicles are the latest collectible toy for kids, and they are sure to be a hit with children of all ages. There are two Superthings Vehicles and each one has its own unique features.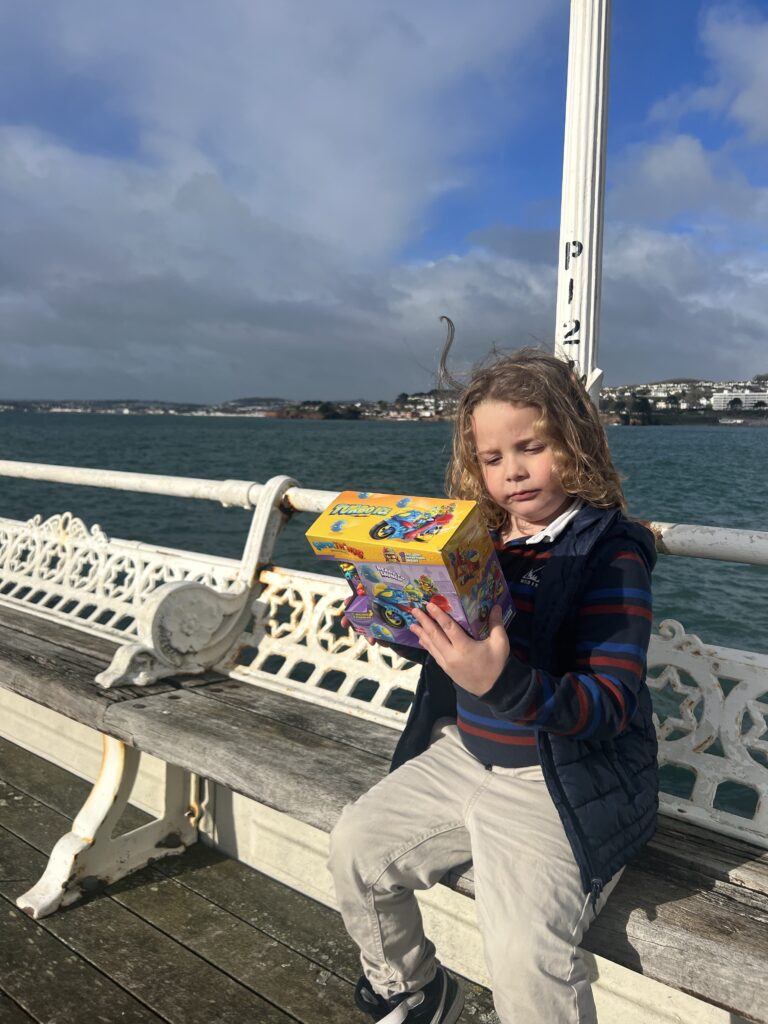 When unboxing a Superthings Vehicle, the first thing you will notice is the vibrant colors and detailed designs. Each vehicle is made with high-quality and materials and features intricate details that showcase the creative genius from the manufacturers, Toymaster.

Superthings Vehicle box contents
Each box includes:
One vehicle
One exclusive kazoom kid
A mystery pack to open which contains three launchers and an exclusive Superthing
The Superthings Vehicles are designed to be durable and long-lasting, so they can be enjoyed for years to come. There is no assembly required, clear pictorial instructions on the side of the box show how to store the missiles and load the launcher although Arlo managed to figure this out for himself within minutes on both vehicles so kids can quickly get to playing with their new toy independently.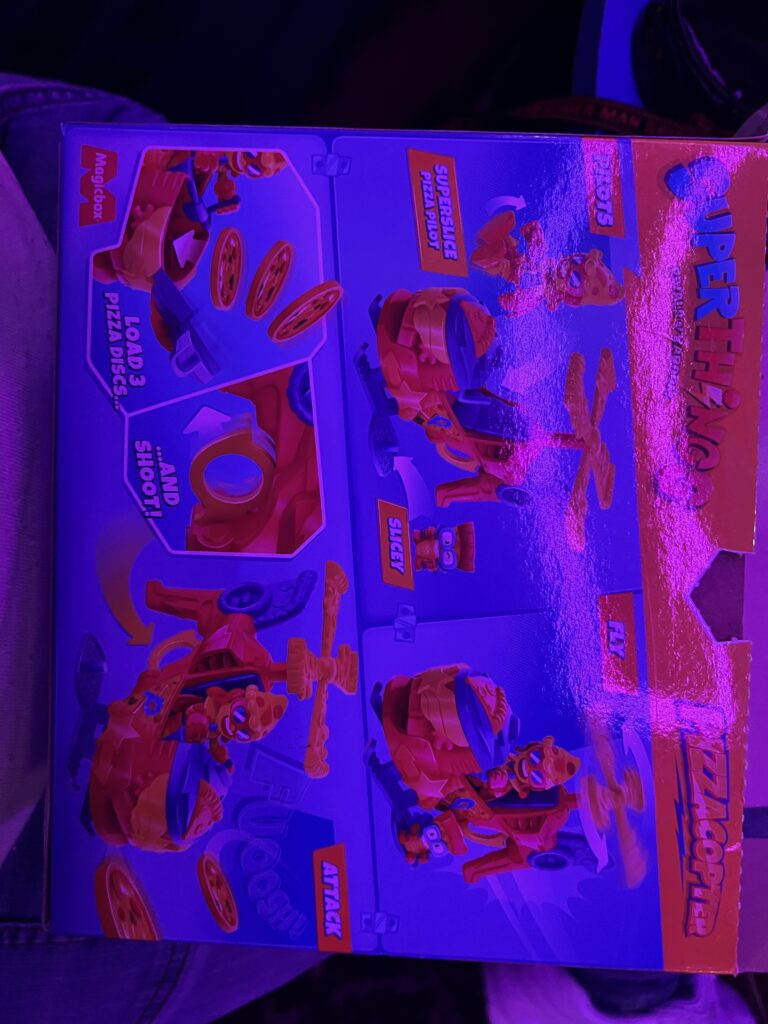 The vehicles are also compatible with other Superthings, as they all have the little holes in the bottom to attach to other items in the range so kids can create their own unique worlds with their favourite collectible characters.
The Superthings Vehicles are a great way to encourage imaginative play and help kids develop their motor skills. Superthings are also a great way to introduce kids to the world of collecting, and these vehicles available at a price point of around £12-14 make for a great treat, reward, gift or something special to save pocket money up for.
Superthings Vehicles: A Comparison of the Different Models
There are two vehicles, the Turbo Ice play set represents the villains whilst the Pizzacopter represents the heroes so you could take both to battle. Each model offers its own unique features and benefits, making it important to compare the different models before making a purchase.
The Turbo Ice play set is based on ice cream, and contains a brightly coloured motorbike vehicle which Arlo was immediately drawn to. Everyone loves a baddie! This vehicle comes with three ice cream scoop shaped balls which are catapaulted from the bike with a really simple to operate mechanism – you simply load a ball on to the scoop on one side and press the red lever to fire.
There are little nodules on the side of the vehicle to attach your ice cream balls to keep them secure and there's also a spot to place your Superthing character and your Kazoom kid sits on the seat to the ride with arculated limbs to get the right position.
You can see little details such as the front of the bike resembles an ice cream waffle texture and the kazoom kids helmet is a perfectly formed soft serve cone with sauce and sprinkles.
The second model is the Superthings Pizzacopter. This model is similar in that it comes with the same number of items in the box: the vehicle, Superthing character and three missiles. However it's very different in that the PizzaCopter has a "blaster" style mechanism and you load your three pizza slice missiles, take aim and fire with a pulley at the back.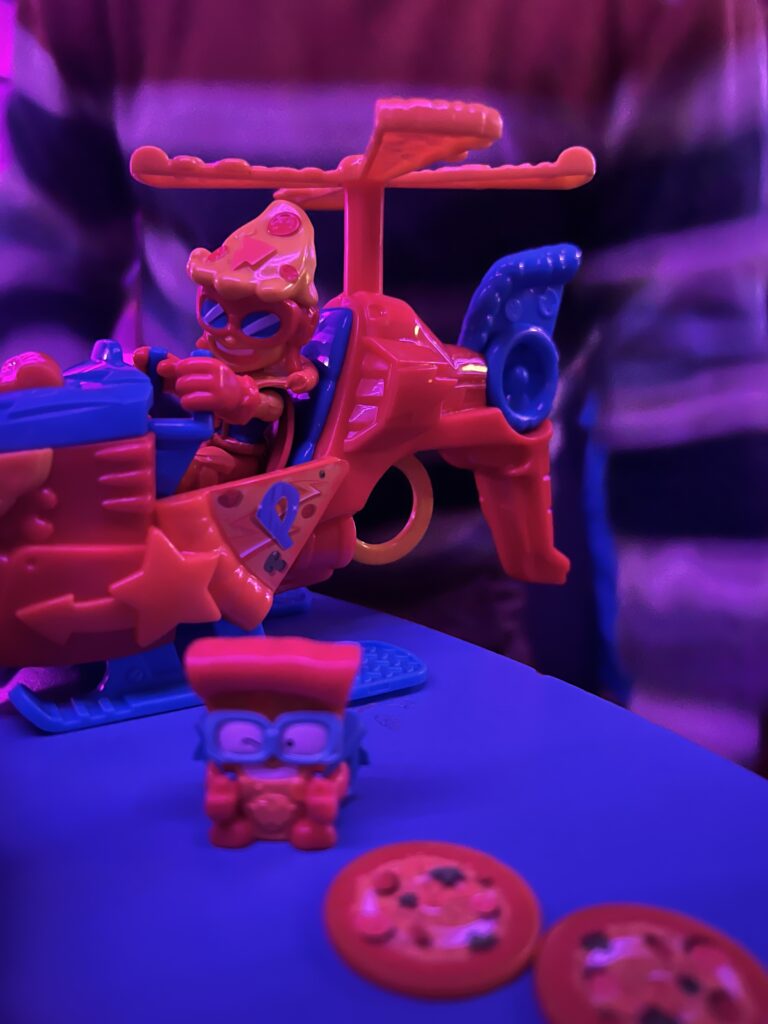 Superthings Vehicles are a great toy to get kids interested in cars and vehicles to explain their play styles, from racing vehicles to comparing vehicle types and engaging in strategic battles. The vehicles are well-made and fairly robust and they come in such bright colours. The vehicles are also affordable, making them a great choice for any budget. For your chance to win a vehicle click the rafflecopter link below:
We have one Vehicle to give away to a lucky winner (the vehicle will be selected at random). This competition is open to U.K. residents only and open for a week – closing on Monday 10th April. For full t&c's head to our about page.
Superthings Vehicle Review