Behind the scenes of the glitzy world of toy reviewing and social media there's an industry worth billions , with manufacturers, designers and marketing agencies working hard all year round to make sure that kids dreams come true on Christmas morning. The Toy fair is the annual trade show where manufacturers showcase their latest new products and retailers decide what they're going to stock on their shelves. This is the first glimpse of the hero toys for the year ahead.
We got the opportunity to visit as the toy fair opened its doors to industry insiders for the first time since 2020 and what a delight – the last year has been tough on the industry with sales affected by global logistics issues and the supply of materials but right now it's full steam ahead for everyone and 260 exhibitor stands were full to bursting with brand new innovative products designed to delight, educate and entertain.
We will be reviewing some new exciting toys in more detail throughout the year and also hosting some giveaways too, but for now I thought I'd give you a sneak peek at a list of brand new toys for 2022 expected to be top of the wish lists all year round which we got to see during our toy fair visit.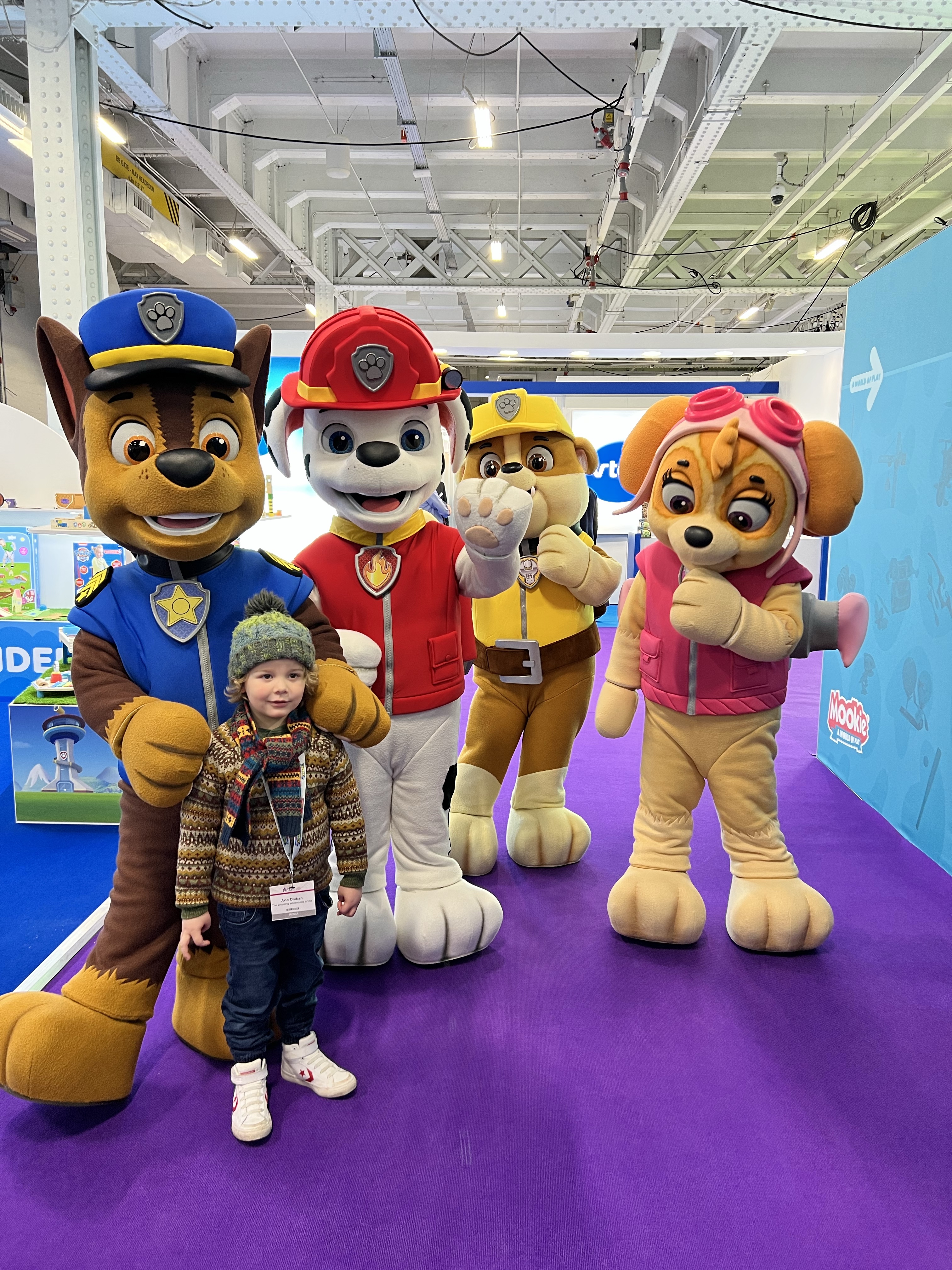 The Toy Fair Hero Toys list consists of 23 products launched at Olympia London on the first day of Toy Fair 2022. The Hero Toy finalists are judged by an independent panel of retailers, and industry experts, to be the most exciting and creative toys unveiled at the event.
All Hero Toys will be released over the next 12 months and cover a wide variety of price points, age ranges and play patterns.
Popular licenses, STEM toys and family play are the key trends making up the 23 must-have toys in 2022 selected by industry experts
Arlo's top ten toy fair finds will follow shortly – he managed to get first access to some prototypes, he takes his toy testing role very seriously.
Medical Science – Release date: 1/1/2022
Explore incredible chemistry and
biology of the human body with laboratory tools,
chemicals, and full-colour step by step instructions
for over 50 activities. Create colour-changing
reactions in a test tube digestive system and see
enzyme reactions in action. Make a blood typing
simulation, disgusting fake snot, and DNA and
protein extractions. Investigate the unique
properties of water that make it essential for life,
make realistic anatomical models, and experiment
with muscles, bones, and sensory perception.
Peaky Blinders RISK – Release date: March 2022 – Toy Fair top pick!
An epic gangster family saga set in
the lawless streets of Birmingham and beyond,
Peaky Blinders tells the story of Tommy Shelby,
a gangster raised in the slums of Small Heath
who returns from the First World War
determined to seek a better future for his
family – whatever the cost.
Stomp Racersâ"¢ – Release date: January 2022
The next generation of STEM-inspired toys from Stomp Rocket® is the
exciting new Stomp Racersâ"¢. They work
indoors and out, are easy to assemble and do
not require any technology, batteries or fuels.
It is the perfect opportunity to take a break
from screens and enjoy hours of play while
learning scientific concepts. Jump on the
pressure pad and the Stomp Racer will whizz
through the air. Hit the ramp at full speed and
lift off the racers to witness sensational jumps
and stunts. Each set includes a Stomp
Launcher, race car and ramp, plus stickers for
customising your car.
SmartMax – Roboflex – Release date: January 2022
Who said robots aren't flexible? Get
creative and make your own colourful, crazy robots.
The new, flexible, extendable magnetic bars add an
extra dimension to the SmartMax collection. Choose
your parts, bend, extend, assemble, and play! Will
your robot fly, jump, grab, wobble, or drive? The
twelve-piece set including inspirational poster helps
develop fine motor skills and stimulates fantasy.
Roboflex works and can be combined with all other
SmartMax sets. Are you ready to meet these flexible
friends? Age 3+
B Kind – Release date Spring/Summer 2022
B-Kind is the eco-conscious doll
collection, promoting positive messages of
kindness and creativity. Made from recycled
materials, the dolls come boxed in
environmentally friendly, reusable packaging; the
box handle ribbon can be used as a bracelet and
families can use the packaging to construct a
Kindness Board to share kindness goals. The
range launches with five characters: Brianna,
Koral, Ivy, Nora, and Daisy (B.K.I.N.D.). The dolls
encourage creativity through DIY play that reflect
their passions for going green, saving the oceans,
ending bullying, and more. Each doll features a
DIY activity, such as making an upcycled outfit for
the doll.
SESAME STREET TALKING COOKIE MONSTER FEATURE PLUSH
Little ones will enjoy cuddling up to and playing with this super-soft Cookie Monster soft toy from Posh Paws' Sesame Street collection. Made with Cookie Monsters iconic googly eyes and bright blue fur, this soft toy is made from the highest quality fabrics and softest stuffing, perfect for little fans to enjoy and cuddle up to.
Build Your Own Pinball Machine -Release date: April 2022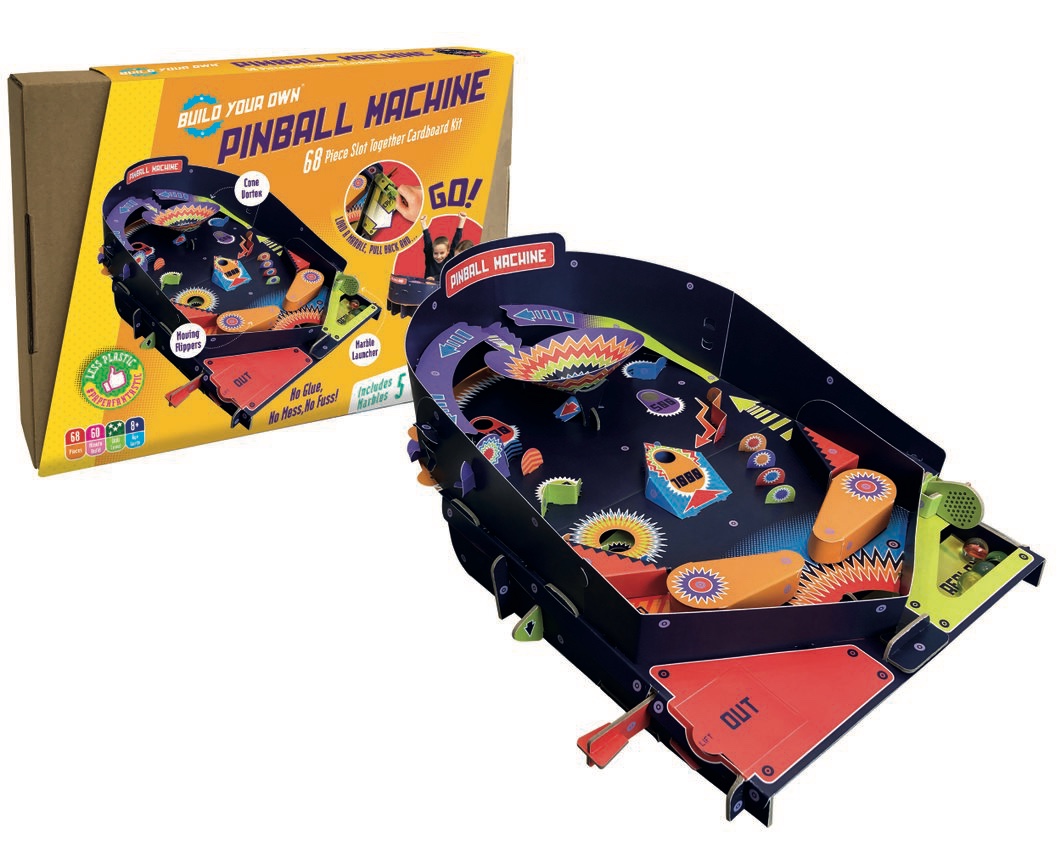 An eco-friendly, STEM-inspired
take on the traditional arcade game, this
tabletop Pinball Machine provides hours of
entertainment. Play alone or challenge your
friends and family, who will win?
Launch your swirly glass marbles using the
quick start spring-loaded button and let the
fun begin. We spoke with the designer at the toy fair and Arlo loved the entire range, including mobile animals all fashioned from cardboard. A show highlight for us. Paper Engine are a brand to look out for!
Spider-man 6v Web Slinger Light-up Quad -Release date: 1st January 2022
Comes with 5 x web discs which shoot from quad
• Working headlight
• Iconic decals and moulded features
• Easy to use foot operated pedal
controls
• Forward and reverse gears
• Chunky deep treat tyres for stability
and grip
• Comfort moulded handlebar grips
• Maximum speed 2.5km/h
• 6v battery and charger included
• Estimated playtime 60 minutes
• Built dimensions 65 x 39.5 x 46.5cm
• Maximum user weight 25kg
CoCoMelon Interactive School Bus Ride-on – Release date: 1st January 2022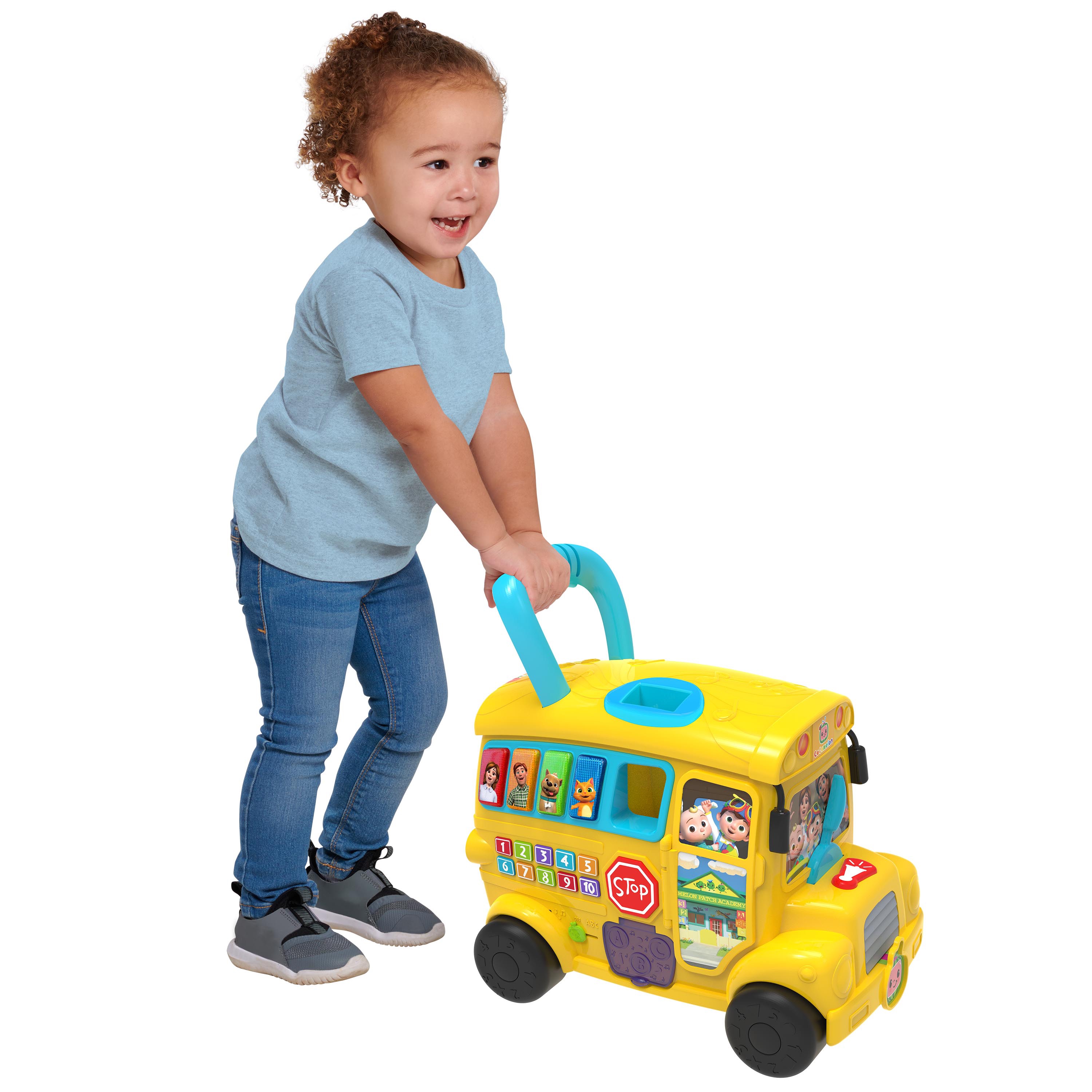 36 interactive buttons to help kids learn the ABC's and 123's
• Features 5 authentic CoCoMelon songs
• Interactive stop sign and horn
• Under seat storage
• Anti-tip feature
• Rear handle for use as a walker
• Built dimensions 54.4×35.4x24cm
• Maximum user weight 25k
Monster Mash – Release date TBC
Troopers on Tour – Available now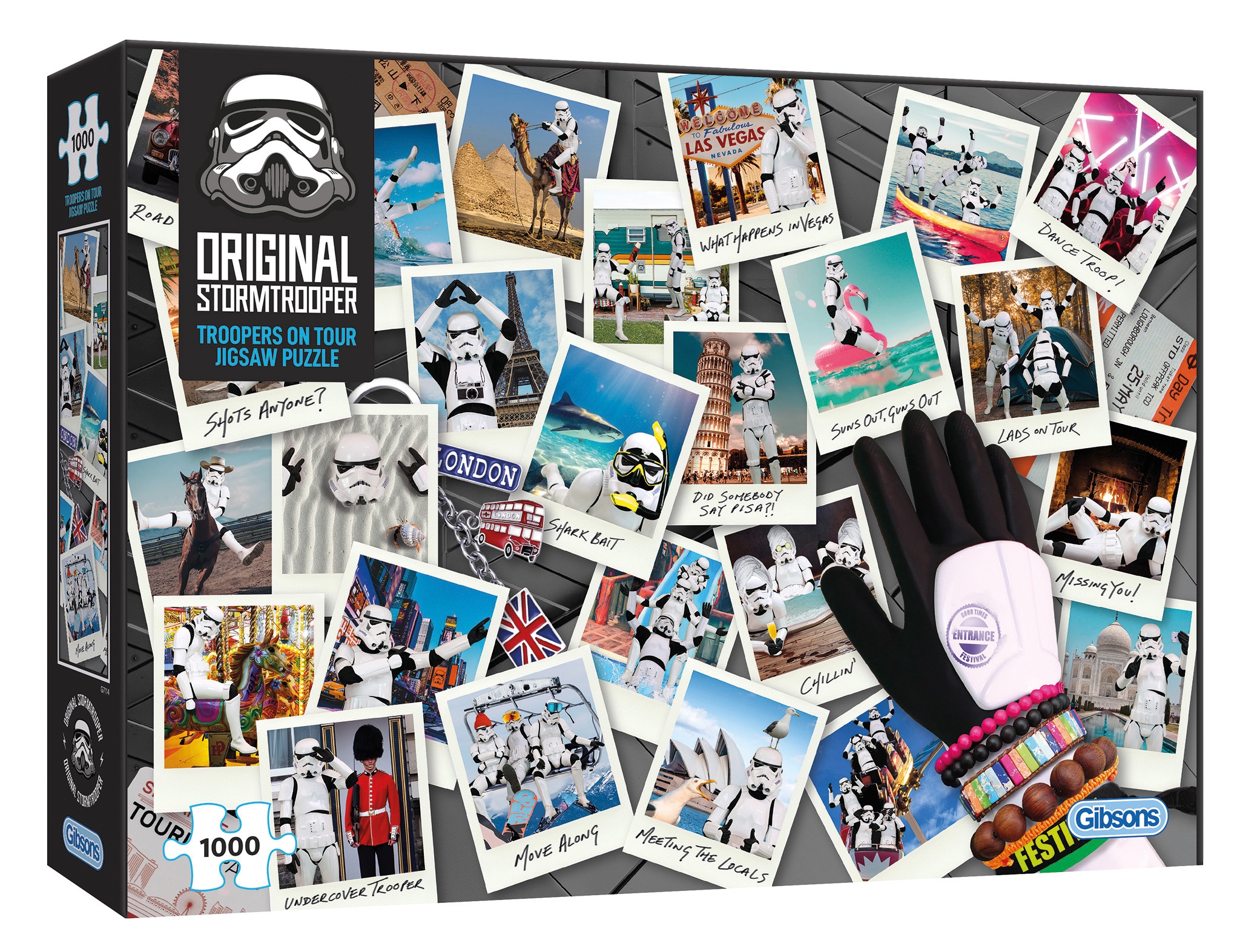 This award winning puzzle celebrates the Stormtroopers when they are off duty. They get up to all sorts of adventures when they go on their travels on planet earth and find themselves in some precarious situations! From a lads camping trip to exploring the sights in Las Vegas, there is never a dull moment when these Stormtroopers are on tour!

This 1000 piece puzzle has been created by the talented artist Kate Collins using the Original Stormtrooper licence.
As with all Gibsons jigsaws, we use 100% recycled puzzle board, FSC paper and work with the best artists from all around the world. The beautifully illustrated pieces are designed to fit perfectly together; in fact, we use the thickest puzzle board on the market. Everyone loves a Gibsons jigsaw, even Her Majesty the Queen has been spotted with one.
Pony's Stylish Hair salon – Release date tbc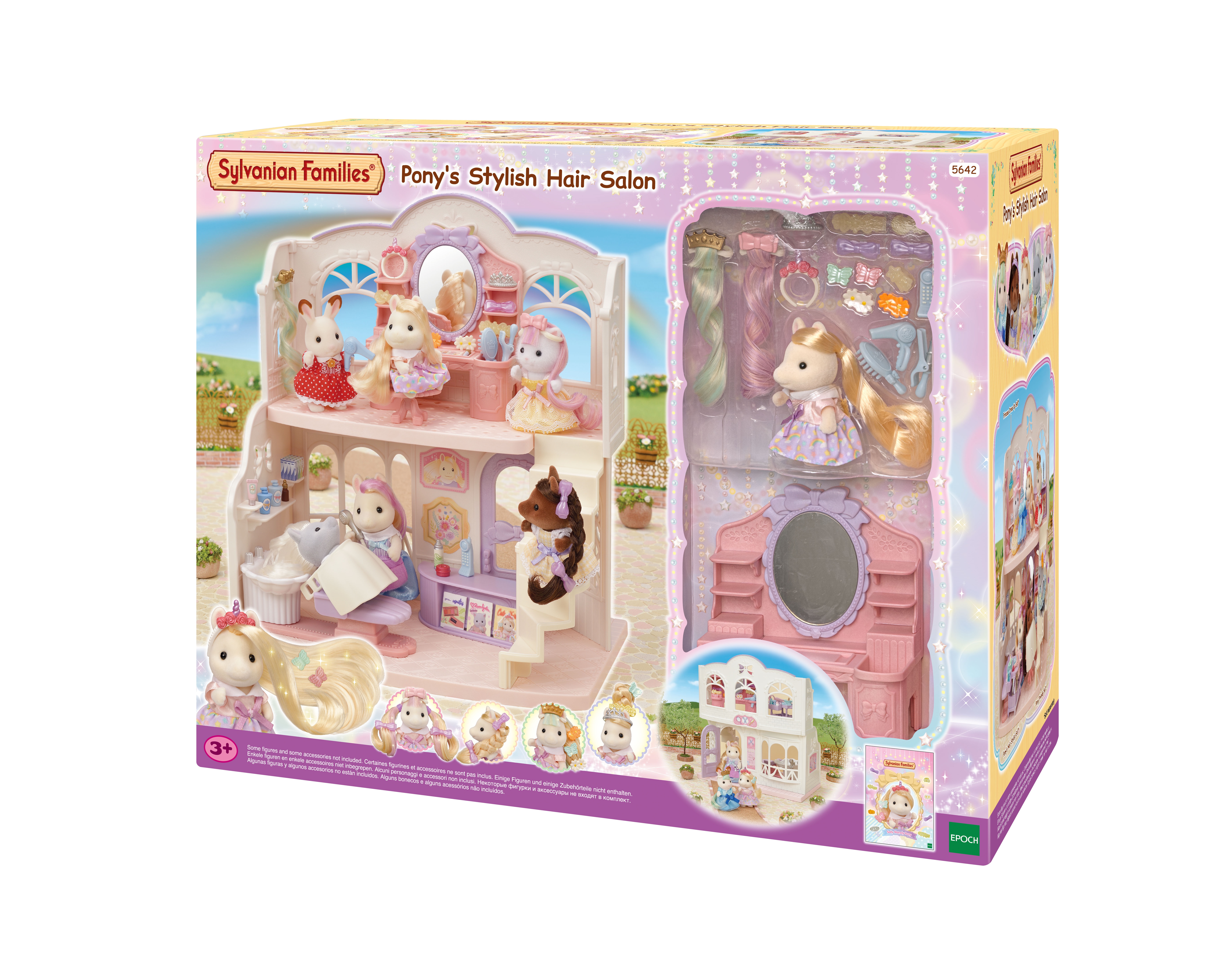 SpyBots T.R.I.P – Release date: AW22
Introducing SpyBots, the hi-tech
security robots that give kids the tech power to
create a space where they're in control! Combining
fantasy play with simple tech, kids can become
secret spies with the help of the SpyBots Cybernetic
Security Robots! T.R.I.P.'s invisible motion sensors
provide 24/7 room security! Power up T.R.I.P. and
he projects his security logo on the wall, warning
trespassers that the area is under the protection of
Spybots! Trip the invisible beam and trigger a
screeching alarm and flashing lights. T.R.I.P. will
even chase down the trespasser! T.R.I.P. is one of
three Spybots Cybernetic Security Robots.
1:10 R/C Gotham CityTM Racer
Tamagotchi 25th Anniversary edition
Bringing back nostalgic vibes with this awesome reboot of one of the best selling toys of the nineties. A toy fair favourite for parents and children.
Unique Eyes Total Look Doll -Release date: March 2022
The Unique Eyes dolls have magical
eyes, which follow the gaze of those observing
them! There are three core characters – Amy,
Sophia and Rebecca – who have a unique way of
looking at the world, with enthusiasm and
sweetness! So, get ready to see the world
through new eyes! Kids will love their soft,
brushable hair, and their realistic, articulated
bodies that will stand alone! They'll also love
their distinctive styles. Each character is available
to purchase individually, styled in one removable
outfit. Alternatively, the characters can be
bought as "Total Look" sets, which come with an
additional outfit option.
Hey Duggee Transforming Space Rocket – release date autumn/winter 2022
3-2-1- Blast off on an outer space
adventure with Duggee and the squirrels. This
amazing 2 in 1 transforming toy sees astronaut
Duggee magically transform into a space rocket
with loads of fun features and surprises. Slide
the hatch and Duggee appears in his spaceman
outfit ready to drive the spaceship. There are
silly space sounds from the show as well as the
new psychedelic 'space song!' Press the button
on the handle and the Squirrels will count you
down to blast off as the jets light up, little ones
will have hours of fun roleplaying flying the
rocket!
ESCAPERUN ALCATRAZ 2034 – release date october 2022 – Toy Fair Top Pick
Getting out is only the beginning!
Work together to escape but try to flee the
island by yourself. You score points by
escaping but more so by completing your
secret mission by battling and fooling
automated adversaries. In a twist to traditional
escape room board games, this makes for a hero toy.
Tom Gates Monster Games Compendium
A fun-packed 3-in-1 Games Compendium is based on the award-winning Tom Gates series and includes three totally amazing games in one box: The Top Challenge Game, Race the Teacher and Snakes and Ladders are all perfect for encouraging learning through play. The Monster Games Board Games Compendium is quick to set up and easy to play and with dynamic eye-catching game board and pieces featuring the humour and doodling fun of Tom Gates, players will be bonkers for more! Created by Illustrator and author Liz Pichon, for children age 6 to 12 years old, the Tom Gates series includes 18 top selling books, with 11 Million sold worldwide and season 1 of The Brilliant World of Tom Gates on Sky Kids. The Tom Gates Monster Board Game Compendium is suitable for age 6 years and over.
Recyclings Collector Cap Pack (CDU) – release date january 2022
Recyclings is the Collectables
range which gives back, with every pack saving
a minimum of seven bottle caps from going to
landfill and the packaging is 100% recycled too.
Start your Recyclings collection with the
Collectable Cap Pack; open up your cap and
discover a super-cute Recyclings figure inspired
by food, drink, tech, seasons and many more!
Expand your Recyclings collection with the 4-
Pack, or be a true Recyclings hero with the
Collector Pack – perfect for showcasing your
Recyclings! Collect them all with over 100+
Recyclings to unbox. Plus, there's Limited
Edition Golden Treasure Chest to find too!
Busy Musical Bee
From v tech featuring two songs and thirty melodies. This one is just as cute in real life as it sounds. A fabulous hero toy.