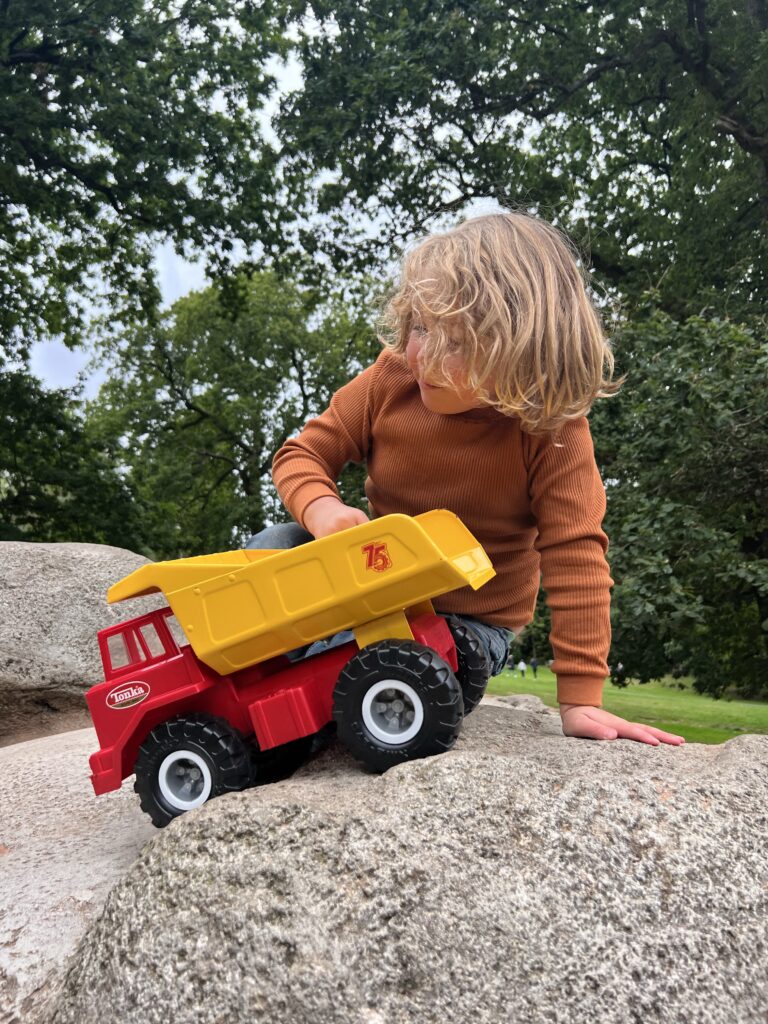 Tonka Mighty Dump Truck
Say the name Tonka and instantly the iconic Tonks Trucks spring to mind. We're celebrating Tonka's 75th Anniversary with the Commemorative 1968 Dump Truck. This Dump Truck features a fire red cab, golden yellow dump, original markings, and a 75th Anniversary badge, so you can dominate your jobsite in style. A favourite for over 70 years, this truck is made Tonka Tough with cold-rolled STEEL, BIG tires that roll over anything, and an ARTICULATED dump bed to load and unload the mightiest of hauls! Move the bed up and down to trigger its unloading action! Constructed Tonka tough with real Steel! This truck is appropriate for kids ages 3 and up. The Tonka Steel Classics Mighty Dump Truck proves why there's only 1 Tonka – everything else is just a toy.
Tonka Classic Steel Trencher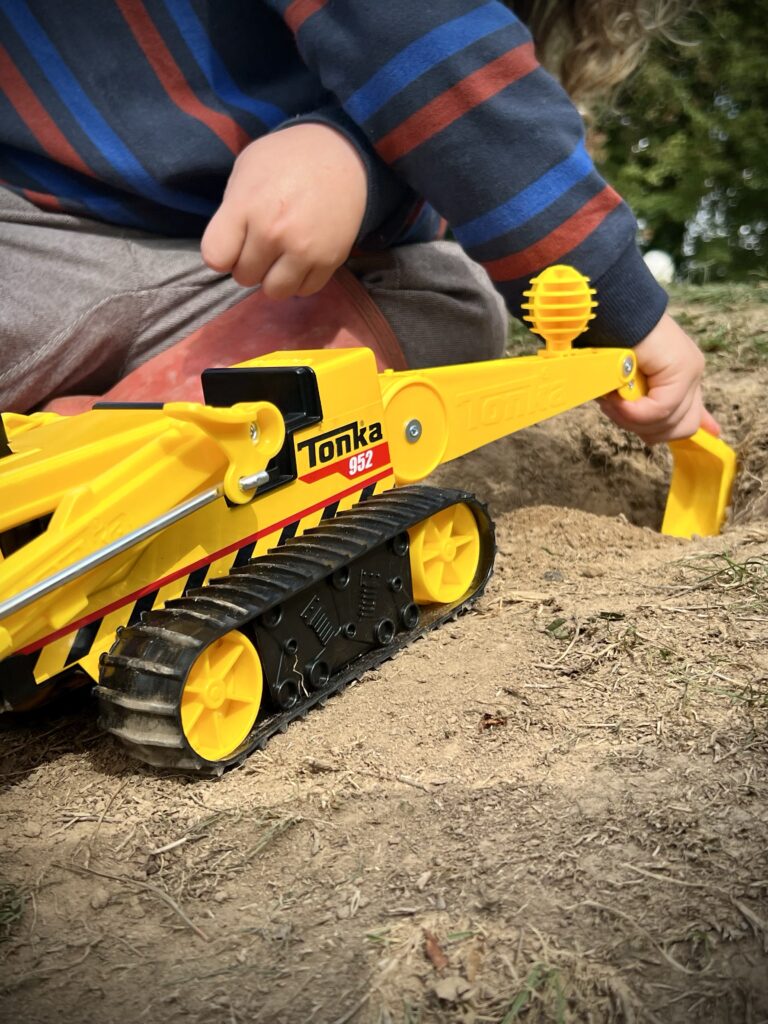 The classic Steel Trencher is built Tonka tough and designed to last – made from cold rolled steel and withstands all of the extensive Arlo tests. With little features such as the articulated back hoe and the moveable knob to dig real trenches this is a toy which makes imaginary play step in to reality.
The front lever works to scoop a load in to the moving bucket – you can dig out a real trench with this and trust that the mechanisms are strong enough to cope with a five year old controlling them and dig out a real trench in no time.
This is a sizeable toy coming in at 27x16x45cm and makes a fabulous addition to any toy collection. The quality is undeniable – Tonka toys really do last a life time and are built for imaginative play with children in mind.
Tonka Monster Metal Movers
I jumped at the opportunity to review two new packs from the Tonka range earlier this year. Tonka are a brand with a huge history originally established in 1946. Well known for their steel toy models of construction toy trucks and machinery. Tonka has been a favourite all over the world for over 70 years, and is built to withstand the toughest of play. Arlo's "schema" is construction and he has many different toy vehicles but we struggle to find ones which are robust enough for his creative play set ups. We often end up with lost wheels and even worse – complete write offs! It's important to me to be able to find toys which really are built to last.
Our Tonka testing package earlier this year arrived just as we were about to head away for a weekend. We had two sets, a dual pack and a single. I noticed straight away that these are bigger in size than others, and whilst I was exploring the box contents, Arlo noticed. I packed them in the car thinking that if we had a rainy day they would be useful in the caravan….Arlo had other ideas.
We woke up at 6am on our first day of the holiday and Arlo immediately wanted to take the Tonka trucks down to the beach. I figured there's no better place to put these toys to the test (and the lighting was beautiful) so off we went.
Metal Mover – construction
We had a Metal mover construction toy in our single pack – the claim is that you can expand your imagination and push objects with the Front Loader's moveable blade. Each truck is made of brightly coloured diecast metal, is 1:64 scale, and 3? tall – double the size of the current metal movers! With the beautiful red cliffs along the beach in Dorset Arlo had a ready made construction zone. At home I like to use our tuff tray or sand pit so it was fun to see him run to the rocks and start to play.
Arlo decided to test this truck out by bouncing it off the cliff walls before I could step in I gasped as he launched a truck off a four foot high drop and to our sheer delight the truck stood up to this first test. I was happy to let this cliff game continue for a while. Arlo sent me along the beach looking for things we could use to make a skate ramp of sorts – I wandered along fetching drift wood. It was a delight just to step back and watch him play and create an imaginary world of his own.
Built to last
The claim is that these trucks are built "Tonka Tough" and made to last. Tonka has been a favourite all over the world for over 70 years, and is built to withstand the toughest of play. This set is great for providing imaginative fun for kids ages 3 and up! I would have to say that our experience means I can support this statement wholeheartedly.
We also received the Emergency fleet dual pack featuring an EMT and a Fire truck. This created more opportunity to expand the imaginary play and we set to work making a city on the beach after testing their ability to bounce after being launched off the cliff too. Our sandcastles were not quite up to par, but we made a great trough and a race track of sorts and Arlo was happy enough with this set up. Until he wanted to make it even bigger and create a second city scape in the sand.
We combined our three trucks for a mammoth effort and continued to play on the beach until we realised we hadn't had any breakfast and needed to find something to eat.
I rinsed the toys off with some fresh water and dried them with a towel. All three toys still looked brand new after this. Unscathed from their morning beach adventures. I popped them in to our backpack and we carried them around the entire holiday, bringing them out to play in the car whilst travelling and also whilst waiting for food in restaurants. I even had to remove them from under a pillow in the evening.
The Tonka Monster Metal Movers are available from Very – the two pack is £12.99 – made from die cast metal and standing 3" high at a 1:64 scale. Recommended for children aged 3+
At BlogOn in July Arlo made a beeline to the Tonka Trucks and got to play with more items from the range. He was fascinated with the Mighty dump truck and all manner of awesome construction vehicles. They really ignite his imagination and with a little bit of added sand kept him occupied for a long time.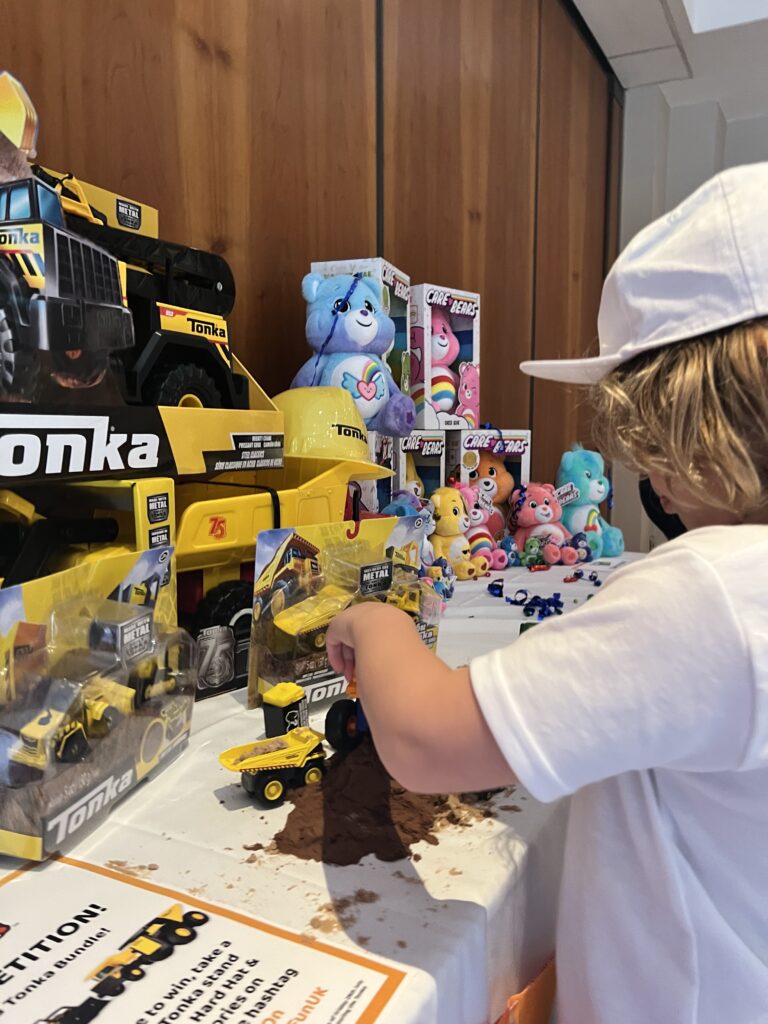 I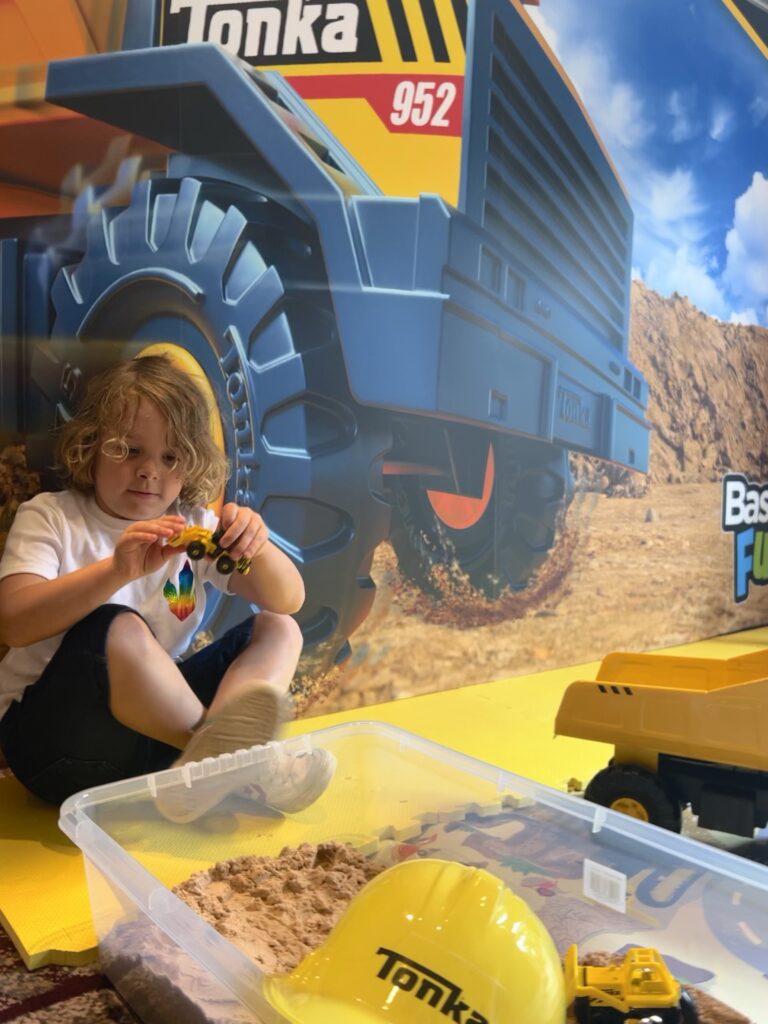 Summary
Reviewer
Review Date
Reviewed Item
Author Rating





Product Name
Price
Product Availability