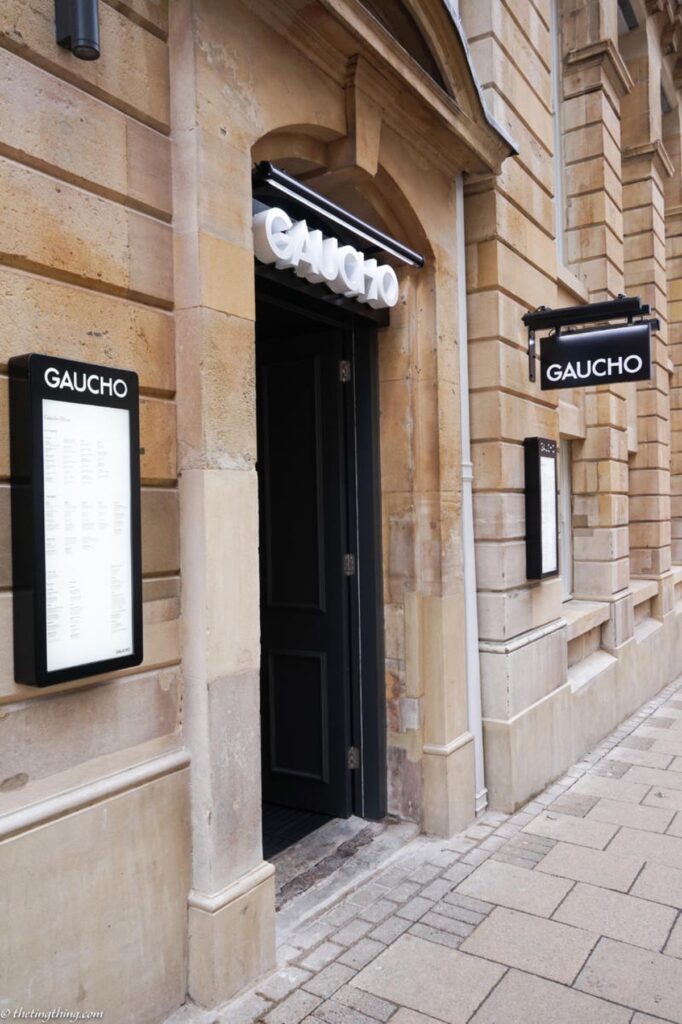 Nestled in Church Street just off Colmore Row which is a thriving hub for foodies of the city. This restaurant is an Argentinian styled steak restaurant and is a real treat to experience so here's my Gauchos Birmingham review.
Gaucho opened its first Argentinian restaurant in London in 1994, taking inspiration from Argentina with a vision of bringing the world's best steak to the UK. The food has a contemporary global influence, based strongly around modern Argentina. Notably the best quality steak in the world, their beef comes from Argentinian, premium Black-Angus cattle bred at hand-selected farms.
I had the opportunity to visit whilst working with BuyaGift and so I took my mother with me to try out a set menu which showcases some of the best that Gauchos has to offer. Pitched at £100 and including three courses and a glass of Prosecco this is a premium price but we both felt that the quality of food and the level of service reflected value here and would be happy to recommend Gauchos for a special occassion.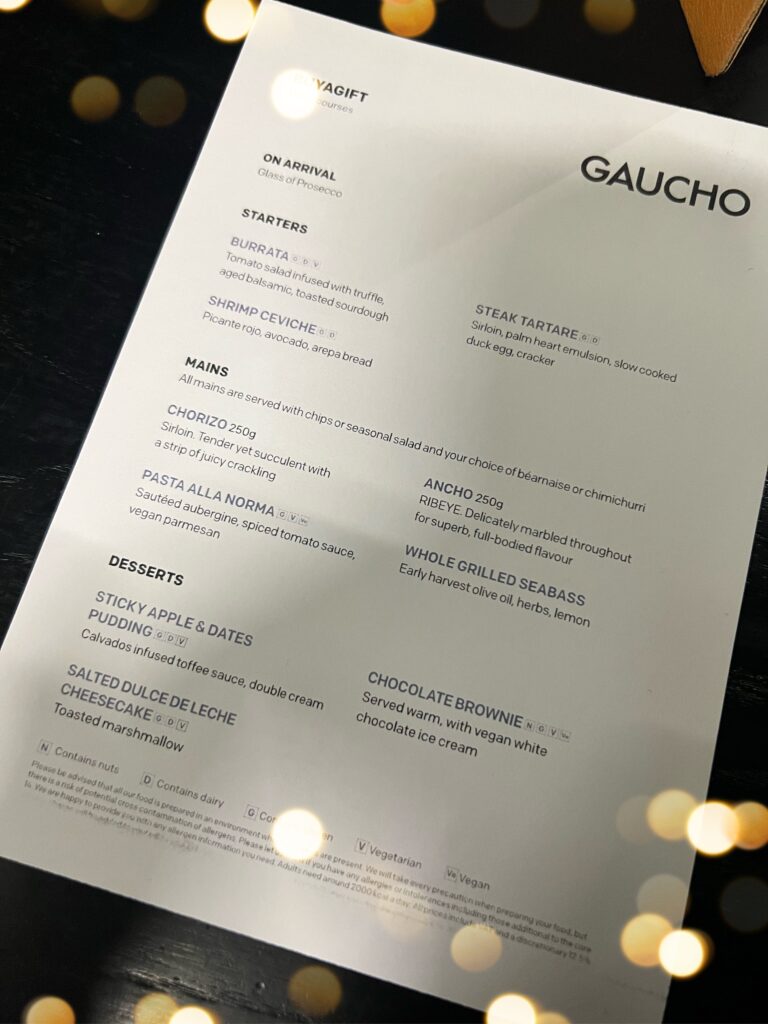 Burrata to start
Both of us opted for the same starter – and we were very impressed. Neither of us has experienced burrata before which is a special kind of cheese. It was deliciously creamy and sweet rather than savoury which I really enjoyed. On a sourdough bread with a delicious tomato chutney, fresh balsamic infused tomatoes and with a lovely sweet dressing I savoured every mouthful. One of the team members was more than happy to explain to us more about this ingredient and I've been Googling where I can source this and have begun planning a festive sharing board inspired by this dish already.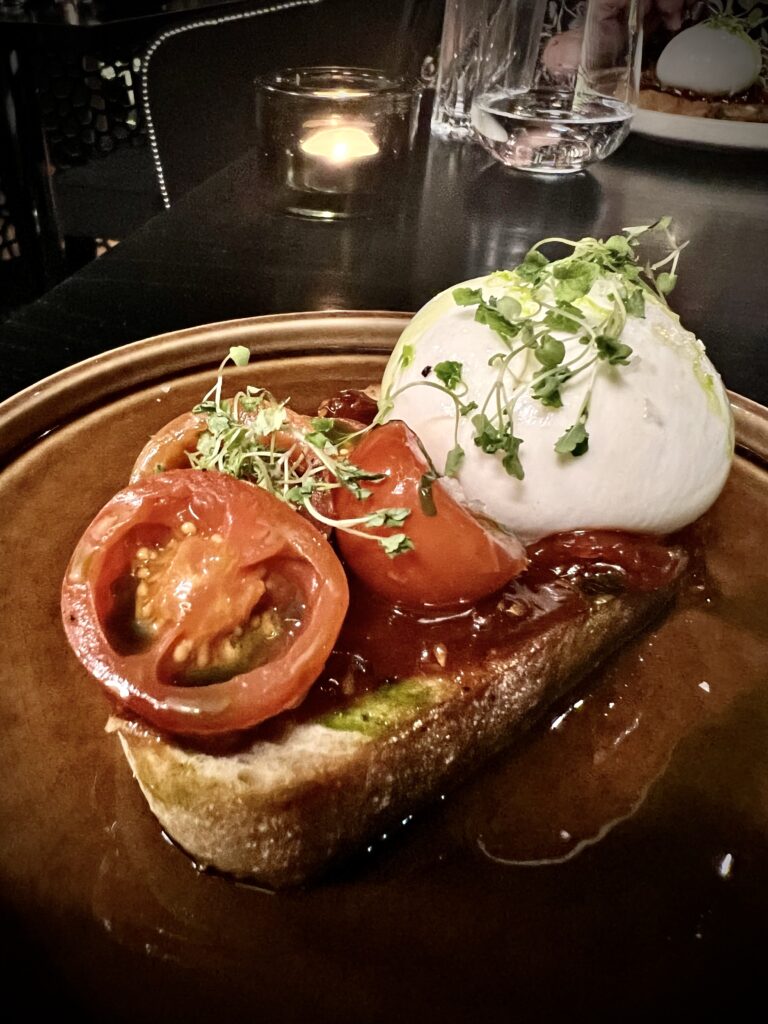 Main courses at Gaucho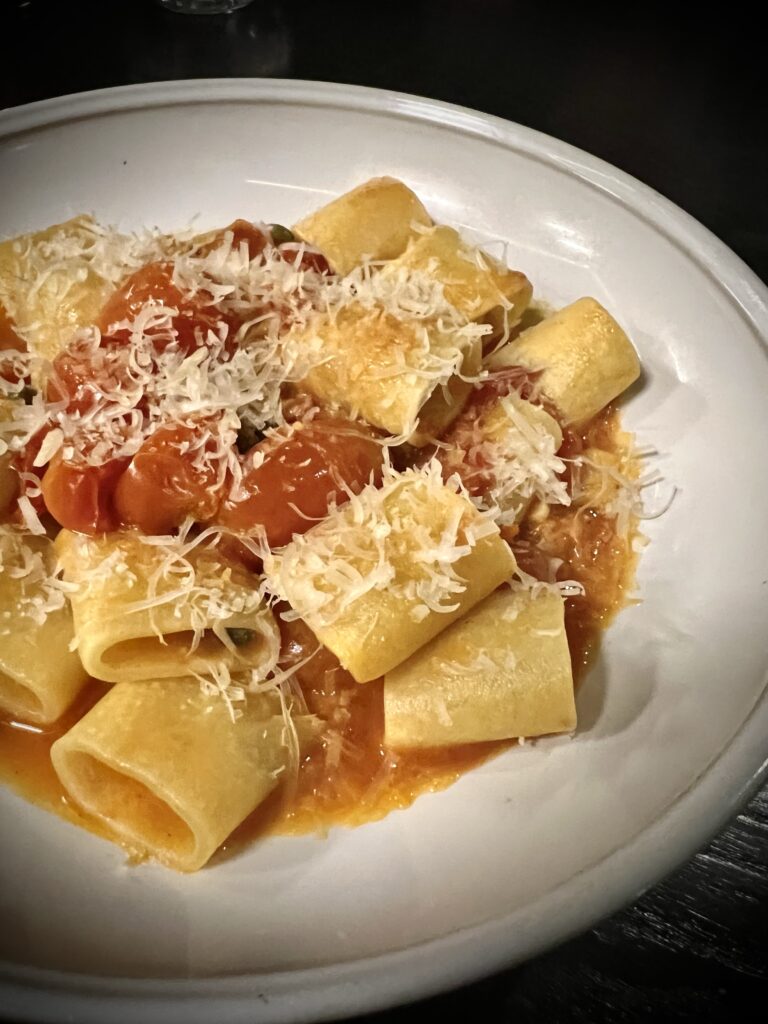 Mom opted for the Pasta Alla Norma whilst I chose the rib eye. Both sublime in their own right. The pasta was cooked al dente and the sauce had a creamy rich texture with a lovely measure of heat combined which stayed behind on the pallet with every mouthful. A hearty portion size with delicate shavings of Parmesan included too.
I had to try a steak, as of course this is Gaucho's speciality. I usually opt for steak to be served "blue" but a rib eye requires a little more cooking time to render the fat, and I'm glad I opted for a more medium rare. You can tell the quality of the meat as the fat was marbled throughout the cut and worked well to provide a soft texture which melted I. The mouth. With the chimichuri sauce which was served fresh and chunky and a side of chips I was in my element.
Chimichurri is a traditional Argentinian sauce, uncooked and includes fresh chopped parsley, garlic, olive oil, oregano, red wine vinegar and here also included some pepper and tomato too. Bursting with flavour this arrived in a lovely pot and again in a more than ample portion. So I smothered my steak in it to make sure it accompanied every mouthful.
Gaucho Desserts
We both opted for the salted Dulce de Leche cheesecake which was divine. If I'm being really picky I would have appreciated a little additional sprinkle of sea salt but this doesn't take anything away from how spectacular this dish was.
The marshmallow and caramel sauces were sticky and oozing with flavour, the base of the cheesecake was buttery, short and crumbly so I was happy to have extra sprinkled on the top. The cheesecake itself was smooth and had that lovely warm caramel flavour perfectly balanced throughout.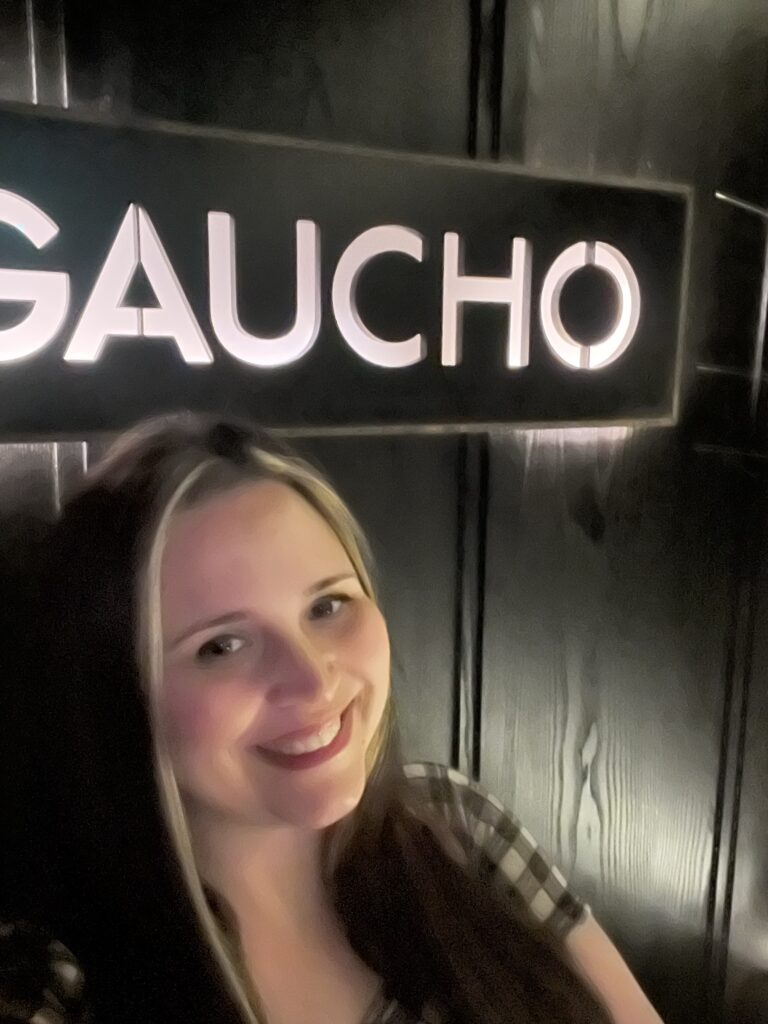 I'm more than happy to give the Gauchos Birmingham review – my seal of approval. The team were friendly throughout our evening, service was top quality without being intrusive and it's clear the team are passionate about the food that they serve through their knowledge of ingredients and passionate recommendations from the menu.
The ambience in the restaurant was pitched just right too. With golden sparkling light against inky blue walls with it oozes luxury yet feels comfortable and relaxed. Tables were spaced apart well and we noticed couples on dates, colleagues sharing a business meal and groups celebrating a birthday which showcases the diverse appeal of the restaurant.