Disclaimer: We received the product featured in this blog free of charge
Introducing kids to technology is a divisive parenting choice. Finding the right screen time for children is such a difficult challenge, and there are many parents out there who understandably want to avoid it as much as possible. I think Play Osmo have developed an innovative new product which addresses the need to introduce children to technology but also encourage imaginative play.
During this lockdown period we have all experienced the benefits of technology, from PE with Joe Wickes to family quizzes over zoom, and the safari park live stream of an animal birth. Trying to keep Arlo amused for any length of time is exhausting and I've been looking for activities which keep him occupied for long enough to effectively work from home.
So…. what is Osmo? In a nutshell it's an interactive accessory for a tablet such as an iPad (a full list of compatible devices is available here).
In the little genius starter kit there is:
a base for a device
A clip on reflector
A play mat
A container of 19 costume pieces and a model.
A container of 38 silicone shapes
The containers of accessories are compatible with four different apps and you can also purchase add on's so as your child grows this toy develops with them.
Prior to introducing this to Arlo I removed the contents from the box and installed the four apps compatible with this kit, plus the parent app too. This was a fairly intuitive process. The user interface is simple to navigate, it took about ten minutes to register with my email and become acquainted with the layout. I waited for Arlo before attempting a game walkthrough together.
The containers within the little genius start kit are compatible with two apps each. Arlo is at the younger end of the 3-5 age for this set and rarely gets to see my iPad so I wasn't quite sure how well he would respond but as soon almost as soon as we opened the "stories" app a friendly bear like monster named Mo appeared on to our screen to introduce himself, and beckoned Arlo to tap the screen to choose from three stories.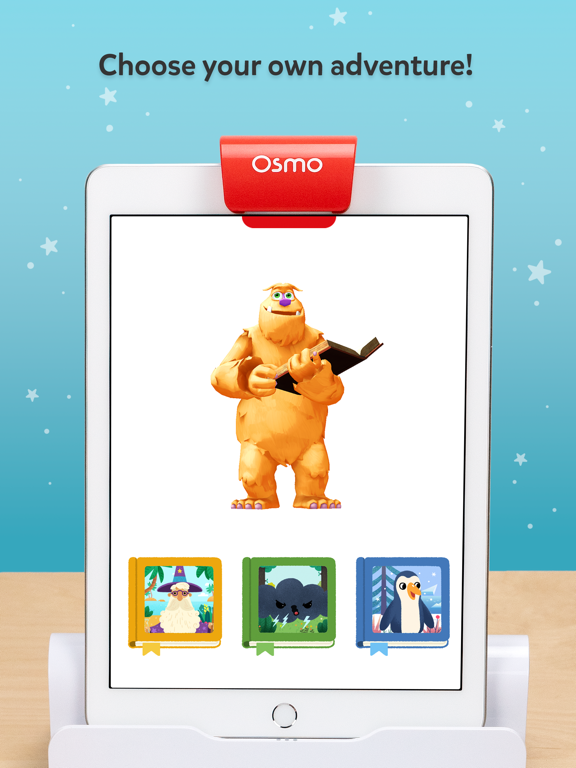 We placed our character out on the map carefully in line with the reflector and the same character appeared in front of us on the screen and asked Arlo to choose him an outfit for his adventure. We had spread all the different costume pieces out on the table in front of us and Arlo spent quite a while making his first decision.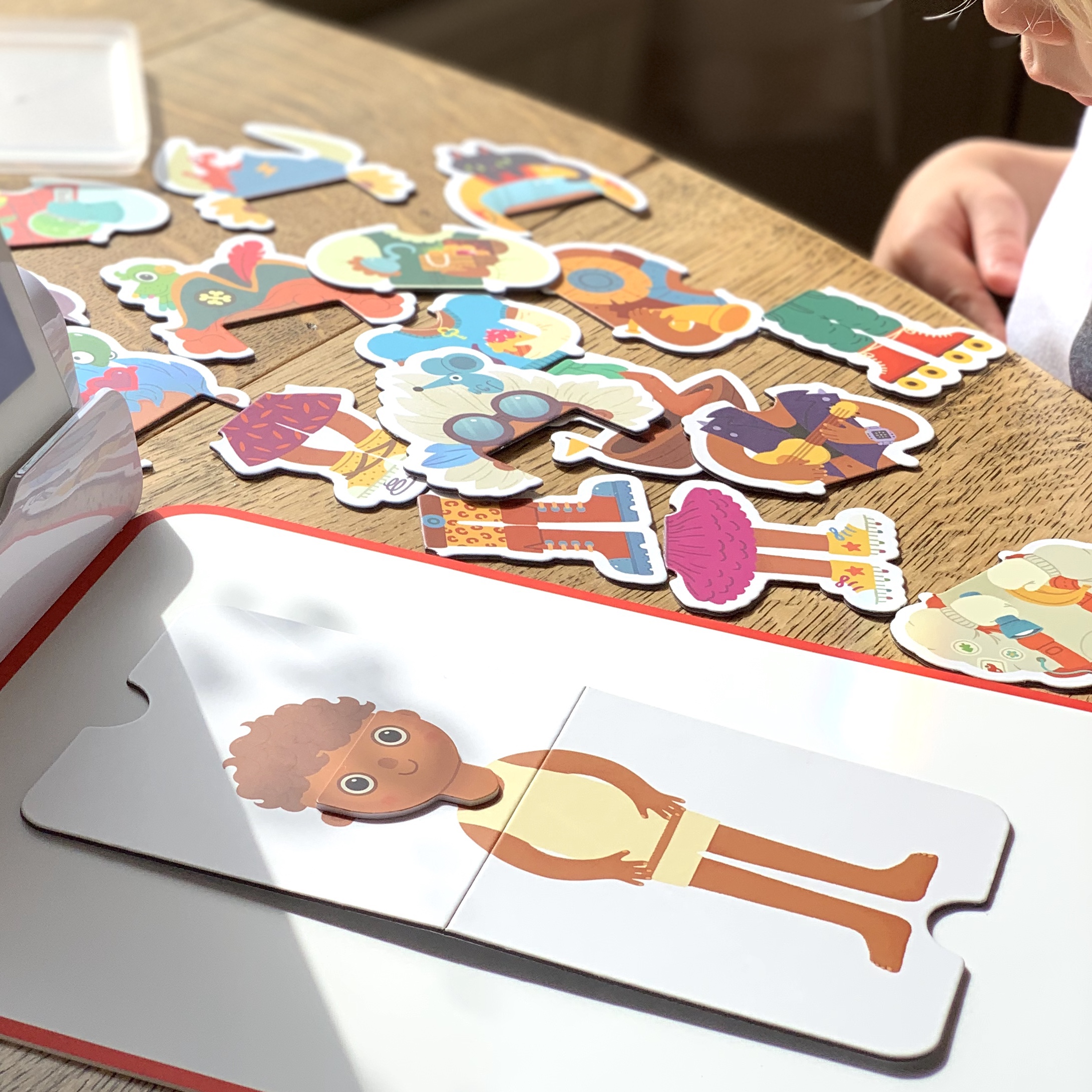 Each costume piece is extremely well designed, with what appears at first glance to be a crazy combination of accessories, for example there's some legs in a boat, hands holding a guitar and a squirrel in pink hair!
Arlo chose an outfit from the puzzle pieces and we slotted them on to our character on the play mat. Almost instantly the character on screen was dressed in the same costume, and he happily bounced along until he met a penguin who was in a predicament and needed us to help him out.
Here's where the educational bit comes in – instead of directing Arlo to look for the squirrel, guitar or the boat – every encounter on screen created a problem which required solving. We were asked to find a way to wake up a sleeping polar bear – Arlo wasn't sure at first what to do and so we had a little chat about what would wake you up if you're sleepy, and he eventually pointed out the costume with the parrot because they're noisy – I directed him to change his characters costume on the mat which in turn changed his appearance on screen and then the accessories all flashed on the screen and so we could tap the parrot to select it.
Unfortunately this wasn't the right solution, but the character politely suggested we perhaps try using one or two other objects, so we hunted around to find the costume which featured the suggested items – eventually our on screen bear was woken up with our character playing a gentle guitar tune. The bear revealed a reward and we carried on our way. The story consisted of four or five different problems to solve before coming to a natural conclusion.
No sooner had the story finished, Mo the monster appeared congratulating us on the adventure and offering up three more different story themes – I've seen penguins, pirate treasure and space rockets appear amongst other things already. Arlo happily went through seven stories the very first time we used this app.
He wasn't quite ready to use it independently immediately but his confidence is growing rapidly with every interaction. Each of the four apps utilises the interactive technology in a different way – the use of the silicone shapes within the ABC's app is fascinating and we have only just scratched the surface.
The parent app allows you to see how much play time you have experienced and within the storied app lets you know how many obstacles have been solved. This ability to track progress and really understand how your child is utilising play time is extremely valuable to me to ensure I am able to stay in control of screen time and make sure we are maximizing the opportunity to learn.
Click here to read our more blogs…
I shared a little video walkthrough of the stories app on my IGTV if you would like to take a look: