We love a festival – we will take any excuse to dance barefoot in a field and apply glitter in copious amounts. There's nothing more exciting to us than escaping from the real world for a couple of days and enjoying the freedom and frivolity. The chance to be unapologetically yourself is one I suggest everyone experiences at least once. It's not just about the headline acts for us. Festivals give us a chance to try out new foods and experiences. We have participated in large group art installations, tried new food, work fancy dress and even been wild swimming to name just a few activities.
We of course love embracing the whole experience and pack up the car with the tent and everything we need for several uninterrupted days however having so many different festivals right on our doorstep here in the West Midlands means that you can drive just for a day to get the experience if you are a complete newbie and camping worries you – (although it needn't). Ticket prices vary with day tickets, camping upgrades and early bird offers so be sure to check out websites for details.
Camp Bestival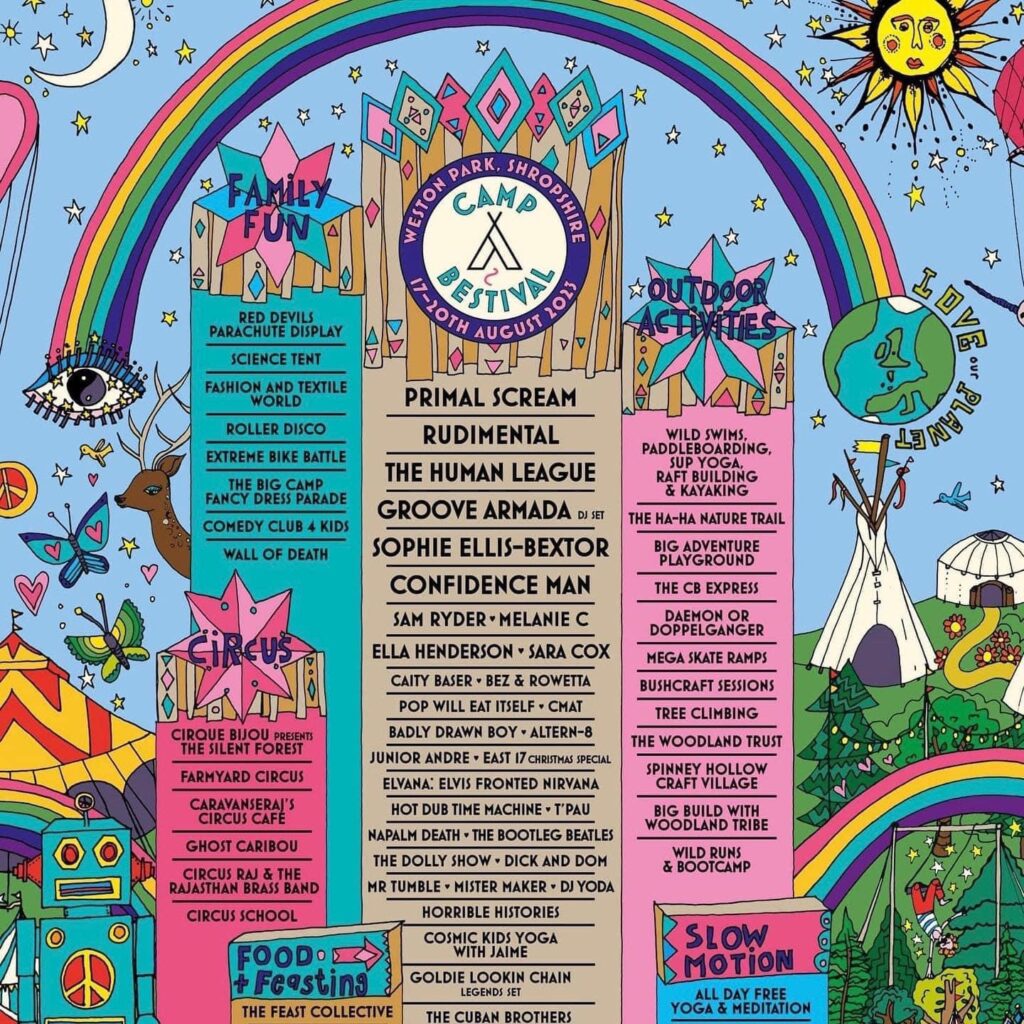 One of our favourites – on the old V festival site. My advice would be to prepare the family for the fancy dress parade on Saturday, find the lake and calming zone for a brief moment of escapism and do not miss the Big Fish Little Fish family rave. Last year was the first at this venue and it brings everything you could possible want and need for a family friendly vibe.

Date: 17th-20th August 2023
Location: Weston Park, Shropshire
The kid's Festival

A one day event created by mothers with kids at the centre of all the planning. Aimed specifically at children under twelve. This is all inclusive which means that all of the experiences except food and merch are included in the ticket price. It will be an immersive, fairytale experience bursting with a wide range of thrilling and enjoyable interactive activities. All indoors too – a great way to kick off a year of fun filled adventures.
Date: 12th March 2023
Location: Staffordshire County Showground
Gloworm Festival
A three day immersive Festival that has been especially created for families with pre-teens. 2023 Maria it's seventh year, a well established event with great organisation. The best thing about Gloworm is all of the workshops and activities on offer.

Date: 11th – 13th August 2023
Location: Thoresby Park, Nottinghamshire
Moseley Folk Festival
Another fabulous weekend based in Moseley Park. This one is the best way to close the summer season with relaxed vibes, more street food and a wonderful line up. The location of the main stage beside the lake makes for glorious views as the sun sets across the park.
Dates: 1st -3rd September
Location: Moseley park
Swingamajig
This is a one day festival with a unique vibe all of its own. Bringing cabaret music and nostalgic 1920's themes for a really unique experience in the beautiful botanical gardens. With live music stages and activities all over the venue to participate in, as well as the usual play areas and bird houses to visit with the kids.
Date: 30th April
Location: Birmingham Botanical Gardens
Nozstock – The hidden Valley Festival
What can I say, if you're looking for a really creative experience then this is it. Nozstock is a smaller camping festival which brings the Glastonbury vibes. The music is always really eclectic, last year Andy C headlined and Arlo got to experience the drum and bass legend for the first time. Then we spent the next day learning circus skills and making kites. The effort which goes in to staging the arenas here is second to none. This years theme is 20,000 acres under the sea so be sure to embrace this with fancy dress and your trolley decorations too for the 25th anniversary celebrations.
Date: 20th -23rd July
Location: Rowden Paddocks, Bromyard, Herefordshire
The Big Feastival

Taking place on Alex James' (Blur) farm, Big Feastival brings the most insane food experience: . If you're a fan of street food then you'll be spoilt for choice here but likewise there's also a full Michelin star offering too. The only challenge is planning what and when you're going to eat and squeezing it all in. My top tip is to try out whatever cheesy delight Alex has cooked up. If you're a fan of cooking like me then take time out to go and watch the live cooking demo's and get your books signed by some of the UK's most exciting top chefs before you go dancing the night away.

Date: 25th – 27th August 2023
Location: Alex James' Farm, The Cotswolds
Under 5's go free!
Mostly Jazz
I love this festival, it feels like a hidden treasure as you enter via an alleyway just off the high street into Moseley Park to find a diverse and vibrant festival in the heart of the city of Birmingham. An experience like no other with amazing street food and a lively music schedule. It's not a camping festival so you can grab the bus home each evening and return the next day. you might get done funny looks as you carry your camping chair around with you though.
Date: 7-9th July
Location: Moseley park
Timber Festival

This is a three day camping festival of music, art, ideas. A chance to walk amongst the trees and fully embrace the beauty of nature. Hosted by wild Rumpus. A community activist company who work at the intersection between arts and nature. This brings a vibe like no other. Being located in the midst of a national forest makes this festival experience truly unique and special.

Dates: 7th – 9th July 2023

Location: Feane Dock, Swadlincote
The Midlands Air Festival
A festival with a difference. The headline acts include a twilight balloon inflation, a red arrows display and a fireworks show like no other. You can camp for the weekend and enjoy the beautiful landscape at the venue, or visit just for a day to take on the sights. It's certainly a unique experience but we will take any excuse to pack up a tent in the car and this event has been a firm favourite of ours for a while.
Date: 2nd – 4th June
Location: Ragley Hall, Alcester
Wychwood Festival

Hosted at Cheltenham Racecourse this festival offers an exciting line-up of music with a headliner yet to be announced, plus comedy, literature and creative workshops. The best thing is, kids under 10 go for free.

Dates: 2nd – 4th June 2023
Location: Cheltenham Racecourse
Camp Severn kids festival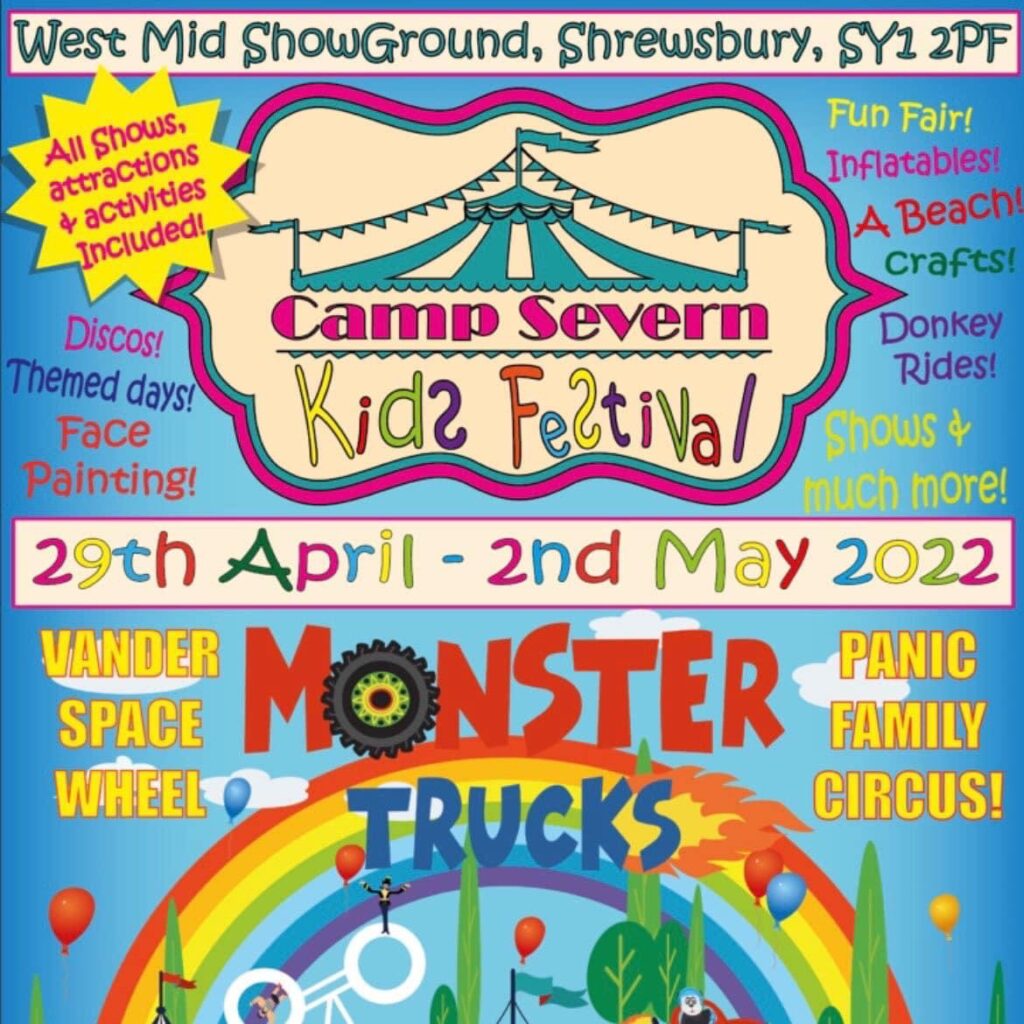 Fully centred around kids so the adults can relax, all activities are included in the very reasonable ticket prices. This festival brings monster trucks, dinosaurs and the Wild West to the party, with a focus on making the experience a memorable one for kids of all ages and interests.

Date: 28th April – 1st May 2023
Location: The Shrewsbury West Midlands Showground
Shrewsbury Folk Festival
This festival brings Pandemonium! – the children's festival to the party alongside Refolkus for kids 11+ to get creative with dance and music, ideal for families with kids of all ages.
This music festival with the best in folk, roots, Americana & world music by the riverside in Shropshire is designed to give you an unforgettable summer holiday experience.

Dates: 25th – 28th August 2023

Location: West Midlands Showground, Shrewsbury
Solihull Summer Fest

A two day music festival within Solihull celebrating its sixth year. Featuring Ibiza proms in the park and an open air cinema as well as some chart topping headline acts this is a lovely relative newcomer to the midlands festival scene. Turn up the volume, close your eyes and let the music take over your soul.

Date: 22nd – 23rd July 2023
Location: Tudor Grange Park, Solihull