Nozstock Festival is a unique and vibrant music festival that has been running for over two decades. It is a celebration of music, art, and culture that takes place in the beautiful Herefordshire countryside. What sets Nozstock Festival apart from other music festivals is its diverse lineup of music, its commitment to sustainability, and its family-friendly atmosphere. Where else could you take a five year old to rave along to Andy C, learn circus skills and make their own kite all in one day?
The Unparalleled Location of Nozstock Festival
The festival is held on the grounds of the historic Rowden Paddocks, a family-run farm located in Bromyard, Herefordshire. The site is surrounded by rolling hills, lush meadows, and ancient woodlands, providing a stunning backdrop for the festivities a location which offers a unique and unforgettable experience for festival-goers.
The festival site is easily accessible, located just off the M5 motorway and within easy reach of major cities such as Birmingham, Bristol, and London. It is also close to the Welsh border, making it an ideal destination for those looking to explore the region.
The festival itself seems smaller than other festivals in size, which means that the camp sites are easily accessible and within a short walking distance to the car parking and the arenas. There was a real community vibe as we found total strangers were more than willing to help with setting up our tent and by the second day we had built up a great rapport with our neighbours and people we bumped in to around the festival.
The Incredible Atmosphere of Nozstock Festival
Nozstock Festival offers a wide range of activities and entertainment, from live music and DJs to theatre, comedy, and art. There are also plenty of activities for children, including a dedicated kids' area with a range of activities and workshops. I was really happy to see so many children having such a fabulous time and so many adults embracing the family friendly vibe – we bumped in to a group of fairies and a light up octopus troupe in fancy dress who were delighting children and posing for pictures in between dancing to headline artists.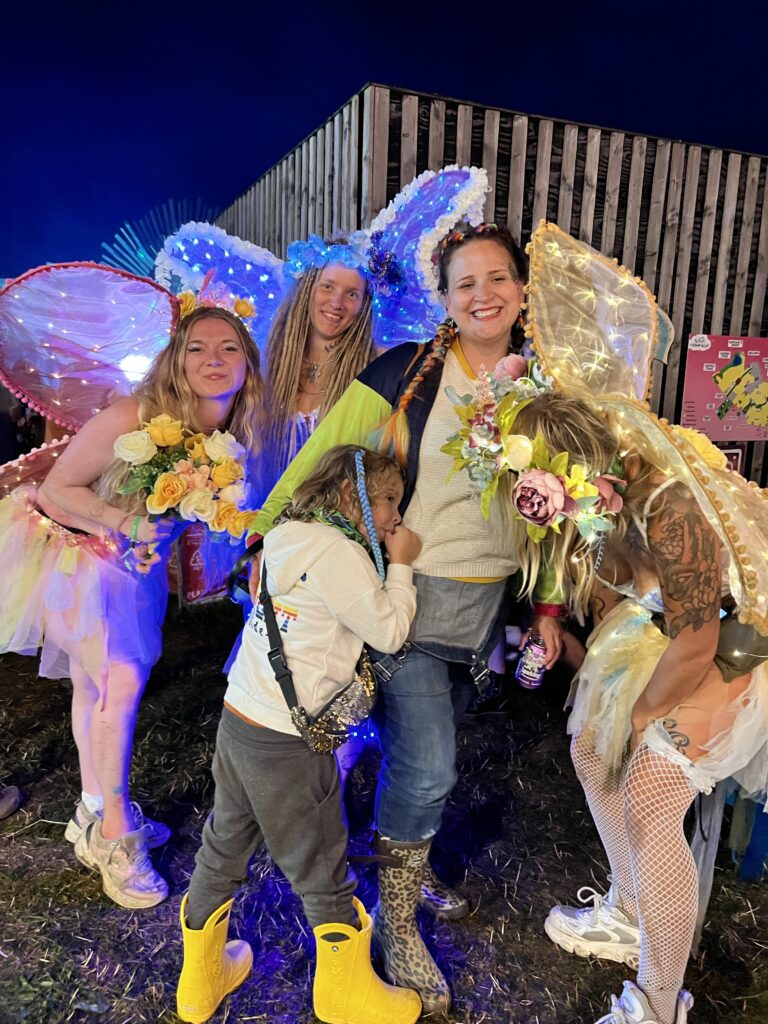 The festival also offers a range of food and drink options, from traditional festival fare to gourmet cuisine. There are also plenty of bars and pubs on site, offering a wide selection of drinks and cocktails. Arlo opted for a woodfired pizza and even managed to find his own mocktail which made his day. Theres nothing quite like a refreshing drink after all that dancing.
It's really easy to see why been described as "magical" and "unforgettable" by many of its attendees once you have spent time at the Hidden Valley which is renowned for its unique and creative decorations. The festival grounds are transformed into a vibrant and colourful wonderland, with a variety of art installations, sculptures, and decorations which make you feel as though you are stepping through the looking glass in to a fairy tale.
The Creative and Innovative Art Installations
Nozstock Festival is renowned for its creative and innovative art installations. Every year, the festival brings together a variety of talented artists to create unique and captivating art pieces that add to the atmosphere of the event.
The art installations at Nozstock Festival are designed to be interactive and engaging, encouraging visitors to explore and discover the artworks. From large-scale sculptures to interactive installations, the art pieces are designed to be both visually stimulating and thought-provoking.
The Lineup
The festival has been running since 1998 and has grown to become one of the most popular music festivals in the UK. It is known for its eclectic mix of music, from rock and pop to folk and reggae. There is something for everyone, with a wide range of genres represented. As I mentioned, last year I was really excited to introduce Arlo to Andy C, the father of the UK drum and bass scene. The last time I had the opportunity to go to a rave was before Arlo was born so it was so much fun to see Arlo's face as the set started and even better to see him enjoy it all.
The festival also features a variety of art and entertainment. There are interactive art installations, live theatre performances, and comedy acts. There are also workshops and activities for children, and participation is almost always an option. At one point we bumped in to a random family who had organised their own mobile game show in a trolley and as we completed challenges a crowd gathered to cheer us both on.
Nozstock Festival is a unique and exciting music festival that stands out from other music festivals due to its diversity, its commitment to sustainability, and its family-friendly atmosphere. With its wide range of activities, its commitment to the environment, and its welcoming atmosphere, Nozstock Festival is a great choice for music lovers of all ages. It is a great way to escape the hustle and bustle of everyday life and enjoy some quality time with friends and family, and ideal for a first family festival and a great way to start the summer season.