A beautifully whimsical performance for young families to enjoy, StickMan is a great introduction to the theatre for little ones.
The auditorium turned dark and a light melody rang out which silenced all of the little ones almost immediately as three actors took to the stage.
This delightful and hugely acclaimed adaptation from Freckle Productions (Zog, Tiddler, Terrific Tales), is packed full of puppetry, songs, live music, and funky moves.
As far as the tale goes, the show sticks faithfully to the story line, with the familiar rhyming couplets spread out over an hour long performance which takes us on the adventures of StickMan as he longs to return back to the family tree.
With some musical interludes which have a simple rhythm for the young audience and additional dialogue with which the cast brings to life some of the secondary characters.
Leaving his family tree, Stick Man (Thu 1-Sat 31 Dec 2022) sees Julia Donaldson and Axel Scheffler's much-loved character spring to life. What starts off as a morning jog becomes quite the misadventure for Stick Man: a dog wants to play fetch with him, a swan builds a nest with him, and he even ends up on a fire!
Being only an hour long with no interval StickMan is a wonderful first theatre experience for little ones. There's opportunity for some simple theatrical devices of audience participation including "he's behind you" and lots of giggles when stickman makes it to the beach with some new characters – "boy" and "girl" providing some comedic relief and then including the audience with a game of invisiball.
From here on in various theatrical tropes are used to recap the perilous year of adventures before stickman is warned to beware of the snow. Really simple props including umberellas are used to create a snowstorm and the musically talented cast create an emotive jazz scene which had the parents in the audience giggling along.
Just when we think it might be too late for stick man the audience are invited to wake up stickman from his perilous fate in the grate – and he awakes just in time to save someone really important and help him and Rudolph who on board the sleigh and in return then grants Stickman a special Christmas wish.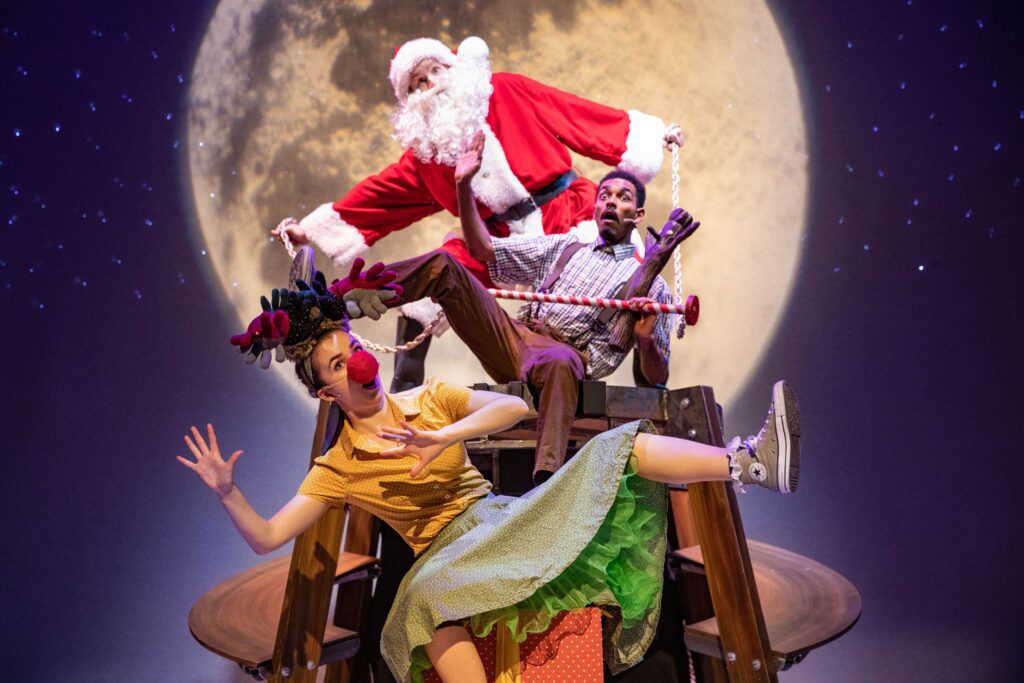 With a little help from the audience to find the sycamore tree StickMan returns to the family tree just in time for Christmas – with gifts and a sing along for the audience to enjoy and clap along to. There's even a little blast of snow too!
Christmas comes to Warwick Arts Centre
Alongside selected Stick Man performances, artist Benny Semp hosts a series of free Stick Man-themed family drop-in workshops (Sat 3, Sat 10, Sat 17, Sun 18 Dec, from 11am-4pm). Attendees can use real sticks to create their own Stick characters – and you don't need to have a ticket to the show to get involved.
Stick Man has also provided the inspiration for the decorations on the eco wooden trees that populate the Arts Centre's open foyer – these creative adornments have been made by over 300 pupils from four Coventry primary schools.
For younger visitors, Half Moon's Glisten (Mon 19-Sat 24 Dec) is the perfect alternative festive experience for babies aged 0-18 months (and their grown-ups). A gentle, sparkling and immersive multi-sensory experience, the show is performed to a small audience – creating an intimate and welcoming theatrical event – and is followed by an interactive free-play session where babies can explore Glisten's sparkling tactile world.
Also at Warwick Arts Centre over the festive season, scientists from the University of Warwick entertain and amaze audiences with head-scratching experiments and research as part of two Warwick Christmas Science Lectures (Thu 1 & Thu 8 Dec). Leaving their labs, they'll be discussing new planets, explosions, and the lifecycle of the much-maligned Brussels Sprout, as well as asking why penguins in the Antarctic don't need slippers!
Meanwhile, The University Of Warwick Chamber Choir also host their Winter Warmer (Fri 2 Dec), and a Festive Family Christmas Countdown (Sun 4 Dec) sees the University of Warwick Music Centre present an afternoon of magical music, sensational songs, and festive fun – with Christmas attire encouraged.
These special festive events and activities join an already packed December programme at Warwick Arts Centre which also includes free jazz on successive Fridays (Fri 2, 9, 16, 23 & 30 Dec, from 5.30pm); the Maxim Vengerov Gala Concert (Sat 3 Dec), a must-see celebration of a unique musical talent; harpist Alina Bzhezhinska's ground-breaking HipHarp Collective (Thu 8 Dec); and a crammed cinema programme that features Roald Dahl's Matilda The Musical, sci-fi epic Avatar: The Way Of Water, and Whitney Houston biopic,I Wanna Dance With Somebody.
For tickets and more information, see: www.warwickartscentre.co.uk
CHRISTMAS LISTINGS
Thursday 1 to Saturday 31 December 2022
Stick Man
Touching, funny and utterly original, Freckle Productions' delightful adaptation of Julia Donaldson and Axel Scheffler's?Stick Man?is back at Warwick Arts Centre for Christmas 2022!
Suitable for all ages.
BSL Performance: Sat 17 Dec 10.30am
Relaxed Performance: Tue 20 Dec 10.30am (Chill-out from 10am in Creative Learning Space)
Familiarisation Session: Mon 19 Dec, 10.30am
Saturdays 3, 10, 17 & Sunday 18 December 2022, 11am-4pm
Stick Man Family Workshops
Festive Stick Man themed fun with artist Benny Semp. Create your own Stick characters.
FREE. No booking required.
Thursday 1 & Thursday 8 December 2022
Warwick Christmas Lectures
Friday 2 December 2022
A Winter Warmer
Sunday 4 December 2022
Festive Family Christmas Countdown
Monday 19 to Saturday 24 December 2022
Glisten
Warwick Arts Centre
University of Warwick
Coventry CV4 7AL
Website: www.warwickartscentre.co.uk
Box Office: 024 7649 6000
Social Media:
facebook.com/WarwickArtsCentre