I have been working with Zuru toys over on social media and they have sent us across some epic PR packages before we received the Zuru X shot delivery so we were expecting great things. First of all Arlo was delighted to receive the Bunch O Balloons box which was packed full to the brim with all sorts of surprises. Everyone loves a water balloon battle when there's a heatwave but no one likes inflating the balloons – until now!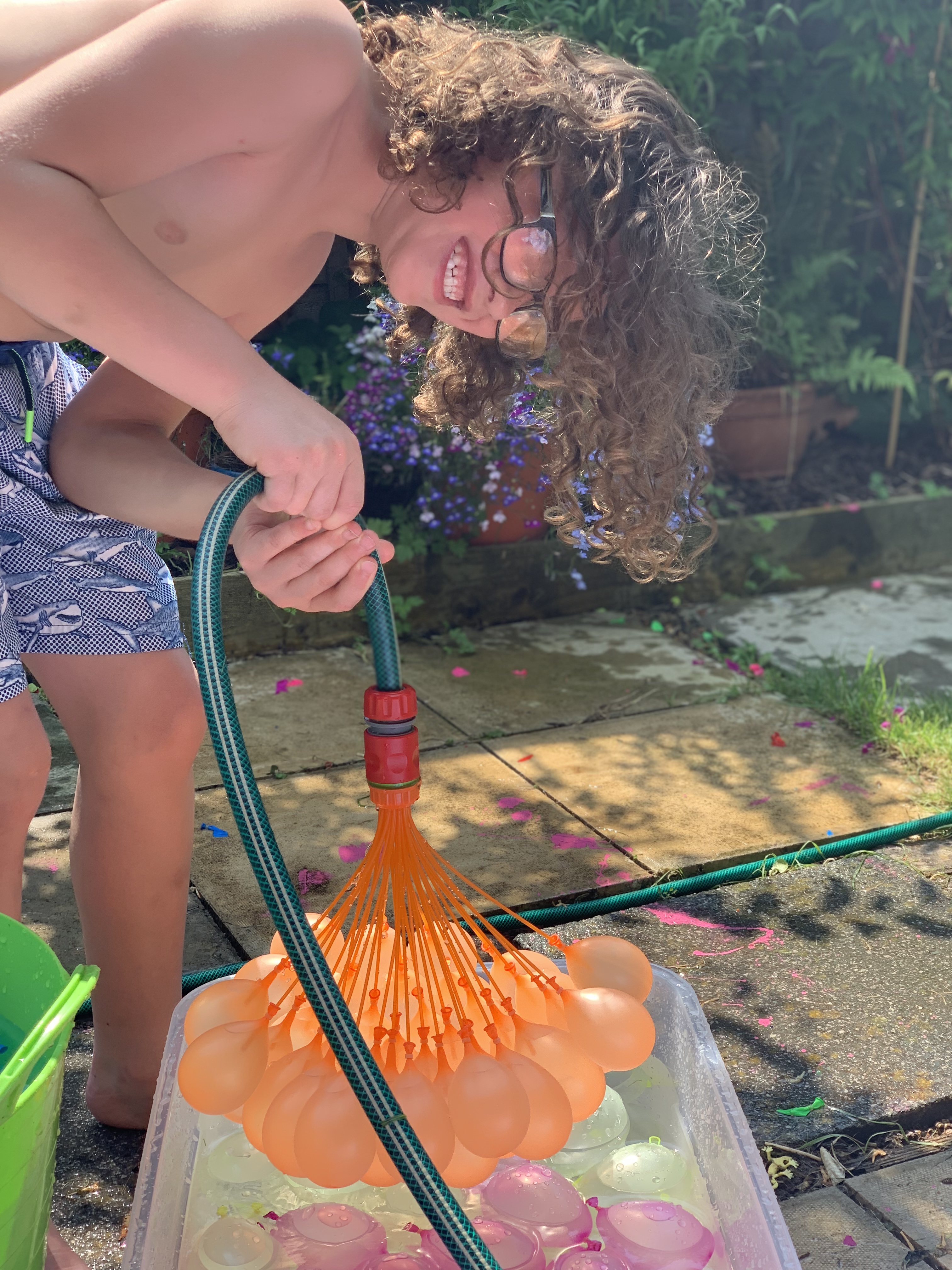 The unique feature of Bunch O Balloons has been designed to enable you to inflate water balloons in seconds. Each bunch comes with dozens of Balloons and a screw cap which you attach to your hosepipe. Simply turn the water on and watch them expand before your very eyes.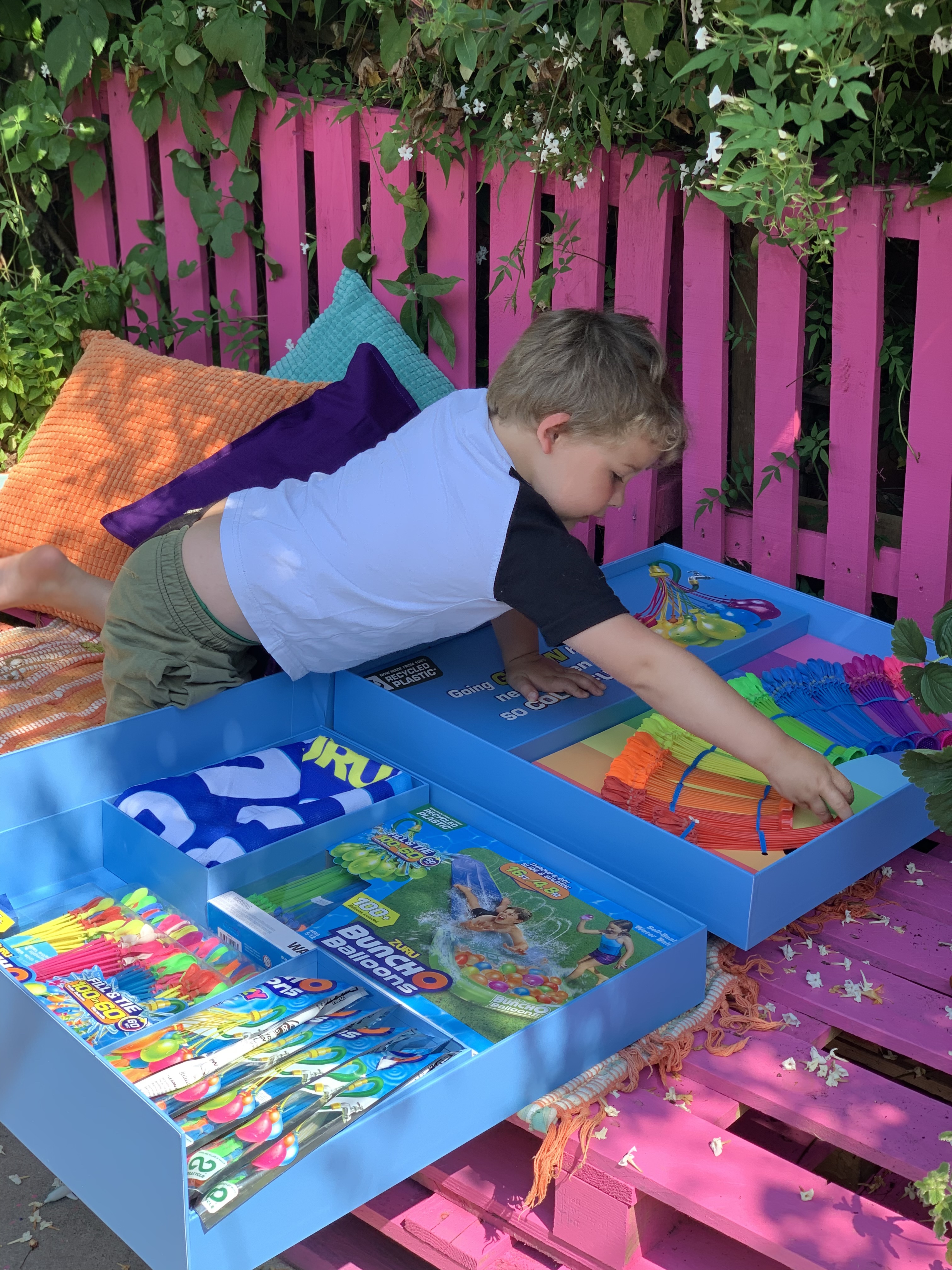 Bunch O Balloons are available to purchase from supermarkets, toy shops and on Amazon in a variety of different formats and colour options. The best thing about these is they are made from 100% recycled plastic and are also recyclable too.
Hosting An Epic Water Fight This Summer
We had so much fun setting up our battle stations, filling up buckets with water balloons ready for a big splash – our Top Tip is to add a little bit of water to the container you use which helps the balloons to inflate and drop off their stems smoothly. Of course it's optional for you to sit in the bucket too.
I'm not quite sure who won round one, in the end I stopped taking pictures, kicked off my flip flops and joined in with the kids, which was utter chaos but so much fun. I'd hidden washing up bowls full of balloons behind the shed and bench to surprise them and the kids were also able to top up their own stashes, until we eventually called a truce.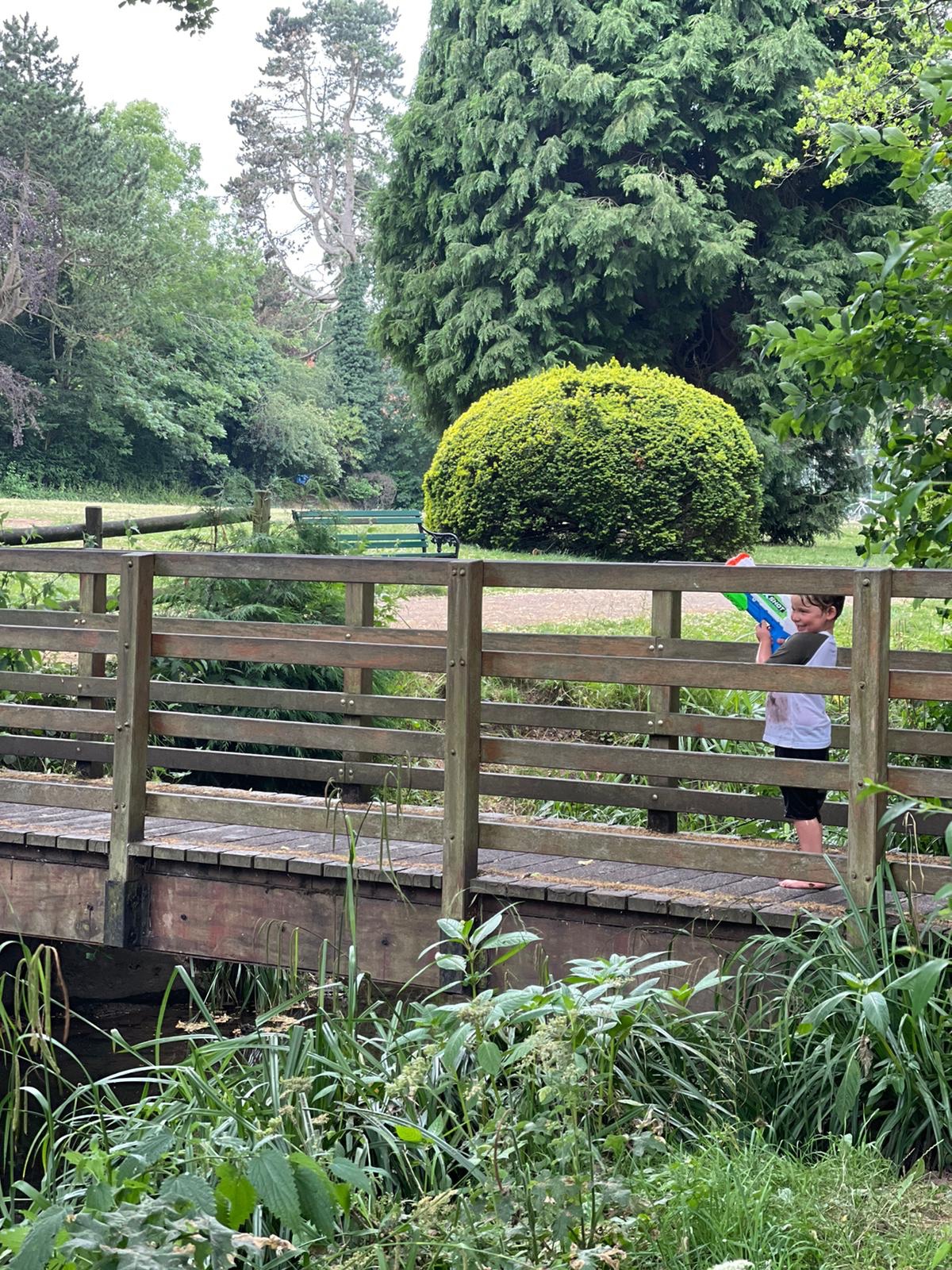 Luckily this heatwave has been sticking around and so we had the chance to up our game with these Zuru X Shot water blasters which are just as fabulous, and the play lasts even longer because these blasters refill with water in seconds and so as long as you have a water source you can play until it's bedtime!
Zuru sent us out a box featuring six X Shot blasters, including three different kinds and so I invited the cousins and nanny along to the park for a battle to end all battles and it's safe to say that there's a blaster in this range for everyone.
The intuitive refill system took us no time at all to figure out, each blaster has a button/switch which you press to release a watertight cap and then submerge the hole in water to refill instantaneously. The entire process takes a second, as claimed on the packaging and this delighted the little ones who usually have to ask for help with water refills on fiddly toys.
We had an hour of running around in the park and running back and forth to the stream to refill. We swapped and shared the blasters to try out the different sizes and surprisingly Paloma and Arlo seemed to really get along with the water warfare blaster which was the biggest in the box. The older boys kindly conceded them the first choice of weapon which I think they later regretted because Paloma was fearsome!
I think she liked this best because it had the longest range, water was blasting over 30ft away so she was a safe distance away from the boys and managed to avoid getting soaked in return until she decided to run a campaign through the stream with Arlo. I think they worked really well together as a team, inventing their own tactics before turning the water on to me!
Nanny was also a fan of the warfare blaster and employed some great tactics attempting to defend the stream water source but when the kids decided it was four against one she stood no chance and was surrounded from all sides. Paloma and Arlo were also just as happy to test out the Smaller X shot fast fill which also had an over 30ft range – and we launched streams of water across the stream to put this claim to the test.
In the end it was every man and woman for themselves, and once everyone got soaked we called a truce and head across the park to nanny's house for supper – what a way to finish the weekend! The kids are already planning summer holiday trips to local parks with streams for another epic battle.