Rosa's Thai kindly invited me along to sample their menu and so I asked my mum to join me so that we could be "ladies who lunch" and we took ourselves in to the city centre. Rosa's Thai is situated in Chamberlain Square, and I have to admit it's been a while since I ventured in to the city and so I was slightly disorientated at first. If you're a Brummie then you'll know what I mean when I say it's located where the old library used to be. This redeveloped location is thriving and Rosa's was experiencing a busy lunch time service, which is no surprise given their express lunch two course offer and the quality of the food.
We were warmly welcomed and offered a choice of tables, eventually opting for a booth, and then spent some time pouring over the menu. We ordered Thai iced teas and the pumpkin crackers to enjoy whilst we decided. If you've been reading my recent food blogs you'll know I'm a huge fan of small plates and starters and so we really went to town with these. Summer rolls, sweetcorn cakes and Satay Chicken all sounded mouthwatering and so we ordered them all and were delighted with the portion size, having four on each plate meant we could share everything.
The sweetcorn cakes were the favourite – absolutely bursting with flavour, subtly seasoned with kaffir lime leaves and red curry paste. Not too spicy and incredibly moorish. The chicken skewers were tender and the summer rolls as fresh as you can get. Each starter came with generous amounts of dipping sauces too and these were a sheet delight to experience. I want to come back if only to try the other starters on the menu.
The team at Rosa's created a relaxing dining environment, extremely friendly and proud to share information about all of the dishes on the menu, I always ask for advice because I have so much difficulty choosing when everything on the menu sounds amazing, and because I'm trying to be healthy at the moment I eventually opted for a salad and added the pork skewers whilst mum opted for the butternut squash curry. It's great to see so many vegetarian and vegan options on the menu which have been given just as much thought as the meat dishes.
Mum ordered steamed coconut rice to try with the curry and this worked well, packed full to the brim with chunky vegetables all cooked to perfection and with a great balance with the addition of chilli – you can ask to tone this down if you're not a fan of the heat.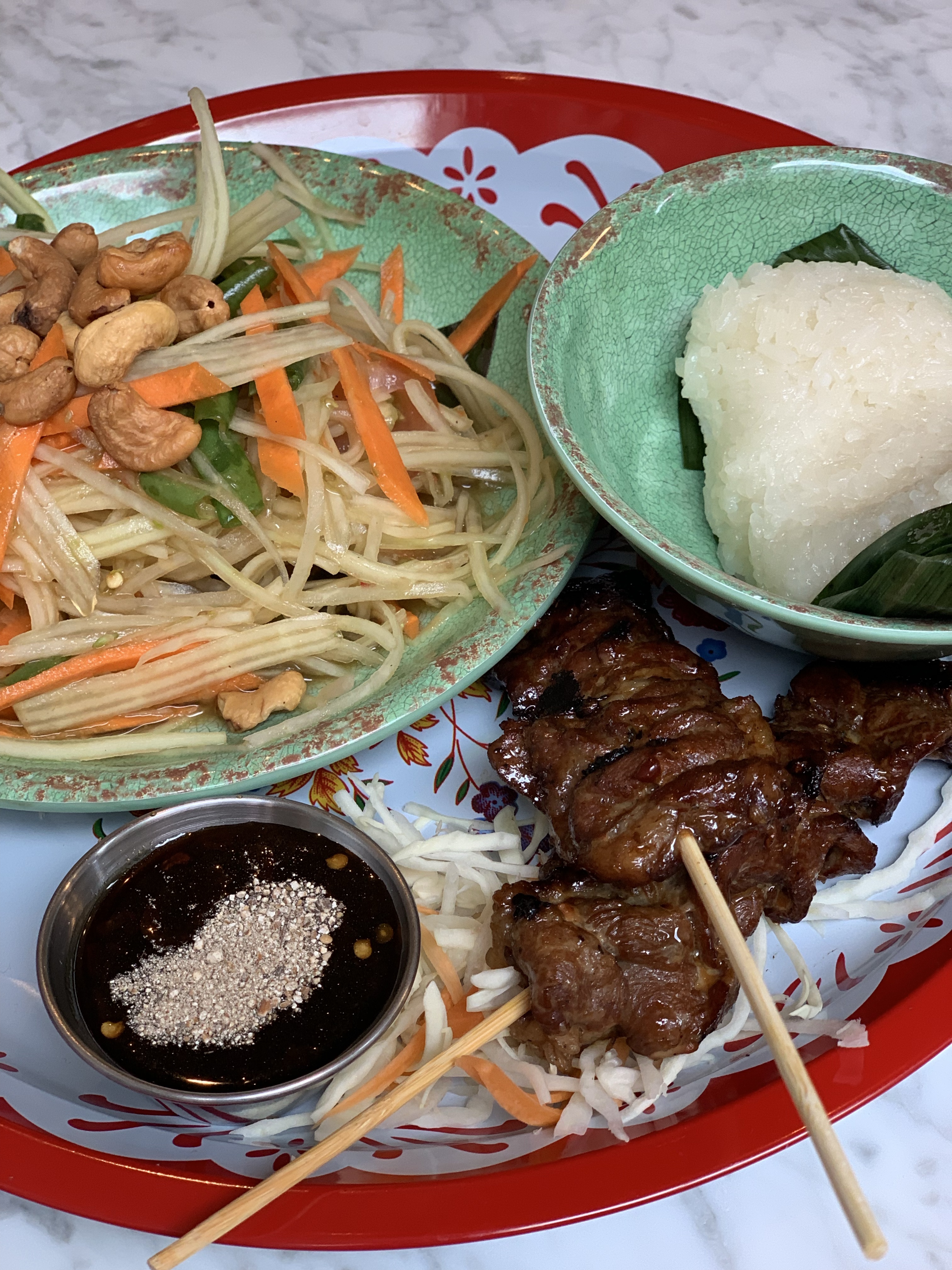 My salad packed a real punch when it came to the heat, and I'm obsessed with the cashew nuts. These need to be packaged for sale as a snack because they were so delicious. This dish was served with sticky rice which had a nutty flavour which was moorish too. I have to say the Tamarind dipping sauce which accompanied the pork was my favourite thing about this plate, I had to pour the entire bowl over my skewers and savour every mouthful. I adore coriander and this made my day.
Thank you to Chef Saiphin, affectionally known as Rosa, the founder of Rosa's Thai – born in Thailand and raised in the East End this brand was established on the site of a popular east end "caff" and out of respect for its previous owner (and not being able to afford a new sign) they kept the brand name and made it what it is today. The passion for food shines through every single mouthful of food we had the opportunity to taste today and I'm delighted to be able to explore the website to find out how to attempt to cook Thai food myself at home with Rosa's recipes . There's absolutely no substitute for this authentic cuisine and I highly recommend a visit – perhaps we will see you there?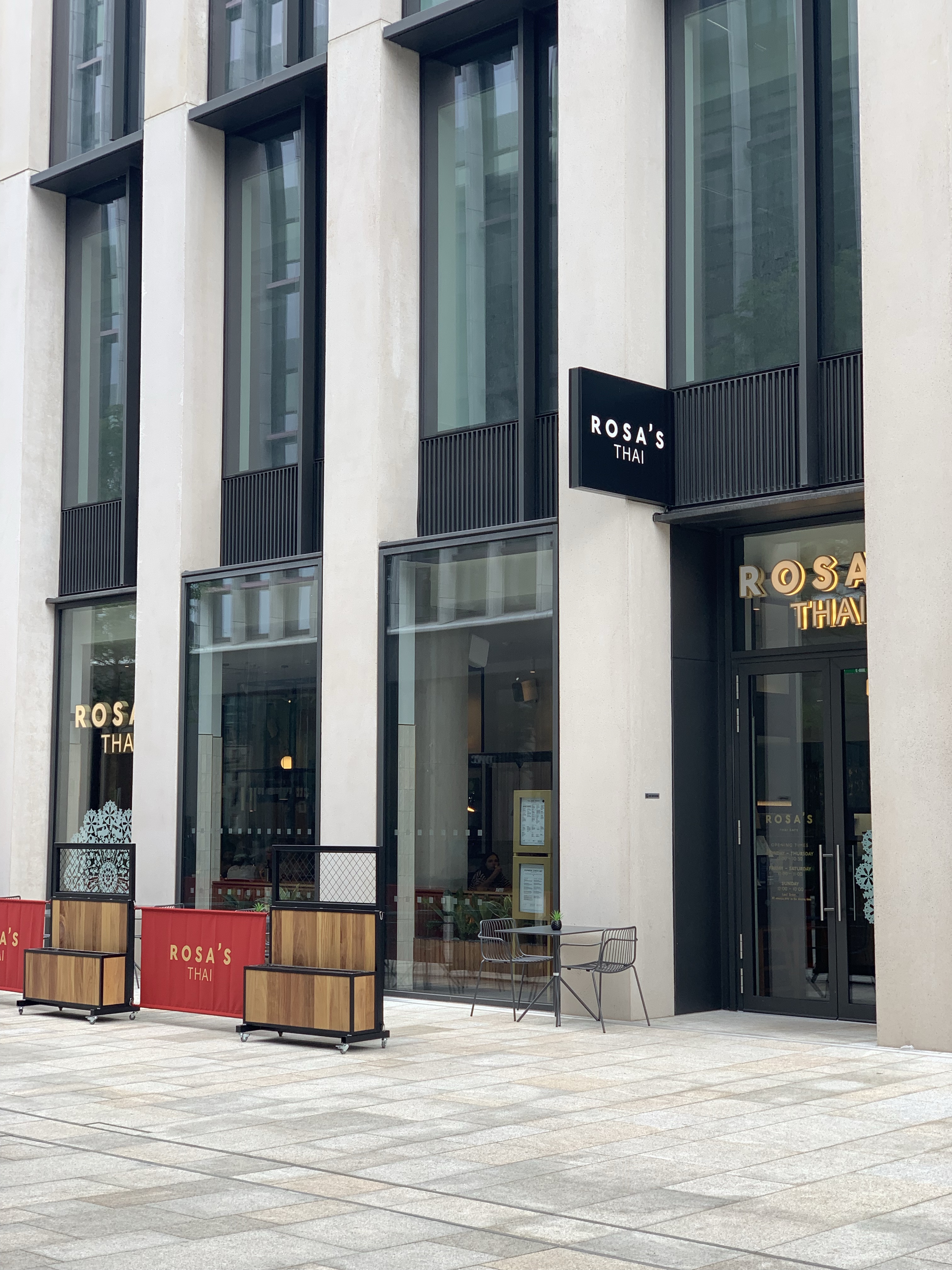 To book click here