Yesterday we visited All things Wild, a family attraction based near Evesham in Worcester. I have nothing but positive feedback for this place as we had such a wonderful time yesterday and we can't wait to revisit. Of course yesterday the sun shone down and for the first time in forever we were wandering around in our t shorts for most of the day which certainly helped matters as of course everything is outdoors at the moment and the indoor attractions are closed.
This however had no impact on us as there was so much to do. When we arrived at our pre booked arrival time slot we were greeted by a friendly attendant at a small outdoor kiosk, and Arlo was given a wrist band to enter. The first thing he spotted was a fabulous wooden play area, and he would have been happy to run around this all day but as soon as he spotted the enclosure behind with meerkats and porcupines he realised that there were animals to see and off he ran.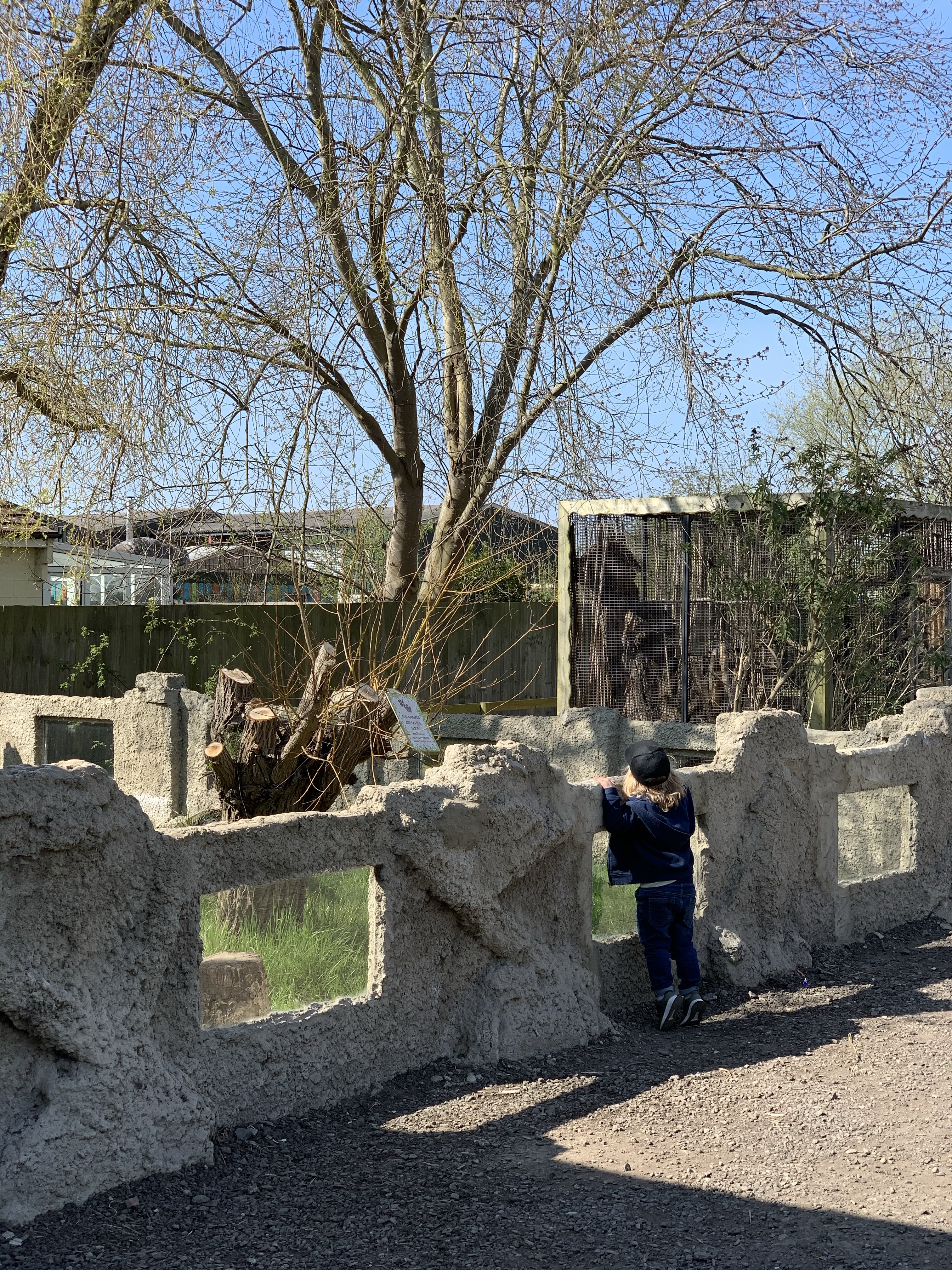 The grounds are marked out in a one way system with arrows and no entry signs which makes it easy to wander around, and at various points there are short cuts so that you can skip around and get to your favourite places. I think yesterday we went around three times in total. At first Arlo ran around at speed just wanting to see everything and then when we got back to the beginning he said he wanted to go back to various places.
So where to begin? Just past the first few animal enclosures which are all beautifully maintained with healthy and happy animals we went through to a huge meadow, lawn and second play park area. This location of the grounds had everything, from a mud kitchen of childhood dreams, to a barefoot trail, musical instruments, a go kart track, mini golf and more. I did notice that throughout there were plenty of hand washing and sanitising spots and notices to politely ask guests to take only ten minutes at each area. With so much to see and do this isn't a challenge.
Just beyond the open field there is a nature trail with some magnificent bug houses to explore and of course Arlo took his time wandering around here with big houses great and small along the route, plus all manner of sculptures, and informative signs to read. There are worksheets for trails you can print from the website in advance of your visit as around the site there are stamps to collect and so many things to spot.
Just after the nature trail we found the entrance to invite us to step back through time. I knew that this was a dinosaur attraction but I was not prepared for just how wonderful this would be and neither was Arlo. As soon as we got to the bend in this woodland path and could see the field ahead of us full of enormous dinosaur sculptures we were in awe.
I can't even describe how excited Arlo was, he of course can identify all sorts of dinosaurs but we came across some new ones to add to his encyclopaedic knowledge.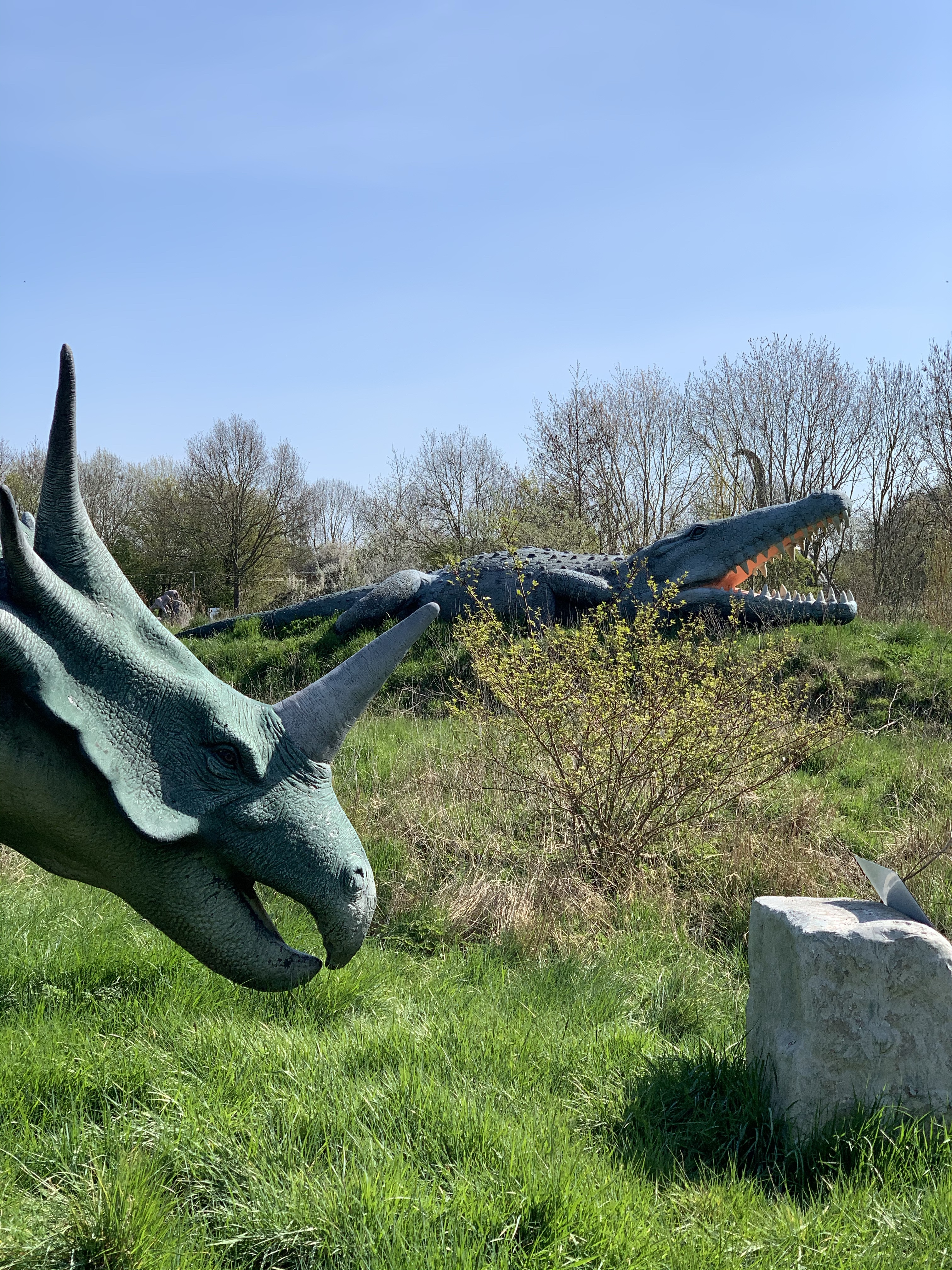 Each dinosaur had a very handy sign with how to pronounce its name and more information about each creature. We also spotted interactive prompts throughout this area which were perfect for his age. "Can you stretch as tall as a diplodocus?"
There were Picnic benches and spaces spotted throughout the park providing plenty of room for families to picnic and maintain social distance, and it was a pleasure to greet so many families enjoying their days out on our travels. At the end of the dinosaur trail Arlo really enjoyed the play areas, mainly because they included lots of sand pits.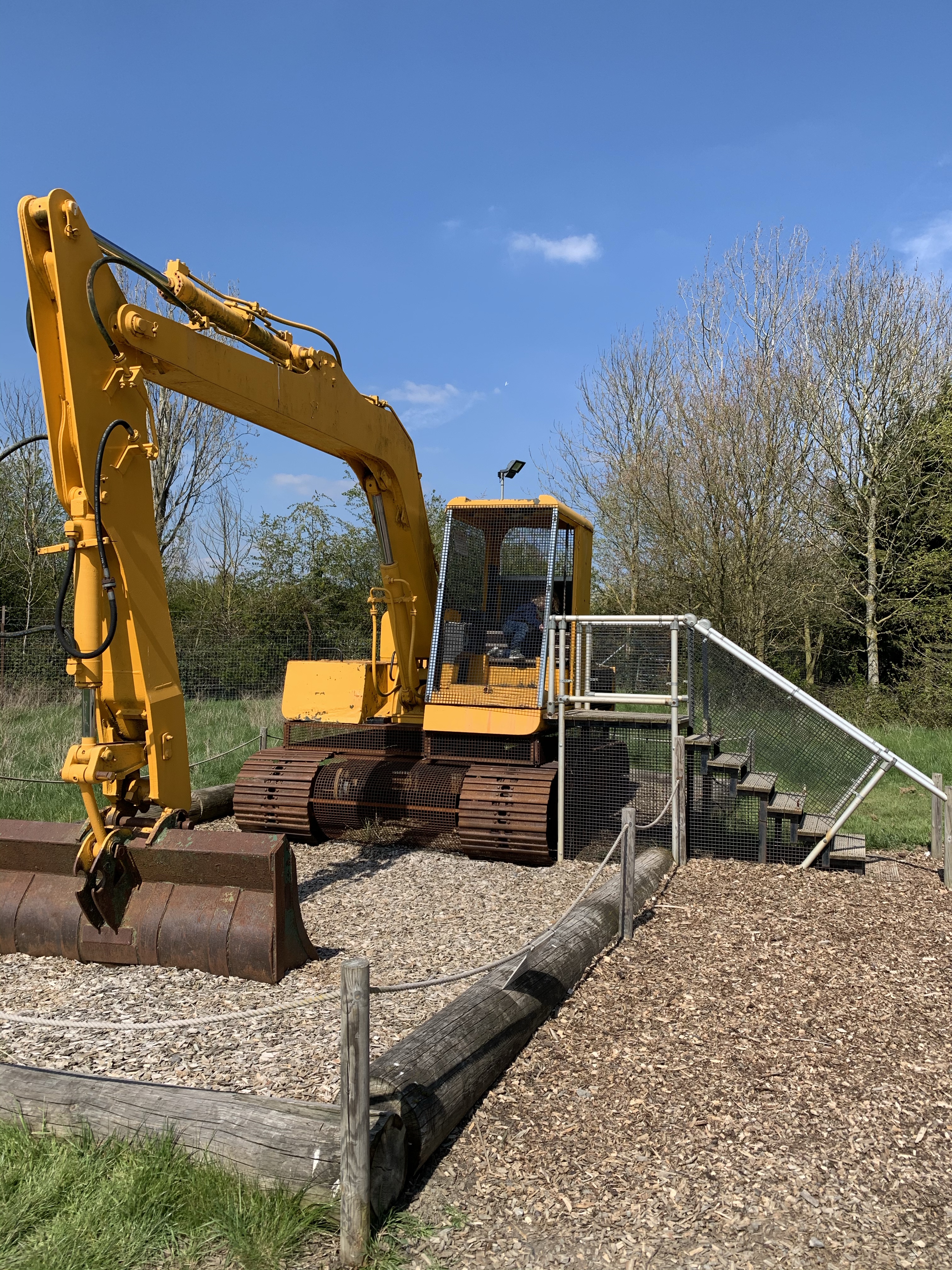 He was happy to clamber on board a real digger and then also play in a digger themed sand pit with a slide right beside it, placed in the shadow of a real army helicopter. It's the stuff of his childhood dreams to see all of these things and get to look at them close up, and this is all before we properly had a chance to meet any animals. By this stage it was time for a snack and so we paused at the vintage bus shack for cold drinks and ice cream before setting off again.
Just behind the bus Arlo spotted some "creatures" and so it didn't take long for us to set off again, following the one way system around a series of paddocks and enclosures. I was expecting children's farm animals, and was more than happy to meet chickens and goats etc, but I wasn't prepared to come across camels and zebras here too, never mind everything else!
The variety of animals All things Wild has to engage with is immense. Arlo didn't know which way to look and was totally in his element as we ambled along at our own pace. Every so often Arlo would spot something new and run off ahead to investigate, the design of the enclosures is fantastic for little ones with viewing windows at just the right height throughout the park.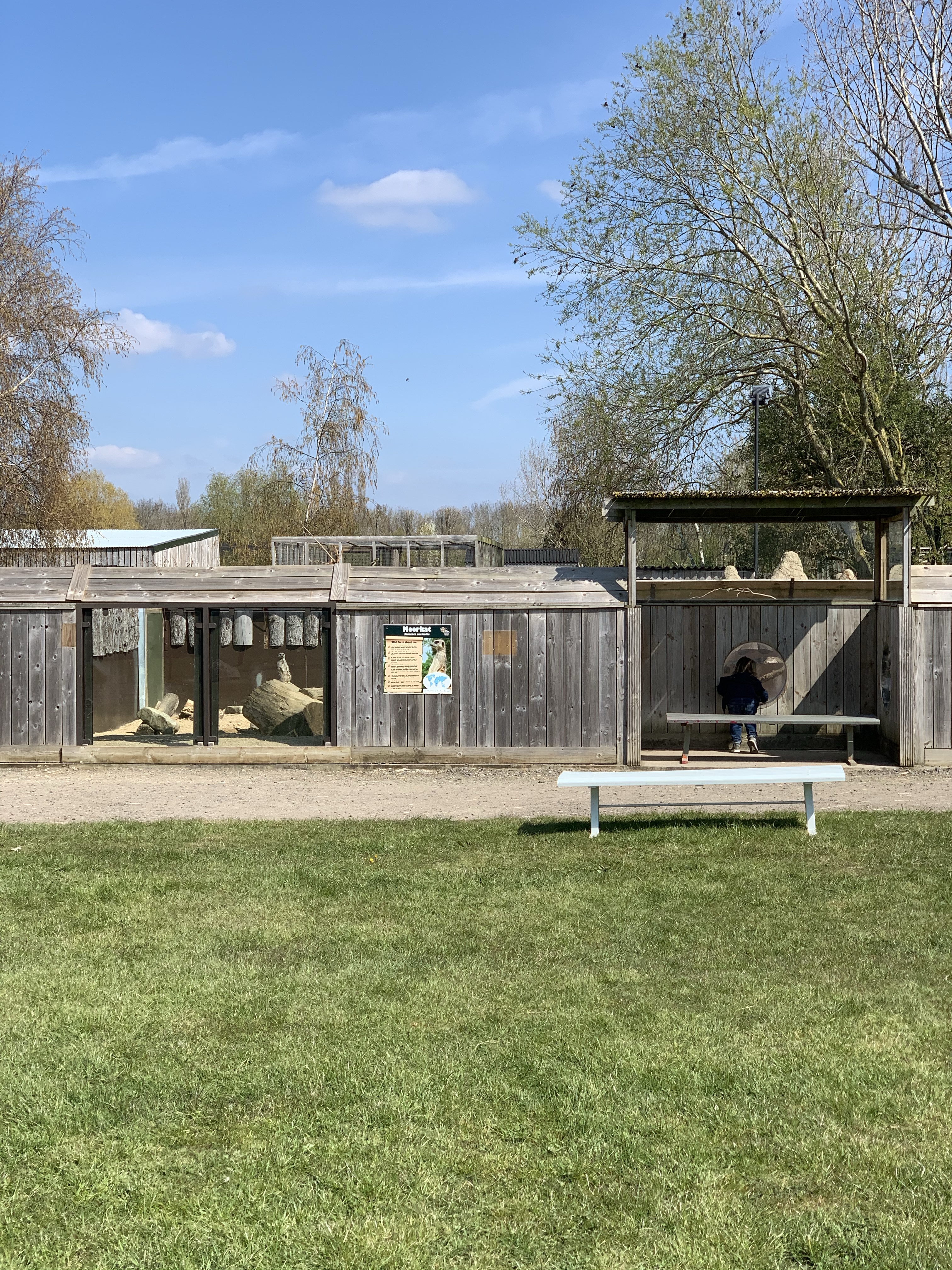 Most of this area has very wide paths and so people could pass by us safely as we took our time greeting all manner of creatures from parrots to monkeys, and again picnic benches spotted around for rest spots, by the end of the day I'd easily covered my 10,000 steps and more. The pathways are all flat so easy for strollers and pushchairs to navigate.
The farm yard walk through experience with the friendly goats was a highlight for Arlo as they crowded around us for attention, and he confidently stood right in the middle of them all. Then we went on to meet donkeys and a pony and bunnies – and we also spotted a lovely little collection of Fancy mice just like Bingo, Arlo's mouse at home before coming to another hand washing station.
After this area we washed our hands after handling the animals and I was expecting to be back at the beginning again, but we turned left and went on another route, which took us through an Australian themed area with kangaroos, Emu's and all sorts just before we came to the boundary line where there were more goats to greet along a beautiful trail, and just opposite some Rhea's. Now Arlo knows the difference between a Rhea, an Ostrich and an Emu and will talk about this for an hour if you ask him.
We paused under the blossom trees beside this path to have another snack, but before I could pack up Arlo was off again as he spotted something in the distance, and he ran back to tell me he'd found some lemurs. I did spot signs here and back in the Australian yard for walk through animal attractions which are closed for the time being but this didn't dampen our day at all, Arlo didn't even notice and so the next time we get a chance to visit and I tell him he can walk through enclosure with parrots – he's going to be beside himself.
We got back to the beginning after two hours and Arlo had another run around in the play park, and I got us some chips from the take away cafe (and I noticed an insane looking indoor soft play area behind some closed off screens). There were plenty of benches around the play park and two structures, one for the little ones and one for older children so Arlo enjoyed these for a while before coming over to tell me he wanted to see the dinosaurs again, and so off we went. The second time we wandered around the grounds we spotted so much more we'd missed out because there is just so much to see.
Arlo's favourite spot was another sandpit which had a hidden dinosaur fossil to find. We've been making our own fossils with clay at home and it made his day to discover T Rex teeth.
There were swings and more sandpits and of course a second chance to visit the ice cream kiosk at this stage before heading back to see more animals. My personal favourite were the beavers, I don't think I've seen any before and didn't realise they were so big.
There was also a huge selection of birds and parrots Arlo took his time watching, especially because we found the parrots, with an African Grey just like Sam at home. We also spotted Macaws and Hawks in different spots and now we were mid afternoon some of the monkeys and other animals we didn't spot earlier were out and about in their enclosures.
We were enjoying the warm weather and so for the remainder of the afternoon we wandered around again taking shortcuts and headed back to the meadow and play area, where Arlo became head chef of the mud kitchen. I watched him from a distance just enjoying himself and playing happily with other children also making the most of the sunshine and then we both took off our shoes and went along the barefoot walk together – a fabulous sensory experience.
We had such a wonderful time here and I honestly can't recommend it highly enough. At the end of every day I ask Arlo what his favourite things were and last evening he told me "everything" before reeling off a list of animals. He eventually fell asleep in the car on the way home exhausted from our day and clutching on to his dinosaur toy purchased from the gift shop.

The tickets were £14 each – amazing value for money, car parking was free. There are toilet and hand washing facilities, a reasonably priced take away cafe at the main entrance, along with the ice cream kiosk and picnics are welcome. Even with the indoor attractions closed this makes for a fantastic day out and is now on the top of the list for recommendations of family days out in the Midlands.