Yakinori is a Midlands based Japanese restaurant with (at the time of writing) four branches now open across the region. We were kindly invited to try a meal for two at the Touchwood shopping centre branch in Solihull. I originally came across the Poknori bowls on Instagram and they caught my attention as I've been searching for salad inspiration now I'm on a bit of a health and fitness journey.
Yakinori has a menu which has so much variety – unsurprising for a Japanese restaurant as there's simply so many awesome dishes which spring from this cuisine. I chose to visit with my sister for a girls night out and we agreed to order different items off the menu with the intention of trying each other's, and we ended up sharing everything as it all looked and tasted great.
The first thing we both ordered was bubble tea, the menu had a variety of soft drinks, including juices plus a selection of Japanese beers but neither of us had tried Bubble Tea before (I know, we must have been living under a rock). All I can say is that everyone needs to try these at least once. You can customise your drink with flavours of the juices and the bubbles, and the sensation of flavour when the bubbles burst in your mouth is nothing short of fun. These drinks were sweet and refreshing served cold but not too heavy or overpowering for the meal. I'll be popping in just for a tea every visit to the mall.
The restaurant itself was bright and cheerfully decorated, with an open kitchen and a dedicated section for collection of take out orders – which was busy all night, and there was a queue for "walk in" tables so I highly suggest booking a table to avoid disappointment. The sound system was playing chart music and there was a buzzing atmosphere, yet the tables were set to accommodate social distancing and we felt extremely comfortable during our visit.
The style of service is ordering at the table with a waitress, and as standard they bring out the usual condiments and chopsticks. We did request cutlery and this was no trouble at all. Throughout the evening the team we encountered were all extremely friendly, happy to recommend dishes, explain the menu and ordering process and checked back but without any feeling of intrusiveness.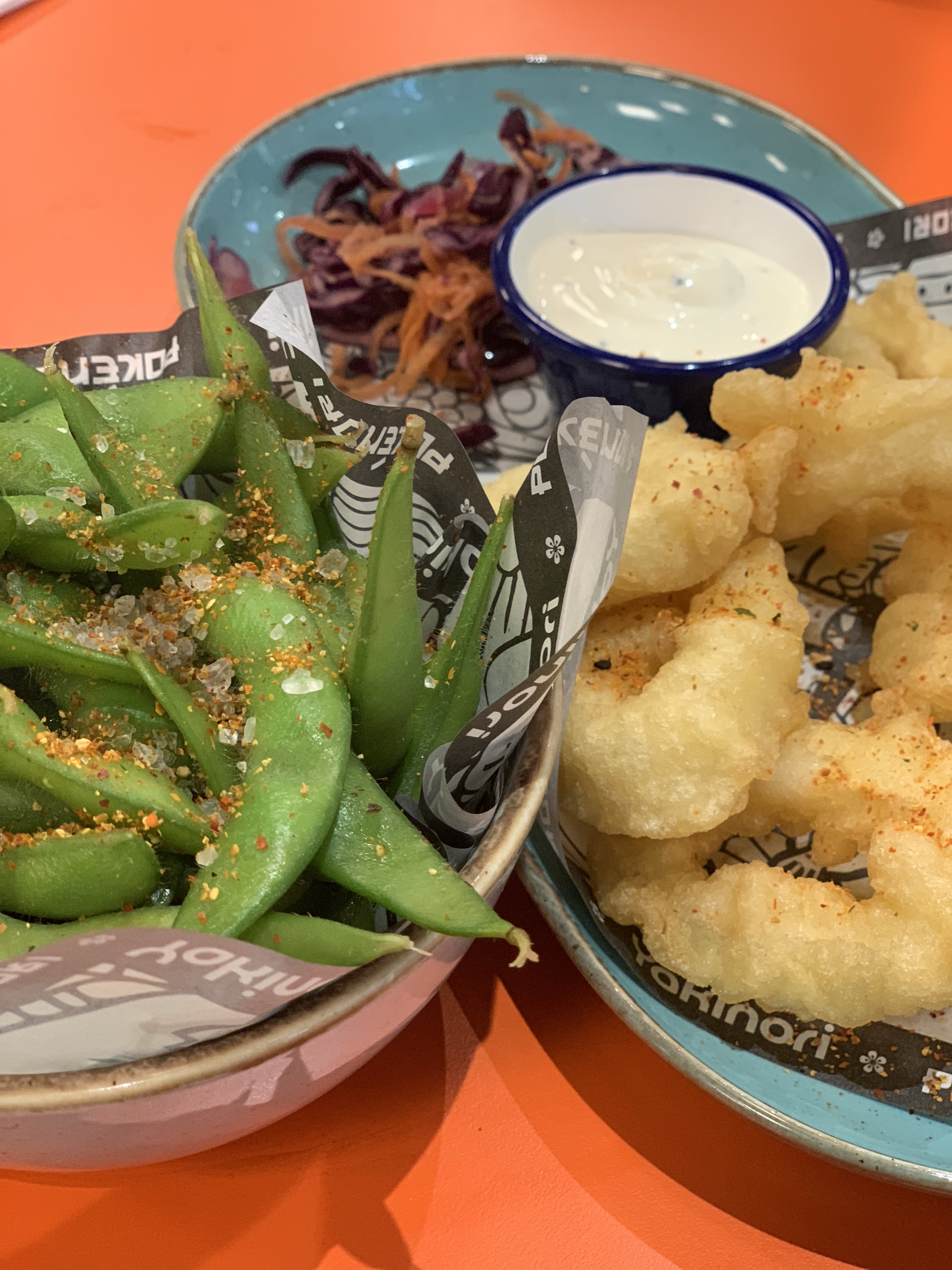 I opted for Shichimi Chilli Calamari to start, served alongside Edamame. Laura chose to order the Duck Bao Buns and these came out as and when they were ready, alongside a Miso Soup which is included with the Bento Box Main. The team bring our dishes as and when they're ready and this for me is ideal as I absolutely love small plates and a sharing style of eating.
I have to applaud the attention to detail with all of the dips and extras. The Yuzu dressing with the Calamari was light and had that unusual citrus tang, a perfect accompaniment to the Calamari prepared in a Tempura batter and served with Asian Slaw which was zingy. Slaw is one thing which often falls far short of the mark but this was clearly freshly prepared with a crunch and a burst of flavour.
The duck Bao buns were a delight,the fluffy steamed dough makes these a great but filling option. One was enough for me, a £6.95 portion comes with two buns demonstrating great value for money. The marinated crispy duck was so great we went for this in our Pokénori salad bowl.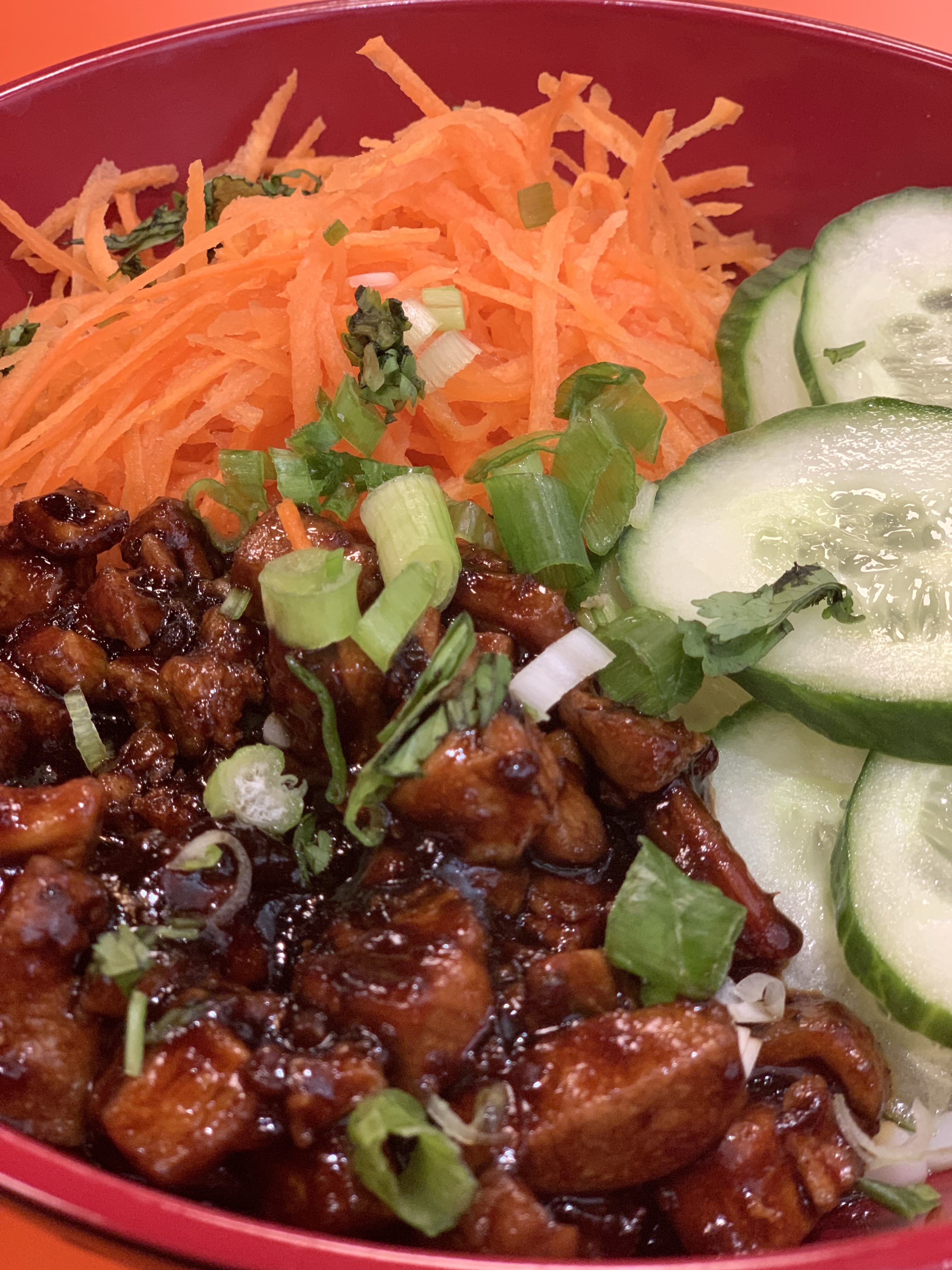 Pokénori is a fusion of Hawaiian bowls inspired by Japanese cuisine. The unique Yakinori style of ordering means that there's countless different combinations and that each bowl is unique to the customer. You can choose the size of bowl, then a base, a protein, up to four salad ingredients and then two dressings, and then add extras too. If you're the kind of person who struggles with decision making then don't worry as there's some awesome signature bowls to choose from on the menu too.
We opted for Udon noodles, with duck, carrot, cucumber, spring onions and coriander. We got our dressings in little pots on the side to really savour the different flavours. This went down a storm. The duck was marinated to perfection and crispy but not tough in texture. The noodles were light and fluffy, and all of our salad was fresh and crisp too.
The star of the Yakinori show however was the Bento box we ordered "ultimate chicken" was the description on the menu and it arrived to the table in a very generously sized box with a lid and the aromas radiating out when this was lifted were mouthwatering. Bento boxes are great if you want to sample lots of different things – with sticky rice and more of the Asian Slaw working well with all of the different flavours of chicken. We had chicken Katsu Sushi and chicken Katsu in sauce – the sauce was great, rich and light. It had no hint of oil or grease residue which you often get with Katsu.
The firecracker Karage chicken was special – the heat was mouth warming but not overwhelming, and the sriracha Mayo worked really well in combination. When we finished the Bento box we had to admit defeat and end our meal. We were so impressed with the food that after our review we ordered take out for the kids at home as we really wanted to try the sushi too (and I'm advised that this was demolished). The entire menu is available to order for collection or via deliveroo from their branches in and around Birmingham including Selly Oak, Grand Central and Bristol Park street.
In addition I also noticed that Yakinori offers a discount of 20% to students and NHS employees. Thank you kindly to the team for giving us the opportunity to review your restaurant and a special shout out to Grace and Tara who were amazing!
For more midlands food reviews check out our blog posts here