Just before Christmas 2020  many of our planned activities were cancelled. I felt heartbroken for all of the businesses struggling amidst the chaos of 2020 and was delighted to see places such as Umberslade Farm try to make the most of things.
During the summer we visited and went on a 5k trek around the grounds and I noticed on the website they were offering a one hour toddler pony experience for £35. This is a completely unique experience and I haven't managed to find any horse experiences in Birmingham for children Arlo's age and he is animal mad so of course I jumped at the chance to book this up.
The £35 booking fee is for the entire family and this can include up to six people. I organised this for a day we would be taking care of Paloma, and they both loved every second. Prior to arrival Charlotte had sent us an email to remind us to wrap up warm and prepare for mud. The thermometer was reading just one degree but we set off out for our trek regardless.
Just before we met Charlotte at our agreed time slot we had a chance to grab a drink from the Espresso Farm cafe and a quick run around in the park. The pigs were also nearby to say a quick hello and then it was time for our experience to begin. Charlotte led us to the main barn, the goats we had fed when they were tiny back in February were jumping up to say hello, as were the donkeys…. the llamas looked like they could take or leave us if I'm honest and as we walked past their fluffy turned up noses we met our pony for the first time.
Peppa our beautiful white pony was chosen by the kids because she looks just like a Unicorn. Charlotte gently encouraged Paloma and Arlo to take the reigns and lead her out of the barn and across the yard to a stable where we got properly acquainted. We were the only family and so had the entire place to ourselves, which meant the kids got a really special experience.
Peppa was given a good brush and then dressed with her boots, saddle and matching bridle – this experience enabled the kids to get up close to the pony, and so by the time it came to put their helmets on they were feeling extremely confident and rearing to go.
It was Arlo's turn first to leave the stable yard on Peppa and head to the bottom of the famous Umberslade estate drive, we walked along chatting away happily together before we paused for a swap, and Paloma then got in the saddle to take the lead on the trek up the hill through the muddy puddles – eventually we discovered a breathtaking view just in time for the sunset.
We had a chance to take some pictures together at the top before changing for the kids to take a second turn each riding as we head back retracing our steps. Peppa seemed delighted to splash through all the muddy puddles and walked faster back because she knew she had a carrot to look forwards to. Having the chance to view the estate from this vantage point at sunset was just magical.
We returned back to the yard safe and sound at the end of our hour and said our goodbyes to Peppa, both Arlo and Paloma were entirely overwhelmed and sat in the car all the way home chatting about their experience. We had such a beautiful time and we are saddened that Umberslade Farm didn't quite make it through the pandemic in its much loved previous format. The Umberslade estate however has some lovely new attractions including a wooden play barn which you can book to visit or for a private hire as well as a forest school. 
The cafe remains open 9-4 along with other food offerings and whenever we visit there's always some animals to meet and greet in the farm yard and the play area is free to access. Not  too far away are Umberslade Adevntures for some high octane outdoor fun or Attwell Farm for little ones to have an animal encounter.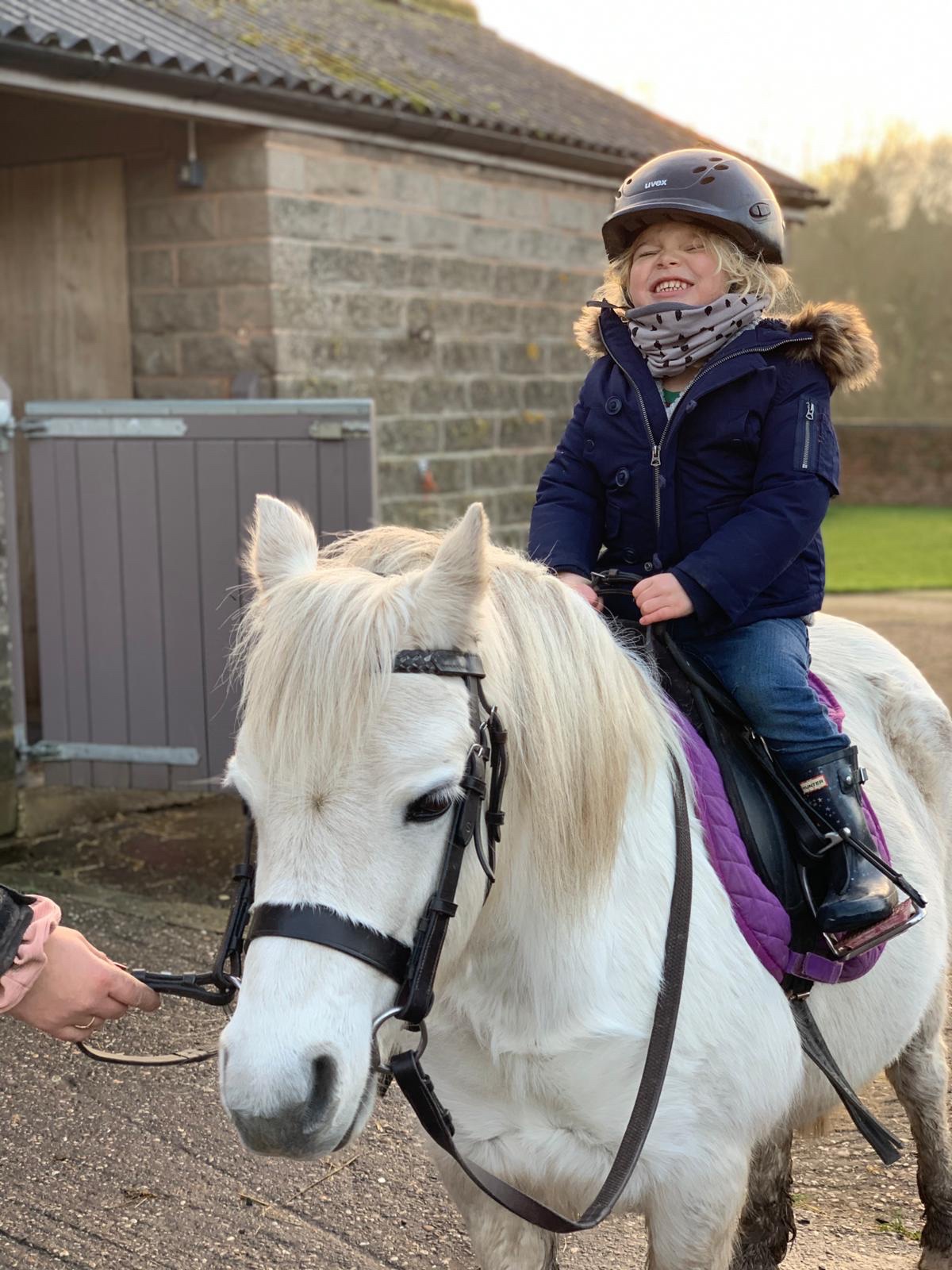 December is sold out but keep an eye out on their Facebook group and website for updates