I've been wondering for a long time how it would be possible to visit Santa this year in the midst of a pandemic. For a day I completely forgot about the virus and managed to relax and enjoy a magical experience with Arlo.
The winter barn workshop is a ticketed event, and for the price your child is invited to work with the elves to decorate an ornament, write a letter to Santa and create some reindeer food too. The elves are extremely patient and friendly, making sure to keep the magic alive and taking the time to have conversations with each individual child preparing them for a meeting with the big guy and stamping a passport as you complete all the activities.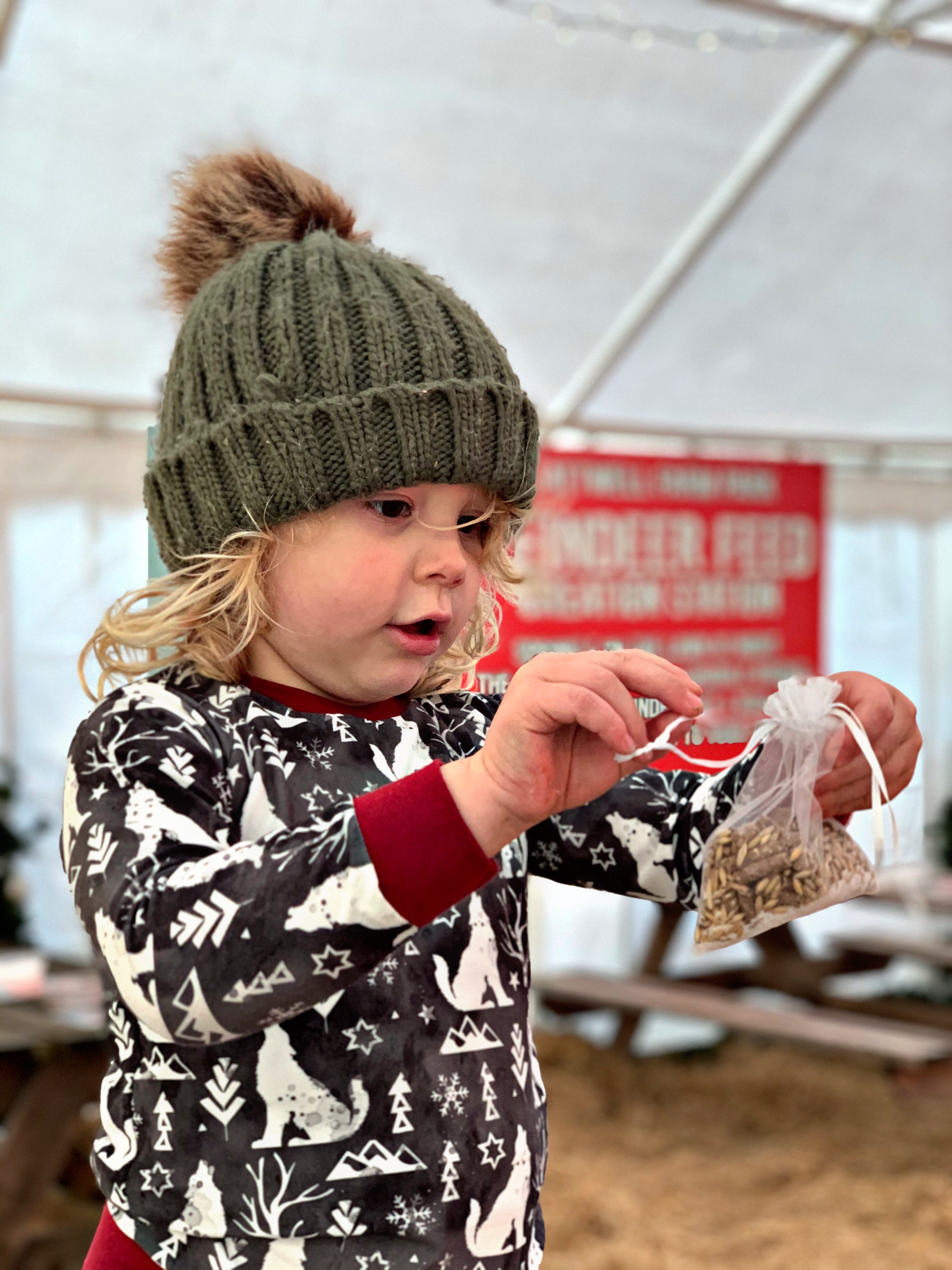 You can arrive up to an hour before your ticket slot and explore all of the features of the farm. I originally booked for just myself and Arlo but daddy was able to come along at the last minute and so we added him to our booking by calling ahead and paying on the door. As per most places the guidance is up to six people from one household per booking.
It is slightly strange being in one of our favourite places when it's so quiet but it felt like we had the run of the place to ourselves. Our favourite thing at Attwell farm is the gigantic bouncing pillow and this is closely followed by the indoor and outdoor play areas and the "real" fire engine. The place is spotlessly clean (as always) and it's easy to maintain distancing as it's such a big space and not overly booked in with guests.
We went exploring the grounds to find all of Santa's reindeer, meeting the emus, geese and chickens before feeding the goats in the outdoor barn – we had included animal food in our booking but you can add this at the door and buy extra too.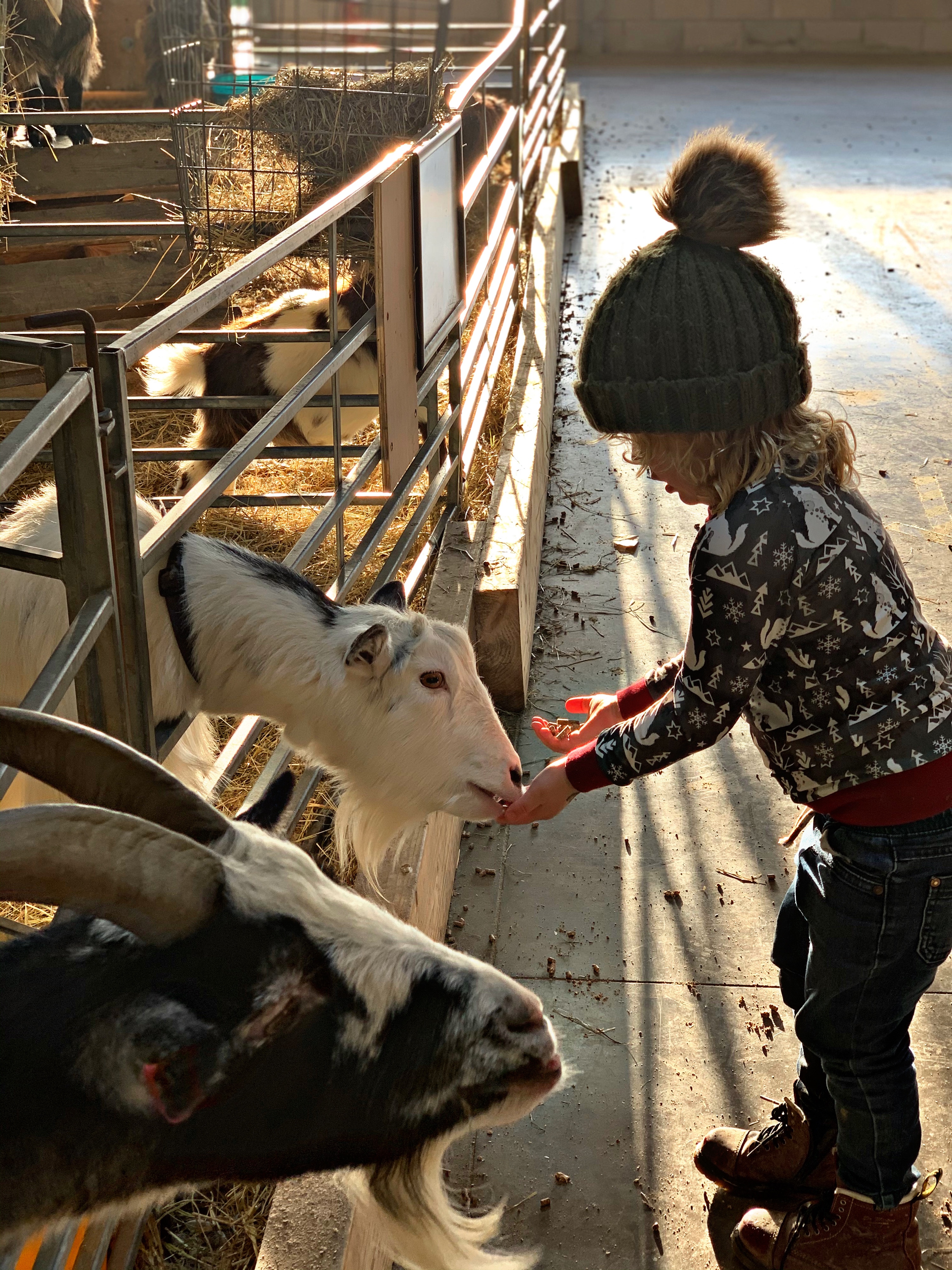 A few minutes before our Santa time slot we head inside to the "North Pole" – we waited a few minutes next to singing reindeer serenading us with "jingle bells" before being ushered in to see Santa by another Elf. We were so busy checking the nice list that we didn't realise Santa was sat behind us.
As he coughed we turned around and we're invited to sit on bales of hay and have a chat. Arlo was absolutely mesmerised and Santa was extremely relaxed and patient, referencing all of the details I had included during the booking process and we didn't feel at all rushed. This was the best Santa experience we have ever had and Arlo really and truly is a believer.
As a special treat Arlo was invited to sit on Santa's special chair before heading to the toy shop to choose his own gift from a selection of favourites – Arlo liked to take his time with this and the elf didn't mind at all. Once our visit was complete we had the time to sit indoors, and let Arlo enjoy the soft play area too.
Attwell has a gigantic Christmas tree as well as a sleigh and plenty of spaces to take some festive pictures…. we also have to give a shout out to the additional food items on the menu – the praline brownie was delicious! We had a lovely day and we can't wait to come back.
Due to popularity of this event tickets for the full experience in the winter barn are sold out but they have added additional slots for the Santa visit which includes a toy – check out their website here