Finally one of Arlo's favourite places to visit in Birmingham has re-opened – Thinktank – home to Mini Brum, the science garden and so much more – and we were delighted to visit and explore this weekend. Navigating around the ever changing roadworks in the city centre was a nightmare but eventually we found the car park and arrived at five minutes before our ticket time. The entrance is within the millennium point complex which is also hosting a vaccination clinic and so the main entrance is now on the ground floor.
We've been learning all about space and the solar system and so our new Grogu plushie came along with us and Luckily we managed to book slots for a planetarium show- we chose "the little star that could." (slots are very limited due to social distancing so plan ahead for this). As soon as we finished checking in which was a simple process, we began to follow the one way system which was marked out with unmissable red arrows, and we head out to explore the ground floor.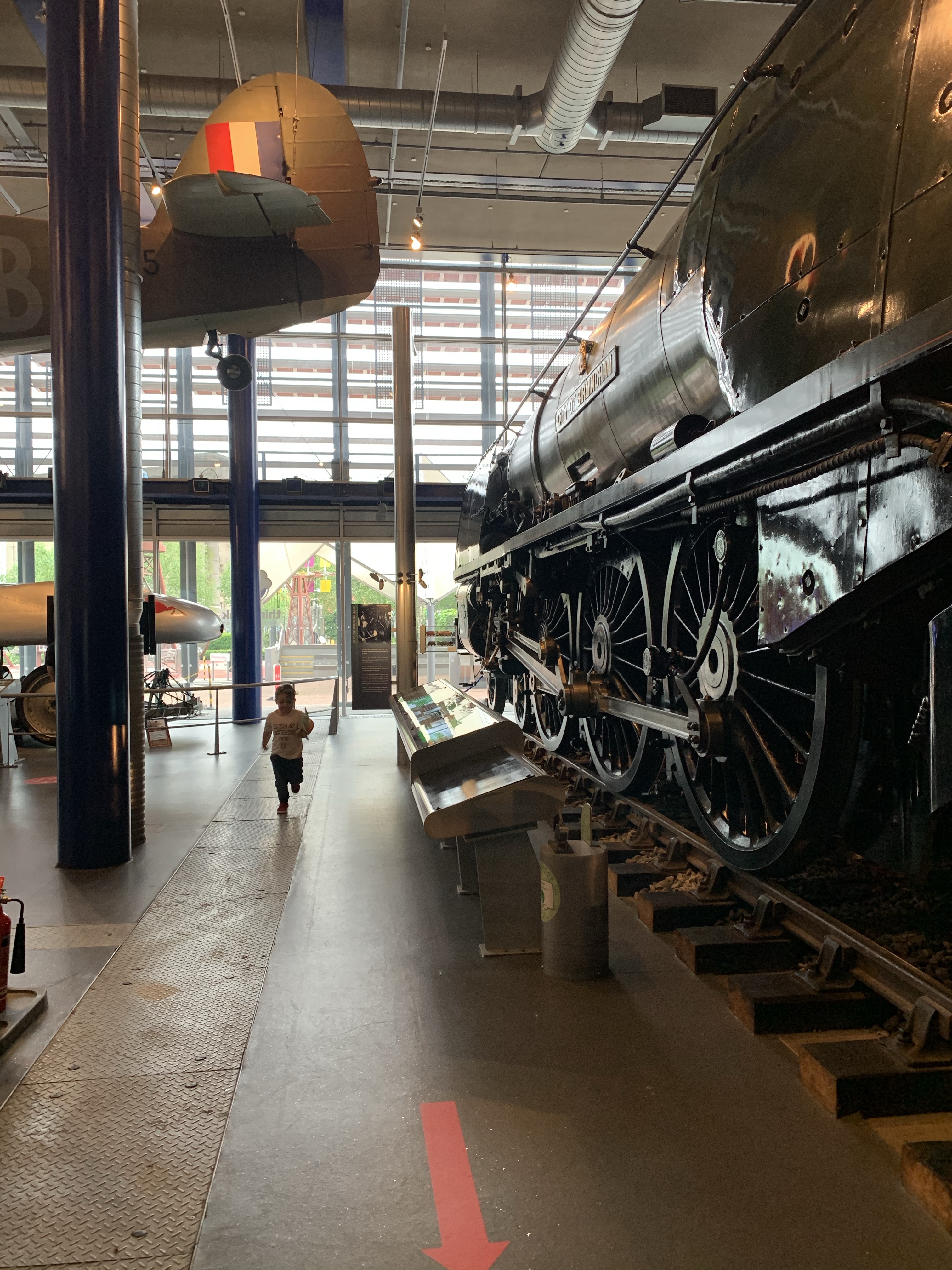 This space has some awesome machines. Of course Arlo is a bit too little to pause to read the signs and understand all of the science behind the installations but he enjoyed it none the less. With life size train engines and cars, not to mention fully functioning pistons and various interactive displays with buttons to press this was a fantastic place to start exploring. There's really something for everyone here, and on previous visits his grandparents have enjoyed the tram, which they recall from when it actually ran in and around Birmingham.
We took the stairs up to the first floor which gave us an awesome view of the spitfire which hangs in mid air. The spitfire was manufactured in the city and it makes me proud to see exhibits which not only help to give kids a science lesson but also help deliver a bit of local history too. It's great that the exhibitions feature so many different points of interaction and it gave me great pleasure to see Arlo enjoying new things over a year after our last trip. I feel as though we could return time and time again and learn something new.
There's more to see on this floor, which focuses on science and Industry with a huge collection of exhibits. There's so much space at ThinkTank we had no trouble social distancing and I noticed that the team were very present wearing gloves and cleaning the interactive displays regularly. Arlo wanted to touch everything, from changing tyres to rewiring robots. There's so many screens activated with buttons which offer short informative clips relating to exhibits this it's impossible to cover it all in a day.
The new our changing planet instillation was a space which Arlo really enjoyed on the next floor. I think it's aimed more at older children in terms of educational value but the visuals really intrigued him. He's been learning about "trash" and recycling at nursery and talks about this a lot at home so looking at the display about plastics opened up a valuable discussion opportunity.
There was more to explore on this floor, with huge displays detailing everything you need to know about the human body – from digestion – where to help push food along to the stomach before finding out about the contents of large intestines and colon and pressing a button to make a fabulous splash and flush noise. Each exhibit includes different sensory opportunities, designed to be interacted with. This was spot on for Arlo's age and we spent a lot of time on this floor, because there's more to see.
Arlo remembered the animals and ran around this display enough times to make me feel dizzy. By this point he had got the hang of the arrows and I found that they have been arranged in the most useful way to take you through the exhibitions. This floor is also where the gift shop is. I must say that gift shops are usually my worst part of the day but Thinktank has a wonderful selection of bits and bobs. Plenty of toys with educational value, beautiful books and pocket money toys which don't break the bank. I even asked if I could come and visit the shop (thinking of birthday gifts) without having to pay entry and they said yes!
The top floor takes us up to Mini Brum which is easily Arlo's favourite place. It's a fully immersive role play for kids, with areas for construction, a doctors surgery, a cafe, post office, super market, mechanics, train station and so much more. Each space is built with little people in mind and inspires imaginative play. I personally would pay to come to ThinkTank just to visit this space with a toddler. Again this space had a queue system entry to allow for distancing and the team were constantly cleaning toys and equipment without intruding.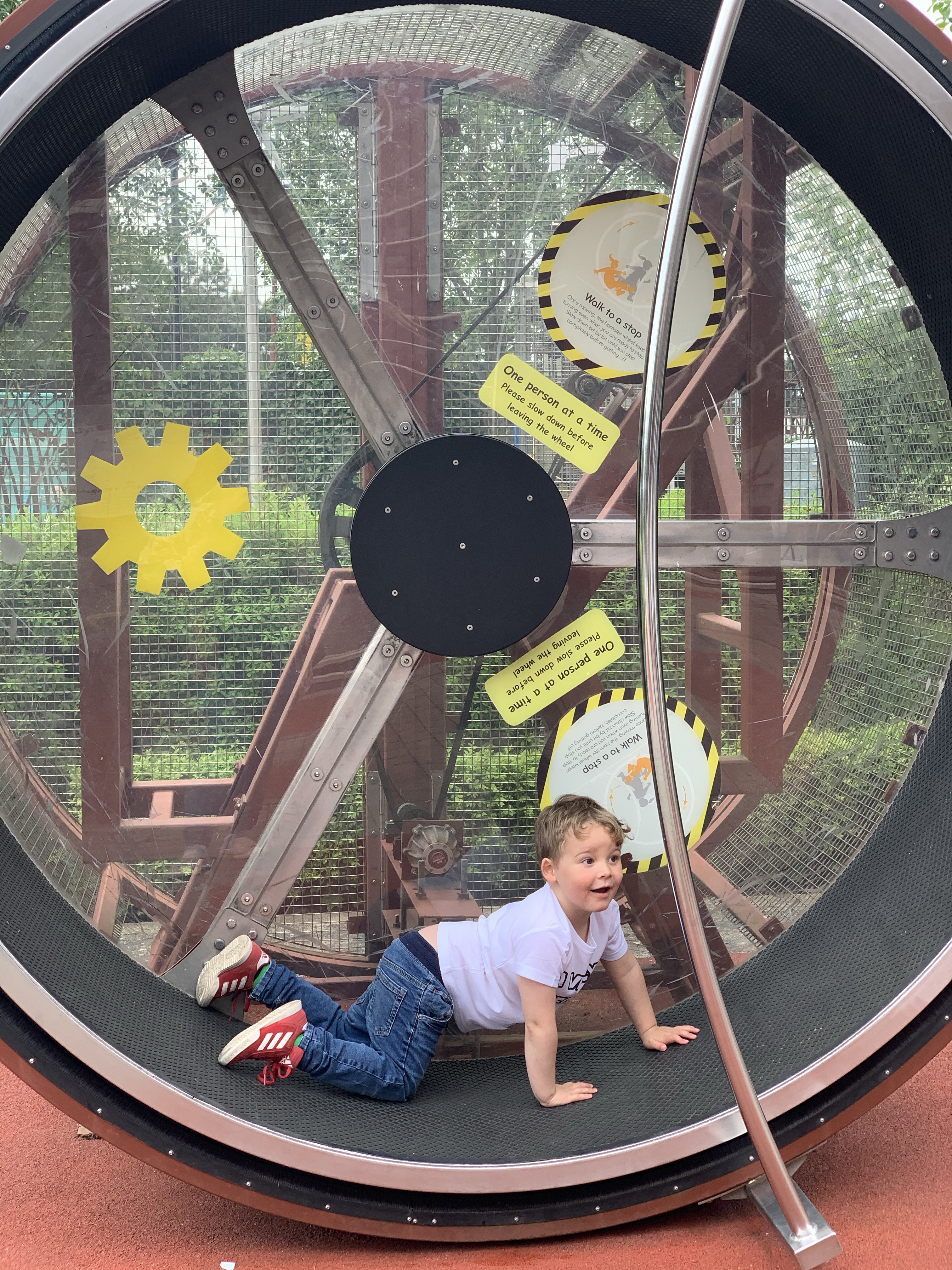 At some point in the day, about four hours after we arrived Arlo decided that he was feeling peckish and we we went back down to the ground floor and enjoyed table service at the cafe. I ordered an adults hot dog meal at £7 and a kids snack pack which had a sandwich, a carton of juice and other bits he could choose including cheese and grapes for £4.95. Service was efficient – mid meal I had to stop to rush Arlo to the loos and the lovely team helped us find the nearest ones and get back to our table with no problems at all. During the meal Arlo noticed other children playing outdoors in the garden.
The science garden is one of Birmingham's best outdoor spaces for little ones – you won't find a traditional play area here – every single apparatus delivers a science lesson and buckets of fun, although if you have a child like Arlo you might want to take a change of clothes as the water tables are bound to be splashed about in.
This fascinating structure captured his attention for such a long time, the frame has a series of different mechanisms – pulleys, winches and wheels to be turned which when played with cycle a series of balls around the frame, and as the balls move around they hit bells making noises. It sounds really simple, looks really complex and it made the cogs in Arlo's brain turn.
At our booked time slot we made our way back up to the top floor with our snack of dehydrated space food to visit the Planetarium. Tickets are £2.59 and there were several different shows on throughout the day. We watched a 25 minute show about a little star, an average star with no name as he journeyed through the universe – we eventually discovered was our sun and had an introduction to various different types of stats and all of the planets in our solar system too.
Arlo really enjoyed the show, it was his first experience inside an auditorium post lockdown so I wasn't sure if he would sit through, but it was pitched at just the right level for his age. He's obsessed with all things space related and so to come out of the planetarium and explore the exhibits with the Mars rover and a full size spacesuit was slightly overwhelming for him.
Then by the time we got to the interactive robots he could barely contain his excitement, he ran from screen to screen pressing buttons to make the displays light up and spring in to life. Once we had explored every floor I asked Arlo if he wanted to go home but he wanted to go back and revisit some of the spaces again, and so we went up and down in the lift – of course back to the digestive system to listen to the toilet splash once more.
Tickets to ThinkTank are bookable online, adults £14, kids £10.25 and under threes go free.
Tinktank is open Wednesday to Sunday, 10am-5pm. (During May half-term the museum is open 7 days 10am – 5pm)
Visitors can become a member of Birmingham Museums and get 12 months free entry to Thinktank Science Museum, plus other amazing museums in Birmingham!
Thinktank is part of Birmingham Museums Trust, a charity that cares for the city's collection of over 1 million objects and artworks across nine venues, bringing people's stories alive through exhibitions, special events and activities. All proceeds from your visit to Thinktank, help Birmingham Museums Trust continue to educate, inspire and entertain!