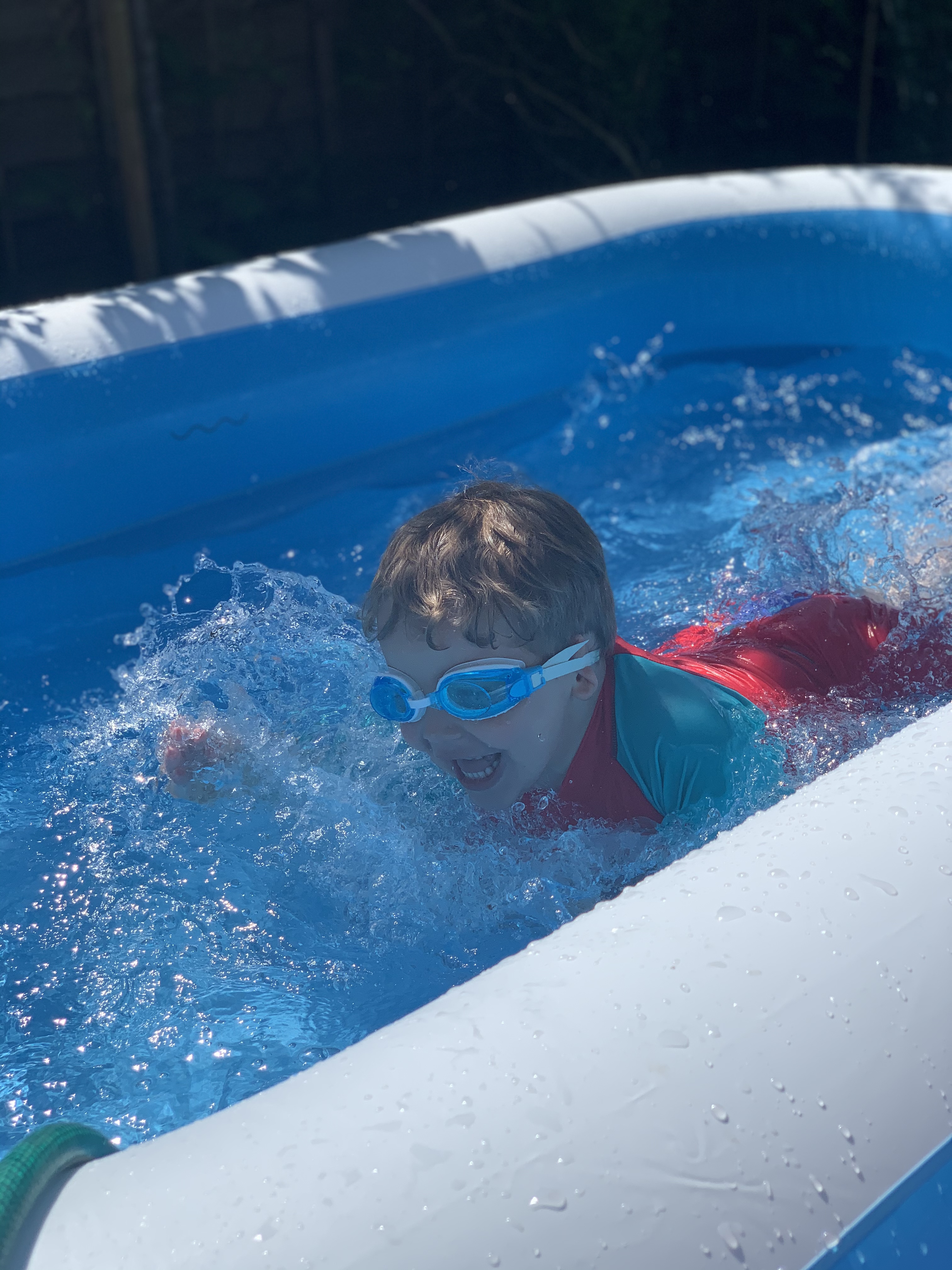 This summer is promising to be a good one. After a year of lockdown it's fabulous that restrictions have lifted and we can head out and about on adventures, but of course we can't head out to attractions every day as we don't have the budget. I'm looking forward to sunny days in parks and long evenings in the garden with barbecues and friends coming over to pass the time, come September Arlo starts school and I'm going back to university and so I'm keen to make the most of every second.
When Very asked me to work with them to showcase some of their toy range I jumped at the chance. With so many different brands and products available I was spoilt for choice and I had a good think about the kinds of things which would keep Arlo busy this summer, as ideally I'd like him to exert enough energy to stick to his bedtime and I also love toys with educational value. Being in the U.K. I also have to consider toys which are suitable for indoor and outdoor use with out interchangeable weather.
So without further ado I'm going to delve right in to a review of the items I chose, consider the the ultimate gift guide for a four year old boy this summer.
1. The pool of dreams £34.99
Paddling pools are a must for hot summer days, and we have had various different structures over the years with all sorts of bells and whistles but nothing beats a simple rectangular pool. It's not too small or too big, the depth of water is perfect and its robust enough to withstand the craziness of Arlo. He invents his own games, "racing" lengths and adding in toys and during the spells of hot weather the pool is a permanent fixture in our garden. I often end up getting in myself to cool off. This one comes with a repair patch too. For my top tips to setting up click here.
2. Making a splash
Bunch of Balloons £13.99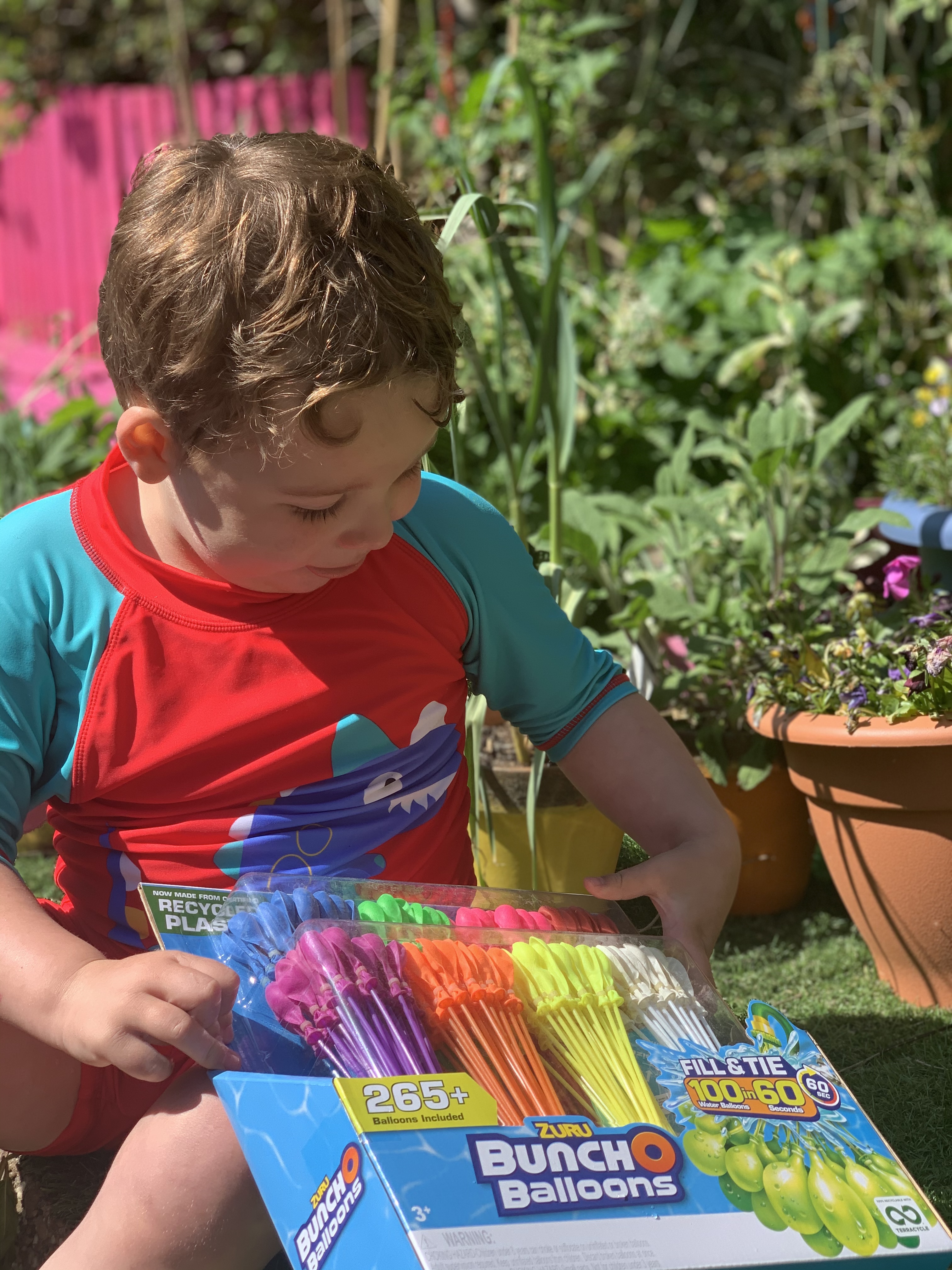 If the pool doesn't create enough of a splash then a good water balloon fight will, and these from Zuru are perfect for setting up a battle as they have a clever little mode of action to fill and self seal which saves tying lots of knots and means they're ready to use in a matter of minutes. Better still they're made from recycled plastic. There's eight sets in the pack and so here's hoping we get eight hot days this year.
3. Dino Time
Overseer the switch and Go T Rex from V Tech £69.99
If you didn't know, Arlo is obsessed with dinosaurs and this is something he constantly points out. I have to admit I ummed and ahh'ed over the price point recently, I consider this to be a big toy which would be a great "main present" for a birthday or Christmas, but he does have some of the smaller toys from the switch range. I love VTech as a brand for their toys with educational value and find their toys manage to withstand the whirlwind that is Arlo.
As soon as Arlo realised that he was unboxing the dinosaur his face lit up, and so did mine. This robot comes with its own controller which is really easy to operate. You can direct it to walk in all directions, speak, transform and do a few stunts. It didn't take Arlo long to get the hang of it and it's absorbed his attention for days. I'm really impressed with how sturdy he is and how well he transforms.
4. Toys with educational Value
VTech Leapstart £39.99
This is something which comes highly recommended from friends with children the same age. It's essentially a platform for an interactive book which works with a stylus which has some wizardry style magic. The box came with a sample book and you can purchase additional books which work with the leapstart on various topics. Arlo picked up the technique in no time and was particularly interested in pages where he had to spot the animals. I'm hoping that this will help support Arlo in his learning over the summer and as he enters reception, in fact the age guide states that it's suitable for up to seven year olds. I've already been looking at books for phonics which I think will be perfect to add on, as well as the Amazing Animals one as based on the sampler this is the page Arlo liked the most.
5. Tech toys
The VTech Challenger Laptop £34.99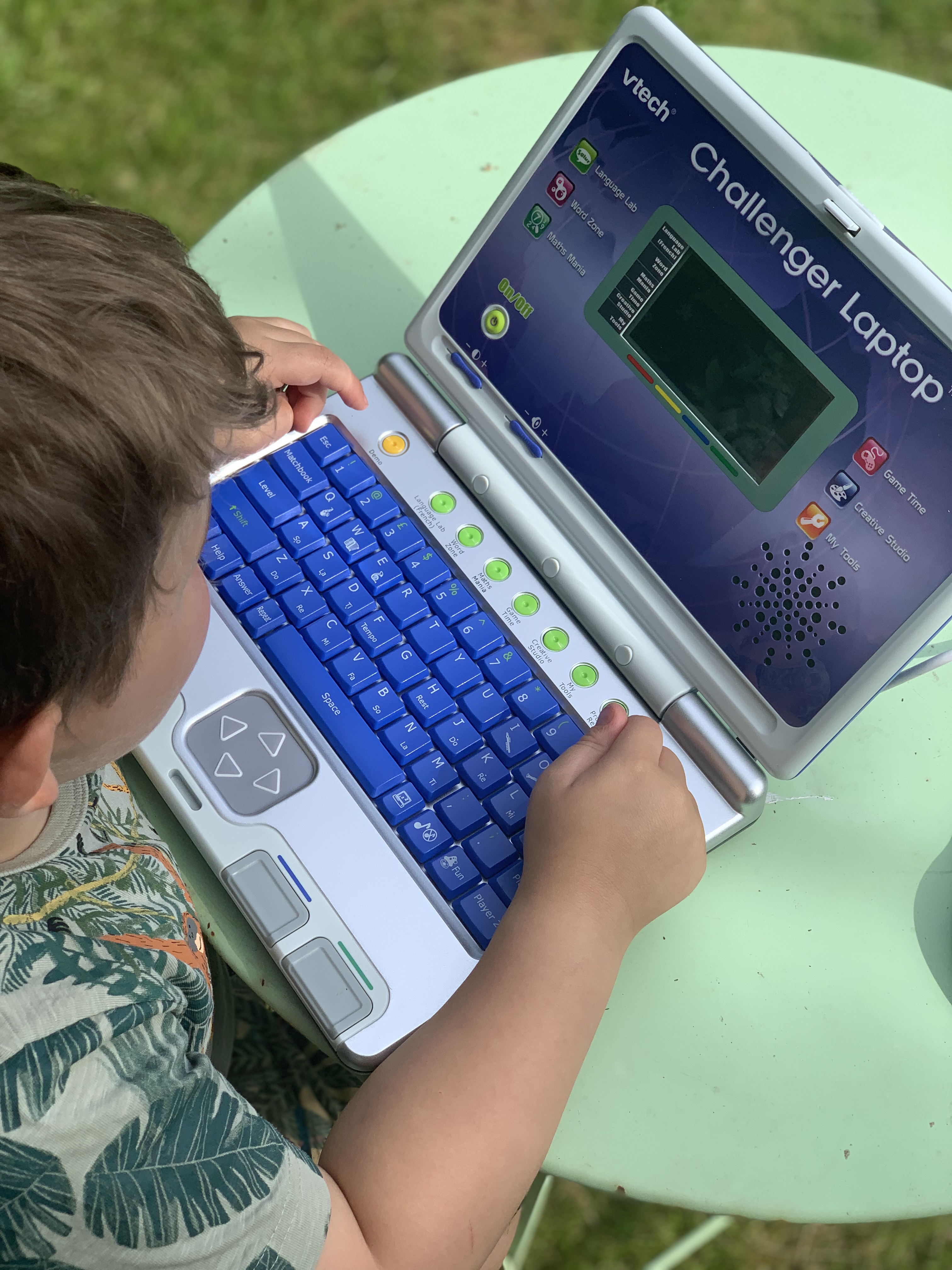 The reason I chose this is because I'm hoping it means Arlo will leave my laptop alone, after a year of working from home I've learnt to hide my own laptop up in high places because Arlo is really intrigued with all the buttons. I tricked him in to finding this by setting it up in my office and making him think that it was mine for "work." In playing with this he thinks he's getting a rare special treat and being really grown up. Toys like this provide a great introduction to tech and provide educational content through games which doesn't make it feel like learning is a chore. There's so many different activities programmed in that it's going to take a while for him to get through them all.
6. Has to be Nerf
Nerf Rex Rampage £44.99
This is a special treat for Arlo. He's played with his older cousins large guns before, I got him a much smaller one last Christmas because he kept pestering me and he got the hang of it quickly. We're quite safety conscious so he knows all about not aiming for heads etc. With the kids enjoying nerf battles in the park together over summer I thought it's about time he was prepared and it just had to be dinosaur themed. This comes with 20 bullets and is battery powered (x4 AA, not included). Read all about how we prepare for battle here with our stackr's from Nerf.
As soon as he opened the box he went quiet and sheepish because he couldn't believe it was in front of him. Setting up was super quick, and it took us about ten minutes of practice for him to learn how to load the clip and use the triggers and off he went. Running around the garden and hiding behind things to get me as I was weeding the borders.
7. Heaven is a half pipe
Micro Scooter Mini £79.99
Another requested toy from Arlo was a scooter. Hes had a very basic version but it didn't stand the robustness test, He's long since admired his older and has had a go on them but struggles to maintain his balance. This Micro Mini from Micro Scooters is the perfect transition scooter for the next stage. It's got the rear break and adjustable handle bar like the big kids versions but still has two wheels to help balance.
Steering is done by leaning which is something which takes time to learn but helps develop co-ordination. He's working on those gross motor skills, keeping him active and all whilst having fun. We have a long list of local parks to visit this summer and the scooter is light and small enough to pop in the car boot for all manner of adventures.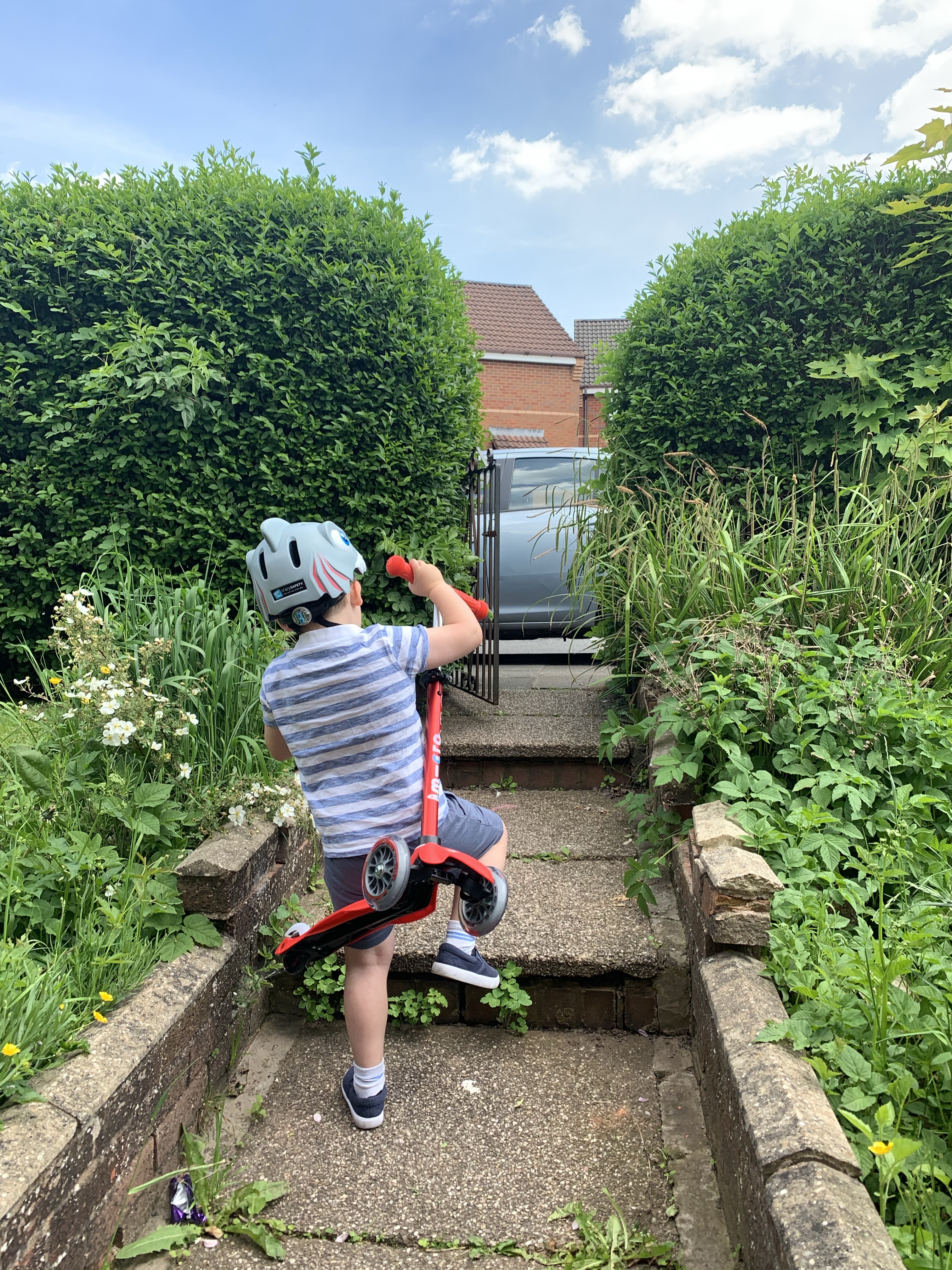 8. Getting creative with Crayola
The mega activity tub £24.99
We love getting our craft on, and so having an array of different materials to utilise is brilliant. You can't beat Crayola for quality when it comes to kids bits and bobs. Arlo will be drawing and practising his writing skills most days in the run up to starting school, I always make sure that he has these materials accessible at the kitchen table as an unstructured activity, and I love displaying all of his work on our pinboard in the kitchen. He always says that his favourite colour is rainbow and so here he has everything he needs and it comes with a handy storage container too.
9. Continuing the crafts with play doh
16 tubs value deal £19.99
Another of Arlo's favourite things to do is use play doh to make all sorts of models, we could set up our own zoo here! Playing with this is really useful for developing his dexterity skills, getting those hand muscles working and ready for school work and pen holding. Arlo likes to mix all the colours and keep his models rather than squish them back down so this handy set is great to top up the stash, and I actually chose these to use some in his birthday party goodie bags – we'll be giving each child a tub of playdoh and some tinker tray accessories to take home.
10. Ice cream Dream
Kitchen creations drizzy ice cream set £16.99
This kit from Play-doh is perfect for summer. Arlo loves his ice cream and we've set up the mud kitchen with all sorts of activities but this set is second to none. With its own soft serve machine to create playdoh mounds of ice cream and accessories to make the toppings and even special sauce I can't wait to see his face when I pull this out for him to play with. I'm going to save it for a rain by day, but when I pulled open the box to check everything I ended up making my own cherry for the top!
11. Count me in
Math Link Cubes £19.99
These remind me of my time at school and bring back all the nostalgic vibes. They're such a fab resource for learning to count and do simple sums – clicking the cubes together is a great way for Arlo to engage as he likes construction and building so he gets to see a visual representation of numbers. There's a hundred cubes here for him to count until his hearts content.
The box also includes zero "numberlings" and some activity cards, stickers and character cards, plus a parents guide which all sorts of ideas. This is a toy we will use over the summer and will also pull out to help with his homework for a long time to come. I can't quite believe that I'm planning this far ahead already!
(Products in the blog provided for the purpose of review)