I'm a mom (and yes we spell it like this in Birmingham) so I figured I'm in as good a position as anyone to create a mother's day gift guide to share gift giving ideas a couple of years back and this is the 2023 update. I have a huge range of hobbies and interests so I've been busy reviewing all manner of products to bring to your all manner of options no matter who you're buying for.
The Google Nest Hub Max
Top of my wish list this year is this device which means I can cook along with recipes, sing and dance along to music whilst I cook and also get in touch with my mom for hints, tips or a general chitchat. I'm always trying to multitask and look things up on my phone and balance it on the sides so it's about time I bought my kitchen up in to the 21st century. If you've got a tech loving mom and want to treat her then this might be the one!
For more tech gifts for a smart home set up click Here to visit Very
The perfect smile for Mother's Day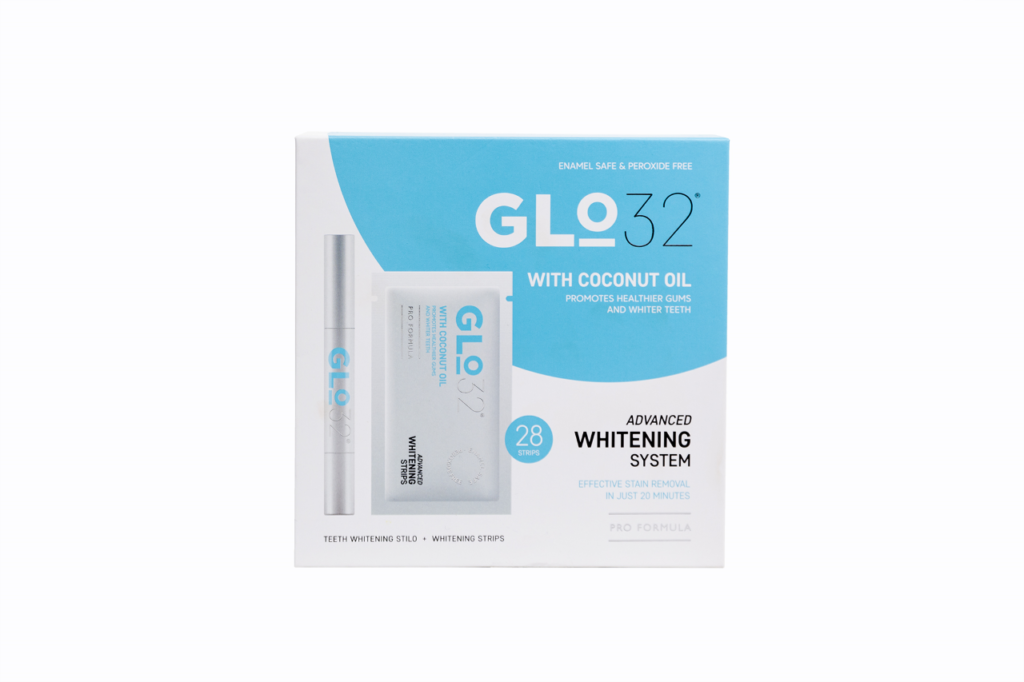 This seems like a fab idea for a more unusual gift – Glo32 formulated with Coconut Oil for a healthy way to achieve a whiter, brighter smile. Something I have had on my list of things up research and invest on for a while yet haven't had the time to do. Double your glo with the advanced whitening system kit, including; a 14 day treatment of Advanced Whitening Strips to lift your smile, and the Advanced Whitening Stilo for on the go whitening.
Check out the Glo32 kit and more over on the Boots website
An Italian food hamper of dreams for Mother's Day
With Mothering Sunday just under a month away, Seggiano has released a new premium Mother's Day hamper that is perfect either as a gift or for cooking up a storm as a treat for mum on her special day. As Italian food ranked the UK's favourite cuisine in 2022, there is no better way to win mum's heart this Mother's Day.
Stuffed with kitchen staples and sweet treats, the artisanal Italian food brand allows you to give the gift of delicious ethical Italian cuisine for just £50. Carefully curated with mums in mind, the hamper includes all manner of delectable treats.
Visit the Seggiano website here
A real treat for a foodie
One of my more expensive picks for the guide is this beautiful Viners knife block gift set . This arrived beautifully packaged and delivered to my door, with five exquisite golden knives which I can't help but think will look fabulous when I host some sharing platters with fresh bread at my next gathering. They're all high quality and have a soft grip which makes them a real delight to use plus the knife block is included which has an elegant slim shape for saving space – the knives attach themselves magnetically to this so it's a design which makes you want to put the knives on display and show them off.
Gifts with well-being in mind for Mother's Day
Celebrate the most important person in your life this Mother's Day with gifts crafted with wellbeing in mind from Made By Coopers. From gifting a good night's sleep to the perfect bath buddy to making your world much calmer.
The Made By Cooper's brand was formed after the founder, and now apothecary, well-being and anxiety expert Clare White found solace from her all-consuming anxiety disorders in essential oils and powerful plants.
Made By Coopers only use natural, organic and plant-derived ingredients to create its ever-growing artisan line of wellbeing, bath, beauty, skin, candles and luxurious gift set products. There's a gift to spoil the mother figure in your life this Mother's Day.
If your mum is a lover of candles and can at times feel stressed and anxious? You need to treat her to one of Made By Coopers Calm Candles. It's a calming blend of five essential oils designed to relax the mind and body, in the morning, during the day, or at night.
Explore the Made By Coopers website here
Unusual jewellery items
I have been obsessed with obsidian ever since I realised that it's "dragon glass" from the game of thrones series. I've never seen any items I really like of black Obsidian jewellery before exploring the range at Xander Kostroma Lifestyle – I was supposed to be sharing a different product entirely for this gift guide but these earrings are truly unique and I love the packaging. The earrings came affixed to a cardboard skull decorated with the company logo. Something I'm going to save to use as a little decoration. There's something so fabulous about ordering from a small business which really sets themselves apart with the little details.
Have a red letter day for Mother's Day
There is nothing I love more now that I am older is to enjoy spending quality time with my mom, but we often struggle to celebrate on special days. Red letter days allow you to gift an experience voucher in a beautiful gift box to be enjoyed at a convenient time. There are lots of different experiences and packages to choose from including spa days and afternoon tea packages to name just a few.
Roll with it
As a self confessed foodie one thing I have always wanted to try is making my own sushi at home. I've never gotten around to buying all of the things needed as it seemed like an expensive start up for a little creative project – but then Kelly Loves sent me out a kit which included everything I could possibly need and I wish I'd have taken the plunge earlier.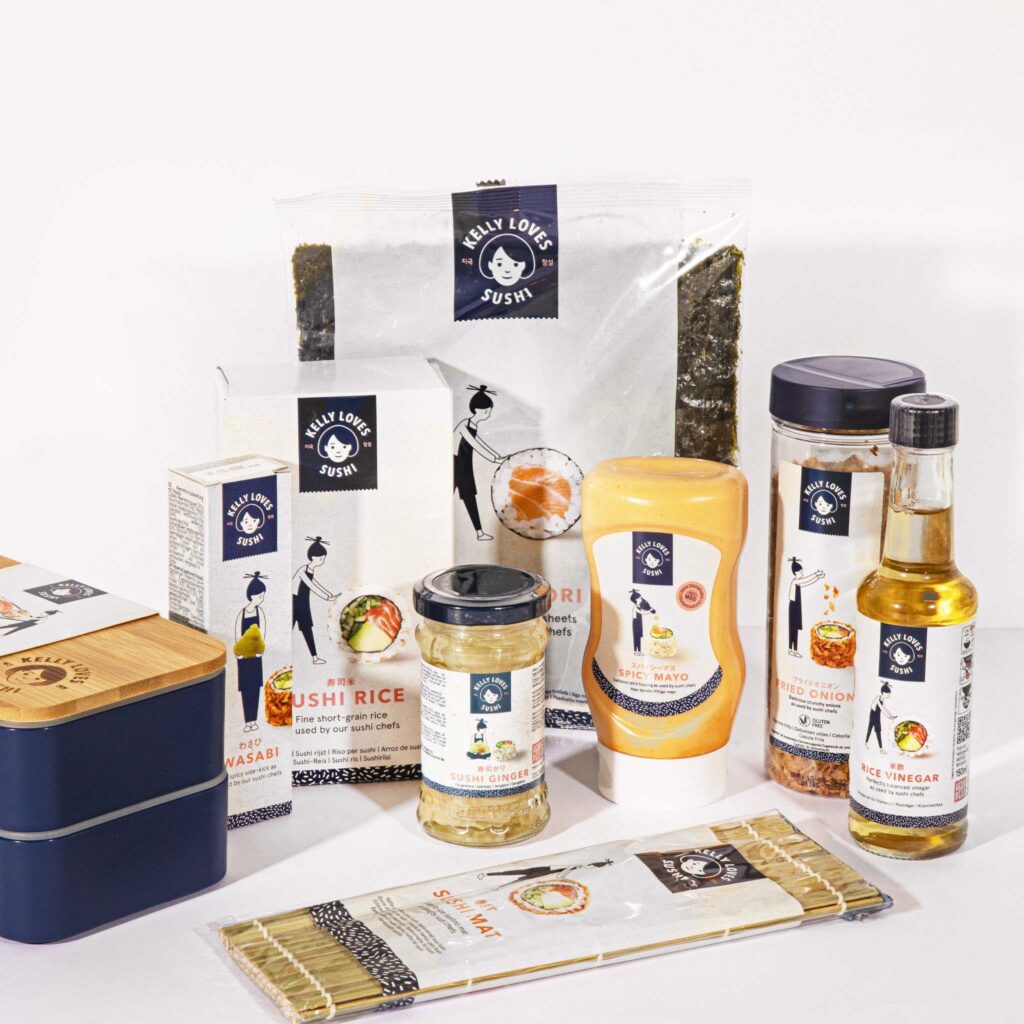 This kit came delivered to my door packed full to the brim and I couldn't wait to open up everything and give it all a try. I opted to go with some veggies at first, tearing in to every single packet to try it all out and enjoyed the making and tasting process immensely. The best thing is this kit comes with the cutest bento box so that you can take your sushi out out for lunch to share (or not as the case may be).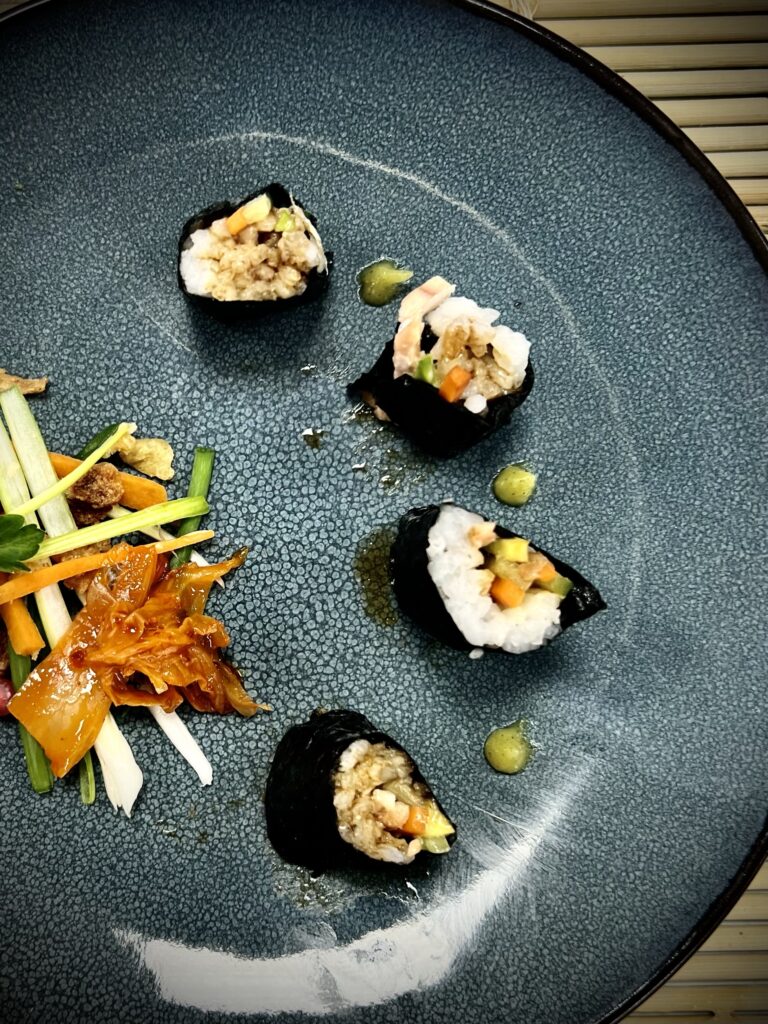 It takes a while to get the knack of it from rice texture to the perfect roll – but this is the kind of gift which keep's giving and one of my top picks this year.
The ultimate gift for chocolate lovers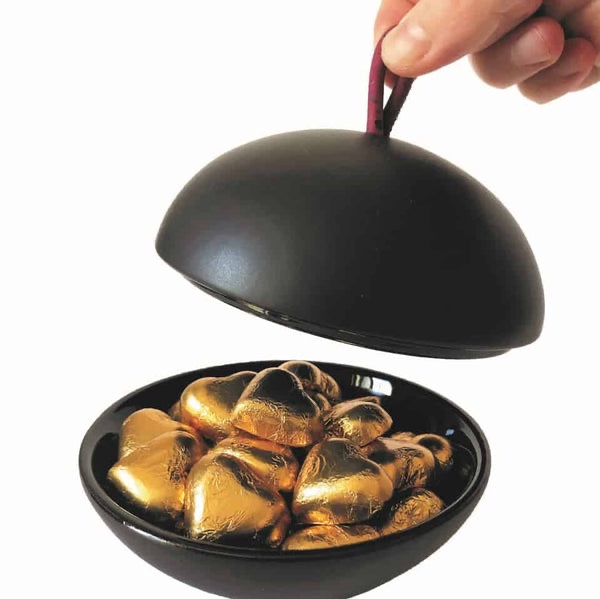 A beautiful bonbonniere handmade in small batches from solid clay.

This gorgeous piece of home decor is filled with fairtrade chocolate treats, choose from love hearts, mini eggs, mini bars and more. The bonbonniere also makes a stylish trinket & jewellery box, once the chocolate is finished.
Explore the website here
A moment of zen
Diffuses essential oils into your home. Made from natural Lava & a red heart-shaped Obsidian stone. Includes a choice of 7 essential oils blends including "Bloom" "Unwind" & "Forest" – simply add a few drops and let the porous lava absorb and then slowly release the fragrance. A beautiful idea and a uniquely beautiful item of decor too.
Head to the Boostology website for more info
The perfect print
Ink & Drop have a huge range of different prints across many styles all available online at prices ranging from £13 – £85. From vintage to master prints and everything eclectic in between. They also have a personalised section that that is super popular and makes the ideal presents to share in this Mother's day gift guide. I know which prints I have my eye on and have cleared a space in my home already.
Vegan treats
One new brand I have discovered recently is Pulsin. I'm certainly not a vegan, but I am trying to reduce the amount of animal derived products I eat and make more sustainably concious choices. When it comes to snacks and treats it's nigh on impossible to find items which do not compromise on flavour too. I got myself a little bundle of goodies including Oh So chocolate bars, which are vegan and cruelty free as well as Livia's nugglets of cookie dough which are just moorish. If you're shopping for anyone vegan or with specific dietary requirements then this might be the perfect site to explore. You could fill up a while picnic hamper with goodies and create a wonderful surprise.
Plant a sustainable tree
As March approaches, many minds turn to our mother's and how to show we love them this Mother's Day. Gifting a remote tree through Treedom, where you can follow the positive impact of the tree planting on the local community and track the growth of your tree, is the perfect eco-friendly personalised gift.
Like a mother, the trees planted by Treedom are resilient and provide for and nurture their communities. With over 45 trees to choose from, you can personalise it to Mum's favourites—an Avocado tree planted in Tanzania (£19.90) or the Cacao tree planted in Cameroon (£17.90).
Gifting with Treedom will help foster generations to come. Treedom has grown over 3 million trees worldwide and is on a mission to plant 10 million trees in the next 3 years to help combat the climate crisis, biodiversity loss and empower local farming communities.
Visit the Treedom website here
Make it personal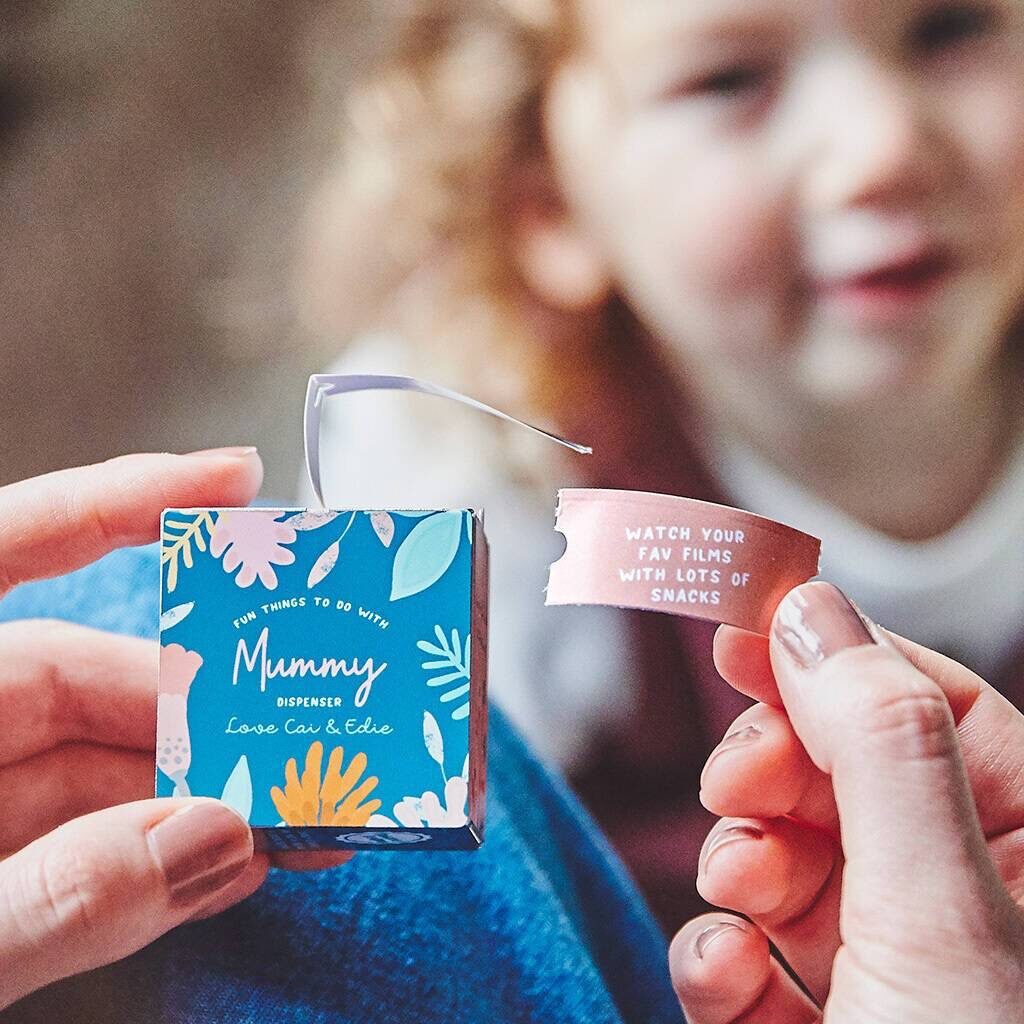 Oakdenes goal is to create personal products that have a sentimental and special feel, the kind of products that you cherish and use to keep memorable moments alive (whilst looking great in your home too). I've had a rummage through the website and found all manner of really unusual ideas such as this fun with mummy ticket dispenser.
Create memories together with this fun activity dispenser, complete with 20 fun-filled ideas for Mum and child to do; the perfect gift for Mother's day! Whether it's an indoor picnic, a treasure hunt or making homemade pizza, this dispenser is a great way to inspire some memorable and fun-filled days.
Check out more from Oakdene here
Another kitchen classic
Kilner is a brand synonymous with any fans of kitchen equipment and you can't really go wrong if you know a mom who loves to bake and make delicious food stuffs. When you aren't quite sure what to get someone who's so fabulous in the kitchen then Kilner will always have you covered. I've had my eye on the yoghurt making set which comes in at £23 for quite a while. It's one item I have been meaning to explore for a while. I love that this kit comes with everything you need to make fresh yoghurt including a recipe booklet and a second smaller jar to decant your amazing makes in to.
Chocolate under £10
Cocoba Chocolate have produced the most exquisite gifts from alcohol free Boozy Hot Chocolate Bombes, sold individually for £3.95 or in a pack of three for £9.95. Flavours include rum, Irish cream or amaretto.
Cocoba have many treats for mum from Milk Hot Chocolate Spoons made with the highest quality Belgian chocolate and topped with marshmallow hearts priced at £2.95 and the Heart Chocolate Bar Set priced at £9.95. The Heart Chocolate Bar Set is displayed as two beautiful hearts. One is strawberry flavoured white chocolate with freeze dried strawberry pieces, the other milk chocolate with a white chocolate drizzle.
Explore the Cocoba website
The perfect bracelet
I adore unusual jewellery pieces and Daisy of London have some beautifully unique pieces in their collection with Estée Lalonde. These bracelets are elegant enough to act as perfect stand alone pieces in their own right but also layer beautifully together so you could start a new gifting tradition and create a collection for your mom this Mother's Day.

Tell your mom you love them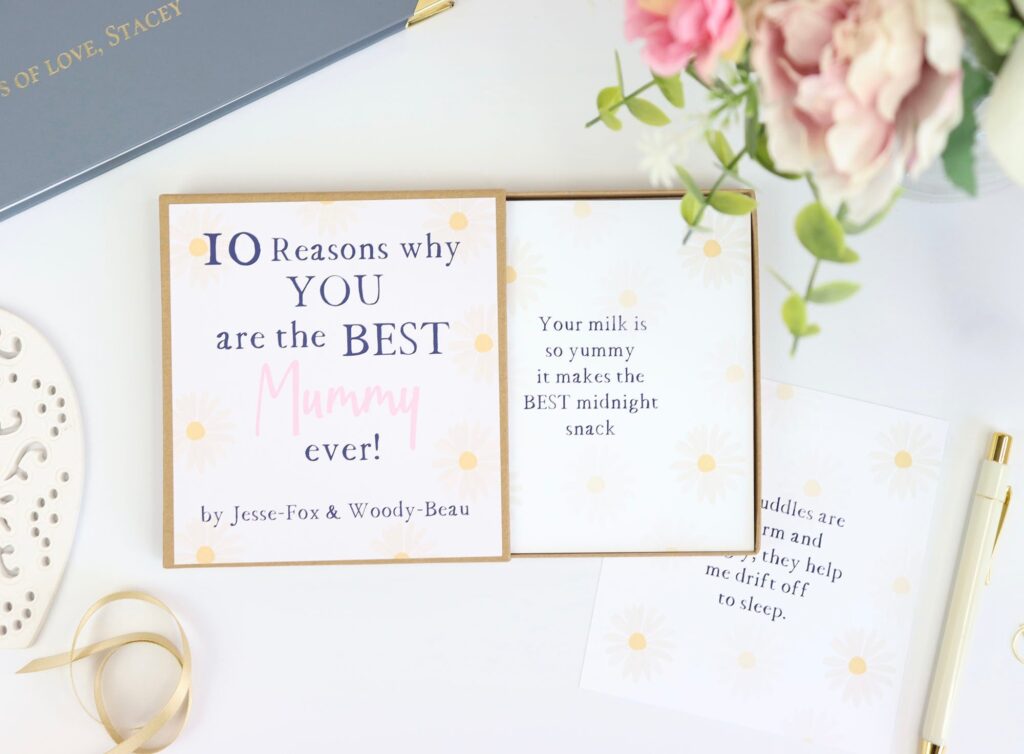 Isla and Boe is a stationary company set up by moms with a beautifully inspiring story to share as to how their business came to be. The website is full of lovely ideas so it was difficult to choose something special to include. This gift in particular is a very cute and personal way to show a mother of young children the reasons why they are so amazing from the view of the little ones!! An ideal gift for Mothers Day or Birthday. This presentation box is personalised and contains 10 luxury pearlescent 300gsm cards. Each with a reason why you love them. Each card can be handwritten by yourself or can be printed by us.
Check out the Isla and Boe website
Curl up with a book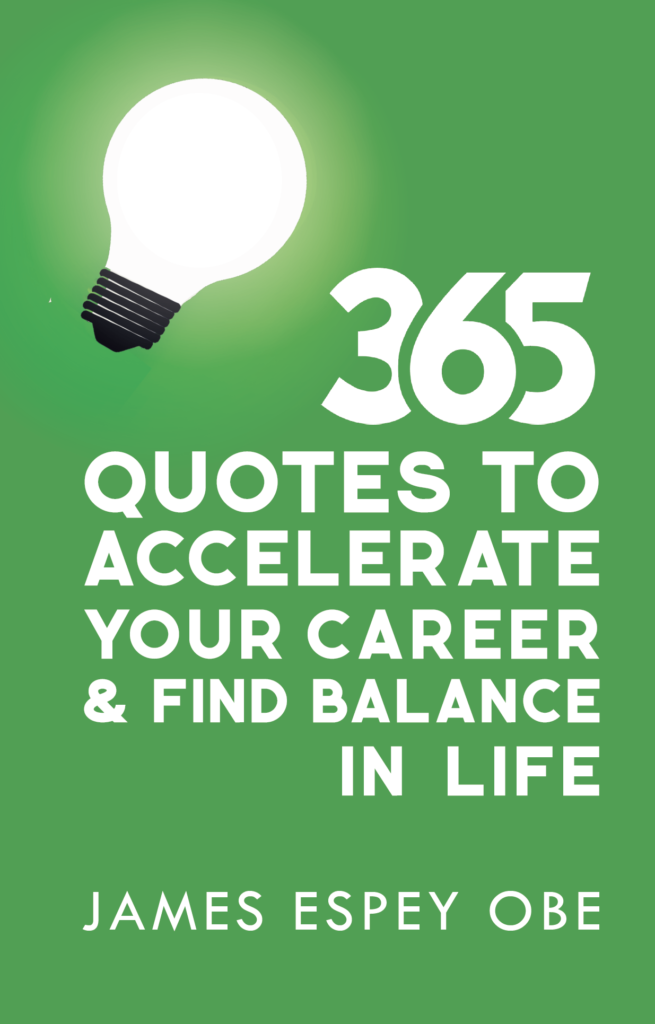 365 Quotes to Accelerate Your Career and Find Balance In Life James Espey OBE.
There is nothing I enjoy more than getting lost in literature. Now that spring has arrived I enjoy taking five minutes out to read something new, yet I'm very short on time at the moment so this read is great and acts as a sort of journal I can dip in and out of to keep me motivated.

James says, "I believe that in the modern world, people are looking for short, pertinent, succinct bits of advice. That is why I decided to write this book: to give you guidance and to encourage you to make the right decisions on your journey through life."
Proceeds will raise vital funds for Shawmind, a Newark-based mental health charity of which James serves as president.