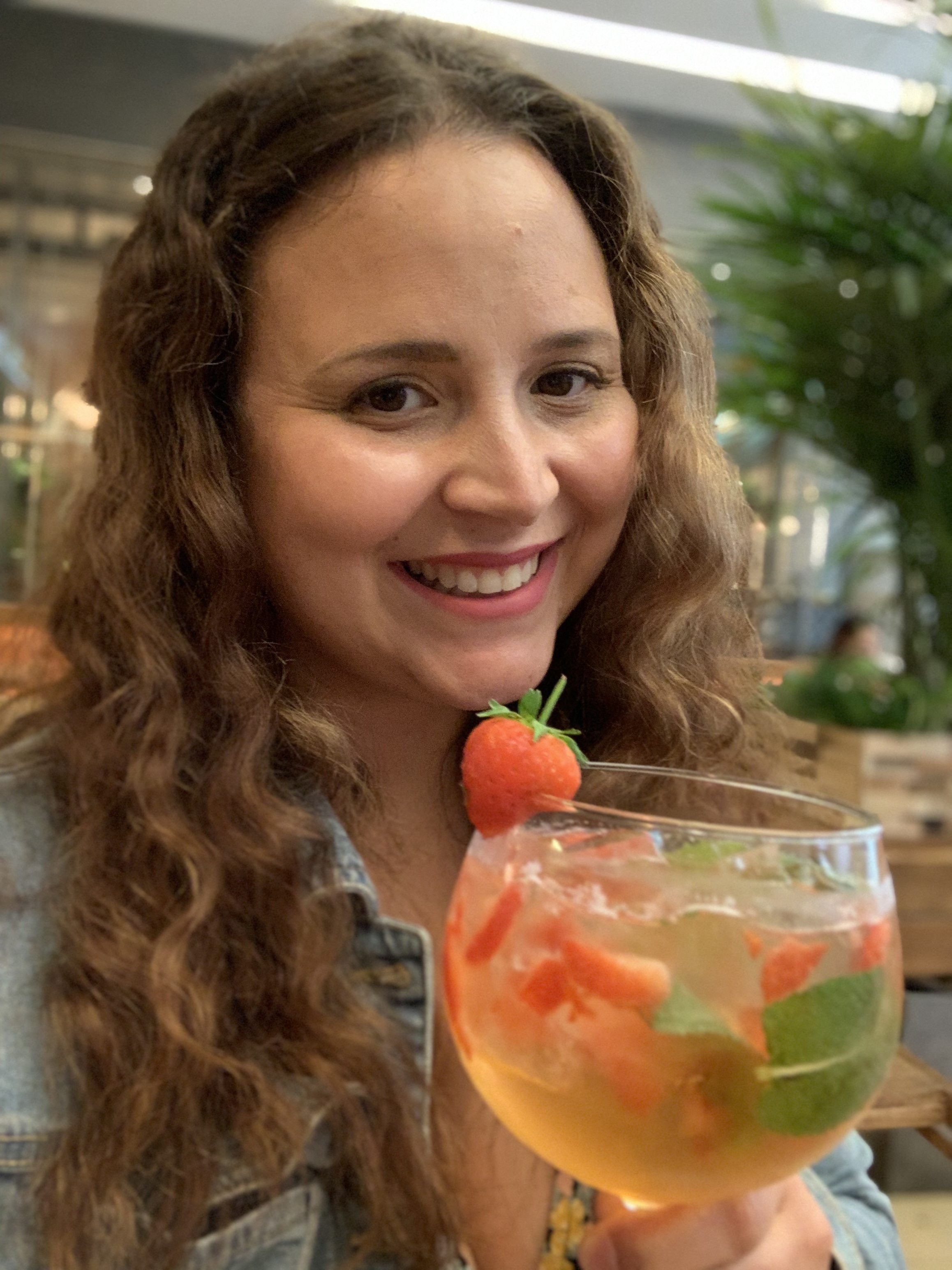 This week I had the opportunity to head out to Medicine in the Mailbox and I took along my mum so that we could be ladies who lunch, I have to say it's been a while since I've been able to do this and so it was a real treat for both of us. We were offered a choice of tables with the restaurant having several different areas each with a slightly different ambience. I knew that the first incarnation of the brand was based on the Medicine Bar in Digbeth which I recollect from my student days, although my memories are somewhat hazy.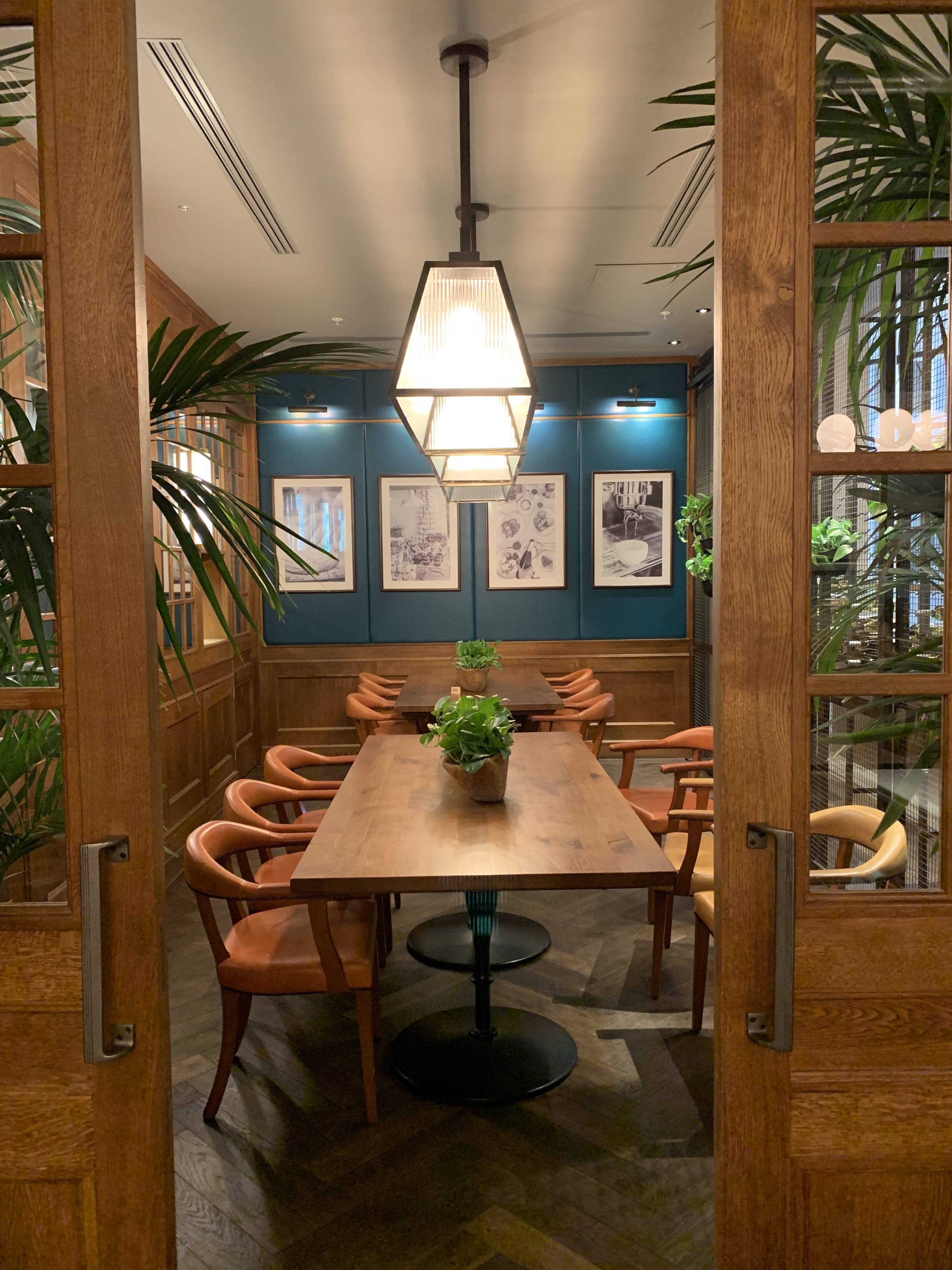 It was actually hard trying to decide where to sit because every corner of this restaurant is so beautifully decorated. Medicine as a brand reclaims abandoned spaces and turns them in to something beautiful. A new format of social space. This dining space literally feels like it belongs on a Pinterest board, the rich colours, wooden features and the houseplants create a wonderful backdrop for a meal. Eventually we chose to sit in a quiet corner and began to ponder the menu.
I opted for a cocktail whilst mum had lemonade and our expectations were surpassed immediately, before we even had the chance to try any food. Fresh and zingy with excellent sized measures. I could certainly come back enjoy several of these cocktails on a warm summer evening in this setting, it's just such a welcoming space and feels so relaxing.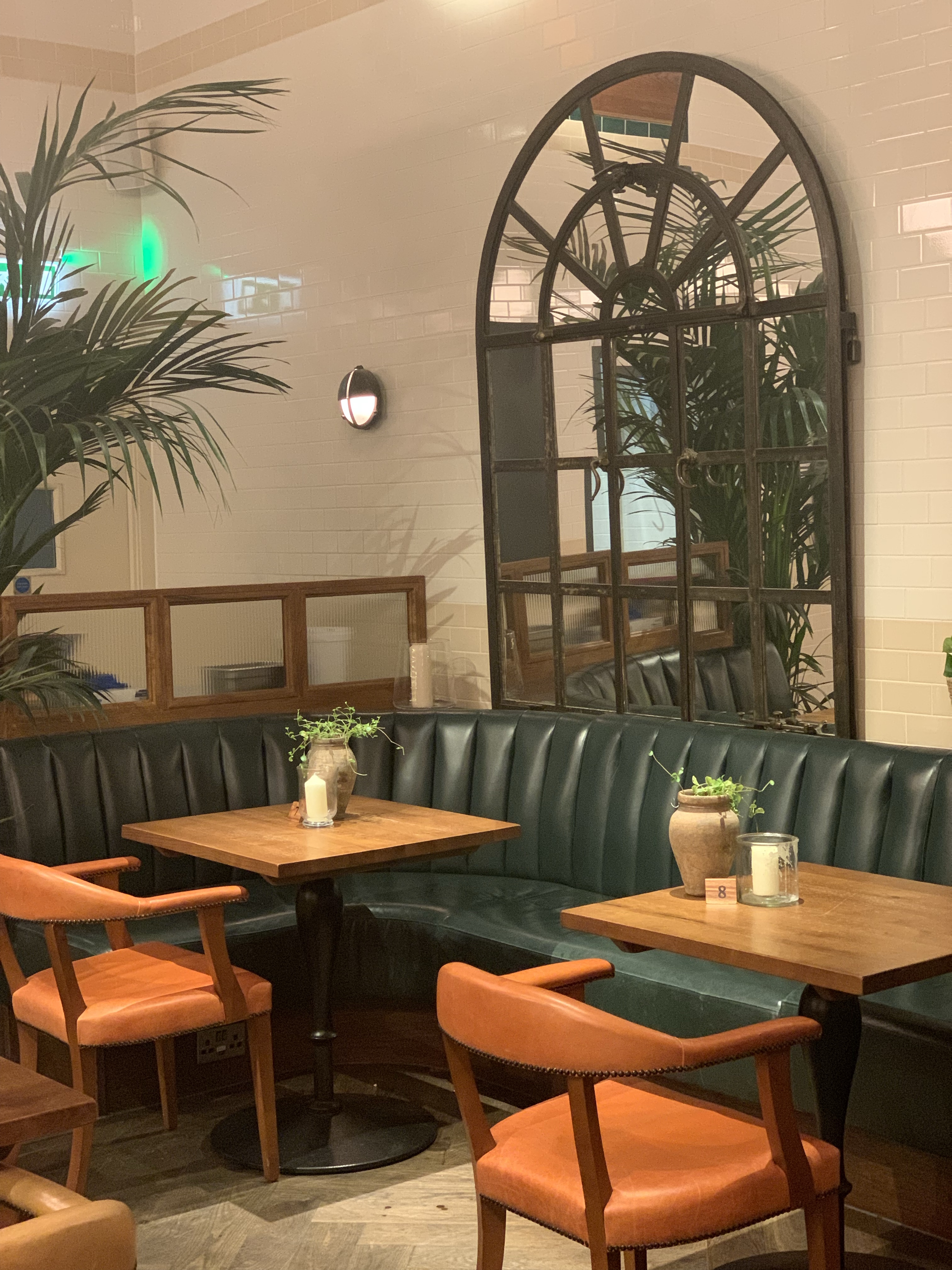 The restaurant delivers table service and so we ordered our meals from a waitress who was happy to offer advice and give recommendations on the menu. It was difficult trying to decide what to go for but eventually I opted for the watermelon and chicken salad whilst mum chose a grilled halloumi burger.
What a spread! Everything about this restaurant is well considered, the plates and table wear is just as beautiful as the decor which adds to the experience but the food really is the star of the show. With everything freshly prepared it really makes a difference and flavours come pouring out of every mouthful.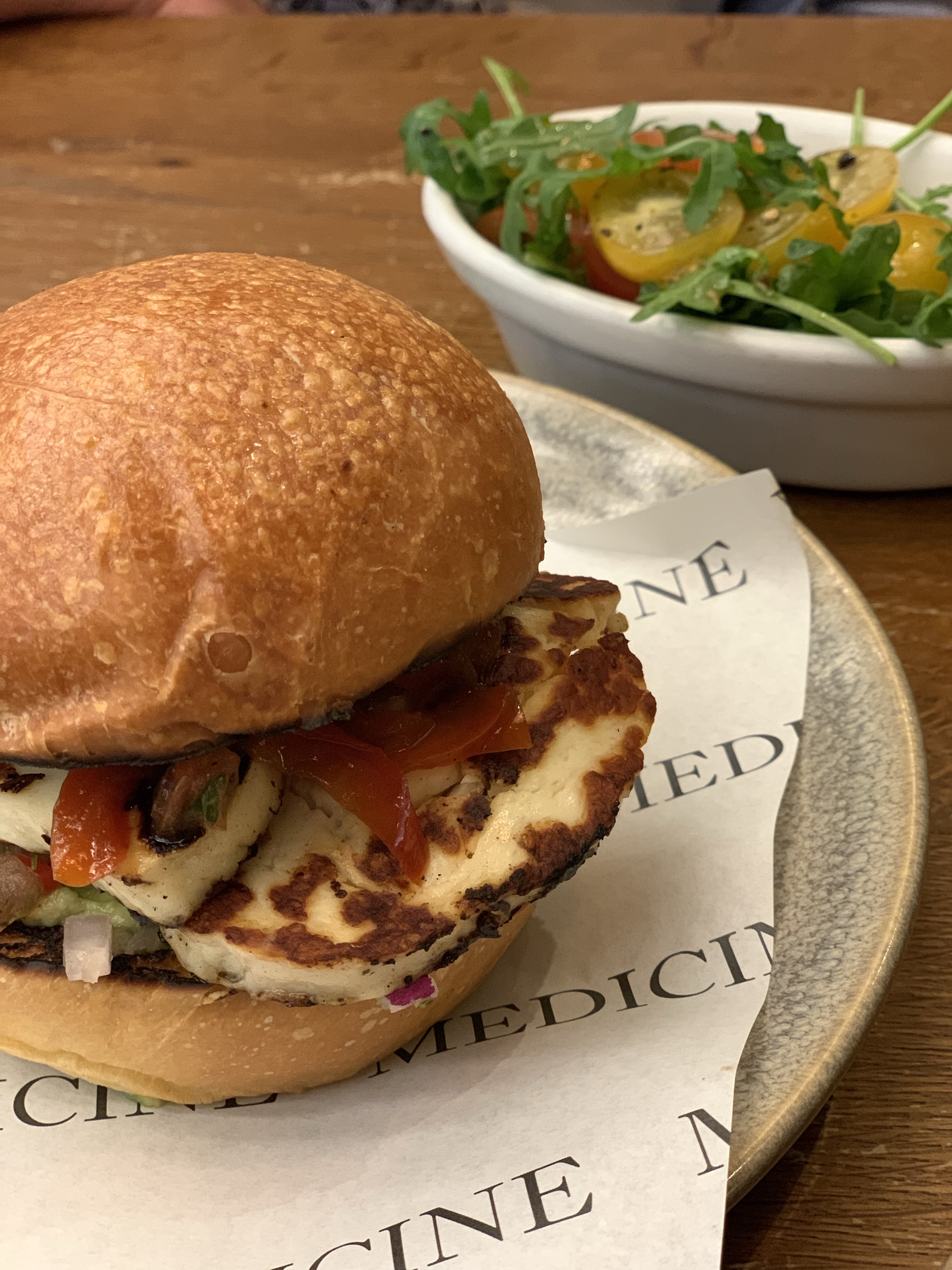 The grilled halloumi burger was on a bouncy brioche bun which was smothered in smashed avocado with chilli jam and a tomato salsa, and came with a thumbs up from my mum. It's great to see exciting combinations of food and flavours in vegetarian options which often get overlooked. I thought this was extremely reasonably priced at seven pounds.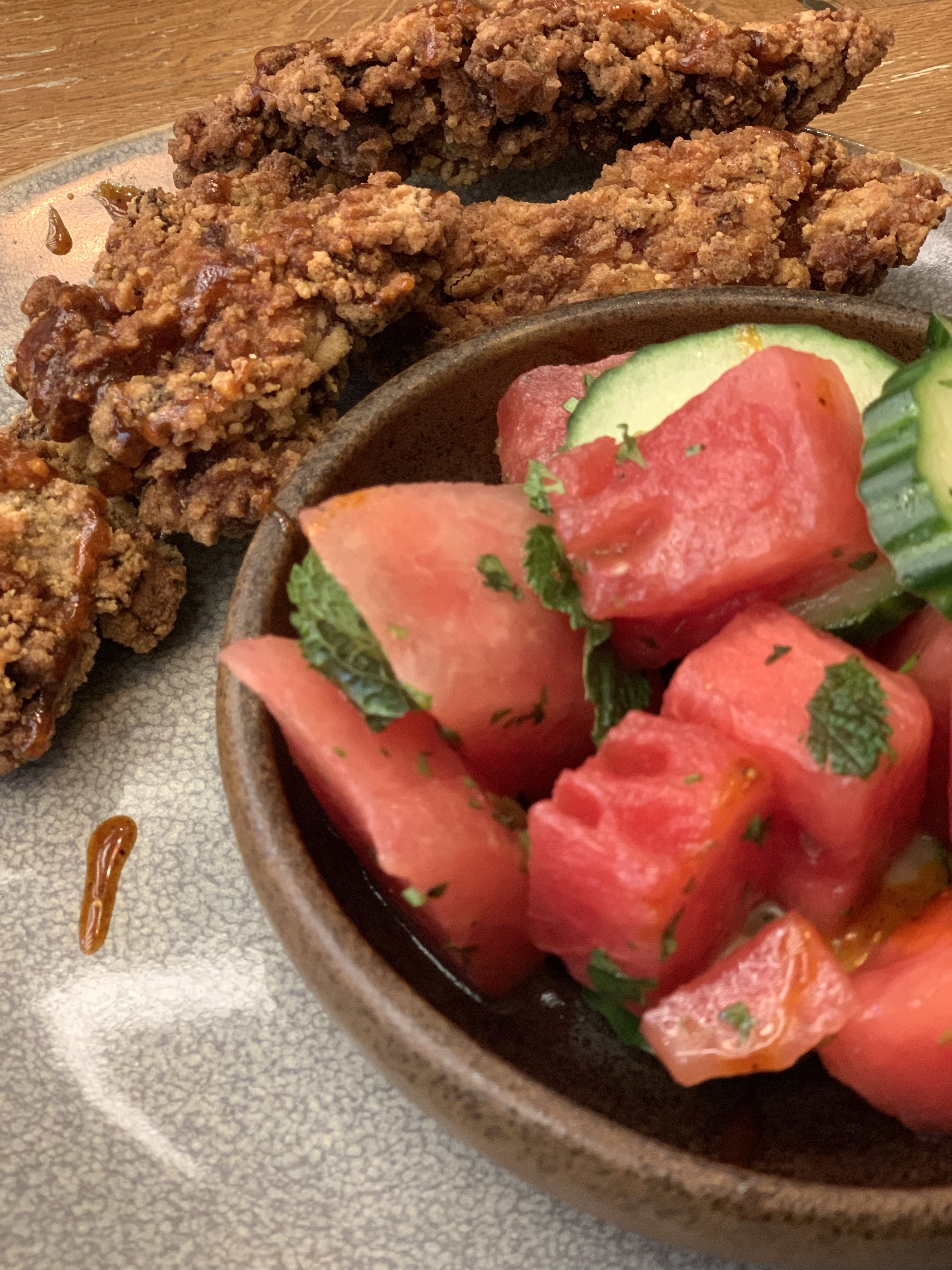 I was most intrigued by the fried buttermilk chicken and watermelon salad on the menu. Two of my most favourite foods and I have to say I've never tried them together so this was a first for me. The watermelon salad was a delight. Fresh and juicy fruit cubes with mint and a sweet dressing with pomegranate seeds made for a really refreshing burst of flavour. The star of this plate however, was the chicken.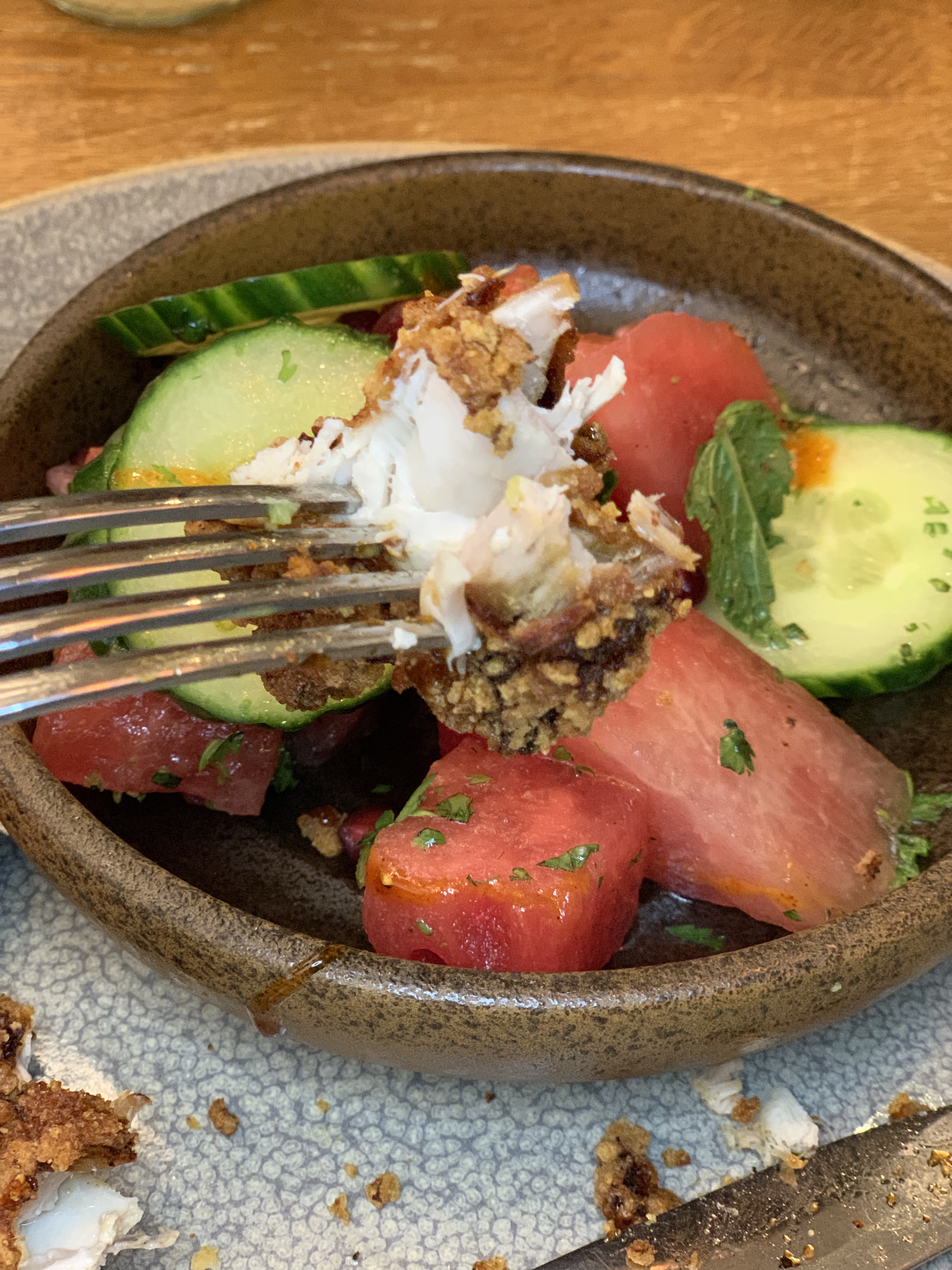 If you follow me on social media you'll know that chicken is basically considered a main food group in our household, I've grown up having the opportunity to eat home cooked meals – my aunt's recipe for fried chicken is based on a recipe from St Kitts and I've never been able to sample chicken which measures up to these standards. After the first bite at Medicine I said that this tasted like Auntie Maxine's and it just got better and better. The coating crumbled nicely and the chicken breast inside was tender and juicy. If I was being picky my only request would be for more of the honey hot sauce for dipping.
I'm really impressed with the experience we had, the food really did live up to expectations and now I feel like I need to head out to the other venues, at New street and come back to sample the bakery as I've heard many great things, this really is one of the best places to eat in Birmingham. You can order for collection from both the Mailbox and New Street venues, explore the menu and book tables online via the website