If you've been following our adventures for a while you will know we love colour – holi powder is one of our favourite things to play with. Last year we had an "over the rainbow" party for Arlo's birthday at the end of the first lockdown and it went down a storm and so what better way to end the year than with another explosion of colour – even better when the snow arrived unexpectedly to provide an awesome blank canvas for us.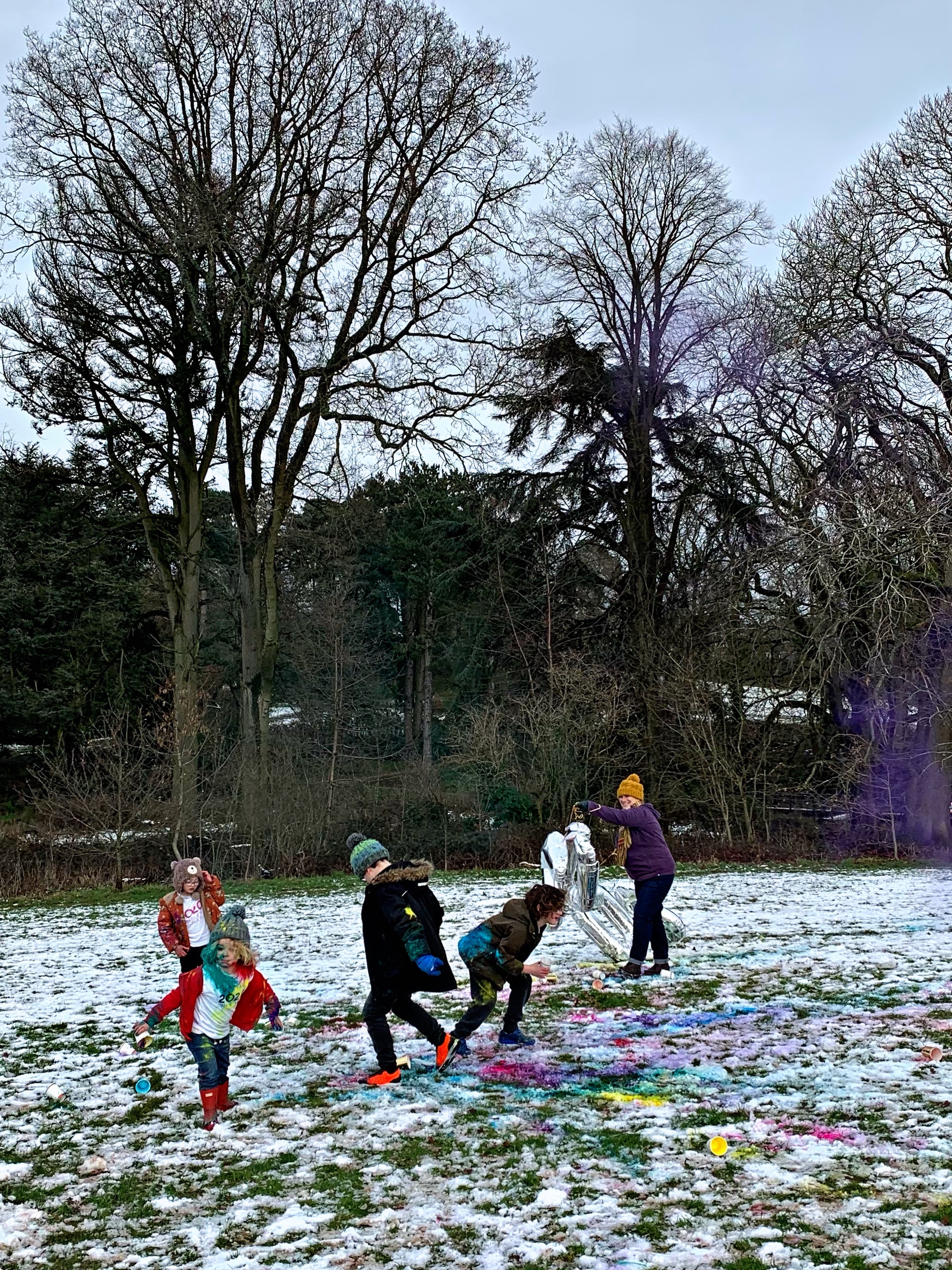 You will need:
Holi powder
Paper cups
Messy clothes
Wet wipes
It's almost as simple and chucking colour at each other in an unorganised fashion. As we have done this so many times I know that it doesn't last a very long time if you don't have a little plan, so I'm going to share my top tips. First of all – make sure you have a big open space and give yourself as the adult a base to work from.
I order packs of Holi powder from Amazon in a variety of bright colours – I've used various different brands and prefer to go for the ones which are made from natural ingredients and dyes, as then wash away and cause no danger to the environment and also come out of clothing and Arlo's blonde hair because he is always the one who ends up covered. Read the reviews and check the ingredients before hand – do a patch test if you need to.
The packs of powder go a long way if you divide them up and that's where the paper cups come in…. in the past I have given kids whole packs and sprinkled it in to hands but it lasted about ten minutes but paper cups work best for us….. for this event I pre filled about twenty cups and placed them all around the area of ground so the kids when they arrived had to run and find the cups to throw them…. this made the play last longer and gave them more of a strategic colour war game to play – when you Chuck the powder in the air you get lovely clouds of colour, and the little ones can achieve this effect with cups too – once this first batch of cups was empty, at my base the kids could return cups for refills and then try and catch each other.
There is just something so fun about this and seeing the kids shriek and mix colours together in the air and on each other's clothes is exhilarating. You can't help but join in. The snow added another element as we picked up snow to make rainbow snowballs and continue with the colour experiments and just pelting each other for fun.
Like I said, Arlo is usually the one who ends up covered head to toe in colour and he just loves it! The kids had a little competition at the end to see who could collect all the cups back for a prize of some sweeties and then just like that our crazy hour was over. Just like 2020 and what a way to say goodbye to that year!