This evening was the press night for Winter Funland – a brand new family friendly festive event for the midlands. All I knew in advance was that it was billed as an indoor funfair hosted by the NEC and I figured that the kids would enjoy this so we snapped up the invite and went along on the train to visit.
We arrived just in time for the reveal at the entrance to Hall 5 which is the biggest exhibition hall at the NEC. Of course our experience is unique in that the venue was not at full capacity, but none the less a sizeable crowd gathered in anticipation in a holding area surrounded by black curtains and in amongst several "real"' Christmas trees as a countdown commenced and then the curtains raised so we could view a sea of flashing lights which seemed to go on forever.
We were greeted by an elf on a bike who was busy blasting bubbles around the place to the delight of all the kids. We visited with four children aged 4-10 and of course each of them wanted to run off in different redirections as something different caught their eye. We hadn't told them what we were doing and the excitement was a bit overwhelming for them so we had to make sure to pause and give them some ground rules and explain that we would try our best to do everything everyone wanted to do. A large busy space like this can be quite stressful for families with little ones if you don't manage expectations – the place is so big that I don't think you can possibly do everything and so you will have to make choices.
The kids chose to go on the biggest and fastest ride first, not for the feint hearted – luckily I managed to swerve it and look after the coats and bags – I was quite surprised that Arlo was still smiling when he came off the ride and I watched many people loose their hats. Whilst they were enjoying the ride I took the opportunity to have a look around the different stalls and rides that I could see. I spotted lots of different "paid for" stalls (hook a duck, sweets, slushies) which I knew the kids would make a bee line for and it made me groan inside – I'll come back to this later.
From where I stood not far from the main entrance I couldn't see just how much the hall had to offer. Opposite the first ride was a ghost train and behind it several fairground rides for smaller kids – hot air balloons and train rides etc but we were all equally surprised and bemused to find not one but two full size rollercoasters indoors – a caterpillar style and a runaway Christmas train too. This might give you a sense of the scale of the event – I found that there was plenty of space between rides even though there was so much packed in.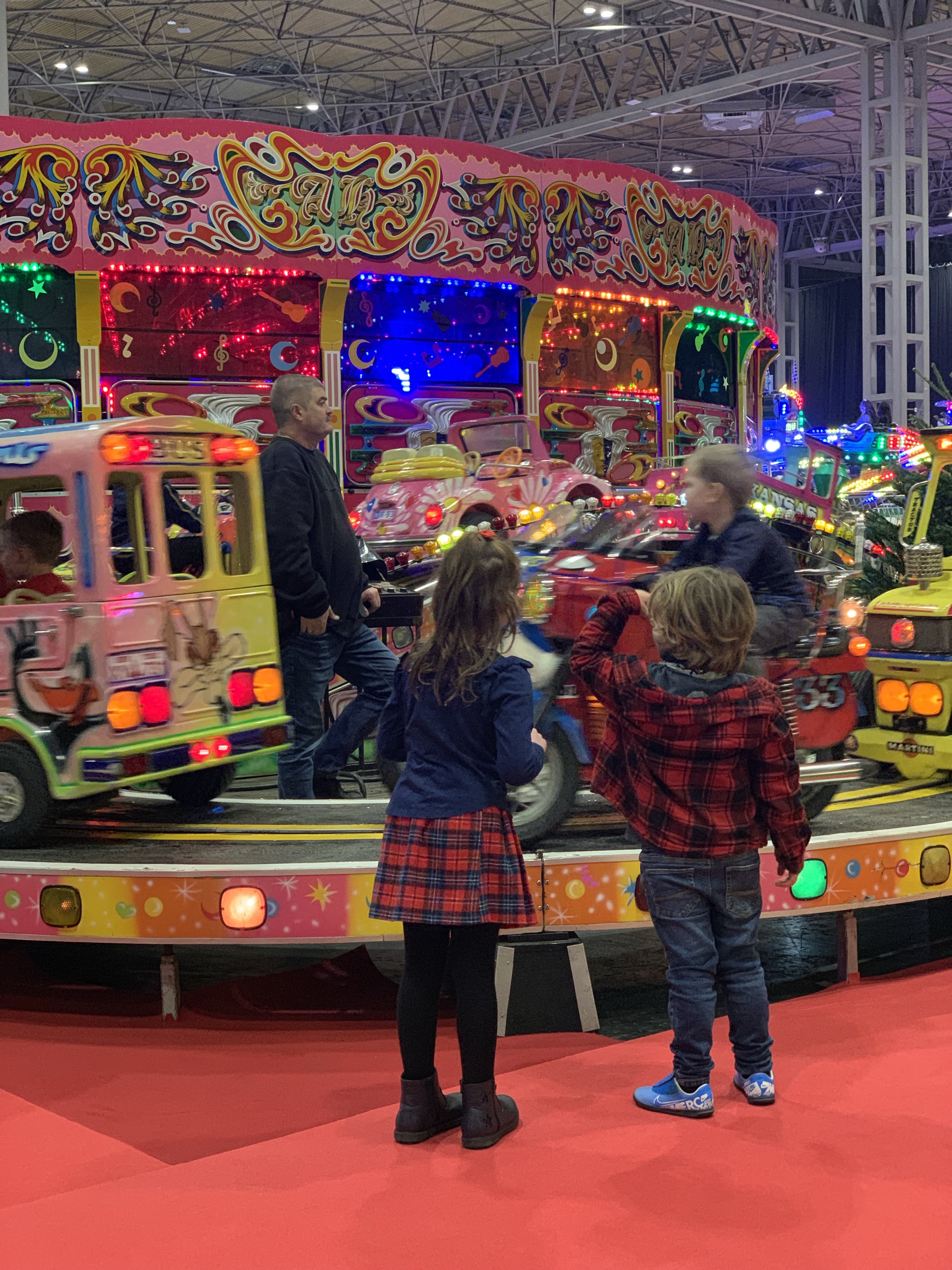 Each ride and attraction had clear entrance and exit points, most rides had height restrictions which is something to be mindful of – the younger ones had to have an adult each for the dodgems for example. I was impressed with how festive it all felt overall – many of the rides had a christmassy theme and there was lots of white picket fencing and green garlands throughout. Some of the rides had music bursting though their own sound systems but Christmas classics bounced around the hall through the speaker system creating a really lovely festive atmosphere.
To the left hand side as you walk in we found the ice rink – we did plan to head back later but in the end the kids chose to go back around a fun house too many times for me to count and so we didn't get the chance. From what I could see there were lockers available and sessions were time capped – a white picket fencewas in place to organise a queue system and beside the rink was another seating area to spectate, and beside this space was the largest collection of rocking horses I have ever seen.
Even with so much else going on, the unlimited fair ground rides for me the main highlight, especially with four kids. Our usual approach is to issue the kids with pocket money which limits how many rides they can go on. I guess the main question to answer for readers is if this event is value for money?
All in all each child managed to go on at least a dozen individual rides each (some of these repeatedly) – so for Arlo this included the fast express, the waltzers, bumper cars, the two roller coasters, mini trains, trampolining, floating cars, swings, inflatable slides, and three different fun houses. This in itself makes the ticket price good value for money as I have found fairground rides to be in the region of £3-4 each this year on our adventures. Of course as I mentioned previously when the venue is at full capacity queue times might increase which could have an impact on how many rides you get to experience
Alongside the fairground however there's also a huge circus style tent – we managed to get seats and wander in to see a dance act and a couple of circus acts too. There were some announcements to inform us that shows were about to commence but I didn't spot a programme or notice board anywhere with details of performances – from what I saw the show seemed to be of good quality, however the kids did not want to sit and watch anything when they knew that behind the other side of the curtains was the funfair and so we didn't stay to watch for long.
As we wandered around I did notice several seating areas – and these were being cleaned and cleared by discreet members of staff. There were plenty of bins throughout for normal and mixed recycling too – this kind of thing is important as when places like this get busy they can get very messy too. I really hope that the high standards of cleanliness we experienced this evening are maintained when this event is full to capacity
We encountered so many lovely people as we wandered around, the elves just by chatting to the kids made the experience more magical, and they were very helpful pointing out which way to go to meet Santa, how to find the arts and crafts area and also informing us that we could go and visit some camels too! In amongst all of this craziness we also encountered a huge polar bear "mascot" style character who seemed like he was living his best life, walking with a spring in his step in a ten foot high inflatable costume!
I wasn't particularly looking for food as we had already eaten – I paid £6 for a portion of chips and a bottle of water. I did note that burgers were £8.50 and some people were turning away at these prices. Chips are chips and so I can't really vouch for the food quality, I personally would choose to take the family out to enjoy a meal at one of resorts world's restaurants after a three hour time slot at the fun land just to make the most of a day out. What I will say is I wasn't best pleased about the prices of some of the snacks and additional attractions – we paid £4 per child for a slush in a re-useable cup. Refills then were priced at £2.
I managed to avoid the sweets, popcorn and other "paid for" stalls – with four kids the costs for these things quickly add up – I lasted right up until the last minute when I got caught out as we didn't make the queue cut off for the last ghost train. I nearly choked when I was told it was £4 per child to play hook a duck – especially as I knew they would all choose the Poundland style toys as their prizes. It's almost impossible to avoid these stalls as they're dotted throughout the venue so something to be aware of and manage in a way which suits your family – for us that's usually a hard fast no, or a "this is your pocket money and you choose how you budget" type plan.
In addition to the fair ground rides, circus tent, ice rink and afore mentioned attractions we also spotted some motorcyclists doing stunts in the far corner at one point and a huge monster truck nearby too. Just as I expected this hall was offering quite literally the stuff kids dreams are made of.
I'm not sure we managed to fit everything the event has to offer in to our three hour visit – we missed visiting Santa as we decided to avoid these queues and enjoy going on even more rides so I can't give you any personal information about that experience other than the elves who were wandering around the hall seemed to be very up to date with queue timings and giving directions etc.
One of the most unexpected highlights for us came from enjoying a game of festive mini golf practically in the middle of FunLand in the shadow of a 25 foot inflatable Santa, one of the things all four kids could experience together.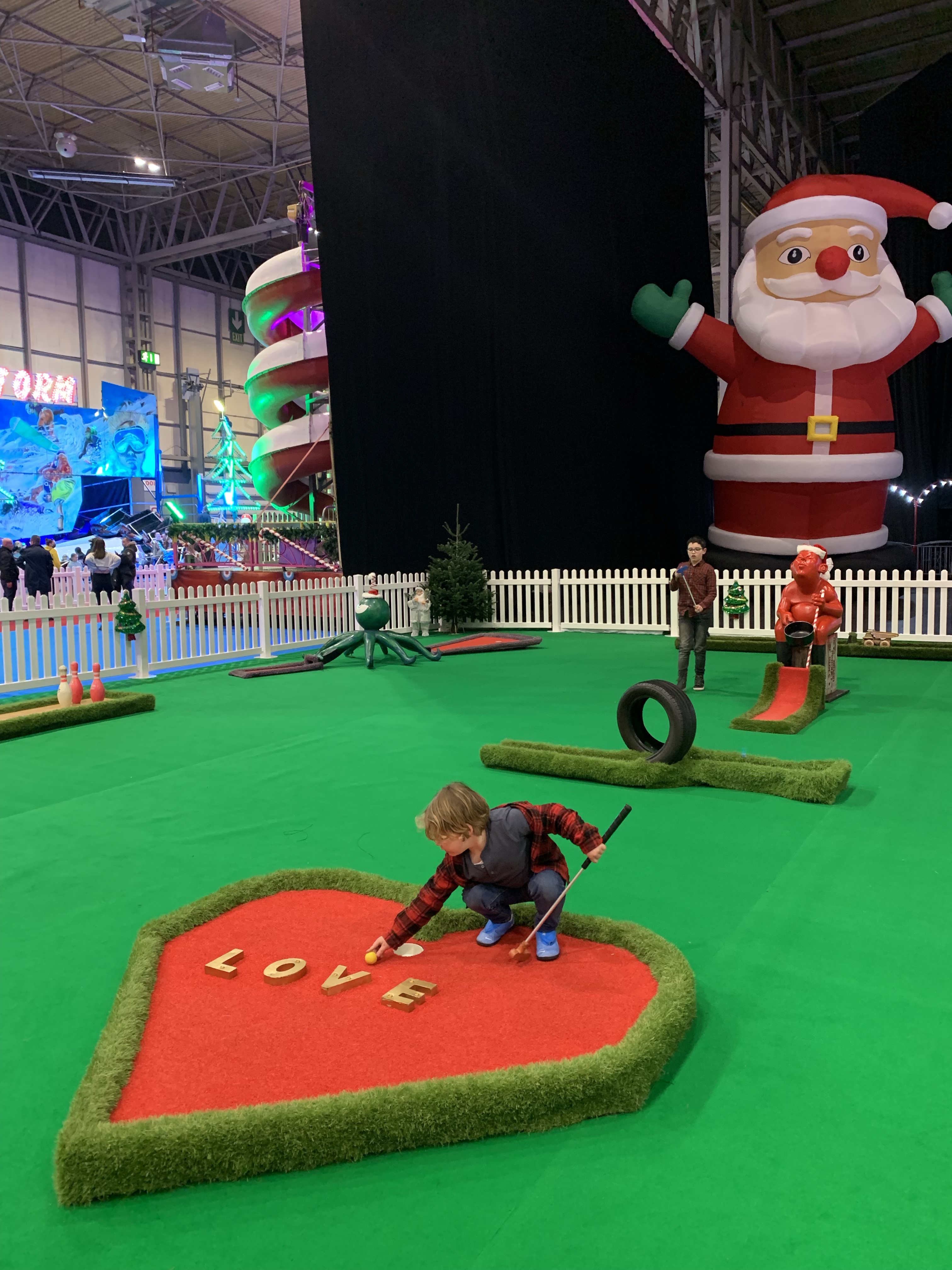 Winter Funland really does have everything under one roof and it was nice to be able to enjoy the event without feeling cold or wet as all to often outdoor events become marred by the typical British weather we can never predict. I feel as though FunLand has nailed the creation of a Christmas atmosphere and delivers a really good family friendly festive event offering for families with kids who still want to embrace the magic and festivities of the season but are maybe a little too old to be placated with a grotto experience. It's not a cheap day out by any means but I think if you've got the opportunity to visit this year then it's one to add to the calendar.
Winter funland tickets are £20 (inc booking fee) for anyone over three and family of four tickets are £73.50 (inc booking fee). Under threes and carers are free. Car parking at the NEC is included in this (however if you're travelling via train then you can get this refunded). To find out more click here