Sparkle and shine! This evening I took Arlo and his cousin Paloma along to the extravaganza which is Nativity! The Musical and wow what a show. Based on the much loved movie and adapted for the stage by Debbie Isitt, the original creator of the much loved film. Our evening was nothing short of fabulous.
The story line has everything you could possibly want, from a romance, a redemption arc, a baddie with a back story akin to a superhero story with a former friend turned villain, a double act between Mr Maddens and Poppy with better banter than Ant and Dec and the cutest of puppies, all of which come together to help our much loved Mr Maddens rediscover the true meaning of Christmas. That's without mentioning the all cast of children who bring the magic to the performance.
When a show features children it's really easy to want to support them as an audience and give them all a glowing and patronising review purely based on the cute factor but I have to say every single one of the children on stage this evening was talented in their own right. They all had the opportunity to shine and they did so with excellent comedic timing which is no mean feat. 'Matilda' bought the house down when she appeared flying high above the stage on a crescent moon and throwing glitter down from the rafters.
Arlo wanted to find her and bring her home and Paloma wanted to be her – If one kid braving the heights wasn't enough, our angel Gabriel 'TJ' also conquered a fear of heights and got the audience participating with phone torches aglow. Seeing Arlo and Paloma's faces light up as they glanced around the auditorium full of sparkling lights shining made me want to burst with Christmas spirit.
The set design was superb, and I love the local touch of bringing the final performance to Coventry Cathedral which made a beautiful backdrop to the final act. Props were used in such a wonderful way throughout – the present across the trap door with the dog and then the kids all appearing was a delight and the clever use of rails for a little trickery and speedy costume changes were cheeky little touches which bought a smile to everyone's faces. I saw many little hands around us pointing at the stage as they couldn't believe their eyes.
It's not often a performance manages to appeal to across the generations but Nativity! The Musical nailed it in so many ways.
Ben Lancaster plays the role of Mr Poppy alongside Billy Roberts as Mr Maddens. Between them the puns just kept on coming, with local references to Birmingham and viral tik tok dance moves thrown in too. I spent most of the first half wiping tears away because I was crying with laughter and couldn't help but howl out loud along with the audience. Daisy Steere as Jennifer was spectacular, her red carpet dress had Paloma's eyes widen like saucers.
I have to give a special nod to the costumer department – the attention to detail was evident in all of the costumes, but I have to say the constant changing of Mr Poppy's T shirts is something to look out for. The inner child of me from the nineties was itching to see what he would have on every time he came across the stage and I sat on the edge of my seat waiting to see how Mr. poppy would incorporate these in to punchlines.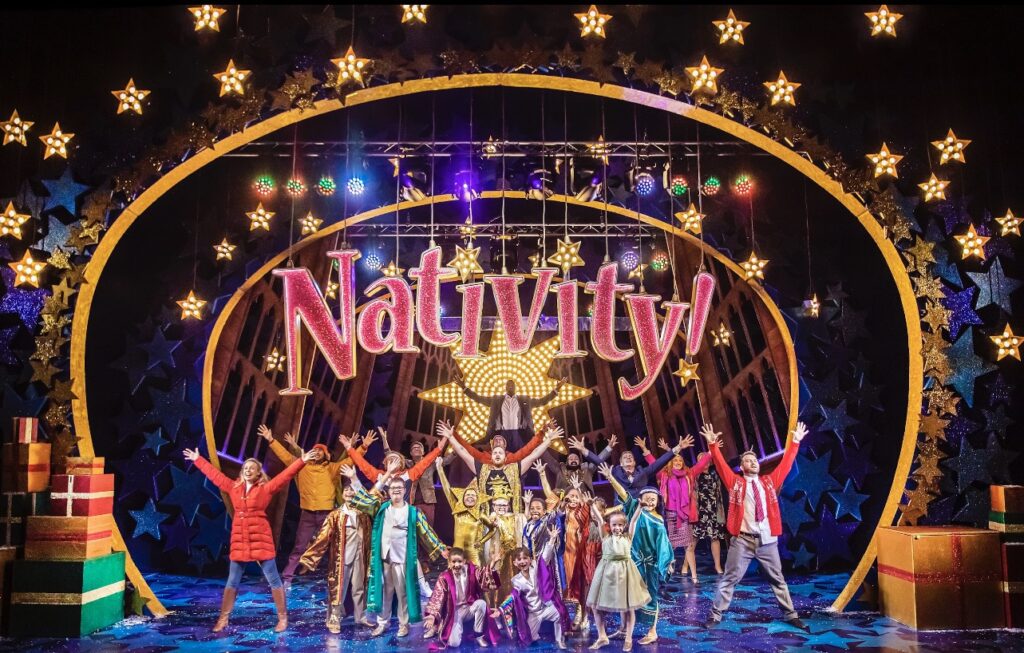 Matthew Rowland as Mr Shakespeare was bloody brilliant. There's no words to explain our reaction to seeing him come out for his rival performance of 'King Herod the rock musical' – everyone loves a good villain and he played the part with gusto, Never faltering until eventually he got shut in a box with some rapturous boos from the audience.
Cameron Johnson as the Producer, bought the Hollywood style – although his time on stage was brief Cameron got the chance to showcase a heartfelt story line about rediscovering the Christmas spirit and his stature dominated the stage as he represented himself as a Hollywood bigwig refusing to entertain the idea of Nativity the Musical.
That is until he got over himself, flew to a England, dressed up as Venus and then helped hype up a a nervous William Stafford before sharing the stage for "have yourself a merry little Christmas" and so graciously allowed himself to be upstaged by a child with angelic vocals as the audience paused to enjoy the nostalgic rendition of a festive classic and held their breath as the final high note pitch was nailed.
They were joined by Ralph Bogard as Lord Mayor/ensemble, Jamie Chapman as Patrick Burns/ensemble, Jemma Churchill as Mrs Bevan, Tom Hext as Mr Rye/ensemble and Eliza Waters as TJ's Mum/swing. Sydney Isitt-Ager, Callum Train, and Louie Wood are on-stage swings. Between the lines it was lovely to see a little romance brewing between the Lord Mayor and Head Teacher which brings the vibes of love actually to the show. Tom Hext simply embodies every PE teacher I've ever known and his "jellyfish" was spot on. I'm not sure who got to play the Christmas tree but you were fabulous too!
Jamie Chapmans critic gave me Alan Carr vibes, and he had some of the cheekiest tongue in cheek one liners. I almost didn't realise he played the priest with a spectacular Irish accent, embraced Donald Trump for his American tour guide part and managed to squeeze in a stint as a sassy receptionist too. A busy night indeed – a very versatile actor with a great repertoire of accents.
54 local children chosen from across Birmingham and the West Midlands play the students of rival schools, St. Bernadette's and Oakmoor. As I previously mentioned they really are wonderful and in so many diverse ways. The performance gave all of the children in the cast the opportunity to showcase their individual talents. We were treated to high kicks and even higher notes. They truly deserved the standing ovation they received at the end of the evening.
The St Bernadette's children are Ava Ayodeji, George Bakel, Frankie Bradbury, Ava Carty-Jones, Madison Davis, Hattie Disney, Matilda Flower, Seth Foster, Isaac Fox, Felix Holt, Ava Hupperdine-Perrin, Molly Jin, Sophie John, Kyrelle Lammy, Mac Manumbre, Oliver Milchard, Darcie Morris, Alexandra Ngwenya, Mischa Palor, Abigail Salt, William Stafford and Ziame Stewart.
The Oakmoor children are Willow Adamson, Toby-Jay Amphlett, Bronte Ashmore, Zara Bench, Beatrice Carpenter, Thomas Cox, Amelie Davison, Alyssa Dewar, Ivy Edwards, Betsy Fahey, Ayana Freckleton, Effie Gell, Isla Granville, Ocean-Flower Hemmings, Jessica Howell, Alfie Jennings, Amelia Katie Connor, Nia King, Ava Knight, Will North Lewis, River Mahjouri, Annabel Parsons, Zara Pearson, Max Reekie, Gerline Rosales, Frankie Stephens, Eboni Rae' Thomas-Witter, Isla-Belle Trimble, Ryley Trimble, Amelia Uma Thompson, Daniel Webley and Iman Wilkins.
What a wonderful opportunity for all involved. I've seen many children perform on shows and I have to say that every single child on the stage this evening could pursue a glittering career in show business.
Arlo and Paloma rate Nativity! The Musical one million hundred thousand out of ten. We highly recommend booking in to see this show. You will leave singing "sparkle and shine" out loud and step out in to Centenary Square and all of its twinkling festive atmosphere feeling totally ready for Christmas.
One more lovely touch was seeing the inclusivity demonstrated with the subtitles available to follow along the show. Bravo to the Rep – it's great to see Nativity! The Musical back home in the place it began on stage.
Nativity! The Musical, adapted for the stage by Debbie Isitt, the creator of the much-loved films, runs at Birmingham Rep until Sat 7 Jan 2023. To book tickets visit Birmingham-rep.co.uk, call 0121 236 4455 or visit the box office during opening hours.
NATIVITY! The Musical
Book by Debbie Isitt Music by Nicky Ager and Debbie Isitt
Based on the film Nativity! Written and directed by Debbie Isitt
Produced by Nick Jones
Nativity! The Musical is presented by arrangement with Josef Weinberger Limited.