Mr. Frosty is a classic toy that has been around for decades. He has been a favorite of children and adults alike, and his popularity has endured over the years. I certainly remember the Christmas morning I opened up my first Mr Frosty thirty years ago. I'd badgered my parents for one and had spent hours pouring over the Argos catalogue page and even writing down the codes on my letter to Santa so that he would get it right.
Mr. Frosty is a snowman-shaped maker that allows you to make your own icy treats at home. He comes with a variety of accessories and essentially he crushes up ice so that you can make your own slushy.
What's in the Mr Frosty box?
The box contains:
Mr frosty
Hat plunger
Ice drawer
Ice lolly mould
Three ice lolly sticks
Two bowls
Two Mr Frosty Spoons
Penguin squeeze bottle
Instruction leaflet
Top tips leaflet
How does Mr Frosty work?
It's exactly as I remembered with familiar snowman shaped Mr Frosty – he has a red wind up handle on his back which you need to turn clockwise. His hat is a large plunger which you remove to add in the ice.
When you place ice into his head and turn the handle the crushed ice drops in to his drawer which is just the right size to make a portion of crushed ice.
How easy is it to use?
It's a fairly simple concept and Arlo was able to figure it out without even looking at the instructions. However I do think having the right kind of ice is the most important thing. I had some large ice cubes in my freezer which I thought would be quick and easy but Mr Frosty struggled to crush these.
The top tips leaflet does say that you might need to break large ice cubes down and also give the device a bit of a wobble if ice gets stuck. The ice cube tray makes the right kind of ice but it's very small so only yields one and a half slushy bowls full – which is plenty enough for one child but you may need to prepare some ice in advance if you're making slushies for multiple kids. I also found that the slushies we made in our second batch worked better once our ice cubes had melted a bit.
It's a little bit finicky to get to grips with the first time you use it and Arlo couldn't use it independently as he needed help with holding down the device so that it didn't fall over but he had lots of fun in the process.
We filled the mould which came with Mr Frosty and made some lovely ice cube shapes and these crushed up really nicely – I think perhaps as they were a lot smaller. Arlo also didn't want to put these ice shapes in to Mr Frosty at first and took some persuasion.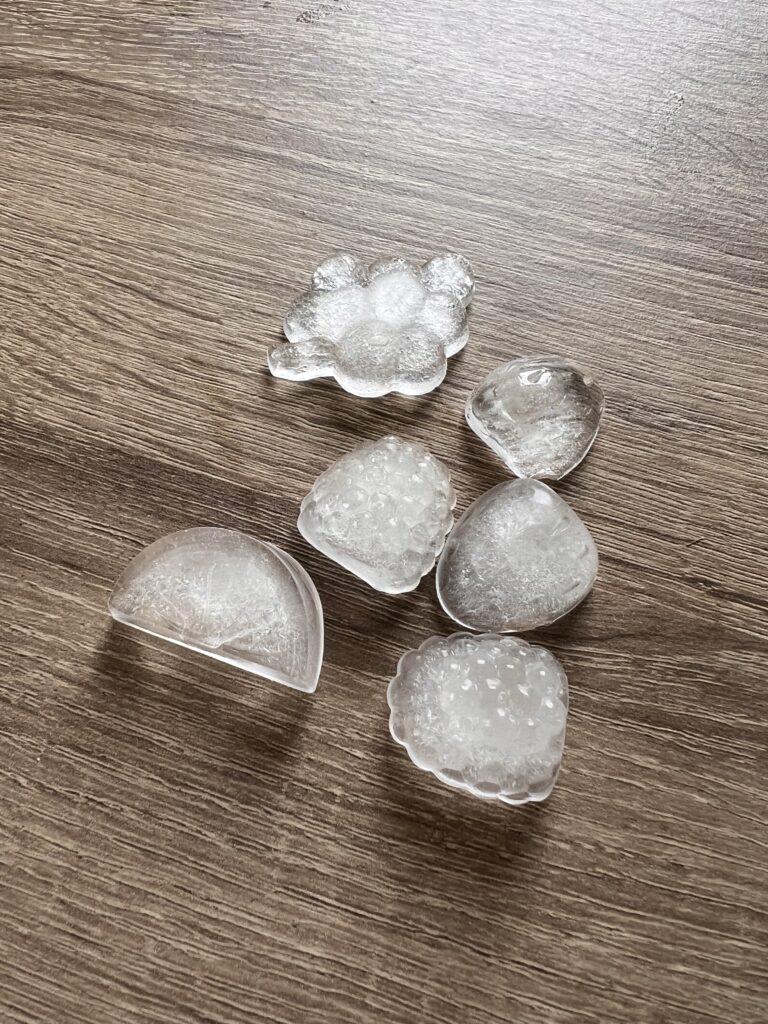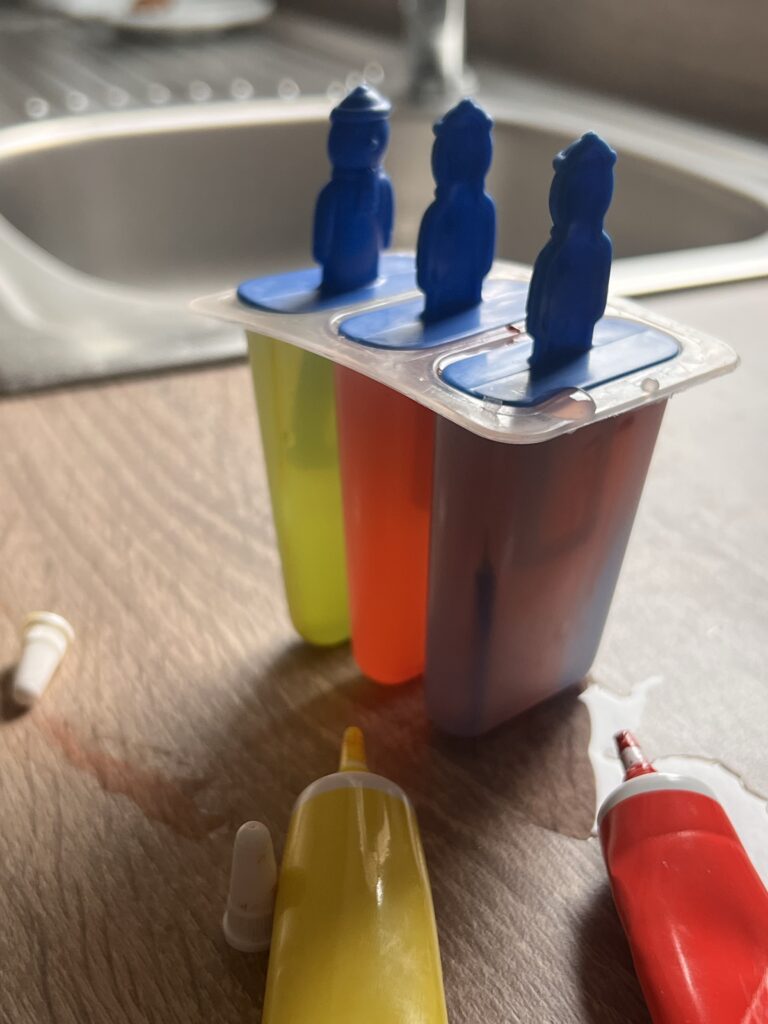 The ice lolly mould was also a great addition. We used water and a little bit of food colouring to make our first lollies and Arlo has plans to try all sorts of different juices and squashes or cordials to add flavours. This is perhaps the best bit about Mr Frosty.
Once you've crushed the ice, the possibilities are endless. A little bit of colour and flavour goes a long way and Arlo loved using the squeeze bottle to add his colour and flavour to his ice and see it disperse through the bowl.
Crushed ice is always a big hit, whenever we head out and there's a large slushy machine behind a counter it's the one thing Arlo wants to spend his pocket money on as a treat. I think this excitement is compounded in to the Mr Frosty Ice maker and having the chance to make your own is a delight for little ones.
As an adult it seems so simple and a bit of a faff to make the ice this way when it would perhaps be easier to bash ice with a rolling pin to achieve the same outcome, but the novelty for children is long lasting. Arlo was engaged with this for a long time and very interested to try and figure out the mechanics of the inside. He's been pro active in preparing his ice and carefully re filling his ice tray and leaving water drops all over the kitchen floor as he takes it to the freezer.
I like that you can get creative and also know exactly what's going in to your ice – using low sugar cordials and adding fruit to ice lolly moulds for example makes it a healthy and refreshing treat for summer and a toy which you can come back to time and time again.
Mr Frosty is available to purchase in Entertainer stores for £23