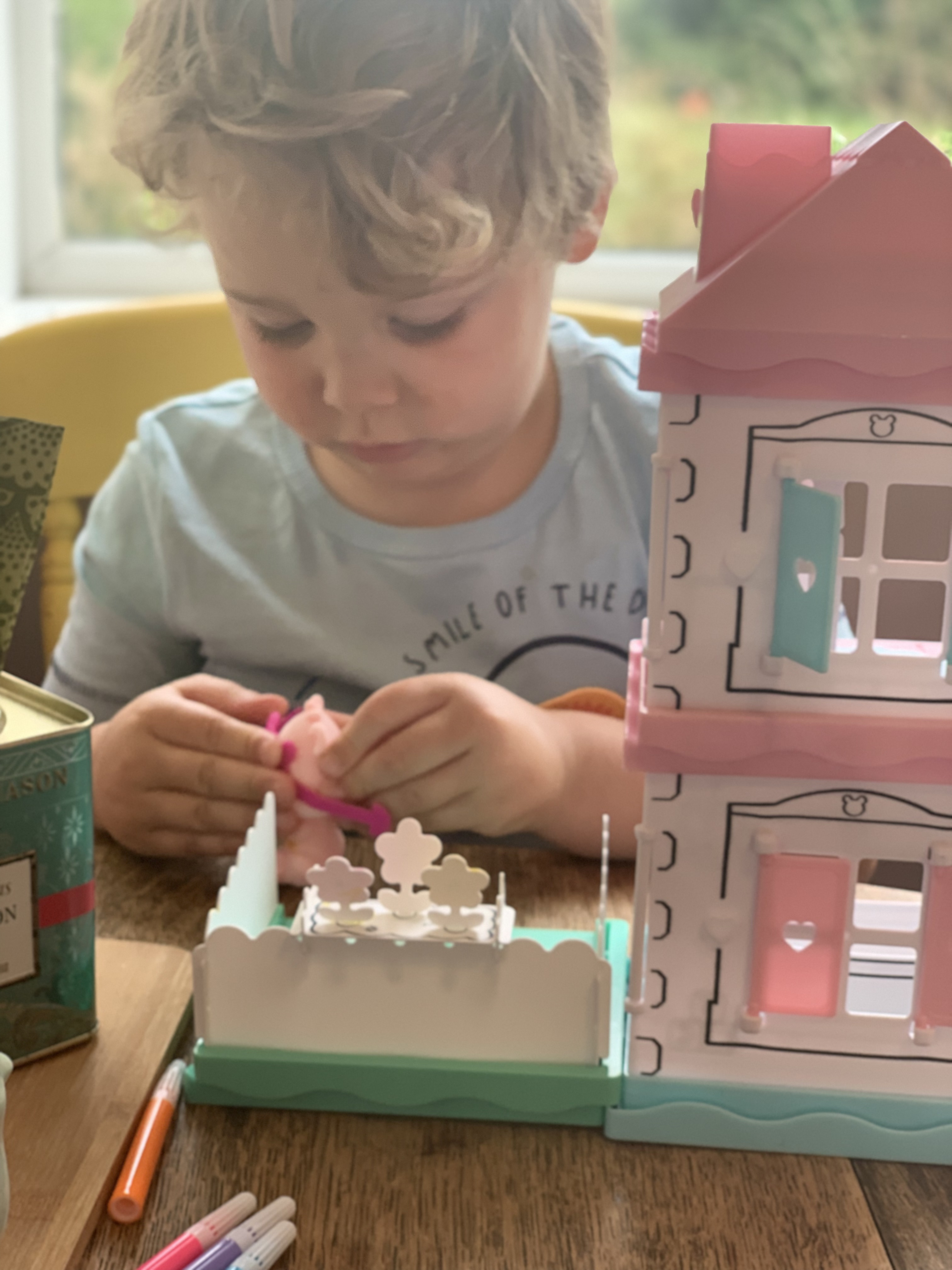 The award winning Fuzzikins sets are ideal for creative kids. They are a range of small creatures which have a fuzzy texture. Each animal comes with its own customisation kit including pens, felt, stickers and cardboard accessories. They can be coloured in, played with and then washed clean in water for the play to be repeated all over again. They are small enough to encourage fine motor skills and hand to eye co-ordination and inspire endless imaginary play concepts, and so the launch of the new home makers collection had me excited and I fetched these toys out to explore on a cousins play date.
The new Fuzzikins Home Makers range features modular homes to build and decorate. The Fuzzikins family home which is £19.99 and available to order from Smyths and retailers from September comes with two rooms and a garden, plus two Fuzzikins bears, felt accessories, flat pack furniture, stickers and pens – and absolutely everything can be decorated – from the tiny garden flowers to the walls of the homes.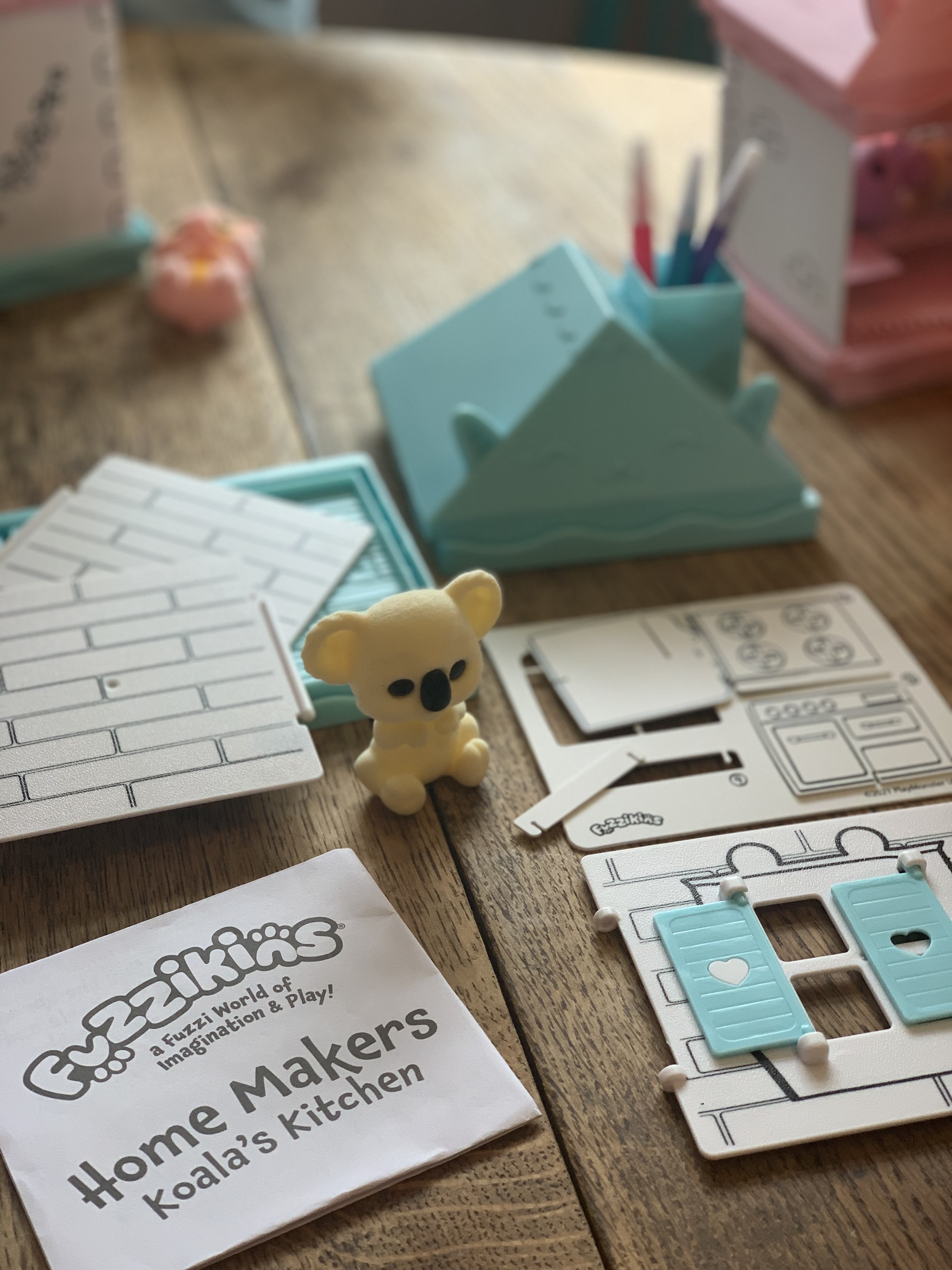 There are additional houses coming to the range which are £9.99. These simple modular style homes are easy to put together and take apart – the three exterior walls slot in to the base Units and click together nicely, with the roof placed atop. We have stacked ours nicely and then arranged them neatly in a square to create a little neighbourhood with a courtyard.
The instruction leaflet contains all the details and a pictorial guide, which was so simple Arlo and his six year old cousin could be left to build it together independently. When they realised they could colour it all in they enjoyed taking it apart and putting it all back together several times. It's clear that there's been great care taken in the design of these toys, with the attention to detail on the furniture and with features such as the chimney of each house being hollowed out to store the colouring pens.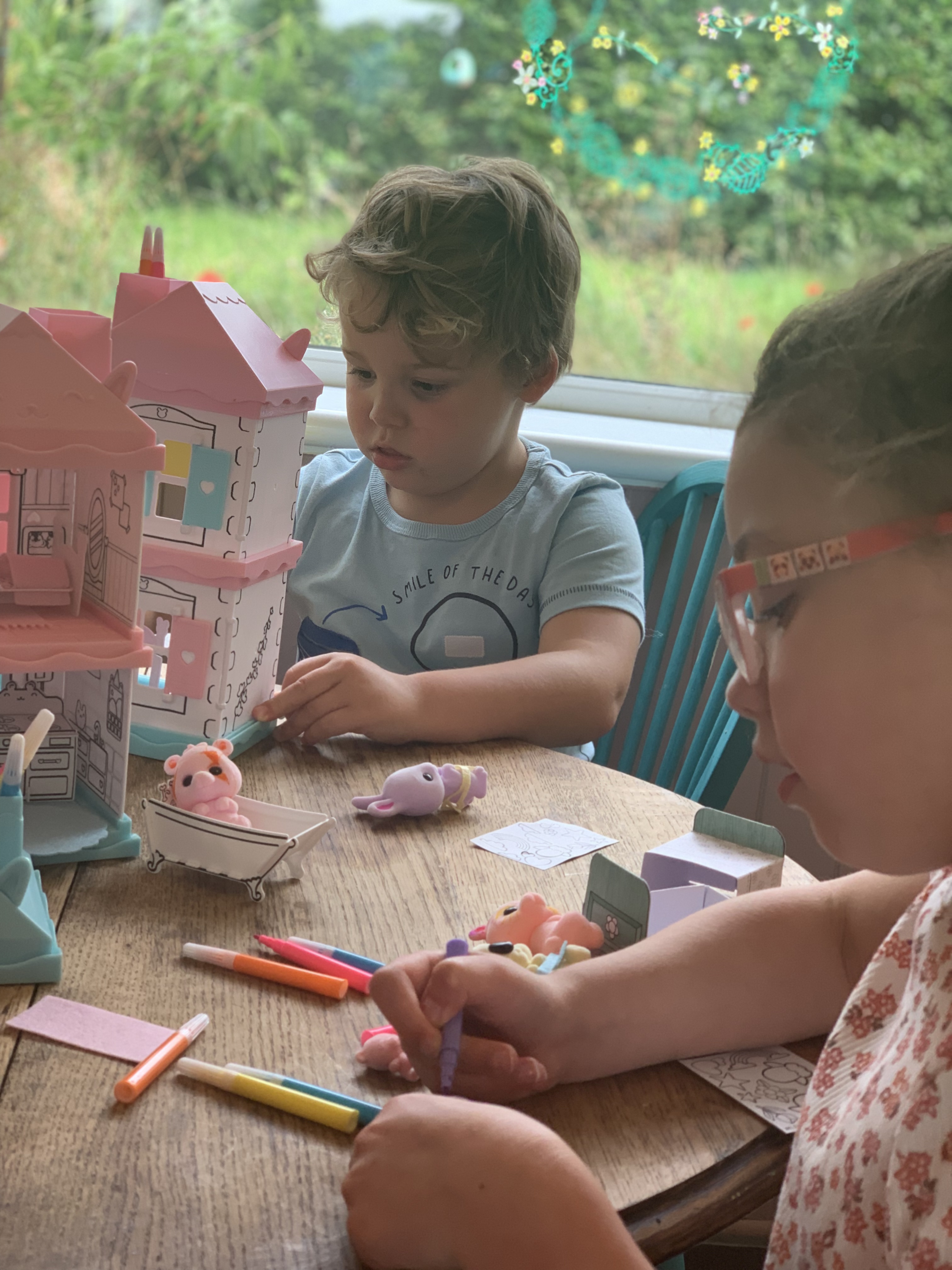 Paloma and Arlo, both aged four really enjoyed adding personal details to each of their Fuzzikins, and began playing with the family house and creating imaginary play scenarios about bath and bed time for their animals. I think their excitement bubbled over when I introduced the additional Home Makers kits with Hippo's living room, Koala's kitchen and Bunny's bedroom. To view the full range ahead to Play Monster.
I'm really impressed with just how sturdy all of the "flat pack" furniture is, and because it is flat pack it can be neatly stored away however Arlo's insisted I pop all of our houses on the window sill to display proudly in a neat little row so that he can check in on the Fuzzikins throughout the day.
We have had great fun with these and when I told the kids that all the Fuzzikins could be washed and cleaned they were in shock. We stood at the sink together washing away the colours from the animals and they asked for cloths to wipe down the walls themselves just to make sure I was telling the truth. (I wonder if this will inspire them to clean around the real house?). You can add even more Fuzzi Babies to your collection as they're available from Amazon and HobbyCraft at £4.99
For your chance to be one of the first to get your Hands on the Fuzzikins Home Makers Family Home worth £19.99 enter my giveaway by clicking on the picture below.
Create. Rinse. Recolour
Giveaway closes 28/08/2021
For Terms and conditions click here
Products provided by Play Monster for the purposes of review