We have had the most wonderful time at the play barn. We love it here anyway with one of the biggest indoor soft play areas and all the usual farm animals to meet and greet but it's had a festive make over which makes it all the more magical. When we arrived we were greeted by a friendly elf who handed us over our passports and gave us a little bit of orientation – the kids of course wanted to have a run around the soft play before we did anything so we enjoyed our adults complimentary hot drinks tokens from Honey Pots Cafe before starting our adventure.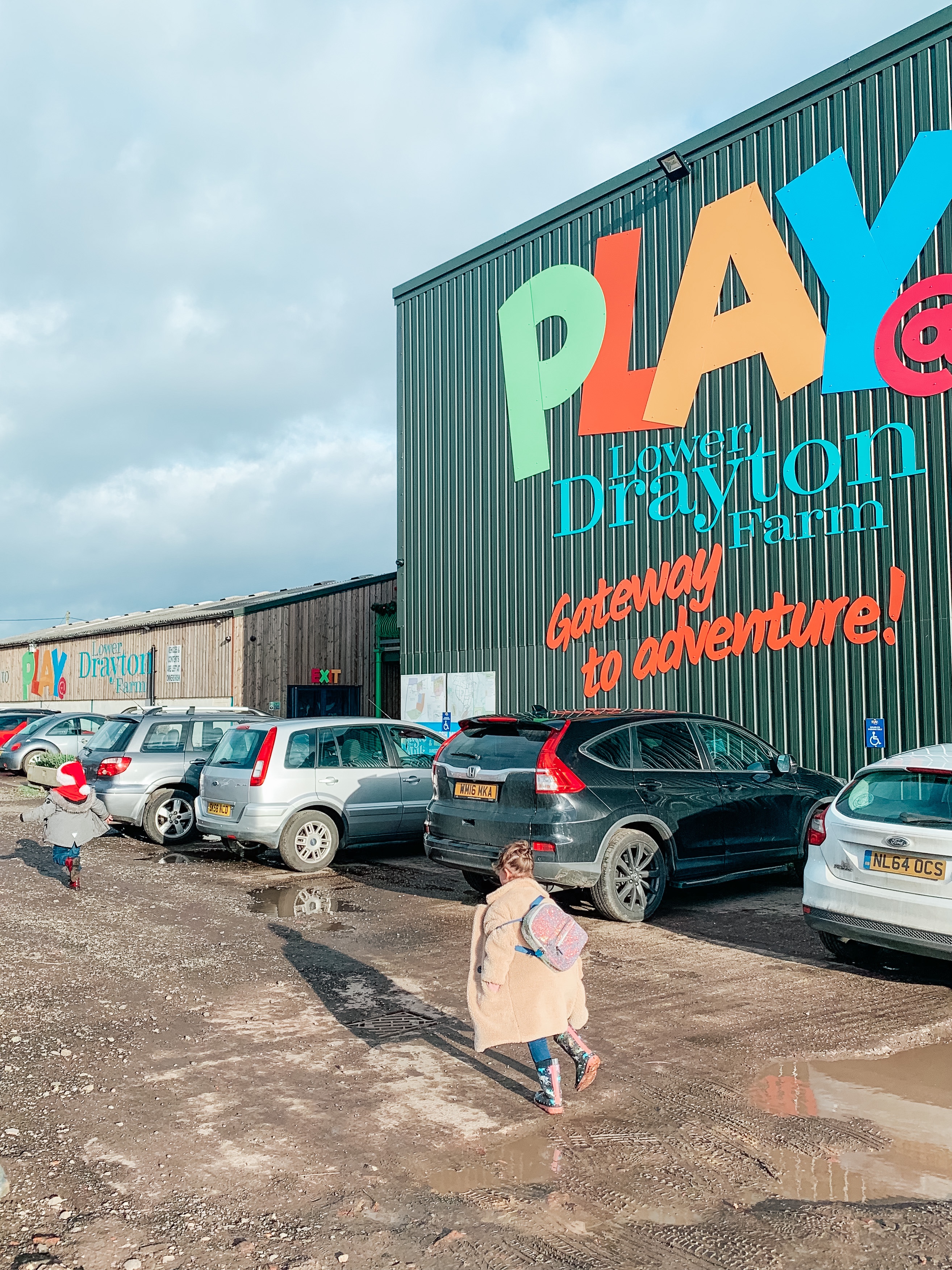 The adventure began when we took a trip up in the "naughty or nice" lift and were greeted at the top by several elves who enthralled the kids. Stamping their passport for the first time and getting them involved in a conversation about Christmas to suss out if they'd been nice enough to meet Santa – and sure enough the kids were all invited to meet the big guy himself who enjoyed having a chat with them all and was happy to let us snap away lots of pictures. One of the good elf's captured a family picture for us all too.
After our Santa meet the kids were given free reign to choose their own gifts from Santa's toy shop and there were lots of different toys to choose from – all surprisingly good quality for a grotto and each managed to find something they loved before we moved on to complete our passport stamps.
Upstairs in the play barn the party rooms have been beautifully transformed in to different workshops – our first was a glitter heaven and each of the children were invited to get crafty with their own wooden decorations. Our elves were on hand to help with every step and fully prepared with all the colours and supplies they needed to achieve their stamp.
The upper soft play pitch has been turned in to a faux snow ball fight zone – with white balls and balloons everywhere this is a lovely zone for a high octane snowball tournament or a sensory moment for little ones to soak up the lights colours and textures. We had a little play and earnt another passport stamp before we checked out my personal favourite room – the gingerbread bakery.
The staging for this room wouldn't be out of place in one of the garden centres we've visited recently, the attention to detail is brilliant and the kids were invited to pop on their aprons and get busy with some sweets and icing to decorate their own gingerbread cookies. Again our elves were very attentive and made sure every child had a lovely experience and a fabulous cookie to take home (or munch on).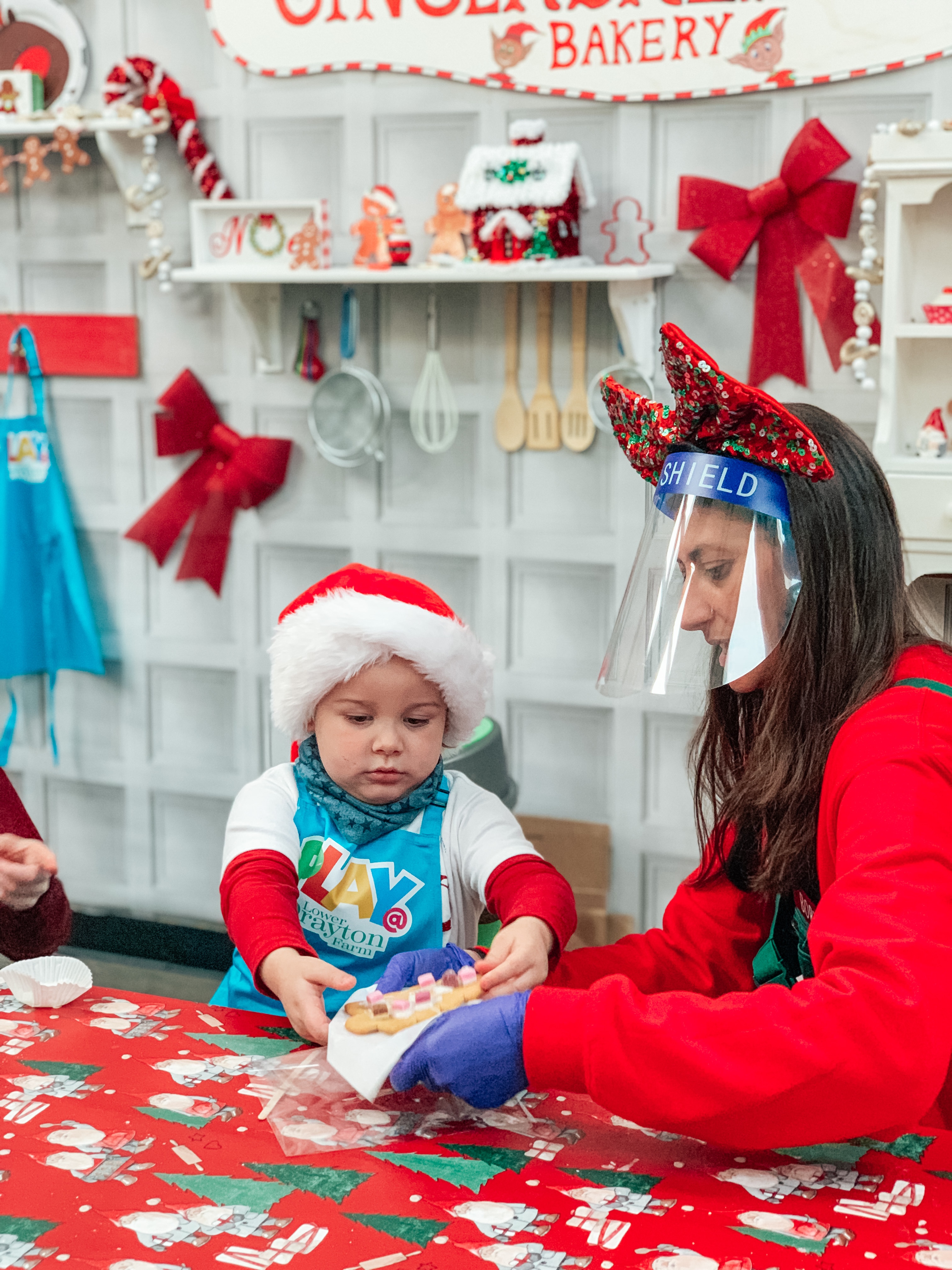 My sister and I got a little bit emotional with the kids writing their letters to Santa, it's the first time they've really been able to write their own letters – Arlo asked for robots and bakugans, Lincoln asked for a scooter and Paloma just wrote to say "I love you, from Paloma" – they spent so much time writing neatly before posting letters.
In between all of the activities we managed to head out to see the animals – Arlo asked a very patient elf the name of every single small animal and put her to the test – Rocket the Guinea pig was a firm fave and he decided to name the baby chicks after Santa's reindeer – and then ran out of names so then we had Rudolph 2, 3, 4, 5…. You get the picture!
Downstairs at Honey Pots we opted for a couple of portions of chips and a toastie meal deal – there was quite a variety of different food options including hot/cold and lots of great looking cakes too. The kids ran around the indoor soft play for a while and then we ventured to the picnic barn with the big slides and the inflatables – we practically had this space to ourselves and spent a good hour running around like loons before the cold defeated us and we went inside.
Our passport had one final activity left to complete so we went to find out what the story was all about and found a movie screen with hay bales and blankets set up for a viewing of a mischievous elf story featuring many characters we had met throughout the day. It was at this point we realised we hadn't been outdoors and absolutely needed to find the zip wire and bouncing pillow.
As the sun set we had the outdoor area to ourselves and had one final hurrah with some role play in the fire engines before we said our goodbyes to the elves and the cattle who were turning in for the night. I genuinely can't recommend this experience highly enough. It was a fabulous day throughout and the team at the farm were working so hard to make sure every child had a magical time. The place has everything you need to capture that Christmas spirit and get you feeling festive.
Xmas at the farm is available to book until Christmas Eve – peak and off peak pricing applies – check out their website here for more information.
Our tickets today were provided for the purposes of review however as always all thought and opinions expressed are our own