I shared our Kitty Cafe Birmingham experience in my social media channels during February Half Term. Before I shared our review I did pause to think about wether our meal was an isolated event and if I should revisit at a different time but I received an influx of comments and messages with people letting me know that sadly they had also had very similar negative time.
In this financial climate our adventures are very much on a budget, but we look forward to our school holidays and I always give my five year old the opportunity to choose an activity. He really wanted to visit the Kitty Cafe which is located in the Grand Central Station in Birmingham city centre. We pass it often and it's so unusual to see cats in the windows of a cafe that we would often pause and so one weekday morning we popped in and made a 1.30 booking for lunch.
I thought that this would give us enough time to run errands in town and also avoid the lunch time rush which is inevitable given the location and how busy it is. I did notice a health and safety disclaimer or waiver being signed but I didn't notice anything about an entry fee.
We arrived at our booking time and stood at reception waiting to be greeted for five minutes. One person was busy taking a payment from guests on their way out and didn't attempt to acknowledge us and say a quick "I'll be with you in a minute" or even make eye contact. She checked her computer booking system without making any small talk, had us sign the waiver and then asked us to come through a glass door in to a little holding area with another glass door.
Neither of the doors can be open at the same time so we found it quite awkward to be trapped in this small enclosed space and of course as our luck would have it another family was ushered through to leave with a buggy and a child in tow and so we had to squeeze in like sardines to ensure that the interior door could close behind them and have the exterior door open.
I understand that this is a safety precaution to prevent any feline hosts from escaping but common sense here would have prevailed and staff could have waited before ushering guests out. This encounter was an indicator of what was to come in terms of guest service.
How much is it to enter the Kitty Cafe Birmingham?
We paid £19 to enter.
That's a fee of £7 per adult and £5 per child just to sit in the Kitty Cafe. This was told to us whilst trapped between the two doors, and so I couldn't have backed out easily, especially with my child in tow. We didn't at this point realise that we would have a time limit on our booking and so I grimaced and paid the fee. This £19 is called something like a charitable donation towards the upkeep of the cats so I felt as though I couldn't say no. The host at the entrance said it in such a matter of fact way that it made me feel as though it should have been common knowledge.
I did check just to make sure but this fee isn't clearly detailed anywhere on the website, but it is in the small print on the menus we were eventually given.
I still wasn't sure at this point if this would be deducted from our overall bill or was money gone for good. I'm not a Scrooge by any means, in fact I'm a sucker for any animal with a sob story but £19 to sit in a cat cafe is expensive when we could have spent the whole day at the Nature Centre for not much more.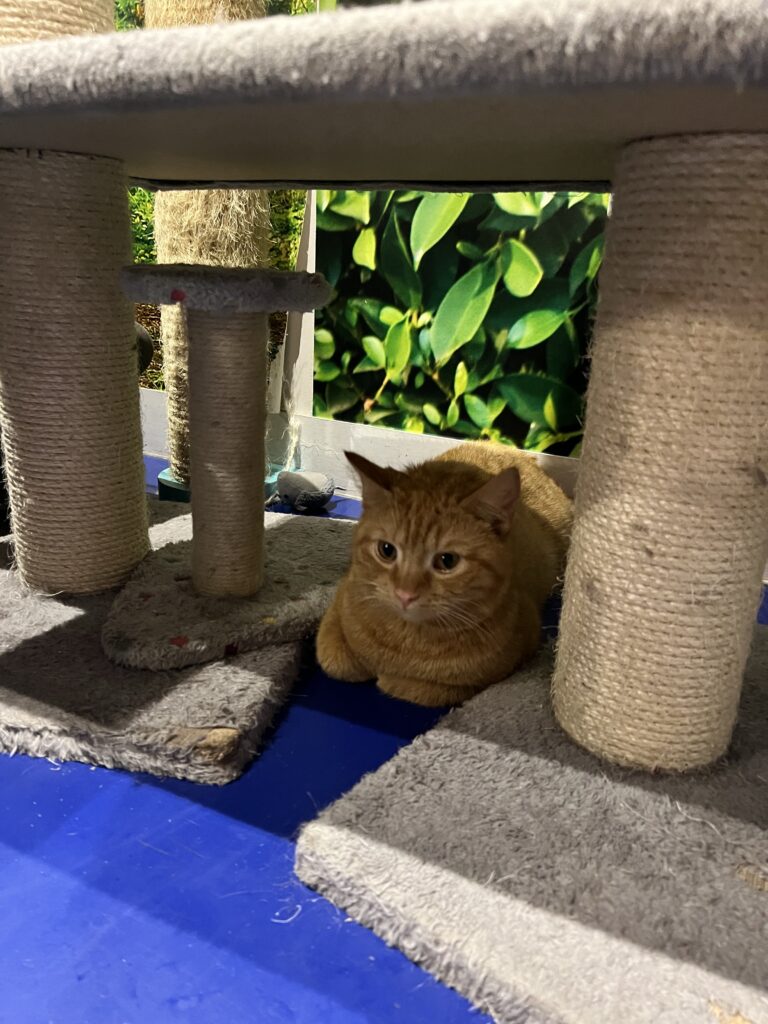 What is the menu at the Kitty Cafe?
At first glance the menu seemed quite reasonable. As we finally made it out of the payment holding zone we stood just inside waiting to be greeted by…. Anyone. Several times staff walked past us and again didn't acknowledge us. No one appeared to be in any rush and the venue was by no means at capacity. Eventually someone took out a couple of creased menus from a holder and asked us to have a look at them but still did not invite us to a table so we stood awkwardly in this area and again had to move around to allow other families to exit and enter behind us. There was a buggy which had been parked obstructing the space too so it was a relief to be shown to our table finally.
We had seen cakes, milkshakes and hot chocolates en route to other tables and so we were planning to settle down, relax and order a full three courses but our waiter informed us then of an hour limit to our visit. They did not even introduce themselves by name or greet us aside from this, and we were left at at an open three seater sofa on the back wall with a low coffee table.
We sat in a straight line which was just awkward. Three of us facing out didn't really allow for any conversation between and it felt as though our sofa and table should have had at least chairs, if not a sofa opposite us but that the restaurant had just split sofas up on the back wall to make two separate tables.
We all felt awkward and uncomfortable, as though we were positioned just to look out and observe the family sat in an area just opposite us in the cafe. Many people passed by as we were along the path to the toilets, and we felt very exposed. We did have some cats sitting and sleeping around us so quite often children came along, putting their hands on the coffee table to peer underneath and we found this to be intrusive to our experience.
The Kitty Cafe rules
As I mentioned, there was some sort of waiver to sign as we entered which had lots of rules which are in place to protect the cats. I totally agree and respect this and so I read through these with Arlo as we had plenty of time to wait around. The rules do say that you can wander around but that you mustn't chase cats, feed them or wake them if they're sleeping. However some of the children near us were flouting these rules. They were unaccompanied and one in particular hung around us with a phone in her hand the entire hour taking pictures. There were adults just stood right in front of us trying to call a cat playing with Arlo to come to them too.
I did see a member of staff reprimand one family for feeding cats but I didn't feel as though they were truly keeping their eye on the ball with regards to the children flouting other rules in the venue. The only rule they all certainly followed was the hour long limit. they were reminding tables that they only had five minutes left and I saw some irritated families with full drinks ask for take away boxes for cakes. I know that people need to be accountable for themselves and their children, but I do expect staff to uphold rand set an example when everyone coming in has signed the same list of rules.
What is the service like at The Kitty Cafe
In short, almost non existent. We sat and waited for ten minutes to place an order. Only managing to get this done by asking someone politely to come over to us. The person taking our order did not seem confident at all, there was no tone to their voice and they were not really knowledgable about the menu. We opted for a meal deal offer – £15 for a drink, main course and either a side or a cake option.
What we wanted to do was go for one side between us and then planned to order cakes for dessert later, two as part of the meal and then pay for one extra. This kind of thing is never usually an issue but we were made to feel like we all should order sides instead as it would be too much hassle and so we did that feeling a little bit exasperated.
Then we waited.
And waited.
The cats at the Kitty Cafe
There were quite a few cats close to where we were sitting. One slept on a bridge overhead us the whole time and we had cats in little dens, tubs and on cushions beside us too. All around the cafe are huge climbing posts and platforms and we spotted one mischievous cat seemed to be happy darting all over the place, until he climbed up high above the drinks serving station and looked like he was about to get tangled up in the overhead electrics.
The staff banged and tapped the wall loudly to get him out and he carried on running about the place. I think it's the same cat we saw peoooe feed scraps of food to. Most of the other cats slept whilst we were there, or looked like they were attempting to so we didn't interact with many.
We did get up and walk around the cafe to see if we could spot any, which is allowed, but being mindful of how awkward we felt at our table, I was careful to make sure Arlo didn't approach any groups eating their food.
I can't fault the cleanliness of the parts of the venue we saw, but I didn't look too closely nor did I visit the toilets. The eclectic decor made me feel like I'd walked in to a Central Park style cafe and there were so many cute cat hideaways and toys dotted around to see but the novelty quickly wore off so we returned to our table.
Drinks at the Kitty Cafe
Our drinks arrived exactly half way in to our visit at the thirty minute mark. I was fed up of waiting at this point and very thirsty. Soft drinks arrived in cans with glasses for a self pour. Arlo enjoyed his milkshake, it wasn't his first choice of flavour as that wasn't available but he said it was delicious, quickly finished it and I would have liked to request a glass of water but we never got the opportunity.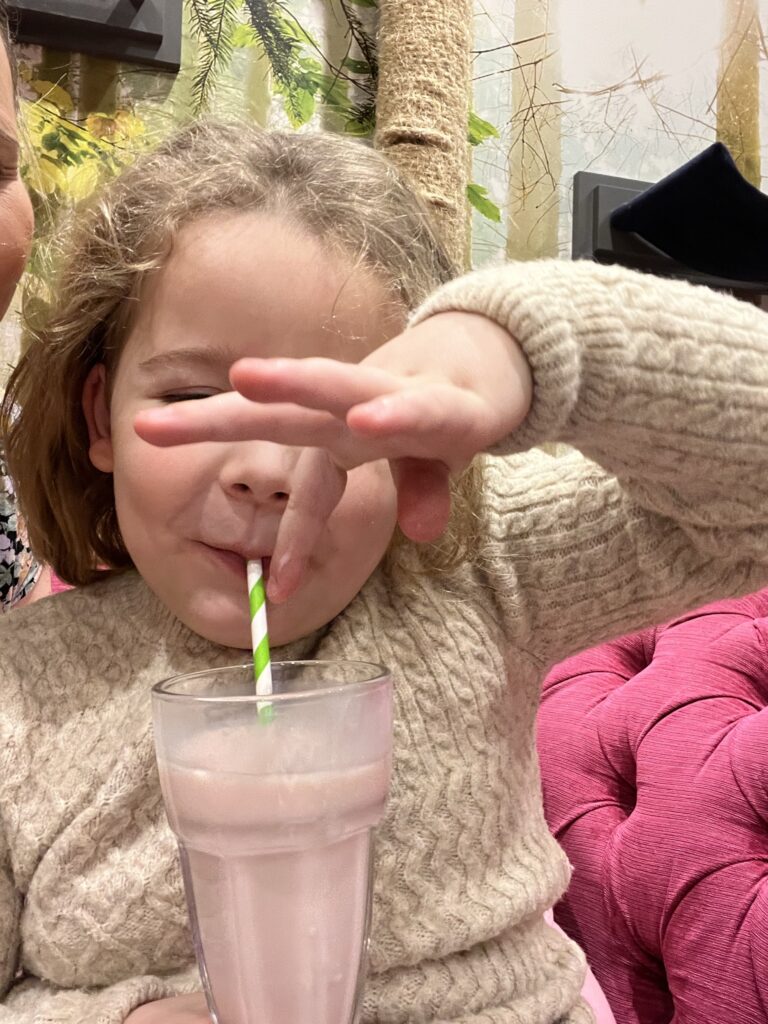 I did spot someone hovering around with an iPad nearby who again made us feel a bit awkward. She didn't appear to have any uniform on but I wondered if she was part of the team and if it was worth trying to get her attention. Between us we surmised that she might be monitoring the cats and it did look as though she had a lanyard on but tucked in. It just all felt very odd and as we sat with our finished drinks waiting for food we had nothing better to do than observe cats and other people.
Food at the Kitty Cafe
I would use the phrase "nothing to write home about" to describe the food at the Kitty Cafe – but actually it was so awful and we spent so much money for our one hour trip that I feel it was important to get this review out there so that others can learn from our expensive mistake.
The ham and cheese panini was awful. A thick and tasteless slice of ham with plasticky textured cheese and a handful of green salad leaves plonked on the side. If this had been served to use within five minutes I might have forgiven the quality and mistaken the sloppiness for rushing but it was awful. You would get a better panini at a petrol station.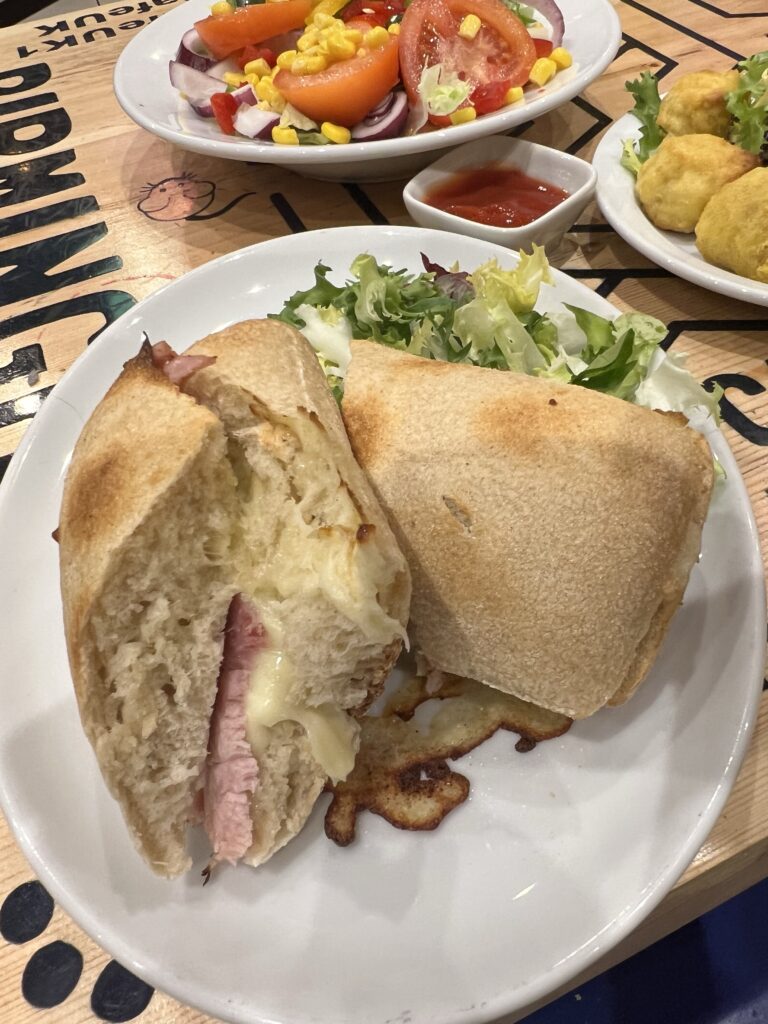 The side of nuggets and the salad arrived at the same time as the panini. This was exactly 50 minutes in to our allocated slot – I took pictures as it arrived so I know the exact time. These dishes were placed down with no cutlery and then the member of staff disappeared.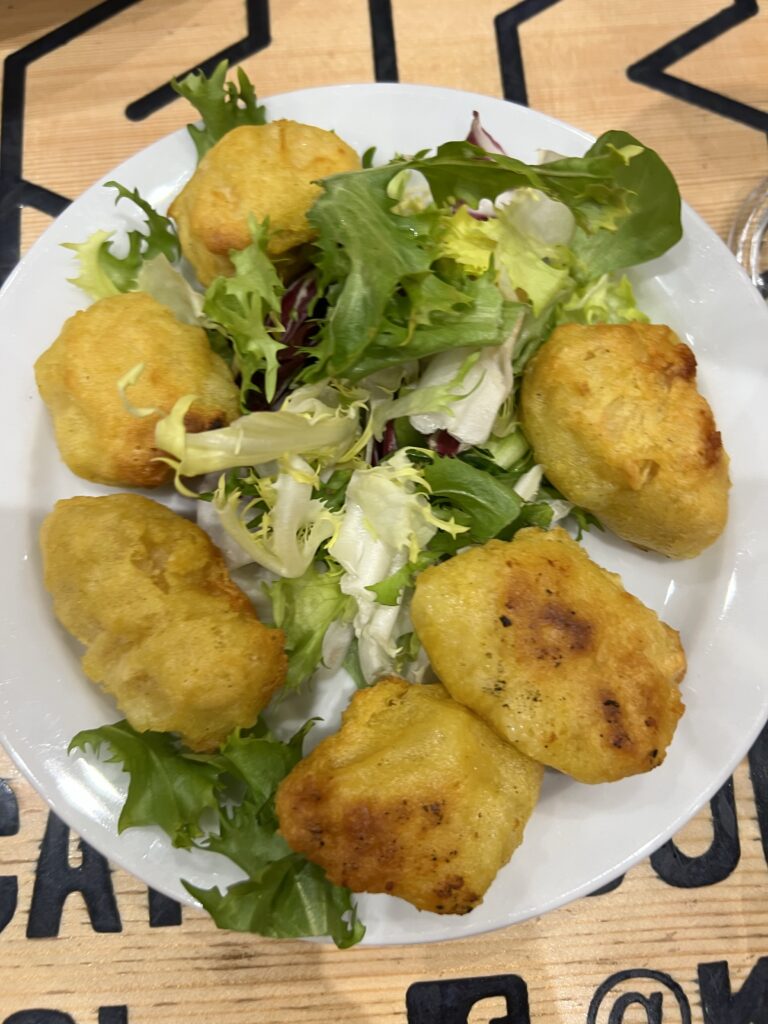 The nuggets looked okay. Again not good enough for having waited 50 minutes as clearly deep fat fried from frozen and again served on a large handful of salad not so delicately plated up.
The side salad took up a large mains plate. It looked again "okay" – a lot of salad leaves, very thickly sliced red onion, wedges of pepper and some sweetcorn but the best bit was the very large halves of tomatoes on the plate – four of them. I didn't have a fork but I could have perhaps picked them up and bitten in to them like an apple.
It was at this point I was beginning to worry about having to rush my food and was contemplating having to cancel the order but six minutes later our other items arrived. Wedges and Quesadilla.
I asked but there was no sour cream or usual condiments to go with our quesadillas which were terrible. Advertised as a speedy Gonzales I thought that this was the quick lunch option. How wrong was I? It was a huge amount of the same gungy cheese as the panini with very small cubes of processed chicken and large lumps of onion. I could taste garlic Mayo and there was no flavour or texture whatsoever. No salad dressing for the huge bowl of tomato chunks either but at least now we had cutlery too.
Wedges were soggy and needed to be cooked for longer but after an hour I was fed up.
It was really awkward sitting on a low sofa and trying to eat at a coffee table without dropping any scraps of food as the afore mentioned cheeky cat had sniffed us out. We also still had the audience of random unaccompanied child to put up with.
No sooner had our food been placed down and my sauce request denied, the member of staff turned directly to the table next to us and informed them their time was up and they had to leave, then glanced across at us too. I took this as a hint. I was planning to ask to order the water I'd been after for half an hour but no chance.
We left most of the food behind and sat waiting again awkwardly for a time before being told to pay on the way out. No thank you for coming or check to see if the food was okay. In fa t they cleared the plates and got out the cloths before we had stood up, asking us to hold a cake net cover whilst they did it.
So exactly one hour after we entered, we were sent back through the awkward glass doors and just to rub salt in the wounds were asked if we wanted to buy any over priced merchandise on the wall behind us before being asked to tap my card for £45.
Is it worth visit the cat cafe?
In my opinion, no. I parted with £64 for a lacklustre experience, dreadful service, even more awful food. The disappointment after having waited so long to go and visit the kitty cafe was upsetting for Arlo and I didn't even feel the good vibe of gifting to a charity as something about the whole time made me feel unsettled.
Will you go back?
I was thinking about it. Could we have just chanced upon a one off bad time or day to have visited.
Apparently not.
The majority of comments and messages I have received from many others who have visited the Kitty Cafe echo our experience. From feeling as though it's over priced to the nonchalant attitude of all of the staff and the feeling of being rushed out of the doors.
I also decided to retrospectively look for reviews online. It looks like many have been deleted from the usual review platforms hence I'm sharing this and I'm going to do my best to make sure it appears when anyone types Kitty Cafe Birmingham in to google.
In the midst of this financial crisis it's simply not fair for businesses to operate in this manner and deliver such a substandard customer experience, especially those which are marketed as a tourist attraction, and suggest booking for special occasions and parties under the guise of supporting an animal charity which I'm not convinced is entirely transparent.