Every day for the last three months Arlo has been asking to go to the Safari park – as annual pass holders we would visit regularly prior to lockdown and it's quite literally one of his most favourite places to visit and so of course it had to be the first place we went to when the countries outdoor attractions re-opened on April 12th.
We always park up as soon as we arrive and head to the walk about areas when they are the quietest. You greet the penguins first thing and then can go and wander around the ice age and dinosaur exhibits. Arlo literally ran through these areas as if he was checking that everything was still in place, and I found myself sprinting to keep up with him. With not too many people around in the morning we had unrivalled fun.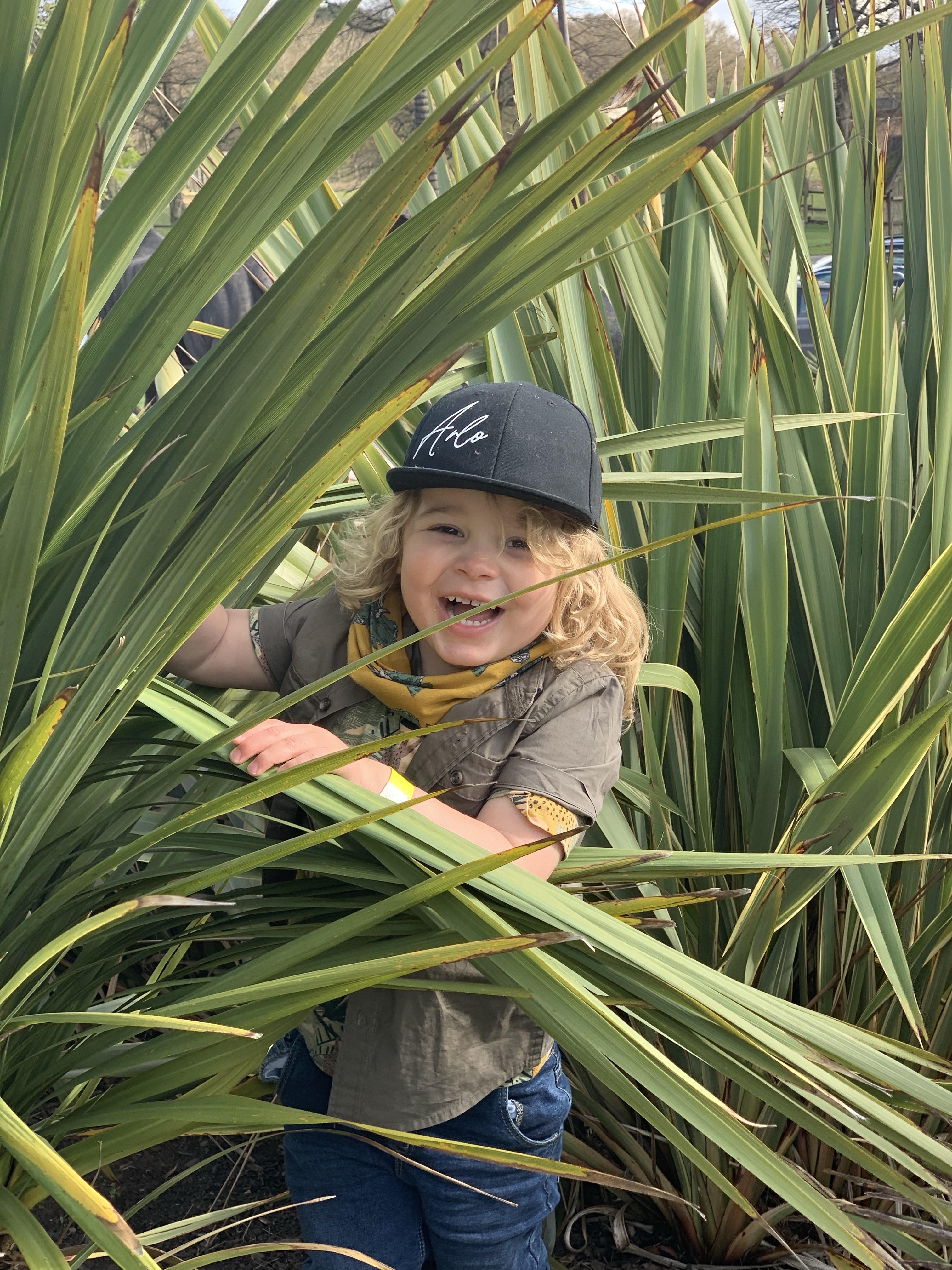 Of course the indoor attractions such as the reptiles and lorikeets are closed but as we were graced with the sunshine we were happy to wander around outside, and ambled down to the far corners of the Safari park to greet the hippos and I bought Arlo a wrist band to enjoy some rides, he's now over 1m tall and so can go on quite a few of the different rides. As an annual pass holder I get a Discount on these and so he went on his first roller coaster, and my personal favourite – the Log Flume.
This area of the park opens at 11am and we noticed that the drive through Safari was jam packed when we first arrived, but cars started to space out by noon and the park area was a lot busier, so we went against the grain and retraced our steps back to our car, pausing to get some lunch. I usually take a packed lunch but we fancied something warm and so I queued up for a takeaway chicken and chips, and we paused to eat before heading on Safari.
We were delighted to see so many of the giraffes out and about from the moment we entered the drive thru, there's nothing quite like the sheer delight of seeing Arlo's face as they lean down to the windows and peer in to see if you have any animal food. I highly recommend purchasing a pack or two upon arrival for this experience.
The roads were still busy as we drove around but we really enjoyed watching all of the animals who seemed to be living their best lives – I caught this rhino rolling around in the mud to cool off and Arlo thought this was hilarious. I did ask Arlo to tel me his cavities animal and he said "everything" – and started listing off all the different animals in the order we usually see them, but things have changed recently at the Safari Park.
The route has changed and there's still some building works taking place around the new Safari lodge area, and so now the drive experience takes longer, we were in the car for around two and a half hours, and I expect this would take longer in the morning. So it's a good idea to use the loos before you start, there's a one way system at the block in the car park so even though it's busy, it doesn't take long.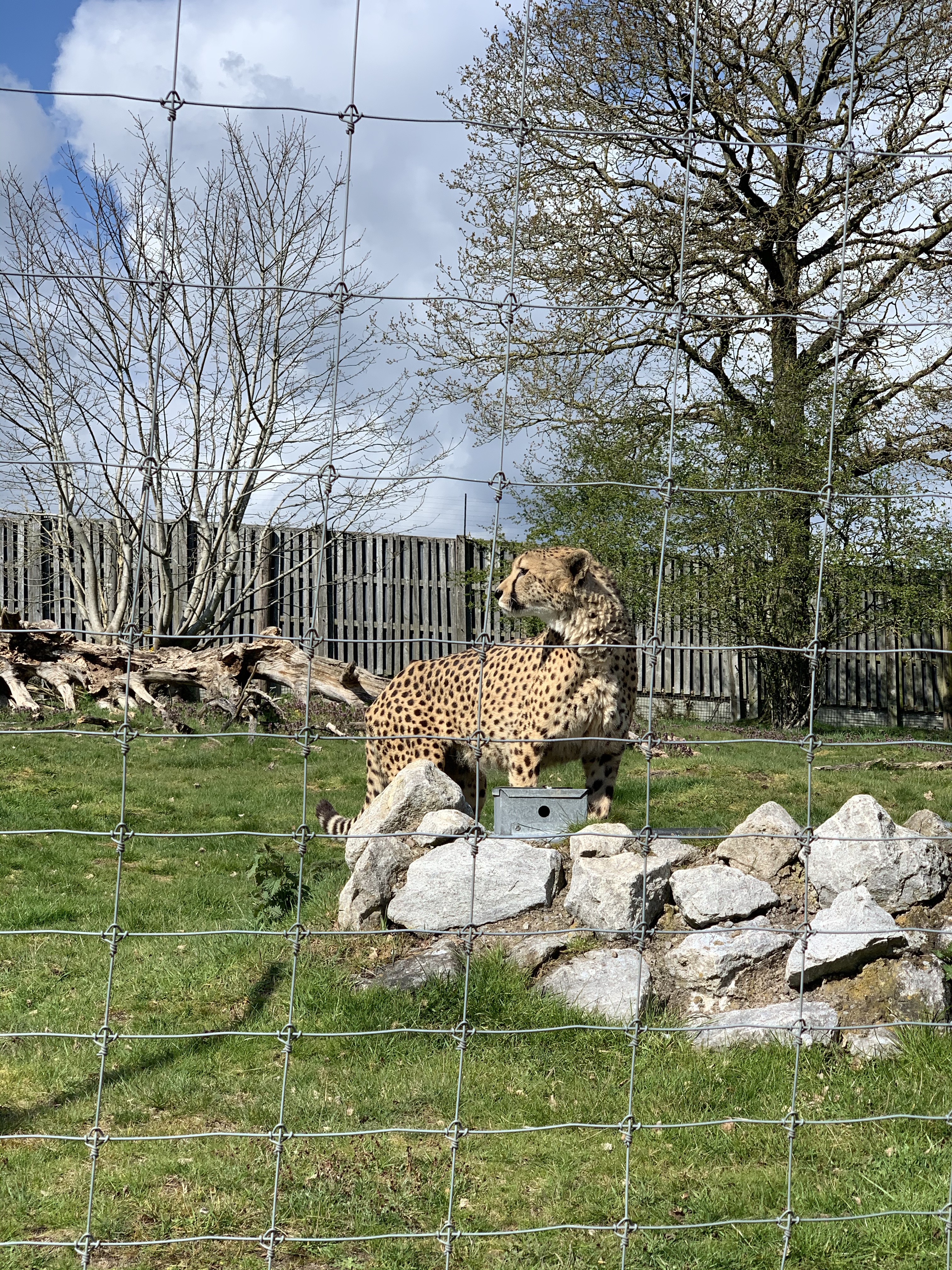 As we went past the cheetahs Arlo was in full form, telling me all about how they're the fastest animal in the world. At home over lockdown I've been filling the gaps by letting him watch David Attenborough and so he acted like a little tour guide, and was telling me things which I had to fact check on Google as we went around, but he's always right!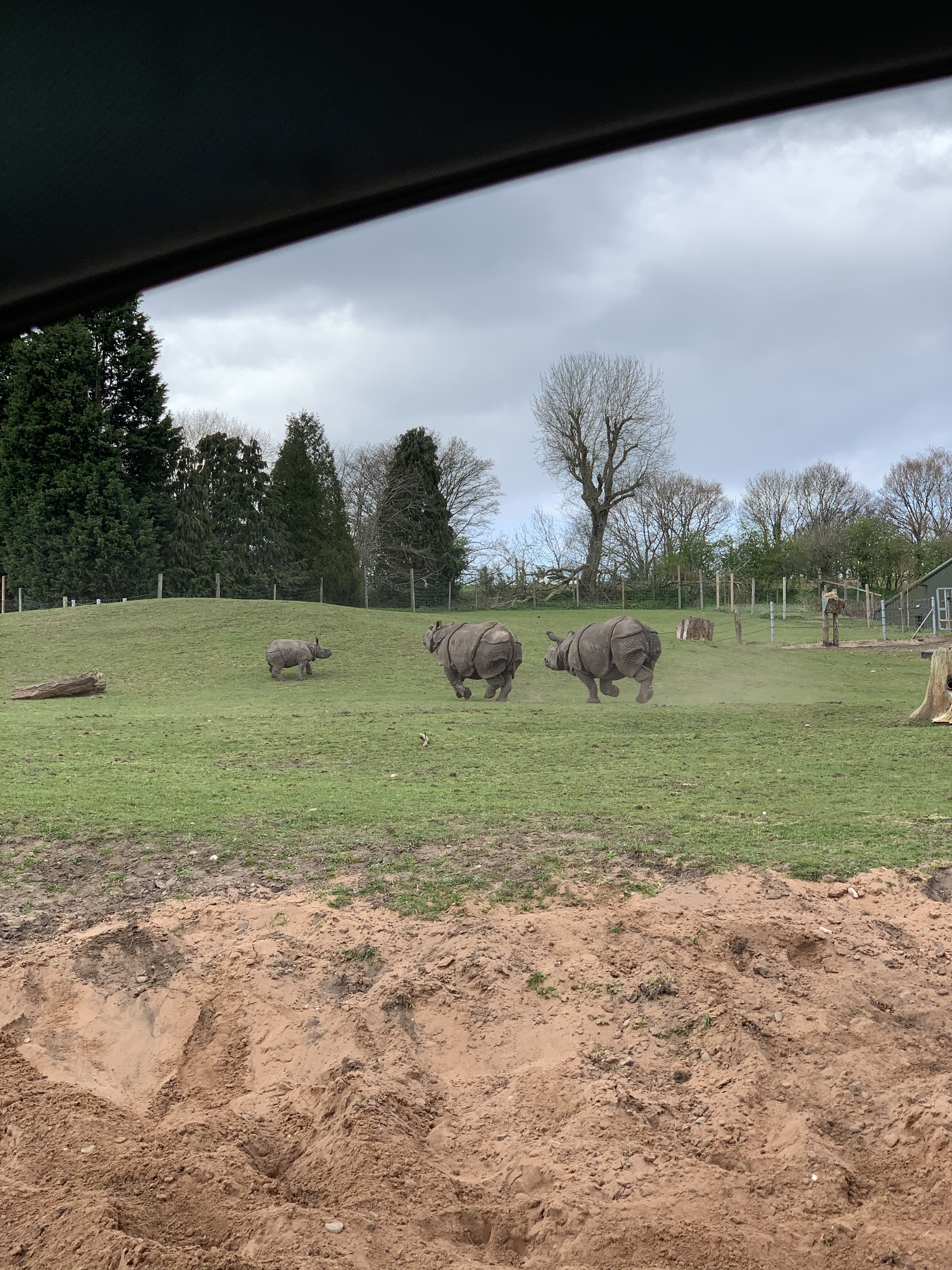 My personal highlight was meeting Inesh the new baby rhino, we watched as his mum and another rhino were having a little bit of a confrontation and running around their paddock. I didn't realise that rhinos could move that quickly and we ended up watching for a good fifteen minutes, before moving on to see more of the animals.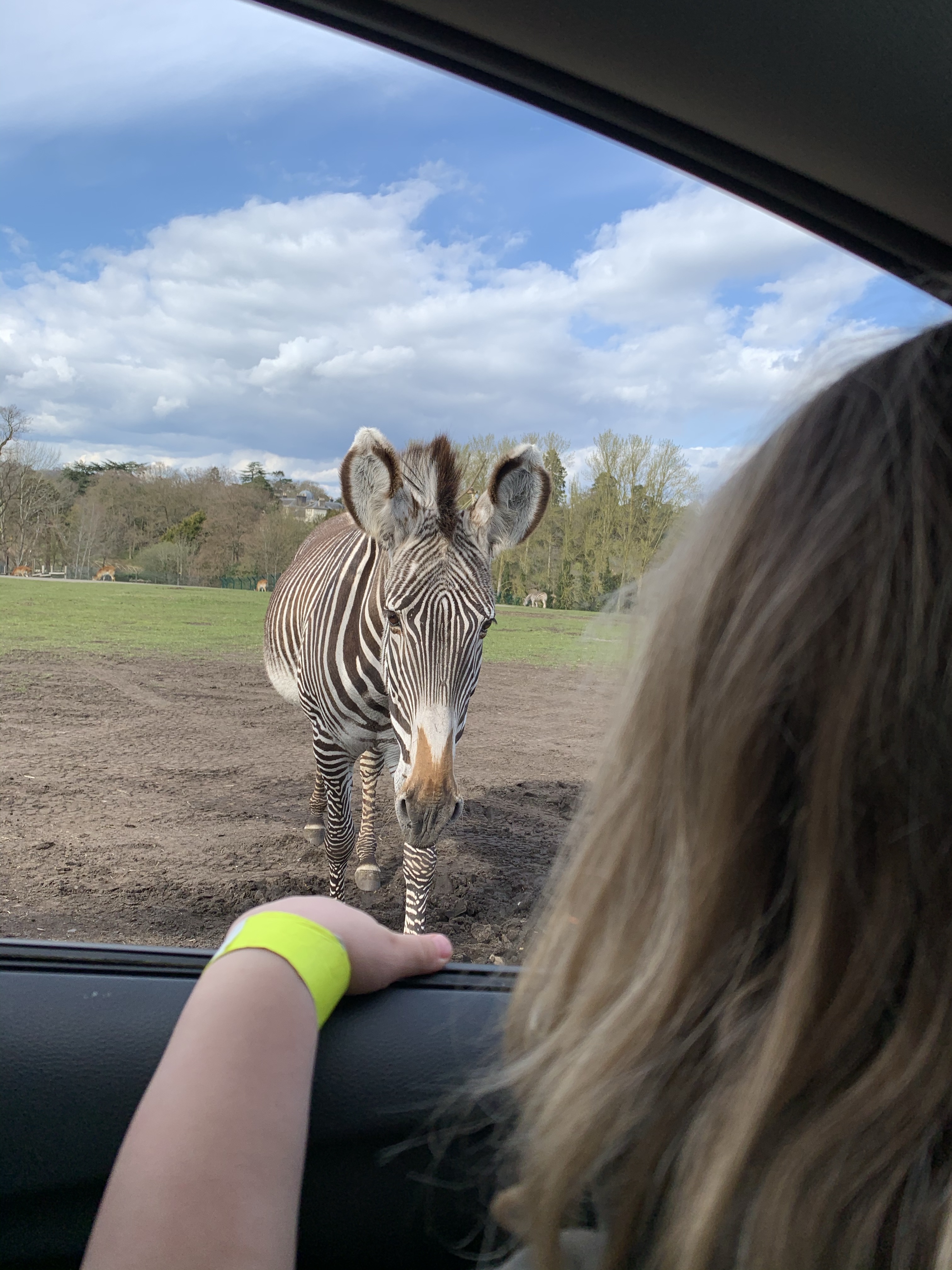 You know you're near the end of the Safari when you come back to the African plains and are greeted by the zebras and the giraffes once more. Animals often congregate here as they know they will get fed by visitors and so it can create a little bit of a bottleneck but the park keepers do well to herd the animals around and make sure they aren't blocking the traffic. There's two lanes for cars all the way around the park and so you can use these lanes and pass cars if you want to.
After we had completed the drive experience we went back to the walk around areas, Arlo had an ice cream and we went back on some more rides and wandered right to the back of the area to find the children's play park and the African Village. The park at the Safari is a lovely space for little ones, very bright and cheerful and with plenty of bench seating, toilets with baby change facilities and a take away coffee stall it's a fab place to pause with little ones.
Before retracing our steps back through the park at home time we visited lemur woods, at this time in the early evening it was deserted and all of the lemurs were gathered near the main entrance, anticipating feeding time I think, and so we got to see them up close. Adults have to wear masks in this area and there's hand sanitiser at the entrance and exit, and in fact throughout the park to use.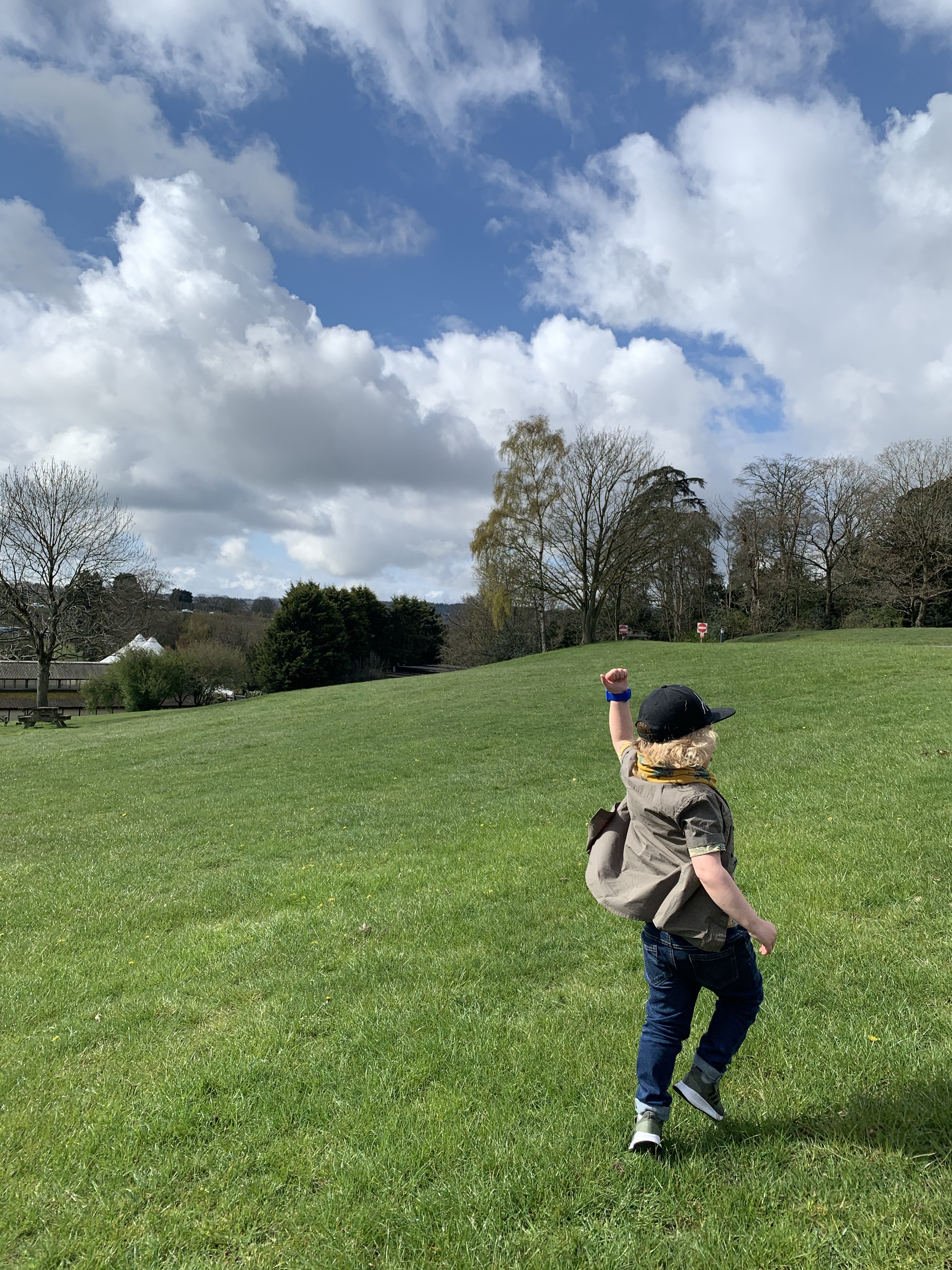 Arlo had an absolutely wonderful day and it felt, dare I say it "normal?" I have to praise the staff, who were all really friendly and acknowledged Arlo as he greeted everyone he encountered. He fell asleep in the car on the way home and just like that our first day out of lockdown was over. I'll be renewing my annual pass so that we can visit regularly.