Arlo's third birthday just happened and I can not quite believe I'm sat here now telling you all I am a mum to a three year old… time really does fly by!
A birthday in lockdown wasn't the original plan, but you guys know me by now – a pandemic wasn't ever going to stop us from having an amazing day. I set myself the goal of making it look like a unicorn threw up and I think we can safely say "mission accomplished!"
When it comes to party planning for us there's always a few important elements which include: decorations, activities, food, cake and goody bags. Even though the only children were Arlo and his cousins I wanted to bring the same vibes this year.
My theme was "over the rainbow" to fit in with all of the different lockdown activities we have been doing and so it was fairly easy to use Pinterest for ideas and then amazon to search for rainbow party decorations. Getting everything prepared the night before!
I bought a DIY balloon arch kit, paper Pom poms, lanterns and fans which were all simple enough to set up and create awesome splashes of colour throughout the garden, really effective decorations, the colours of which can be adjusted to suit almost any theme.
I also created my own crepe paper streamer decoration using a hula hoop…. which I'll write a step by step instruction blog about! All in all I think I spent about £60 on decorations – most of which have been stored away to be re-used for future celebrations.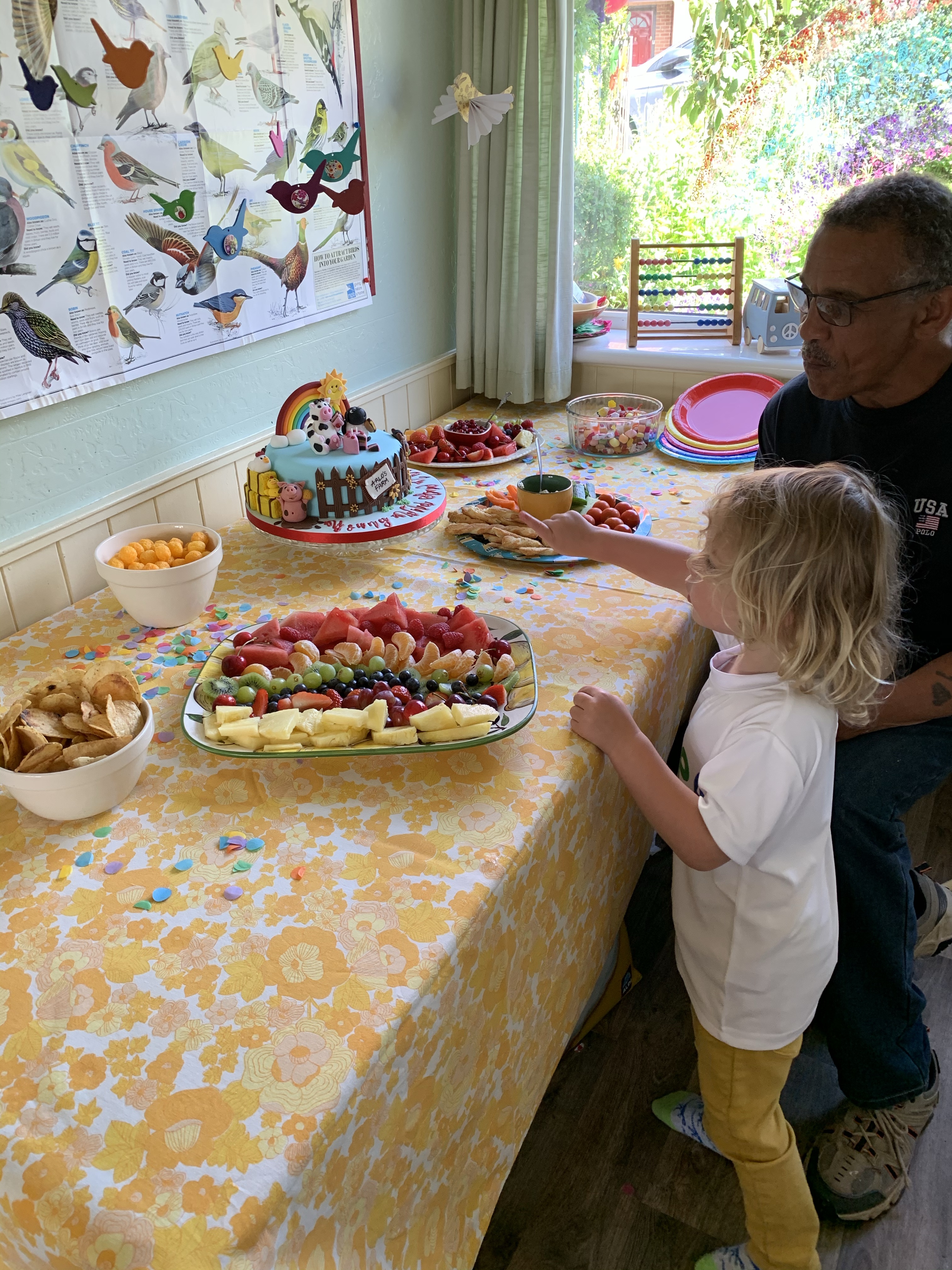 When it comes to food…. a party has to have picky bits but with children you never want to go too crazy…. We had a rainbow platter of fruit and another of crudités with a hummus dip – plus a few bowls of crisps and savoury snacks all laid out on a bright table cloth with a splash of confetti. Arlo started helping himself before the party even started!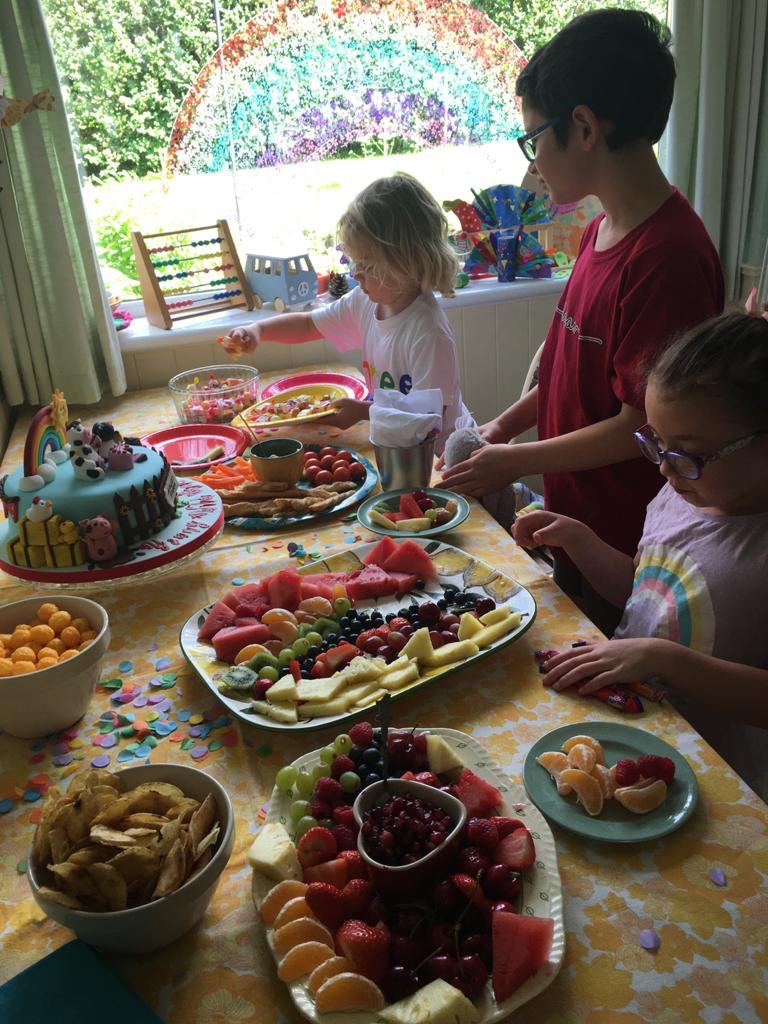 As our gathering was small one I also prepared a huge batch of bolognese on the morning of the party and we also ate this too. Normally I wouldn't do this for a party, I prefer to go for rice salads and chicken wings which can all be prepared in advance and served cold, but pasta is one of Arlo's favourite meals.
Arlo's cake was ordered months in advance for his original party from a family friend with the original "On the farm" theme – at the last minute a rainbow was added for the party and Arlo loved looking at all the little details. We love cake in this family and this one tasted just as good as it looked!
In addition I also decided to call on another local business and book in a visit from the ice cream van…. not just any ice cream van either – Loppys creates the most decadent desserts and has fabulous packages/bundles – I think I was more excited about this than anyone – and Lincoln, bless him, managed to hobble out on his Zimmer frame to join us!
I pre ordered everyone's flavours in the morning and the van arrived to serve us our ice cream trays, a giant bag of pick and mix and mixed flavour slushes for the kids. I've never seen their eyes so wide before! A lovely little treat and so if you're local to Birmingham I highly recommend checking them out!
Arlo had a candy land tub, which was drenched in coloured sugar, loaded with sweets and then topped with a fabulous lolly – I don't think he's ever had so many E numbers – the sugar in this gave the kids the energy to really enjoy the activities I had planned.
I froze some more animal toys in water balloons over night and the kids were delighted with all the mini beasts they had to collect and find – seeing them work together to find tools and help each other created a new dimension to the play – Arlo learnt the smash method from his older cousins and they also colluded together to ask for tools, salt and warm water to get all the bugs out of the ice.
Lincoln with his broken leg in a plaster cast was designated as the keeper of bugs by the others who made sure to include him which was lovely to see. They kept coming back to this all day!
I used the Tuff Tray as a stage for our tie dye project too:
I must admit that this was slightly chaotic with all the kids wanting to get hold of the dye – luckily we had one adult per child so were able to assist them and make sure everything was shared fairly… I'll write another blog about this with step by step instructions too – once this was all done and dusted we continued to add in even more colour to the day.
I ordered our holi powder from amazon, we've done this before colour and the kids love it – so I made sure to plan ahead and prepare to ensure it lasted longer than a few seconds – I'll write a blog with all my tips – theres honestly nothing more exhilarating than chucking coloured powder all over the place!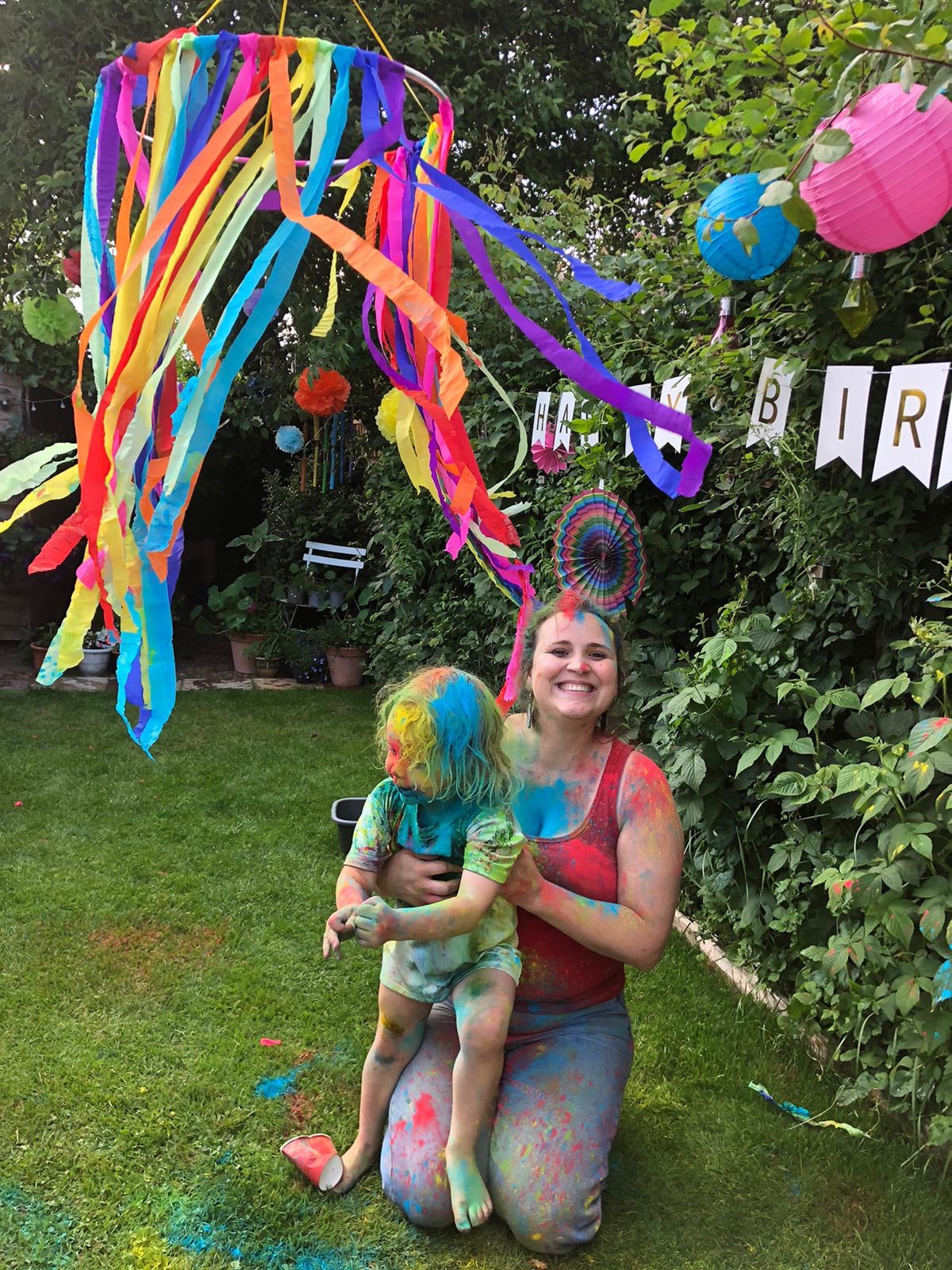 Needless to say after half an hour of throwing colours around we were all covered head to toe and the smiles make it all worthwhile! The kids were enjoying the footloose and fancy free vibes and so I got out a bubble pit for them.
This was a bargain purchase from the middle aisles at Aldi and worth every single one of the 399 pennies – keeping them busy and giving us time to tidy up some of the chaos around them.
Throughout the day we had our new Amazon echo dot playing any music the kids wanted, (they all know how to ask Alexa for baby shark) but I asked for a cheesy music playlist and was shocked that they'd never heard S club 7 before. We of course had to do a few party dances! Gone are the days of spending hours refining a perfect party playlist when you can just ask Alexa!
As the evening drew in I had trouble explaining to Arlo that he couldn't keep his colours and had to have a bath – and not in a bucket in the garden – luckily I had a unicorn bath bomb stashed away to persuade him – all of the colours washed away and his head barely hit the pillow before he was sound asleep!