(Some items featured in this blog post were gifted for the purpose of review)
The beginning of a renovation project idea
This cupboard has previously been used for storage in the master bedroom, it sits above the stairs which run centrally through the house, and it's been handy – this is the place where Christmas presents are hidden. There's a clothes rail built in just below a shelf which had been put in by the previous tenants but to be honest I couldn't tell you what else was here before, and Arlo's never been interested in it.
So one night last summer after Arlo used my favourite "ruby woo" lipstick to make himself a Bowie – esque streak on his face and had destroyed an eye shadow palette. I decided to stash all my make up in the cupboard up on the shelf and he soon forgot about it all, and I decided then that I could use this secret hiding place to my advantage.
The before picture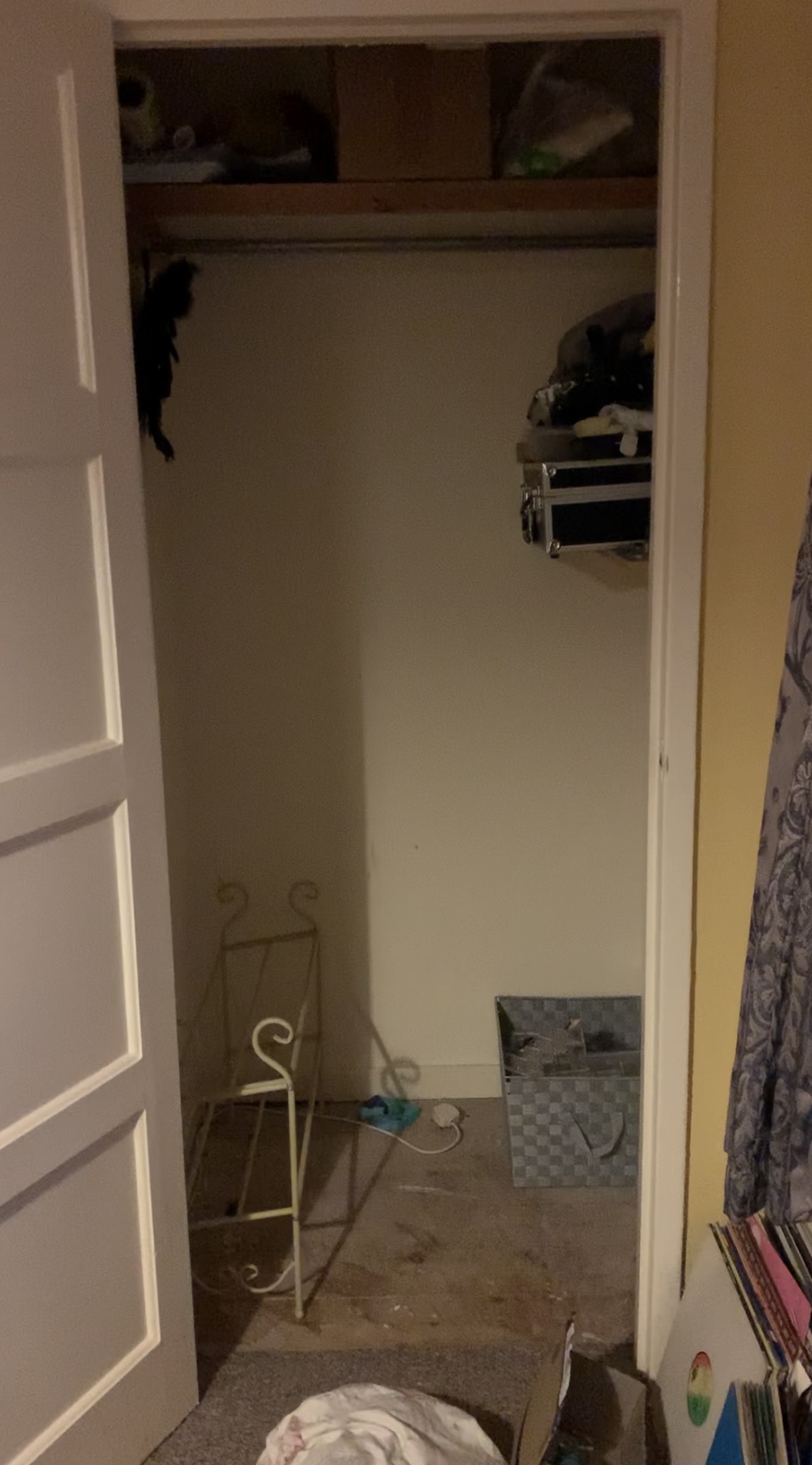 I have all sorts of pintrest boards – some of which are pure fantasy, I had a scroll through and figured that this was my one chance to paint something bright pink…. I was going to attack the living room with the colour I chose for this space and had the sample pot of paint ready to go and so I got up out of bed in the middle of the night, emptied the cupboard and attacked the back wall with vigour. The colour is called posh purple and it's from the Valspar range at B&Q and I had used it previously to upcycle a mirror frame.
Feature wallpaper
I immediately loved how the pink was such a surprise when you opened the door, and I kept moving around my bedroom and looking at it from different angles. From here the idea evolved and I thought I had better plan it properly. I knew the exact kind of style I was going for and found a wallpaper pattern to match from World of Wallpaper – I wanted something with a strong pattern which included pink and the birds caught my eye as I was scrolling through the website. I'd never hung wallpaper before but that wasn't going to stop me. I managed to get this done in an afternoon when Arlo was at nursery.
I had pulled out the high shelf and touched up the edges with a contrasting shade – Steel Teal from the Frenchic Alfresco range – I've done my radiator cover and bedside tables in this shade of blue so there are some elements of the main bedrooms interior design incorporated.
At this point in I hadn't thought at all about a use for this space other than to look nice when I opened the door but then I found a beautiful piece of furniture on Facebook market place. I regularly scroll through looking for bargains I can paint and upcycle – but this piece was perfect just the way it is and so this is not another project.
Vintage furniture finds
It's a vintage bureau / desk with a lockable lid and two drawers – inside the drop leaf lid there are lots of little drawers and a leather desk surface – this was just what I needed – the dark wood needed no upcycling and the measurements were spot on, as if this piece was made to fit the space – but before I could settle this in to the space I used an off cut of carpet from Arlos new bedroom, which was a close enough match to cover the floor (I might come back to this area with some funky vinyl at some stage).
So then once I stashed all of my make up away and locked the bureau it was just a case of adding some finishing touches. It's a dark cupboard which is going to be shut most of the time but every time I open the door I want to feel happy and greeted by the explosion of colour. I got a fake plant from Ikea, and some little remote controlled spotlights in home bargains before I began rummaging around my storage boxes to set up my earring display. I had a little ring dish custom made by Little Betty Designs to match the wallpaper and a velour cushion in just the right shade of pink was purchased from Aldi's middle aisle world of wonders.
Adding finishing touches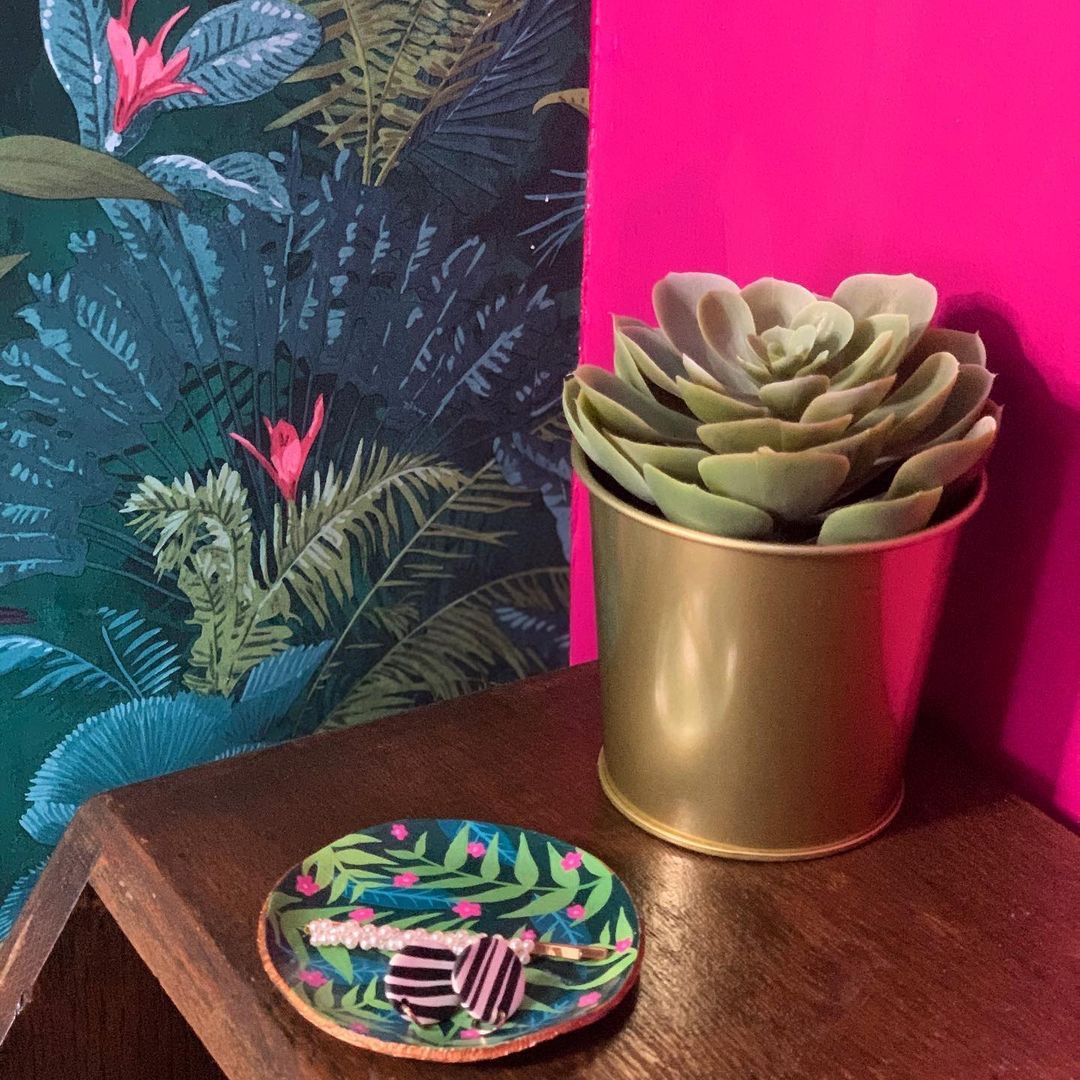 The whole time I was decorating I used a wooden chair as a step ladder of sorts – this itself is another Facebook find and an up cycling project waiting to happen and so it just wouldn't do, the one thing I've been struggling to find is the right chair for this space. I needed something which would "match" – which is a challenge when it's such a clashing style.
Lakeland Furniture was the answer to all my problems. I finally found the vanity chair of my dreams on their website – this green velvet chair has the stitched design on the back of the seat which gives the luxurious effect I'd been searching for. It's reminiscent of a chesterfield sofa and corresponds well with the style and colour of the bureau. The colour also compliments the wallpaper and so it was an extremely lucky find.
The best thing about the selection of chairs in offer is the variety of different leg styles and colours you can choose to go with the seat. I opted for a gold metal finish in the elegant design which gives the chair that modern touch which suits my style. The green just seems to pop.
There we have it, all of my make up and jewellery now has its own little dedicated space, safe from little hands. If I need to add a little bolt to the door at a later stage that's an easy enough job – I've found that instead of wearing the same earrings every day I have been enjoying browsing my collection and picking out a new set. I've also been putting in the effort with make up, from lockdown part two I've been challenging myself to play with new colours and looks.
There's still a lot of DIY going on around the house but with the non-essential shops being closed I've been unable to finish anything, but now I am feeling inspired to make a start on those dining chairs. I'll be setting up a dedicated space on my blog for all of my DIY projects shortly.