If you have been following us for a while you will know that when it comes to decorating the house, I am never ever going to be finished because I keep finding new colours I want to cover my walls in. I'd describe my style as eclectic (to say the least) and I love how something as simple as painting a wall makes such a dramatic change to a space.
There's no space untouched – and this includes the garden. I've managed to paint six pallets in bright pink with exterior wood paint which provides a fabulous splash of colour and for good measure I also painted an old wooden fireplace bright yellow which is the perfect place to display all my funky coloured candles.
One of my favourite things to do is "colour match" with trade paint supplies. I find things around my home, or pictures which I love and then just have to have that exact shade in my home. I made sure to get the exact shade of purple paint used on the friends set for Monica's apartment and I painted a door and the alcove under the stairs in this colour which created a funky little space with just the vibe I wanted. I still haven't found the right flooring for the space but we're half way there.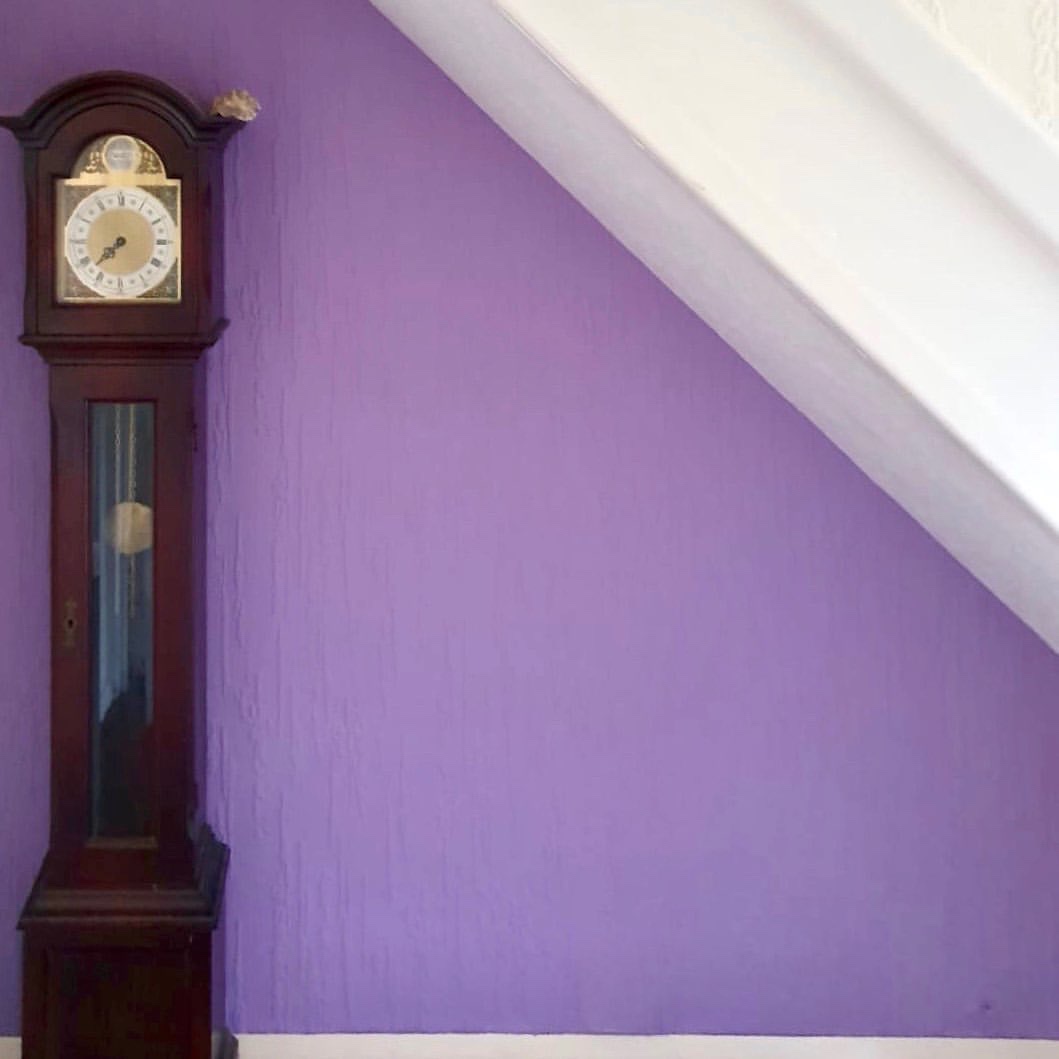 There's literally no space of my home which hasn't been given the chaos treatment but somehow it all comes together nicely – this little corner of my home is in the kitchen, with buttermilk coloured walls, a dusky pink on the wooden tongue and groove and then a sage green on one of the dining chairs – you'll have to check out my Instagram page to see the colours of the other chairs – I used sample sized pots in four different colours, and when I get time and a sunny day I'll be finishing those off with a coat of varnish.
In stark contrast the dark green colour I've used in my front room is an entirely different vibe. This room is one of those spaces which changes its use constantly, it's been a play room and a craft room but I adopted it as a space to work from home last year and so it needed a more grown up feel. I painted one wall in this dark green colour, making a feature and also ensuring that the room still felt bright and spacious and I think it works well, especially as it's now a place I can use some of my inherited pieces of furniture which are darker wood.
I've already got another two large tubs of paint for my next big project – We have moved around all the furniture upstairs, swapping spaces so that Arlo has the biggest room for all his toys as I don't want to give up my front room and I'm going to be transforming my bright yellow bedroom in to a more tranquil and feminine space. I can't wait to share the transformation with you.