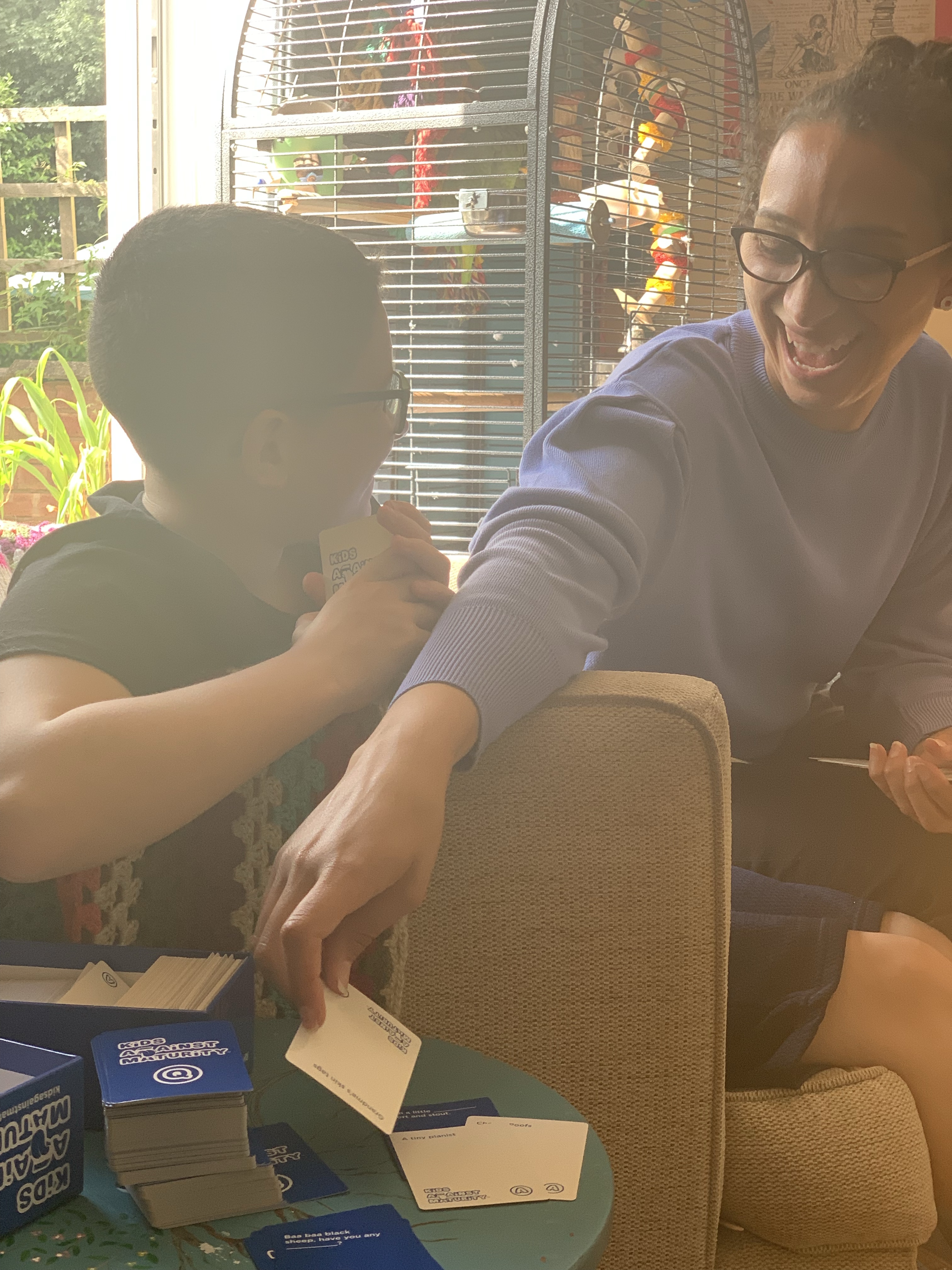 Yes you read that right, I had to double take when I noticed this new card game on the shelves in my local Smyths Superstore. I'm familiar with the concept of the game as I've played an adult version many times and with the kids in our family having active imaginations and a crazy sense of humour I knew this would go down a storm, so had to pick it up.
I've managed to pack the box in my trusty backpack and take it out with me to a fair few places already when we've met up with the gang. It's a perfect family game for the summer holidays and beyond – we can't trust the British weather so when we've been stuck indoors because of the rain, or we daren't leave the tent, this can be pulled out to create hours of belly laughs.
It's super simple to play – there's 600 cards in the box, a series of blue question cards and white answer cards. Each player starts with ten answer cards and you take it in turns to read out blue questions. So you can get started in the time it takes to deal out ten cards and figure it out as you go along.
All you have to do is pick the funniest answer from the cards in your hand. There's all sorts of different responses and a potential 40,000 combinations to be made. As a family we judge the winner of each round by the volume of laughter, and they keep the question cards if you're keeping a tally – but in all honesty the fun is truly in the taking part and it's easy to lose track of scores and time when playing.
The kids have asked me to pull this out so many times and much to their dismay we got the grandparents involved too, and this just made the whole experience even funnier. There really is enough variety in the answer cards to appeal to anyone with a sense of humour.
The only requirement is that you need to be able to read, but of course the little ones can team up with an older child or adult to take part. For £19.99 this box represents excellent value for money in relation to the hours of play within the box, available to purchase now from Smyths Toys Superstore.
(This is a sponsored blog post)