The Care Bears are a group of loveable huggable BFFs who lean on each other, embracing courage determination and friendship in order to keep spreading those good caring vibes to the world. This year marks their 40th anniversary and so there's some awesome new bears in the group and they're all available to collect.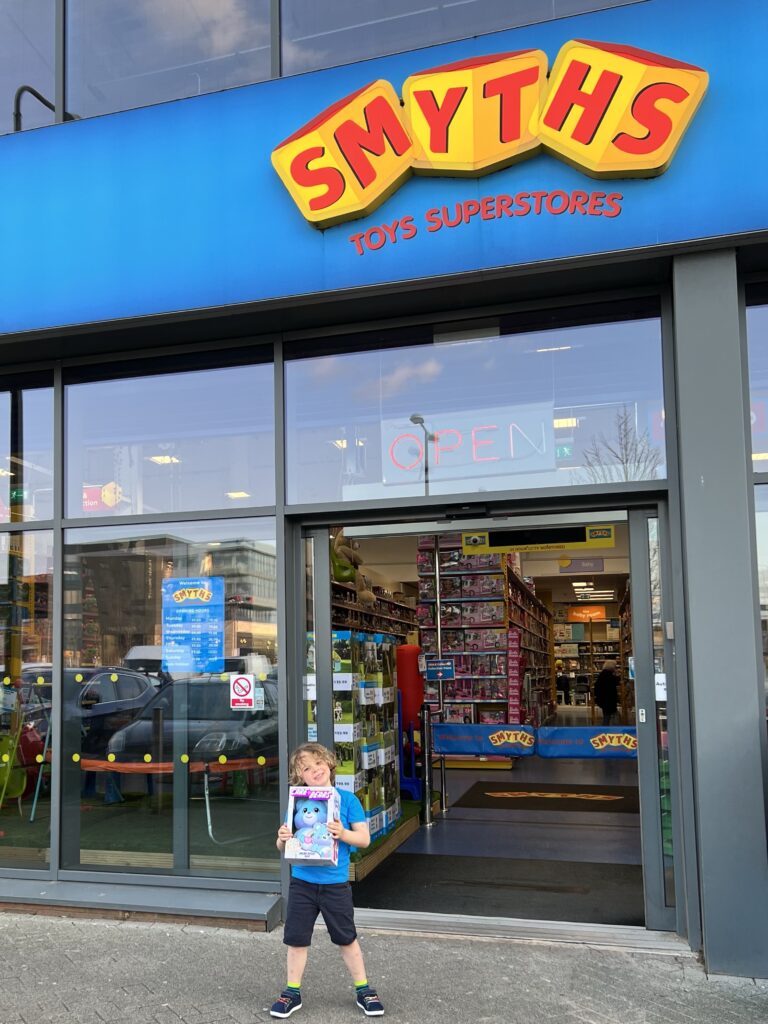 Arlo was super excited to be sent on a mission by the Care Bears team this week. We visited our local Smyths Toy store to see if we could find Dream Bright on the shelves amongst all of the other Care Bears. Our adventure started with an invitation to explore in the form of a quest document. Arlo accepted the mission and happily skipped in to store to go and find Dream Bright.
The most optimistic Care bear
Dream Bright is the most optimistic bear in Care-A-lot! She encourages you to follow your dreams and is always there to cheer you on. She knows that anything is possible if you believe in yourself.
It did not take Arlo long at all to find the Care Bears on the shelves and what a selection! Dream Bright really stands out with her blue and purple ombré fur. The special belly badge was instantly recognisable. Featuring a heart with wings and Arlo's favourite colour…… rainbow. He pointed her out and quickly whipped her from the shelf – delighted to have found her and in record timing too. I love that the Care Bears come in such beautiful boxes – it makes them ideal to wrap up for a gift and means that they can be transported safely home. Having the unboxing experience adds to the fun too.
Care Bear Hugs
The bear itself is a lovely size, perfect for snuggles and so you can get unlimited hugs and take her along on all of your adventures. She is just over 35cm high so a very decent size and the fur is really soft and lush to stroke. My favourite feature is the belly badge which is embroidered on making it very high quality. All of the colours really pop. The eyes on this bear are also embroidered which gives her face the most adorable expression. The little Purple Heart shaped nose and matching paw pads show the attention to detail taken with the design of these bears.
Nostalgic care bear vibes
I personally am loving that the Care Bears are back – I remember the cartoons from when I was little back in the eighties. I think I watched one episode on VHS continuously until the tape wore out. The Strawberry Fountain agrees – it's so wonderful to be able to share something from my childhood with Arlo.
A parents perspective
Dream Brights motto is "believe in yourself and Dream Bright" and this is something which Arlo lives by. He likes to wake up in the morning and tell me all about his dreams. He tells me he's going to be a champion runner and be the fastest in the world or that he's going to write his own book one day which is going to have the longest ever sentence. Of course we have to get through phase two of the phonics first but anything is possible and it's great to be able to reinforce this message.