This is a collection of Christmas light trails in the Midlands this winter. The ideal activity to get the family in the festive spirit. Wrap up warm, embrace the season and enjoy a hot chocolate as you explore some of our most loved attractions after dark.
Most of these light trails are tickets events and you can follow the links to book and find out more. In general my advice would be to wear wellies as lots of these trails end up getting very busy with footfall affecting paths and routes. Lots of these places sell lanterns and flashing toys so if you can take a trip to Poundland in advance to get some sort of torch or toy it might save you some money. I also like to buy a box of candy canes and whip these out as a treat en route.
Safari Park Lanterns
We can't wait to see how this light trail manifests itself at the West Midlands Safari Park. After dark the drive through closes and there's a new walk through to explore with all sorts of glowing installations. You can also add on a visit to Santa here too. This is one we will be booking for animal mad Arlo to enjoy. The event starts at 5pm.
Tickets from £19 – under threes free
Webbs Enchanted Garden
Our personal favourite at Webbs of Wychbold last year the riverside gardens were transformed in to a fairytale haven. This year promises to be even more spectacular. You can go all out and book an igloo pod for a family treat – and then don't forget to go and explore the garden centre and the Christmas displays too.
Tickets from £10 kids/ £16 adults and under twos free.
The Illuminated Arboretum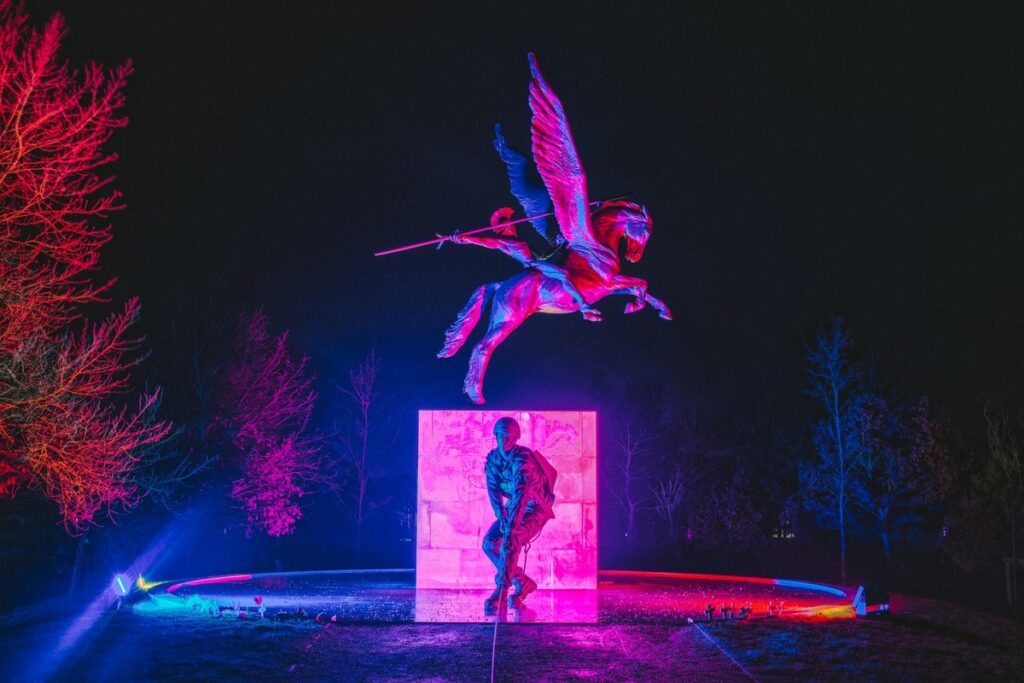 This event at the National Memorial Arboretum is simply stunning. With the extensive 150 acres of woodland full of beautiful lights it's a wonderful walk and really shows the grounds off in their best light. There's always something new to spot, the lights on the trees and the natural surroundings are stunning. This one mile route is a lovely one for little legs. Relaxed sessions are available which is a lovely inclusive touch. Check the website for details.
The Illuminated Arboretum route is around 1 mile long, starting around 200m from the entrance to the Remembrance Centre, and goes past many beautifully lit memorials to those who have served and sacrificed for the country
Once you have entered, you are welcome to stay and walk the route as many times as you like until the Arboretum closes at 9.30pm.? If you would like to visit the Remembrance Centre and then re-enter the route, just let a member of the Arboretum team at the ticket check in know, and they'll give you a wristband
Kids £9 / adults £19 and under 5s free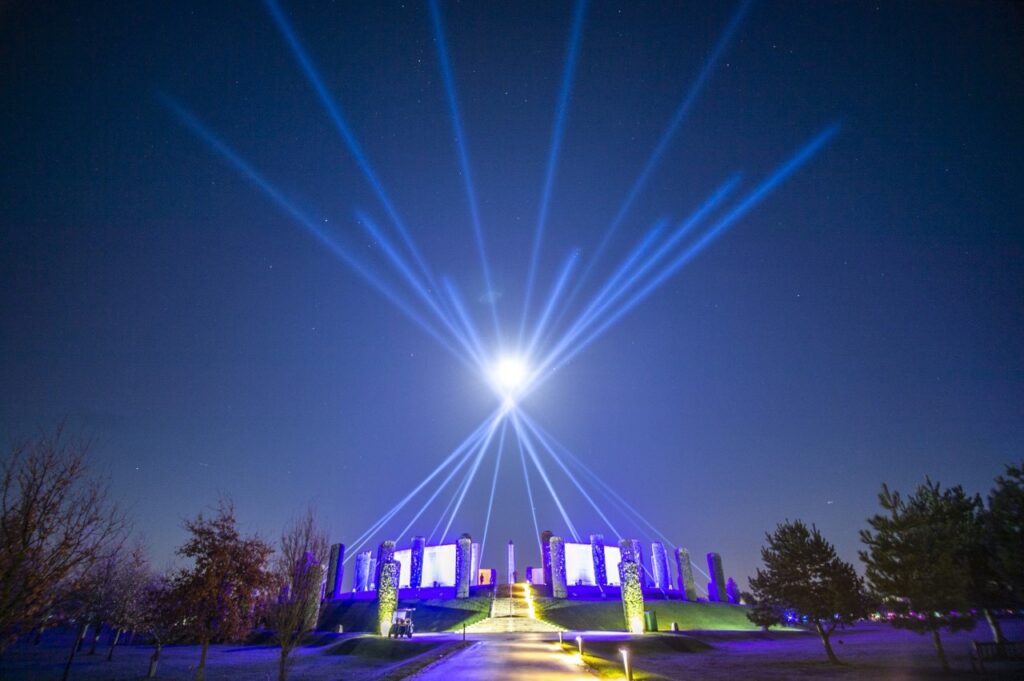 Based at the Three Counties Showground. This year's light trail is called "A Christmas Odyssey" and they also host a wonderful ice rink and a big wheel. The terrain here is flat so it's a nice one for little legs but this place can get extremely busy and crowded due to its popularity. I would suggest looking at an off peak visit and booking all the attractions to make the most of your day.
Tickets from £9.80 – under 3's are free.
One of our most beloved attractions in the midlands. Christmas at the Castle hosts all manner of festive themed events which includes an evening light trail which takes you around the grounds to see the castle and green spaces from a whole new perspective. Take a peek inside the great hall for one of the most breathtaking Christmas trees, enjoy ice skating and the street food and market in the shadow of the castle for all sorts of unique gifts and tastes.
From £17 per person. Under 3's are free.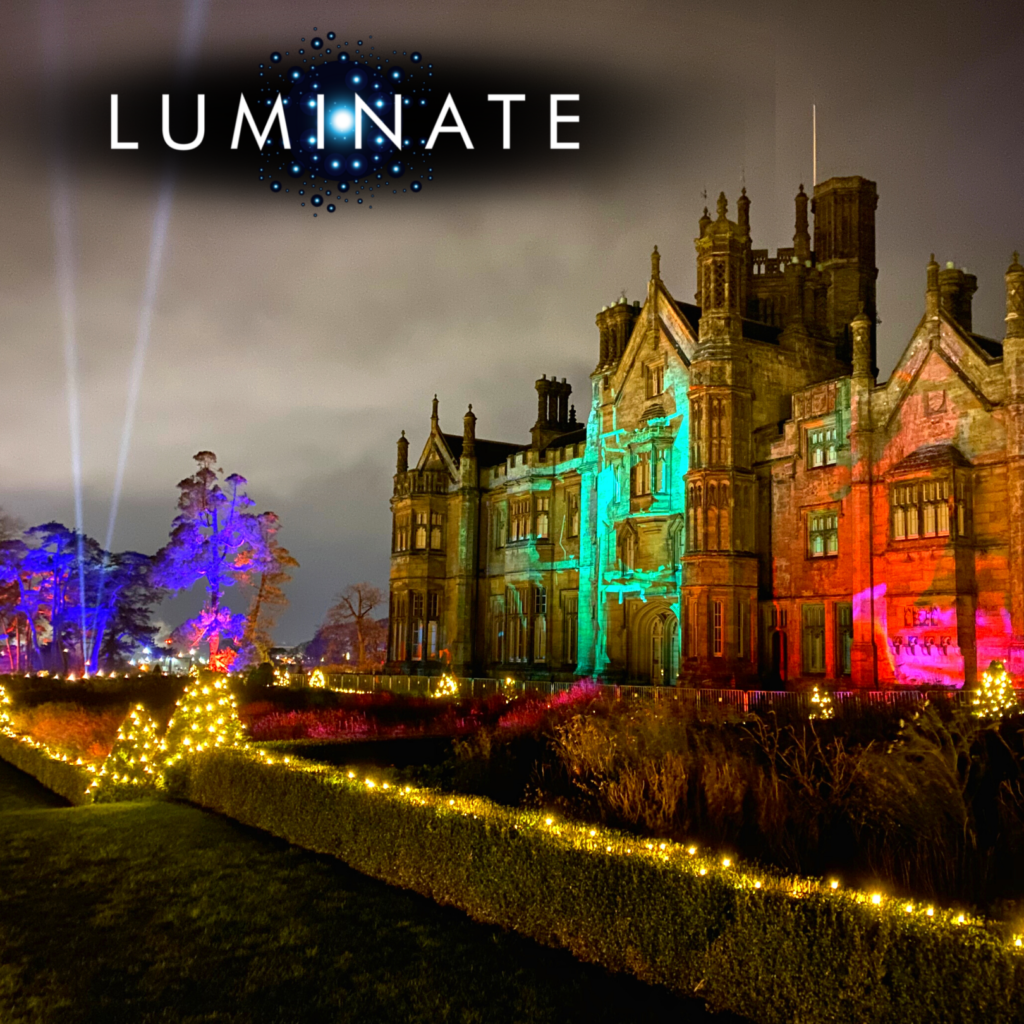 This groundbreaking events company are bringing their A game to the light trail game this season, hosting 8 different trails across the U.K. and here in the midlands we are lucky to be home to three fabulous events. Birmingham Botanical Gardens, Coombe Abbey and for the very first time Shugborough Hall. Each of these venues is spectacular in their own right and even better – Luminate will be planting a tree on behalf of every booking.
Ticket prices vary – from £14.50 kids / £19.50 adults
We love Adam Hensons Farm Park, this year an eternal blizzard of snow and ice has befallen the Farm Park. Mysterious creatures have appeared in the woodland. Three of their little piglets report sounds of a witch's cackle. Strawberry the cow claims she's seen a beaver's den. The Highland bull, Prince, says he's been invited to a dance in the palace. I think this one will be a huge hit with the little ones! Witness the magical transformation and explore the illuminated barns, paddocks and woodland this winter.
Code WARDROBE will give your readers 10% OFF (ends 24th Nov, Midnight).
Alongside the light trail, CFPwill also have a Father Christmas experience. Included in the visit is:
Personalised visit with Father Christmas in his winter grotto
Special make-a-bear activity led by our Elves
Festive gingerbread decorating (daytime) or toasting S'mores at our crackling – firepits (evening)
A magical coin token to choose a gift from our Festive Shop
Entry to the Farm Park (daytime) or Enchanted Light Trail (evening)
Further information can be found here: https://cotswoldfarmpark.co.uk/christmas/
Tickets £12 toddlers / £16 kids / £25 adults
Snow Disco at Wethele Manor
If you are looking for a magic elf and fairy trail with a difference then Wethele Manor is your spot. You can also buy your Christmas tree here so it's a lovely fun filled day out for everyone to embrace the festivities. The Light Trail promises to be filled with snow bubbles plus there's a disco and photo opportunities galore.
Tickets from £6 here
Alton Towers

Merlin always pulls out all of the stops. Whilst Warwick Castle embraces the traditional aspects, Alton Towers is an event which I feel brings a modern twist on festivities which will be more popular with older kids who are not so easily impressed. The award-winning Illuminated Light Trail Lightopia is back at Alton Towers and this time it comes with a brand new grand water show finale.
Tickets from £15 per person.
This estate is stunning all year round and the fairy trail always feels magical. This year the gardens will be transformed again as a stunning light trail is placed all around Trentham Estate. We love this one because you can also explore the shopping village and all it has to offer, pick up some great stocking fillers in the garden centre and maybe some treats for yourself too.
Kids £14.60 / adults £22.10
A Brand new light trail bought to the National Trust venue. Christmas at Belton promises to be even more magical this year, with a new after-dark illuminated trail transforming the gardens with over a million twinkling lights and seasonal sounds. There's also a mini fairground here with a carousel which is the perfect Xmas selfie opportunity.
Kids £15 / adults £21.50 – car parking not included.

Nordic Winter at Chatsworth
Enjoy a magical atmosphere of a Nordic Winter at Chatsworth House and Garden light trail and themed illuminated display around the gardens from dusk. This walk is about 1.8km and will take anything from 45 minutes to 1.5 hours to appreciate the surroundings. Look out for the northern lights across the pond which promise to be a showstopper.
Adults £29.50 / kids £18
The perfect Christmas at Blenheim Palace
A little further south but one of the UK's Christmas highlights is the experience at Blenheim Palace. The picture perfect gardens form the backdrop for one of the most beautiful trails in the country. Look forward to some time together with family and friends as you discover glittering tunnels of light, dancing lakeside reflections and trees drenched in jewel-like colour. For a moment of reflection, pause at mesmerising flickering flames in the fire garden, larger-than-life illuminations and don't forget to glimpse Father Christmas along the way. With a market, street food and all sorts of other activities to enjoy this promises to be fun for all the family
Adults £25 / kids £18