This blog post has been sponsored by Font Bundles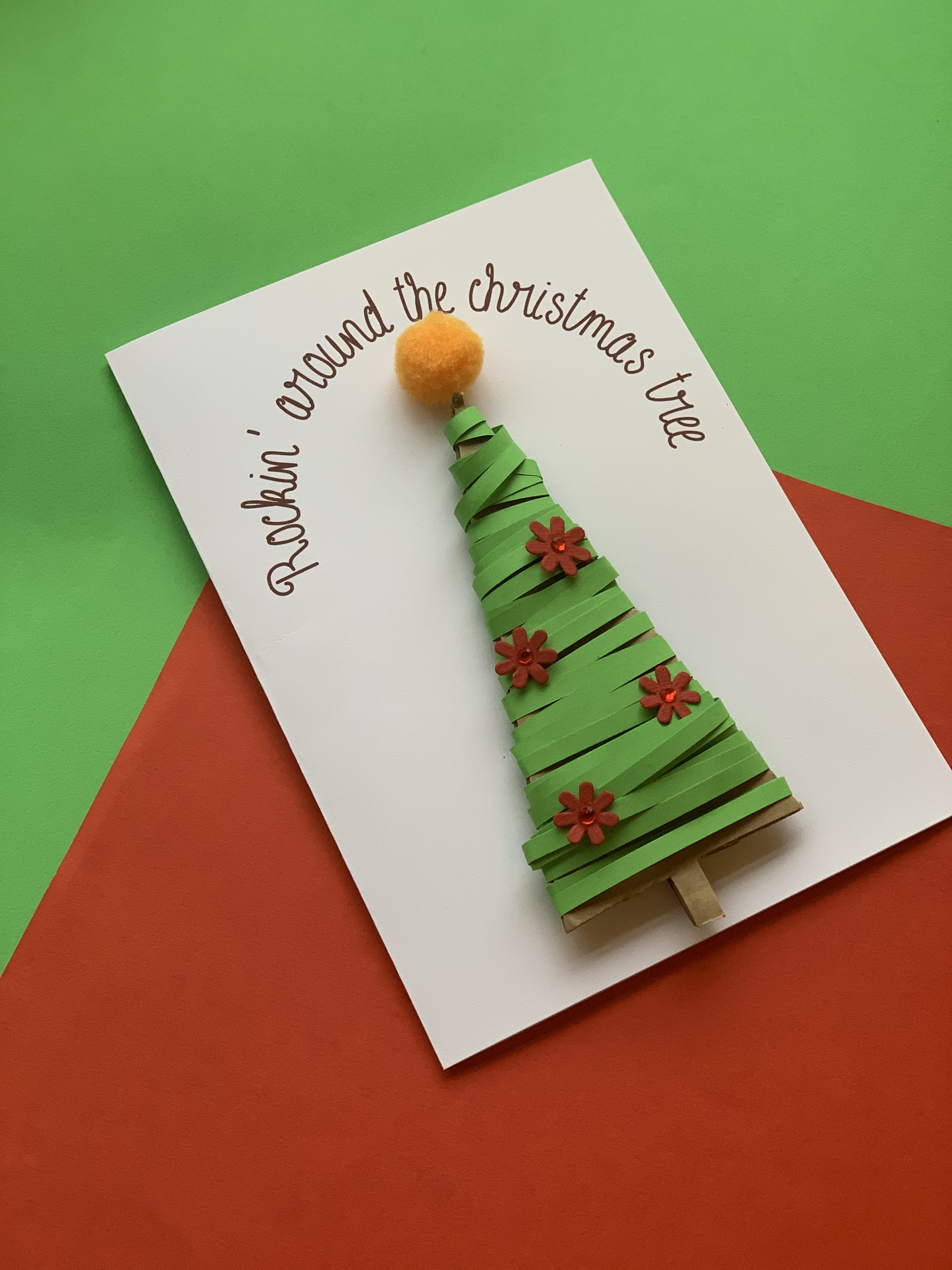 Sending Christmas cards is a bit of a fading tradition, but for us it's a chance to get started on a mammoth craft session. Something to do on a rainy afternoon. I like to get Arlo involved with an array of craft materials and we just have fun. For this first project I drew a string of fairy lights on to some recycled card and he is sticking the Pom poms on to match. An easy Christmas craft to try out at home.
I've always thought Arlo's art work is amazing and like most proud parents will display any splodge of paint proudly on my mantle piece however I know that this kind of thing doesn't really resonate with people on the receiving end. This next toddler Christmas card making project is one we bring out every year – he's using bows dipped in green and red paint and printing patterns straight on to card stock.
To make all of these masterpieces gift worthy I like to add a quote, pun or sentiment. This is the little finishing touch to make his designs come to life. I have to wait until Arlo is completely finished and then for the front of each card I work out the shape of his crafts and try to wrap text to fit around using my silhouette software. I then print straight on to a sheet of A4 card stock. I'm careful to place the text on the right hand side of the screen as I'm designing so I can fold the card and it's in the exact place it needs to be so I can stick Arlo's masterpieces straight on.
This project is a super simple one – all you need to do is wrap strips of green paper around a cardboard tree shape and then glue and stick your decorations on to match. We have repeated this activity with all sorts of scraps of ribbon and paper and different embellishments. I used a font called cinnamon sticks on this example and (even if I do say so myself) it looks really professional.
My handwriting is terrible and I get arm ache when we have such a big family to write out cards for so I use different typefaces together to fit the quotes I'm using and again I print off the words on to card stock, and stick these to the inside of my cards. This is one thing which I like to do add a few little extra touches – a sentiment, or a funny pun works wonders. I can usually fit six on to one sheet of A4 paper.
This year I've gone for this cheeky little text which I hope makes everyone have a little giggle when they open their cards – the word "Christmas" is in a new favourite font of mine called Margaret River…. I like to play with mixing and matching different typefaces from bundles and you can create all sorts of fab effects.
Arlo also goes to nursery and swimming lessons and all sorts of other activity groups – (the kid has a better social life than me) we have always sent out Christmas cards to everyone. He's not able to sign his name yet and I made the rookie error of giving him a crayon the first year we did this and he made a huge mess. So this year I have designed him his own stickers.
I showed Arlo a variety of different pictures and we opted for the "tree Rex" which he thinks is hilarious. I used apps on my phone to edit the images and then I added "merry Christmas" and "love from Arlo" in one of font bundles Design Bundles script fonts . I print and cut these out using my cameo so he can pop these inside his cards and we can also use these to seal envelopes and add to gift tags on presents too. He still adds his little squiggle, but at least the recipient knows who it's from. They add a little personal touch and look really cool too.
When it comes to close family members I always like to go the extra mile and create something really special. This year I have made Arlo and his cousins a card based on the "Christmas Eve jingle" – The idea is that across the world at 6pm kids are going to stand on their doorsteps and ring their bells (a bit like we did the clap for carers for the NHS in the summer). It's a fabulous idea and I wanted to make something to mark the occasion.
I have created these cards using two different fonts – first of all there's "Arlo believes" in a script style which I have applied in vinyl to a little gift tag and then attached a bell with candy cane string and used the tag's original twine to attach it to the actual card.
I then used a new font "Margaret river" to print out 'jingle bells' – and then have cut this out and popped it on to card stock. This is a really simple way to to create a card and I just love that it's interactive and will evoke some Christmas magic. I think I'll be adding mine to the Christmas Eve box and I can't wait to see his reaction.
I have lots of other Christmas crafts for kids for you to explore on my blog – let us know if you try any of these out!