---
Venturing into the Winter Wonderland at Tamworth's SnowDome proved to be an enchanting experience for Arlo and myself as we were graciously invited along to the launch night for 2023. Now in its eighteenth year, this magical spectacle is a testament to the enduring charm of the holiday season. With ticket prices starting from a reasonable £17.95, this wintry wonderland offers a unique opportunity to revel in the joys of snow play, irrespective of the unpredictable weather outside.
Upon entering, the sight of the glistening snow and the promise of snowy adventures immediately captivated us. Our arrival time was on our tickets and it is suggested to get there about half an hour before to find space for parking. You can't start early but you could perhaps grab a drink in the apres bar and enjoy a view of the slopes. Inside the winter wonderland there is plenty of space to explore, Sledges awaited, as did tube slides inviting us to embrace the thrill of careening down snow-covered slopes. You can grab these right at the start but the team are constantly moving them around to make sure they're dotted throughout so don't feel like you have to queue and get caught in a traffic jam for these at the very beginning. Arlo's eyes sparkled with delight as he took his first step onto the genuine snow, his excitement contagious. I couldn't resist a cheeky slide on a tyre myself adding to the merriment.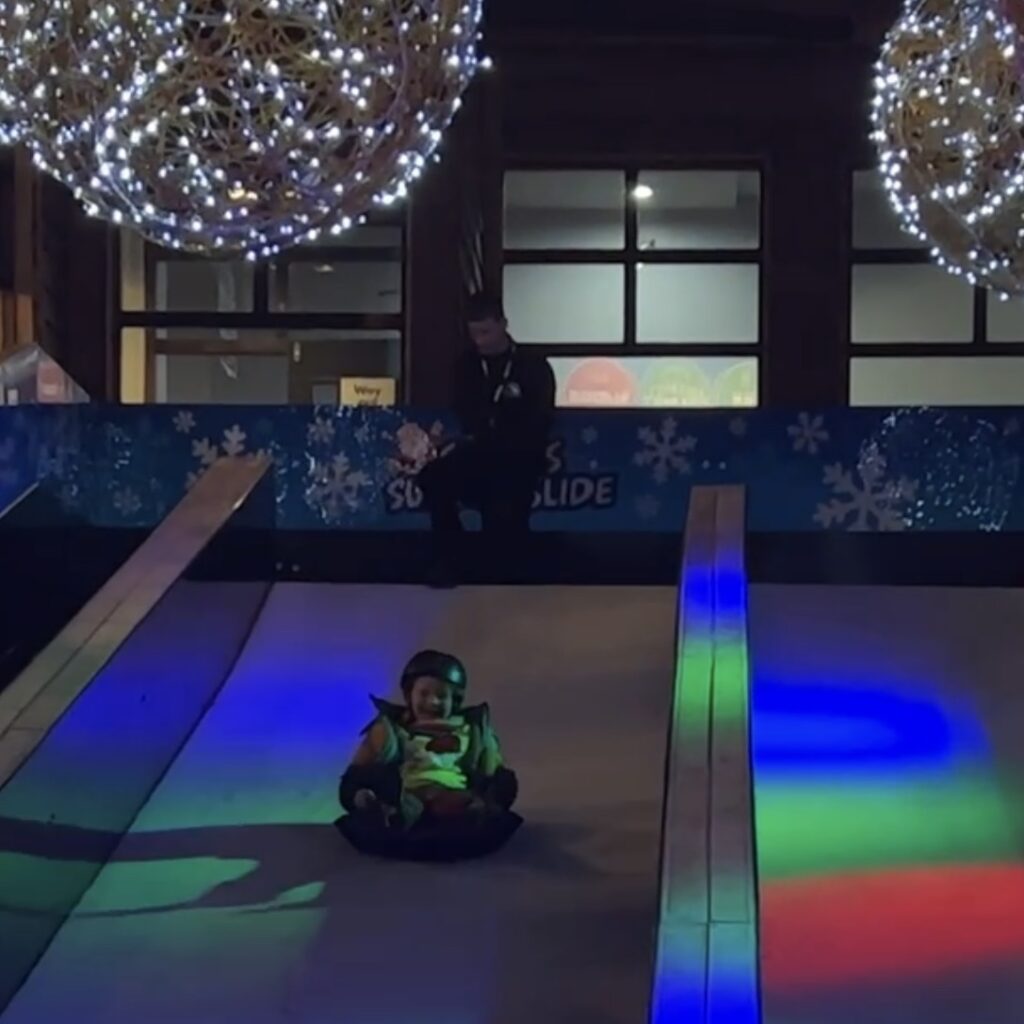 Just as the chill began to nip at our fingertips, a melodic trumpet heralded the commencement of Santa's theatre show. Arlo removed the helmet and swapped it for his grinch hat. The theatre space was much warmer which was very welcome. We found ourselves immersed in a delightful panto performance of Cinderella, complete with hearty laughter, enthusiastic audience participation, and even some impromptu dance moves. Santa himself showcased an impressive repertoire of the latest TikTok dance trends, proving that the festive spirit extends beyond the confines of his workshop. The wicked step mother Lady Ugg Lee was the stand out star of the show and had the audience booing, hissing and shrieking with delight as she called us all weirdos and trolls.
Exiting the theatre, we were greeted by Santa's charming village, where llamas, bunnies, Guinea pigs, and other friendly farmyard creatures awaited. Arlo, ever the adventurer, indulged in some merry "dabbing" around a carousel before treating himself to a comforting cup of hot chocolate. This final part of the experience not only provided joyous moments such as the opportunity to write a letter to Santa but also served as a cozy refuge for warming up amid the frosty surroundings. It feels like a ski lodge and as well as hot chocolate there were cookies and some branded souvenirs such as teddy bears, water bottles and pens available to purchase.
Throughout the attraction there are photo opportunities – you can scan a bar code for professional shots in front of some beautiful set ups and pay for these at the end in frames and various paraphernalia but I did think these were quite pricey. The Winter Wonderland at SnowDome isn't just a one-dimensional experience. Beyond the snowy delights, there's a plethora of additional activities to explore, from swimming and climbing to skiing and Ice skating. Arlo, captivated by the myriad possibilities, was reluctant to bid farewell to this adventure perfectly tailored to his tastes.
A pro tip for fellow winter enthusiasts—bundle up! The chilly embrace of the snow demands warm layers, sturdy boots, and snug mittens for an optimal experience. Embracing this advice, we reveled in every moment, savoring the crisp air and the joyous laughter echoing through the snowy expanse.
In conclusion, our sojourn into Tamworth's SnowDome was nothing short of magical. The Winter Wonderland, with its diverse offerings and festive charm, left an indelible mark on our hearts. As we reluctantly departed, promises were made to return soon, for the allure of this snowy haven proved irresistible. Until next time, SnowDome, your enchantment lingers in our memories, and we eagerly anticipate our next snowy escapade.
---