This blog is going to be full of pictures, and I'm not even going to apologise for it.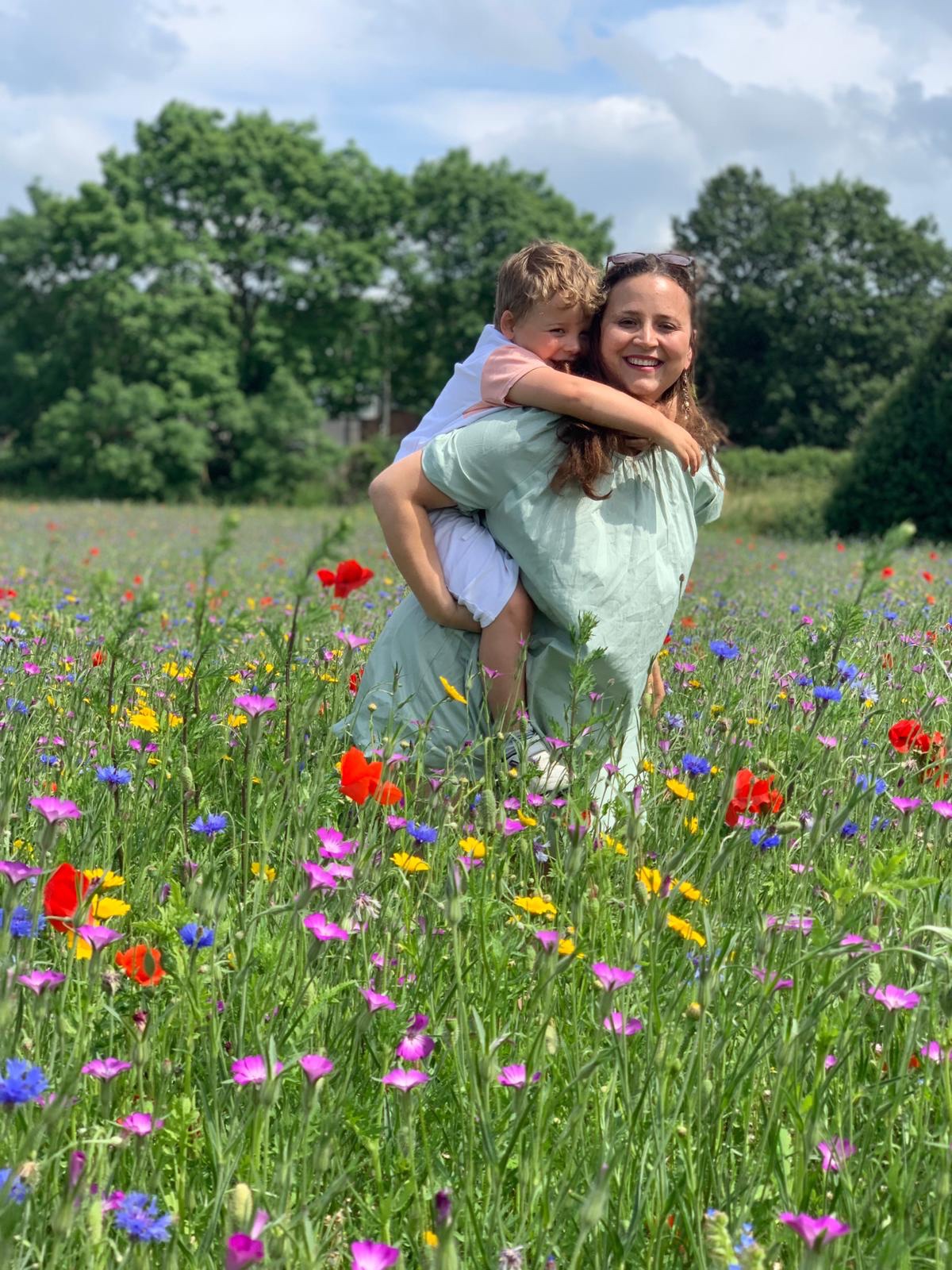 The confetti fields have become some what of an Instagram sensation of recent years because of course it's so beautiful everyone wants to get themselves the perfect new profile picture (including me). I first visited with Arlo's as a baby and the sight of the vast spread of Delphiniums in all sorts of colours overwhelmed me. I wasn't prepared, but of Course baby Arlo had 2/3 spare outfits in the bag and so we had a little photo shoot in the glorious sunshine.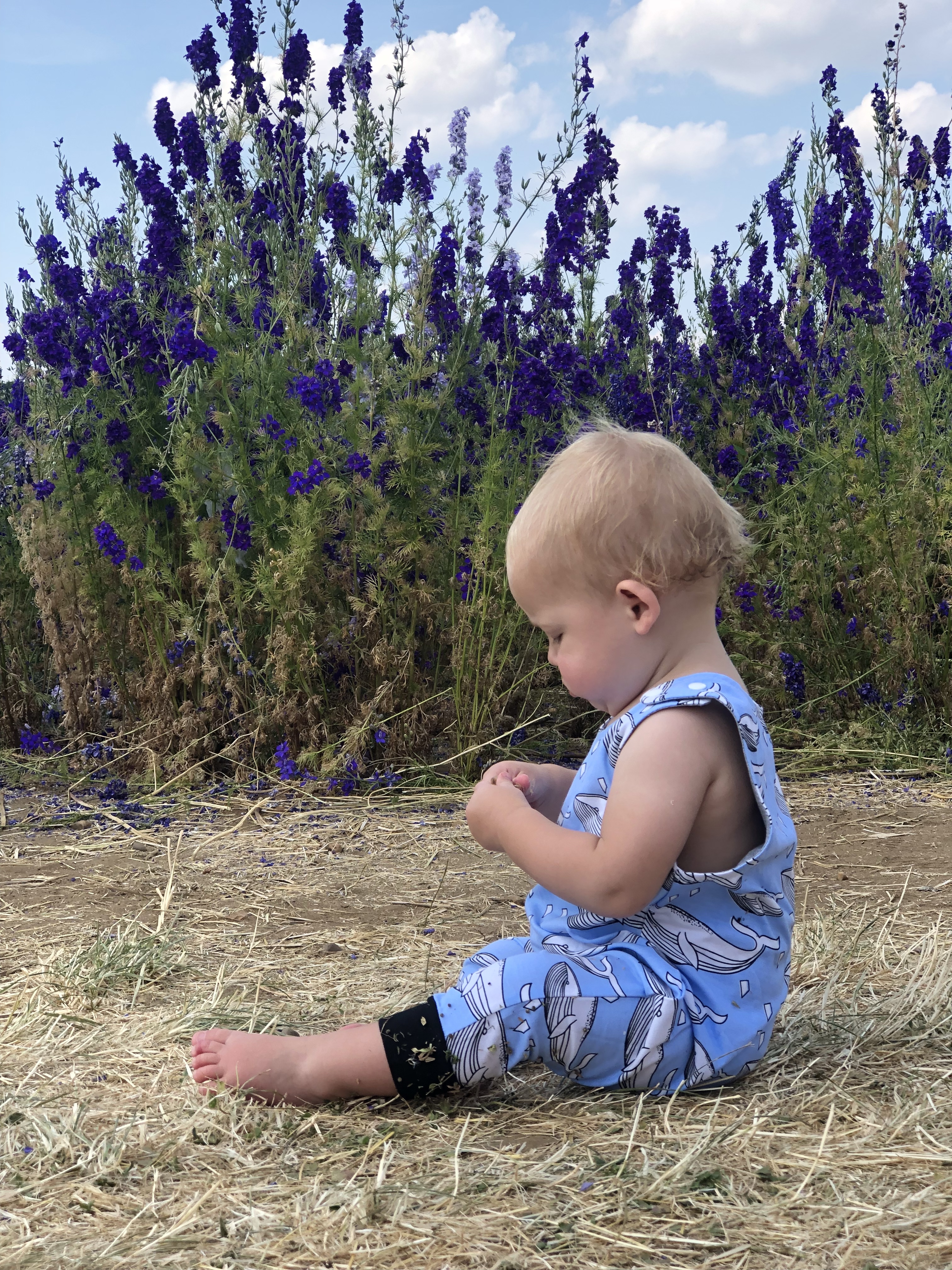 If you've never heard of the Confetti fields, they're owned by The Real Flower Petal confetti Company which is based in Wick, just past Pershore (a village worth visiting on its own merit) in the Midlands. The company makes wedding confetti from Delphinium Flowers which is of course a fabulous environmentally friendly product and as a side hustle, which has become a viral social media sensation, the company began opening up its fields for visitors to capture the flowers in full bloom just before the harvest.
This of course occurs for a short time and varies year to year based on weather conditions. Now this not so secret place has become a number one spot for photo opportunities and so when tickets are released they sell out fast – at this time of writing there are opportunities to visit but please check the website.
So the practical things to consider when visiting: this place is a field and as such is bumpy and muddy in places so you need to be prepared for this. Pack sturdy shoes, try a baby carrier if you want to walk down through the flowers as a pram won't fit. The company provides portaloos and has a small pop up cafe which sells cake, ice cream and coffee's – I strongly suggest bringing a picnic and a blanket to make the most of your time here. Arlo managed to find a fab spot to rest and enjoy his chocolate brownie.
The delphiniums really are the star of the show and as we visited on opening weekend we were met with an array of colour, you can see the potential in these flowers to bloom even brighter over the next few weeks of summer with buds waiting to burst all over. This year however we spotted a wildflower meadow as we arrived which was worth pausing to explore and photograph. If you're planning on posting your pictures to Instagram then the best place to find the best hashtags is Catherine's article here from her blog, The Growing Family. Get all these beautiful photographs out for the world to see.
This year due to social distancing restrictions the tickets were checked by the team upon entrance to the car park, which was a really efficient way to manage things and avoiding any long queues just to get in to the field. We had an arrival time and it was suggested to spend two hours at the fields to help maintain number levels and make it fair for everyone. This was plenty of time to walk in and around the fields twice and zig zag off the beaten paths too.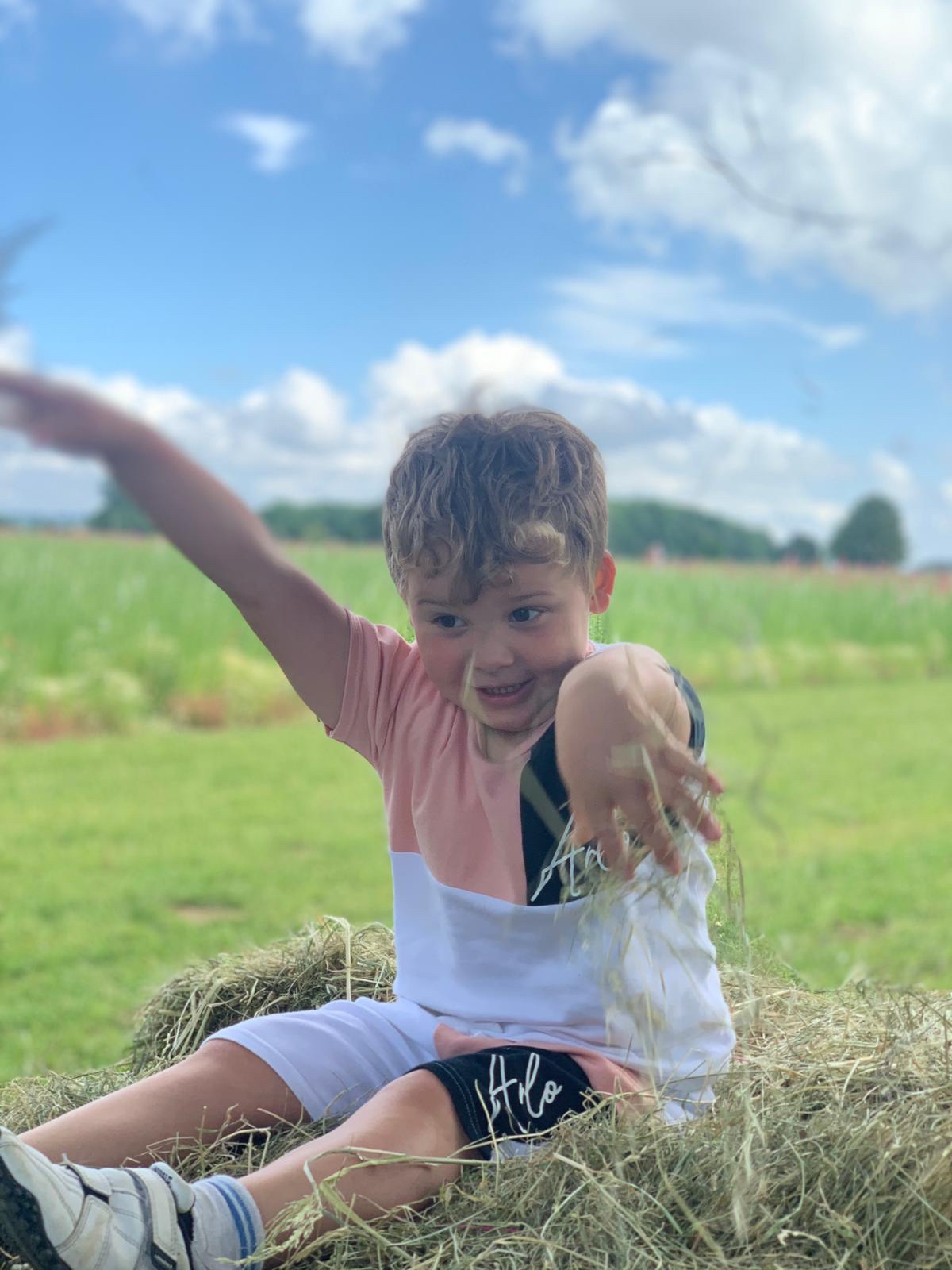 At various vantage spots around the fields props have been carefully placed, from haybales to the lookout tower and a vintage tractor and bus, there's so many views to capture it's impossible. In fact I put my phone away for half an hour just to enjoy myself and the atmosphere.
We played hide and seek together and raced along the back straight of the field where we met the team members working hard and driving back and forth to pick flowers and load them on to the wagon for sale at the exit. Everyone we met working seemed happy, and how could you not be surrounded by such beauty?
Arlo is a lover of nature and constantly outdoors, so he was in his element and I snapped away capturing him enjoying himself, and we watched from a distance as professional photographers set up shoots with models and extravagant costumes. (I think he was convinced that the fairies were real).
One thing I did do was pack a magnifying glass, an egg box and a scavenger hunt resource for him to play with – and he literally lay down in the ditches to greet all creatures great and small – he didn't stay clean for long but I didn't mind as he was having a great time. If you're planning to visit to get some pictures then it's worth considering what kinds of things will keep the kids busy and enjoying the day as we spotted a lot of disgruntled kids on our walk around.
As we left the field I chose to purchase two bouquets, one for us at home and one for nanny – Arlo wanted to carry the gift proudly but the bunch was bigger than him – at £10 these are extremely reasonably priced, cut fresh and hand tied by a team working at out in the middle of the fields all day.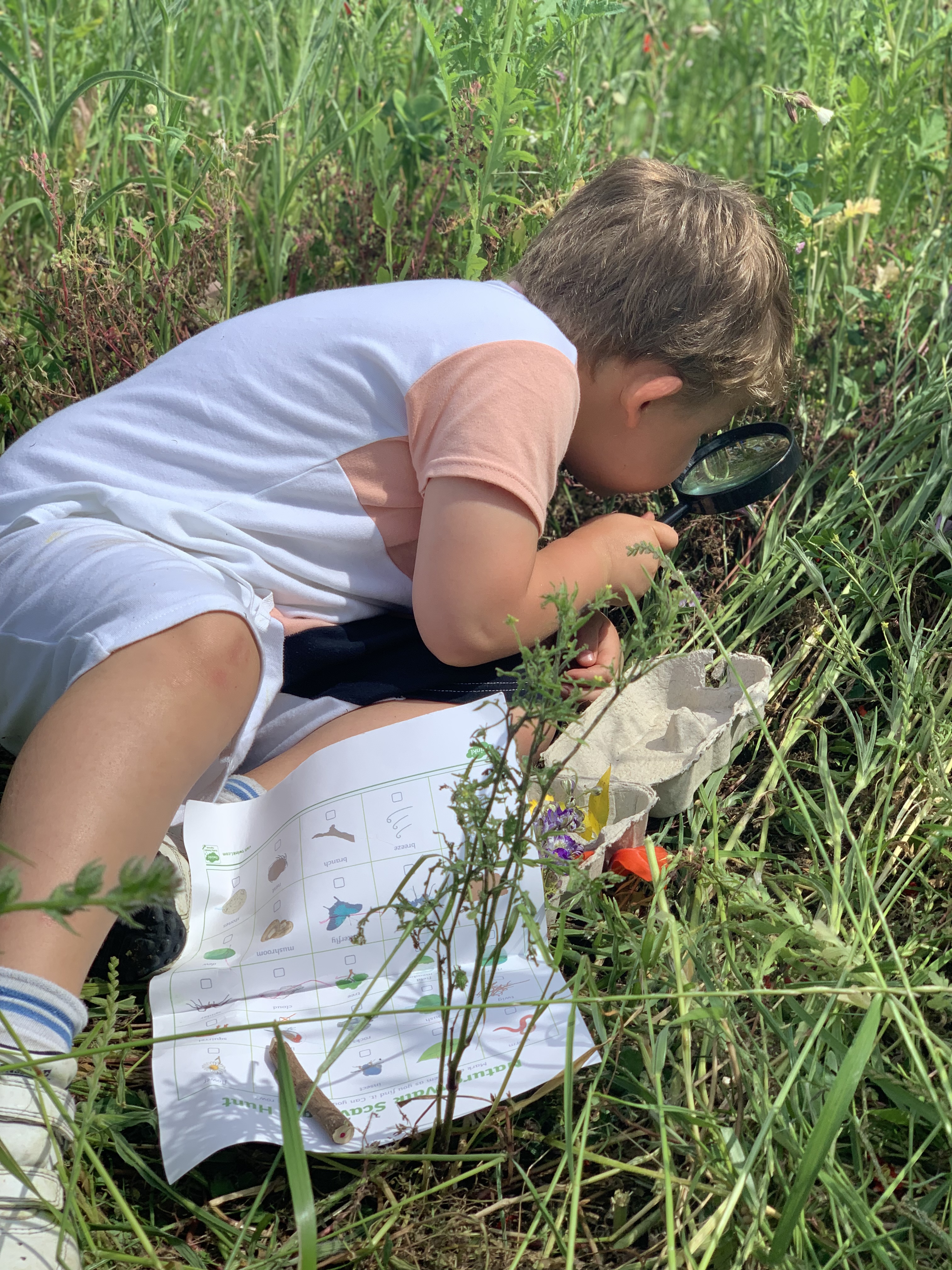 On our way back to the car we decided to head over to the wildflower meadow and Arlo ran off miles ahead. He was most impressed with the ladybirds and bees in this area, not to mention that this field had the "whole rainbow of colours."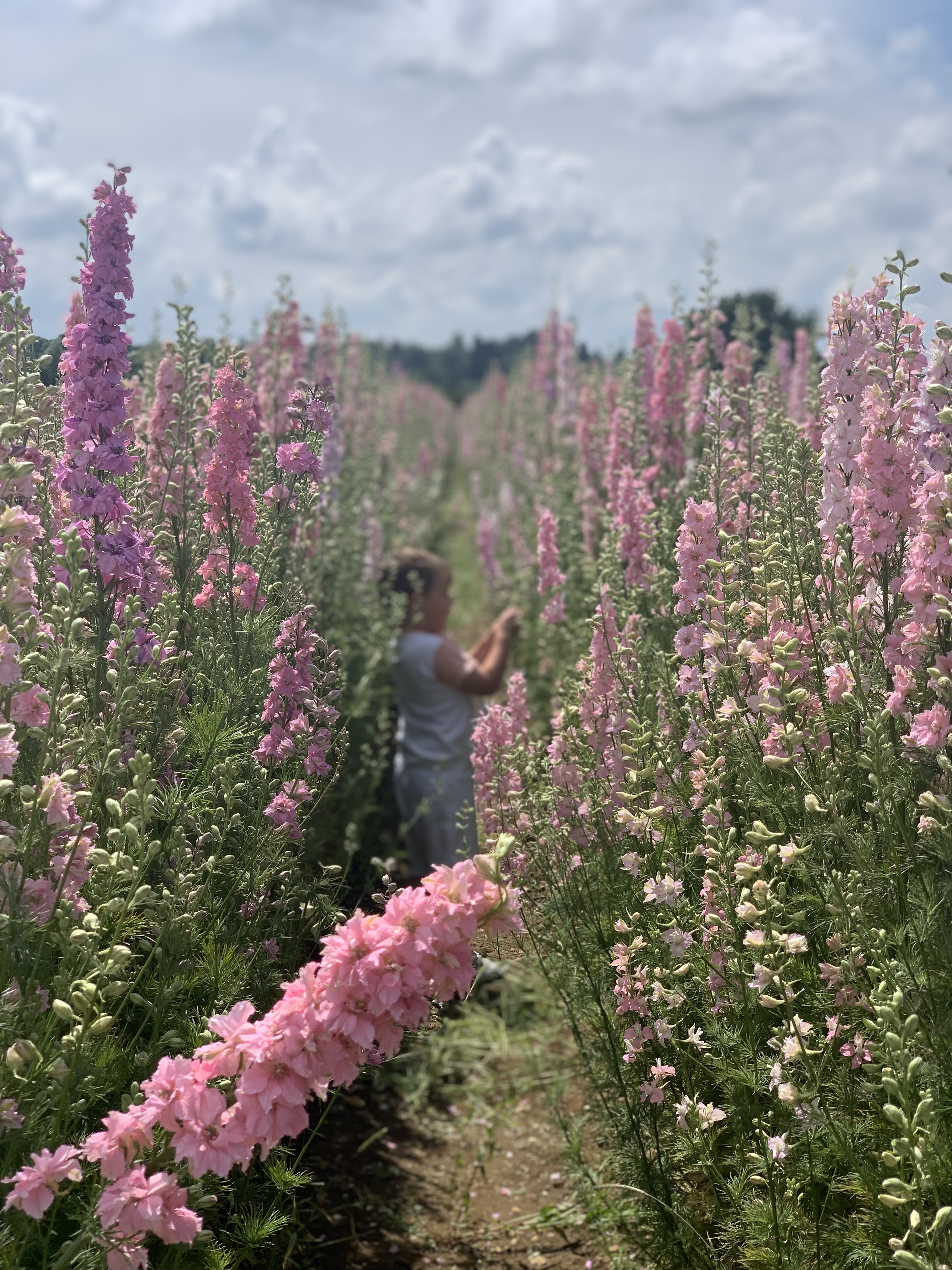 The confetti fields are only open until 4th July this year so head over to their website to book