I never need an excuse to treat myself or the people I love – To me it doesn't matter if your in a relationship or not, I like to embrace the season and share the love! I've been searching far and wide for amazing gifts – So read on for Valentines Day gift ideas – if you're looking for fun and quirky valentines gifts, something a bit different and unique then this is for you – be it a gift for men, if need valentines ideas for a girlfriend or even if you're looking to treat yourself this Valentines Day!
Escape Room in a box 3 in 1 £99
Ideal for couples who like something different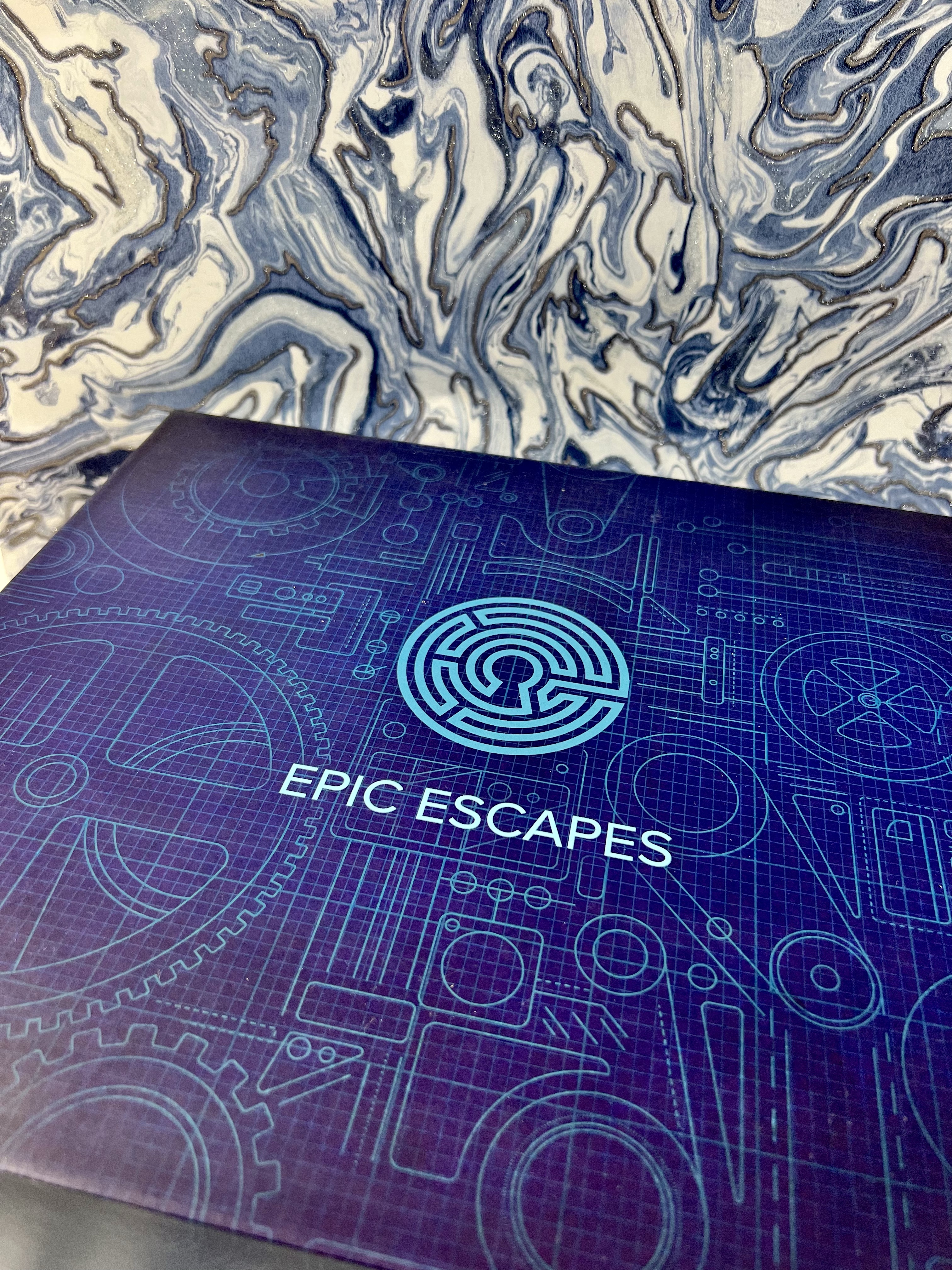 Now I can't reveal too much here but I am obsessed with escape rooms. They're such a fun activity, and so this pack is ideal for recreating the problem solving at home. You can play as a couple with one person setting up and the other solving the clues, or perhaps you could invite some friends over and play together on a double date? I won't post too many spoilers here but look out for a full review – The box includes three different rooms to set up and solve and some fabulous accessories including a disguised safe and a huge padlock. There's a variety of different games available from Epic Escapes and each game should take about an hour to play.
Kept Stainless Steel Reusable Water Bottle £29.95
Ideal for your stylish hydration obsessed valentine
This elegantly crafted vacuum sealed bottle features a double walled high grade steel shell that will keep your beverage at the temperature you desire.
With a durable, naturally antibacterial acacia lid, and a stylish silicone carry loop.
Finished with a high quality powder coating that maintains and protects the colour of your bottle.
BPA Free. Leak Proof. Fully recyclable.
Hot 6 hours. Cold 12 Hours.
600ml
Available to order now from Kept for Life
Indoor Hydroponic Kitchen Herb Garden £75
The ideal valentines gift for a foodie
An indoor hydroponic kitchen herb and flower garden that can be used to grow plants from seeds or cuttings. It is the latest design in kitchen countertop gardens and is not sold on Amazon as it is unique to West Kent. I love this so much I ended up getting one for myself – so important to share some self love on Valentines Day! I've only just set it up and will be sharing my progress over on Instagram so watch this space for my home grown herbs and recipes I'll be creating. This is the gift which keeps on giving.
Start a fresh page – large leather notebook – £29.50
For the creatives
I discovered Scaramanga recently and I have to say everything about their brand is easy to fall in love with. They're a vintage retailer with a focus on furniture, homeware and accessories. I opted to choose this delightful Leather bound notebook from their range and when it arrived I was delighted. There's something exciting about a new notebook with fresh white pages but when it exudes such high quality as this then it really is special. You can opt to personalise these to make them a really unique gift. There are so many options including icons for star signs and various hobbies. I can imagine this being used to plan out a garden, or a new DIY task, for the artistic types to work on sketches or watercolours – anything is possible. This is the gift for someone who appreciates quality craftsmanship.
Not only that, but a large leather notebook can also make a great gift for teachers on Valentine's Day. It can be used as an excellent resource to organize their thoughts and boost their creativity, or something they can use to take down notes to hold more information. Also, giving a large leather notebook to teachers can be a thoughtful gesture since you can have it personalised for them. You can add a personal touch by printing their name, initials, or other distinguishing marks on the notebook. However, it's essential to know that a large leather notebook is only one of the best personalised teacher gifts you can give on Valentine's Day. There are other options; you just need to conduct some research to find the right one for your recipient
From Can to Pan – £31.49
For the person whos cooking breakfast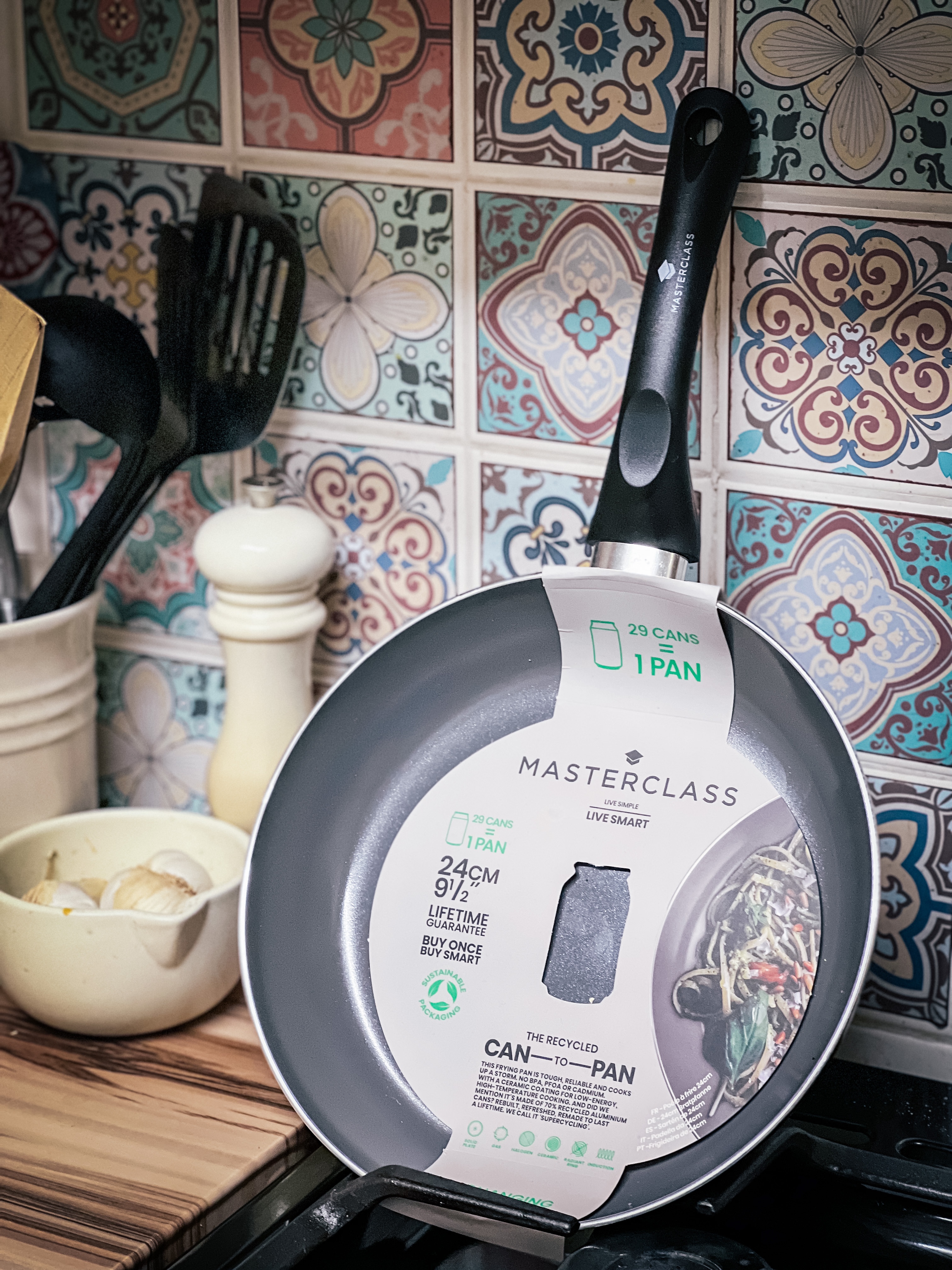 This is the ideal gift for anyone with a passion for cooking and the world we live in. Made from recycled drinks cans these frying pans from Cook Serve Enjoy exude the quality one would expect from the masterclass brand and have a wonderful eco conscious production – even the simple packaging is recycle-able. I've written a full review for you to find out more
Garden Tool Storage Rack £53.60
The ideal gift for anyone with green fingers
Store MORE garden tools in LESS space than any other Garden Tool Storage Rack on the market
Garden tool storage can be a real pain. If your loved ones tools are all piled high in a corner, you can never get to the one you want. Storing them on garden hooks is ideal but they can take up lots of wall space if they are hung one at a time.
The GearHooks GDR3 and the High Capacity GDR5 solves both of these problems. Each garden tool storage hook can hold up to 8 garden tools like spades, shovels and forks or one or two really heavy things like chainsaws or sledge hammers. So if your partner is in to DIY then this is the ideal gift. Available to order now from Gear Hooks – and whilst you are there check out their skateboard and guitar storage solutions too!
Love 24 hours print – £40
For the person who stands out from the crowd
If there is one thing that will get you through any situation, it's the Love 24 Hours print. Reminding us that these emotions are never-ending, this charming print brings that unique appeal of American road signs into your home.
Whether hung in the bedroom, living room or office, it's soft pastel tones help to emphasize the timeless nature. Celebrate 24-hour love with those around you and choose a print that will bring a smile to everyone's face.
Sold unframed, it can be paired with other similar-style prints for a feature wall that will capture every eye. Overview Vintage-inspired Love 24 Hours print Unique and timeless addition to any home
Dimensions: A3 (297 x 420mm) 12-colour fade-resistant archival inks Smooth Matt Finish Printed onto a premium quality 240gsm paper Sold unframed from Mint and May
24 Hour Hydration from Organic Works – £35
A fabulous skincare bundle – self care essentials
The 24 Hour Hydration bundle includes the ultimate hydrating power couple the best-selling Daily Bliss Moisturiser (50ml) and the award-winning Renewal Night Cream (50ml). Together these botanical beauty boosters work around the clock to nourish, restore, and renew your skin – revealing your natural beauty. It's also suitable for even the most sensitive of skin types. I was sent out this duo to review and I have to say the delicate floral fragrance is wonderful, not too overpowering. I've been enjoying applying the night cream and it's no surprise it won the best night cream at the global Make Up Award last year, I wake up feeling refreshed and ready for my face to face the day.
ROXis TV Music App – £6.99 a month subscription
The ideal valentines gift for music fans
Are you looking for any gadgets to help your themed night? ROXis TV App with FREE unlimited music videos, karaoke and interactive games offers the perfect at home entertainment and mood boosting beats for the get together! With exclusive ROXi music channels, you choose the mood – whether that's classic love songs or heartbreak anthems, there's plenty of options tailored for the night ahead!
ROXis TV Music App, now available on millions of TVs, provides unlimited on-demand access to every original music video, album and song with 70 million music recordings. To enjoy even more unlimited music videos and extended karaoke catalogue all ad-free, sign up to ROXi premium for £6.99 a month and receive a free ROXi Karaoke Microphone worth £29.99. ROXi offers over 140,000 karaoke tracks and Karaoke With The Stars singalong tracks, constantly updated with the latest releases, so there is something for everyone, whether it's a feel-good classic like ABBA's Dancing Queen or following a TikTok trend with Olivia Rodrigos Good 4 U!
Spice up your Valentines Day – chilli collection £29.95
valentines gifts for chefs
International Chilli Collection with 7 Chillies & Silk Sari Wrap, including Kashmiri Chilli Powder. Stainless steel storage tin with silk sari wrap, 9 unique spices.
Metal spoon included for accurate measures. All the spices in one tin you need to create authentic international food. Includes free recipe guide – from Spice Kitchen UK
Build a bundle of scent – from £60
The ideal gift for your beauty goddesses and ladies who need me time
Whether its for Valentines, Galantines or a gorgeous gift from you, to you 'ARRAN Sense of Scotland' Glen Rosa collection is a gift lovingly made on the Isle of Arran and always gratefully received.
If you're looking for a decadent scent with a pop of colour for your sweetheart this Valentines, then look no further than the Glen Rosa collection.
I was sent out samples of these to review and I have to say the fragrances really are sublime. There's floral tones without too much sickly sweetness. The fragrances of the products work well together for layering and overall I'm impressed with the quality.
Gift Building:
Create your personalised gift with ARRAN Sense of Scotlands Gift Box Builder. Simply hand-pick the bath, body, and home fragrance items of your choice and add your personalised message. A bespoke gift box will be delivered directly to their doorstep.
Click Add to Bundle on a product to get started
Simply add the products you want to include to create your bundle then add to bag – our experts will handle the rest
Free Delivery on all ARRAN Gift Bundles
FREE Presentation Gift Box Included
Hand-picked and packaged by our experts
The personalised gift builder has a minimum spend of £60, which includes free gift-wrapping plus free UK delivery.
A table for two box – £59.99
A valentines gift for couples who like to dine out
If you or your loved ones delight in enjoying the finer things in life and enjoy indulging in the likes of a quintessentially British afternoon tea or candle-lit dinners at top restaurants, this is the ideal tasty treat! Food-lovers need to look no further as we've handpicked a fine selection of over 725 exquisite experiences to choose from, ranging from dining out to wine tasting and brewery tours. Whether you want to indulge in gourmet cuisine cooked to perfection by expert chefs, or you're looking to enjoy a selection of delightfully decadent cakes, you'll find yourself savouring every mouthful as you sit back and relax at your choice of UK venue. Buy a gift is the ideal place to purchase valentines gift experiences.
The best bit is the voucher arrives in a lovely gift box, complete with a guide book so not only can you choose how to use your voucher but you can browse ideas for more dates. Organised conveniently in to regions of the U.K. so if you're planning a staycation this year then maybe you could plan a little surprise afternoon tea or couples massage experience in a new town.
Say cheese (and wine!) – board £21.99
For the couples who love cheese and wine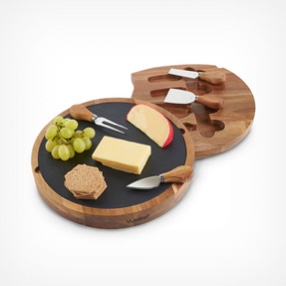 The ideal date for many has to include cheese and wine. There is nothing more relaxing than enjoying the company of a loved one and having a cosy night indoors with the best kind of snacks, or if you're the couple who likes to host then this cheese board is the ideal gift. What I love most about this board is the concealed tray which holds the knives. You could use chalk to label your cheeses on the slate or even write a "cheesy" romantic message. The colour of the wood on this board is even more luxurious in real life and the knife handles matching just adds that extra special touch.
Nordic Ware Elegant Heart Bundt Tin £49.00
The way to my heart is via my stomach
there's two options here – you can either treat yourself to this delightful heart shaped tin and then bake up a storm for everyone else – or you can send out the link to your partner and go on a baking strike until it's in your collection of baking tins at home. Everyone needs a heart shaped bake in their lives and this is just beautiful. The quality you expect from Nordic Ware is apparent in the heavy duty cast aluminium – this is the kind of gift which will be used repeatedly by bakers and cake lovers. One of my guide highlights!
Say it with socks – £8.95
The quirky gift for your crush this valentines

Jimmy Lion's socks will have hearts racing this Valentine's Day! The unisex styles in Queen of Hearts and Wedding Chapel are the perfect gift for a loved one – why not get a matching set! Wearing you heart on your sleeve is so over – it's time to wear your heart on your socks! I was sent out a gift box containing four pairs of socks for the purposes of review – I opted for the retro ET theme and I was pleased not only with the socks themselves, each with a colourful design featuring iconic imagery and quotes from the movie but also very impressed with the gift box, decorated with a print inside and out to match the socks making the opening experience a sheer delight. The socks themselves are very generous size wise, and a cotton blend so have plenty of stretch in them.
Mute the sound of snoring – £12.99
Give the gift of sleep this valentines
THOUSANDS SAY SNORING IS RUINING THEIR RELATIONSHIPS! Forget chocolates and flowers – MUTE could be the best gift to keep your Valentine!
Mute the nasal dilator helps eliminate snoring – an essential for helping you have a romantic night! In a poll of 2,000 adults, 83% of households have a snorer and it's having a drastic impact on relationships – causing arguments, and at worst being dumped.
Mute is available from Boots, Amazon or www.mutesnoring.com starting at the trial pack to find the right size rrp £12.99
Head out on a picnic – hamper £54.99
For couples who like to explore
This beautiful hamper from Von Haus is right up my street. I know summer and the prospect of outdoor picnics seems a million miles away but this is one of the most romantic gifts I can think of. Imagine all of the adventures you can go on as a couple – packing the strawberries and champagne up and heading out to explore the world together. This hamper includes a blanket and matching cutlery, cups, plates and little gingham napkins. The navy blue exudes quality and this Hamper is a gift which would help create many happy memories for any couple. Maybe even the ideal place to hide a ring if you plan to propose?
Conclusion
Indeed, gifts can be considered an essential part of celebrating Valentine's Day. They can help express your heart's inner feelings more than any spoken word. Nothing can compare to the happiness of someone who receives a special gift from their partner. But, it's important to know that gift giving during the day of hearts isn't only for lovers. It can also be a special time to show your love and affection to anyone, be it your parents, siblings, friends, or even the teachers in your school.
Hence, if you're planning to give gifts to the people you love and care about on Valentine's Day, keep the information mentioned above in mind to know where and how to start. The more you know what gift ideas are available to you, the easier it'll be to choose the right gift for someone.