This weekend marked the Spring Equinox and so we decided to start with the Easter bakes. This indulgent mini egg cheesecake is a fun one for little ones to make because it involves lots of bashing with a rolling pin.
You will need:
For the base
Digestive biscuits – 300g
Ground almonds – 50g
Honey 2tbsp
Crushed hazelnuts 50g
Mini eggs – a handful
Butter 200g
For the filling
Nutella 3tbsp
Double cream 300ml
Icing sugar 120g
Full fat cream cheese 700g (two packs)
Vanilla essence 5 drops
White chocolate – 70g
For the topping
Sprinkles
Mini eggs
Chocolate shavings
When it comes to quantities it's almost impossible to be accurate with a toddler – I try my best to stick to easy proportions so to begin we smashed up an entire pack of digestives give or take two and a pack of mini eggs too.
This amount was enough to fill the base of a large spring form tin and three ramekins – so in total 15 portions. You might want to scale this back if you're not feeding the five thousand this Easter but for us "more is more."
Add the mini eggs, biscuits, nuts and honey and mix well to distribute. Melt the butter in short bursts in the microwave and then mix this in – it quickly creates a nice ball which is cookie dough like in consistency. I cut a grease proofpaper circle in to size and add this to the base of my spring form tin before piling the mixture in and patting it down with a spoon.
We had lots left so used the extra in ramekins to make some individual portions. Then we popped this in the fridge whilst me mixed up the filling.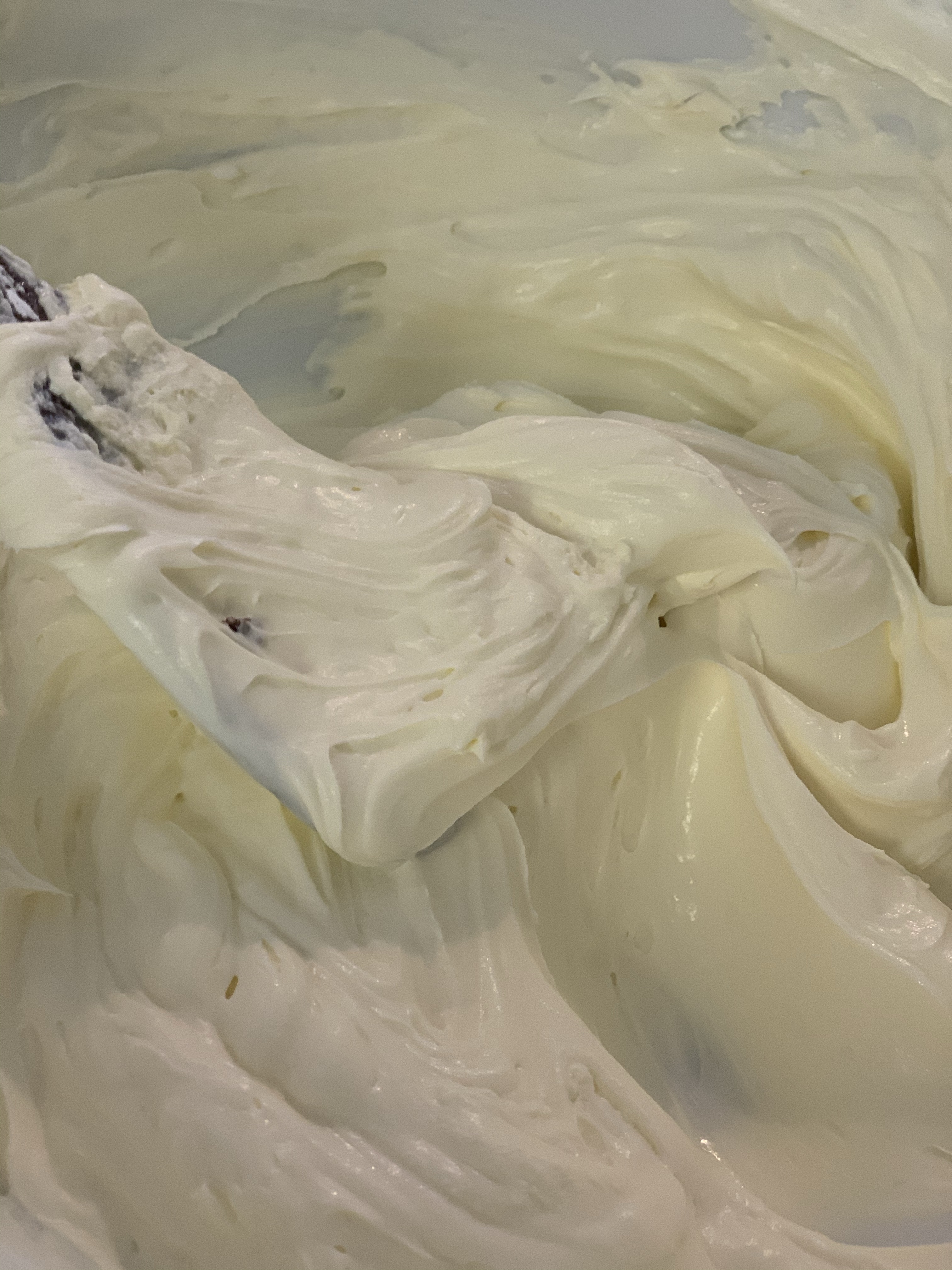 This is done in two stages. Melt the white chocolate in short bursts in the microwave and leave this to cool slightly. I whip the cream up with vanilla and icing sugar using an electric whisk until it forms nice peaks and then I leave that to the side whilst I mix up the cream cheese. It's best to work with this at room temperature as it mixes in nicely. (If it's cold then it goes lumpy). Pour the white chocolate in with the cream cheese and then a handful of crushed mini eggs too. I then combine the cream and the cream cheese together by folding them gently and taste testing at this stage. You want it to still form peaks and this is how you know it will set nicely.
For added indulgence we spread Nutella over our biscuit base before topping up with the filling. This is Arlo's second favourite thing to do, and then it's simply a case of leaving this all in the fridge to set overnight before decorating. This is where the little ramekins come in handy….. no one likes to wait for a taste and so if you're impatient like us, you can dig in to these straight away.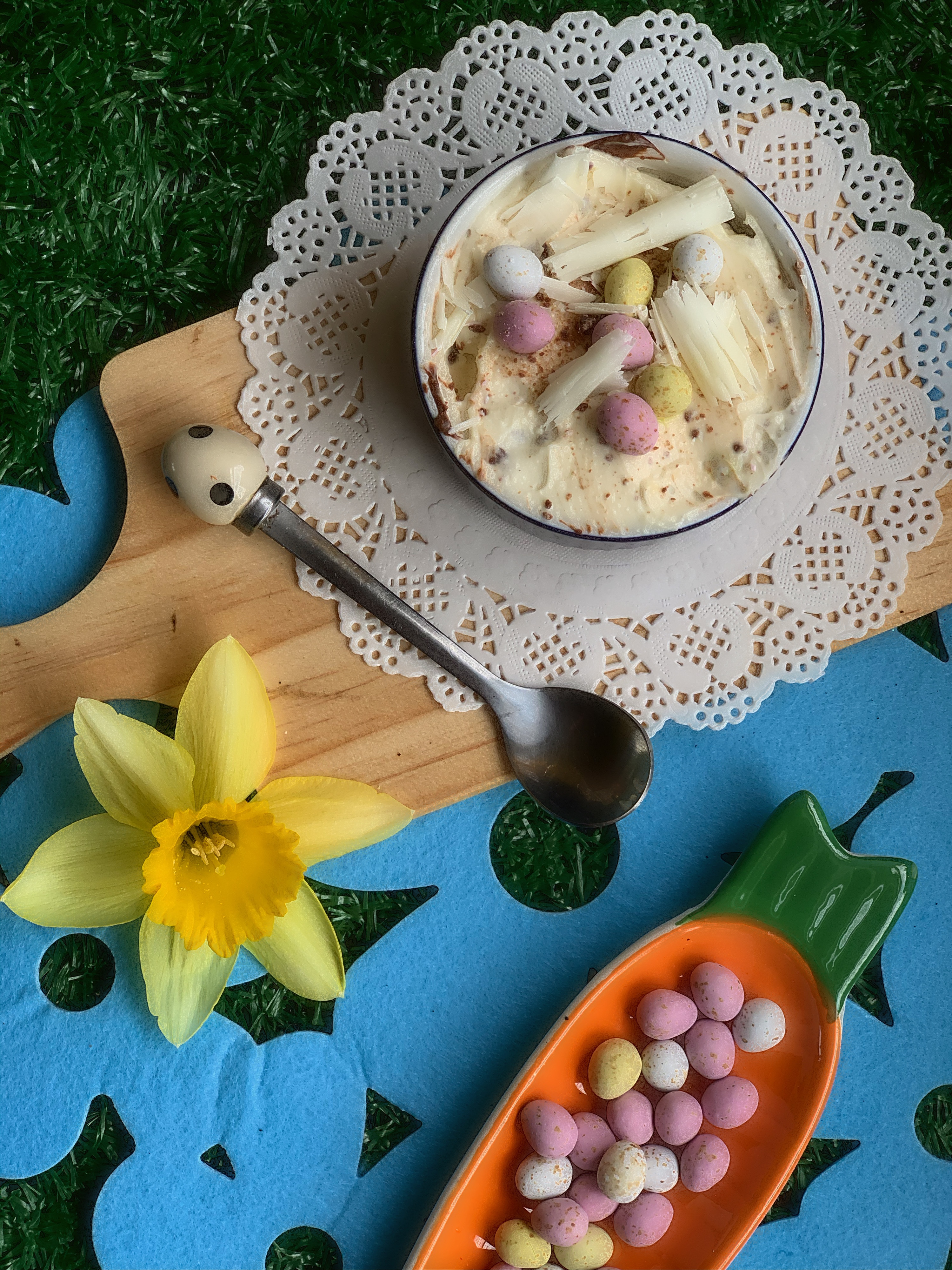 We decorated our cheesecakes with more mini eggs, chocolate shavings and then some extra sprinkles for good measure. The result was a super rich and indulgent cake which has us all excited to dig in. I leave the spring form collar around until just before serving.
Here's a slice profile for you too. I can't even explain how delicious this is. Now that spring has arrived we are going to use the base of this recipe and adapt it with some different flavours – I'm thinking lemon and raspberry next!