Last Thursday evening I did the nursery pick up run, and I had a bit of a revelation. Like most people we have time slots for collection of our children and so I sat waiting in my car to avoid the rain and I picked up the phone and caught up on the group chat with some of my mum friends whilst waiting.
One of my friends had been on a day out with her newborn and toddler, and for the first time in ages had decided to put on some make up and had received some comments which weren't "positive" for what of a better word. She looked fabulous by the way and felt fabulous too!
This got us all talking and I realised that I couldn't remember the last time I actually wore make up and I looked at myself right then. I was wearing silver glitter pumps – they're the easiest to slip on my feet and I've worn them pretty much every time I need to leave the house this year, Leopard print trousers which are super comfy but actually part of a pyjama set, a bright red vest, a purple scarf and a comfy oversized hoodie. My hair was in the easy peasy "mum bun."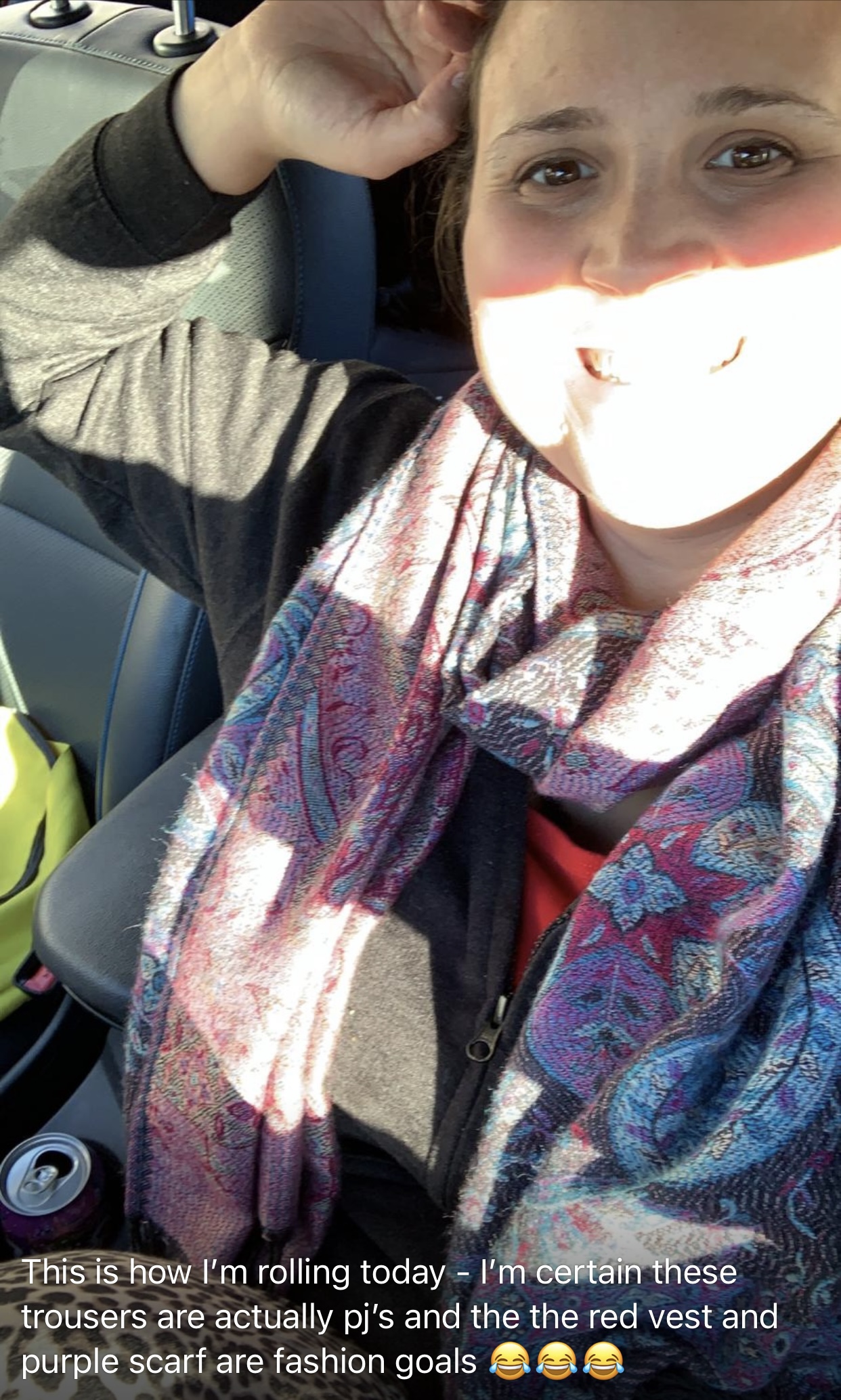 I looked in my rear view mirror and I could hardly recognise myself. Since when had I turned in to this?? I'm usually the over dressed glam mum and wouldn't be seen dead without my red lipstick anywhere!!! Working from home for the best part of 2020 has been a total game changer. Life for us all has changed in so many ways and on paper it sounds lovely being able to stay at home all day, and not struggle with the daily commute and the rat race.
In reality it's not quite as fantastic. I know that I'm fortunate to still have my job and that for many people there are far worse things happening but at the same time I wanted to acknowledge the impact the pandemic has had on my mental health. It's a challenge to get motivated on some days and the work/life balance is up side down – I find myself looking at work emails at 10pm in the evening, and a quick task like emptying the washing machine on a sunny afternoon ends up distracting me for an hour during the working day.
On days where I have video calls I quickly scramble for a bit of make up when the fifteen minute alert pops up on my laptop screen to make an effort but that's about it. I haven't bought any new clothes this season and I certainly didn't see the point in dressing up just to sit in my living room…. during lockdown part 1 there were some fun days to dress up and lots of video calls but the mood this time around just like the weather is all a bit dreary.
Last Thursday all of this changed for me and I made a pact with my mum friends to try and make more of an effort. I'm not exactly a make up expert or a fashionista but so far I am loving it – I bought myself an eye shadow palette at the beginning of summer in the sale (one of many random things the internet made me buy). I have been following youtube tutorials for autumnal coloured eye shadow looks. I washed and straightened my hair and I opened my wardrobe and sorted out all of my favourite dresses to prepare myself for this self inflicted challenge
It's been five days so far and getting up every day has been fun. I have found myself again – I posted a picture on Instagram of my Saturday outfit – I took Arlo to a drive in cinema and met my mum who said it was lovely to see me in my dress for a change and she was honest enough to tell me that my old faithful jeans are less than flattering – so many people made kind comments about my "look" too. It made me realise that the most important person to make an effort for is me.
Getting up and dressed, putting make up on etc. It's not for anyone else, it really is just for me. It's a process which motivates me in the morning and gives me confidence. It's part of a routine which had been lost for months and now it's back I'm committed to sticking to it…. even if it's only to sit in my living room. It's very early days but I already feel more productive. With work, with my blog and with my DIY projects around the house. The familiarity of my make up bag and even the scent of my favourite perfume is comforting.
There's a lot more to come now that I've found my mojo. I'm hoping to pick up my pandemic journal from where we left off and determined to not let the virus write off the rest of my year, not every day is wonderful but I found this quote and I love it
"Lipstick can't solve all problems, but it's a pretty great start. Give a woman the right lipstick and she can conquer the world. Just have fun. Smile."