What a beautiful place. This is a "must do" if you're visiting Cornwall.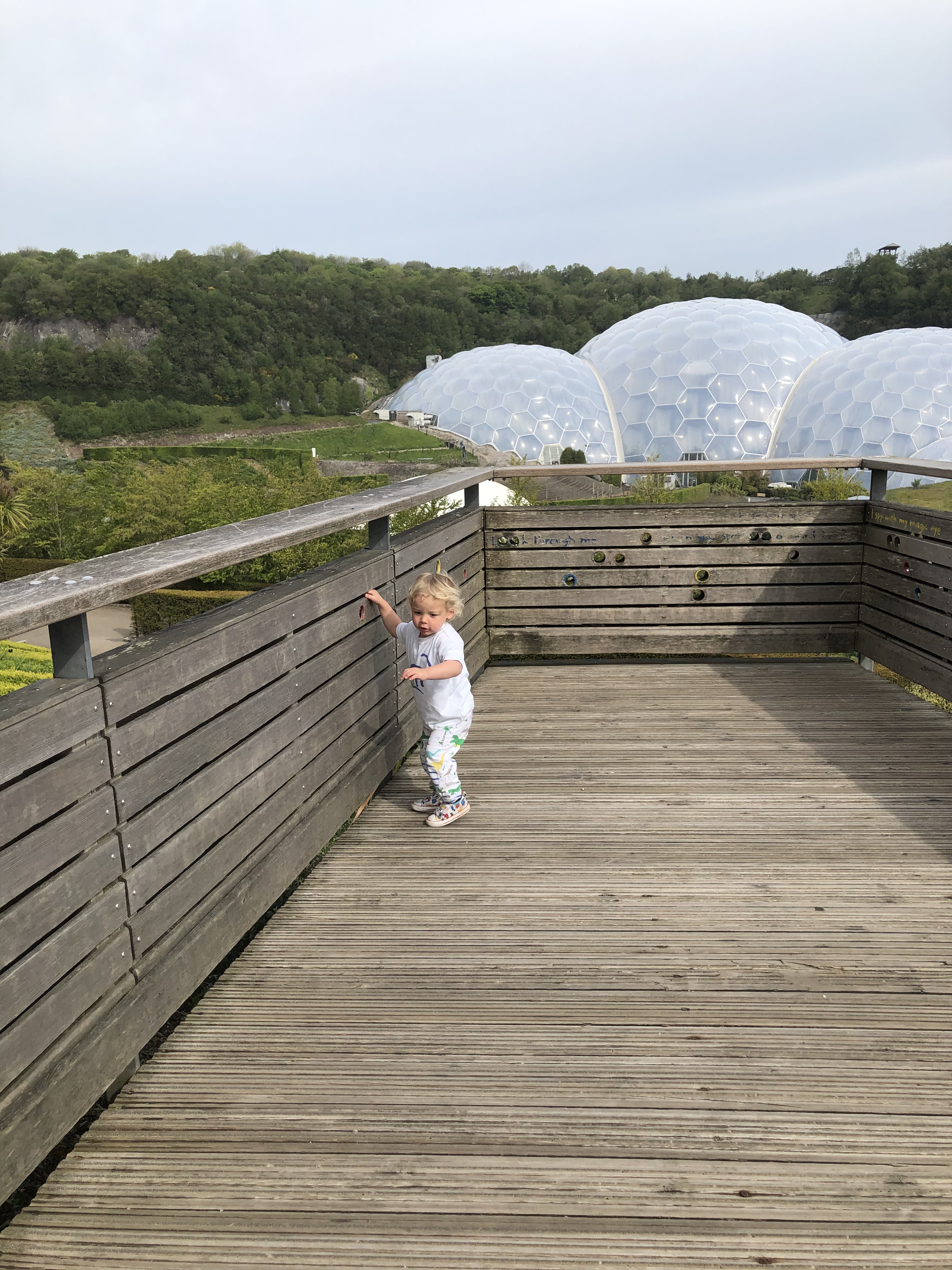 It's hard to describe what it's all about because the experience is so breathtaking, but to put it simply it's a huge project set up in a reclaimed China clay pit with two huge biomes (large greenhouse type domes) and surrounded by an outdoor garden interspersed with art and informative exhibitions.
This is a huge tourist attraction, with clear road signs and directions as you approach, and plenty of car parking space. Be prepared to walk, the car parks are quite a way from the main entrance and the entire place covers a huge amount of space with uphill walks so strollers are a must for little legs.
Entry fee is quite expensive but have a look on the website in advance. I visited with my partner and my parents back in September so opted for a couples membership at £80 which entitles you to bring an adult guest each. By returning again within the year the visits have cost us £10 per adult each time which is more than reasonable for a full day out.
We arrived shortly after opening at 9.30 and it was fairly quiet, there are toilet facilities at the main entrance, as well as a cafe – and don't forget to pick up a map and check out the daily schedule – or if you want to be eco friendly then photograph the maps to save paper.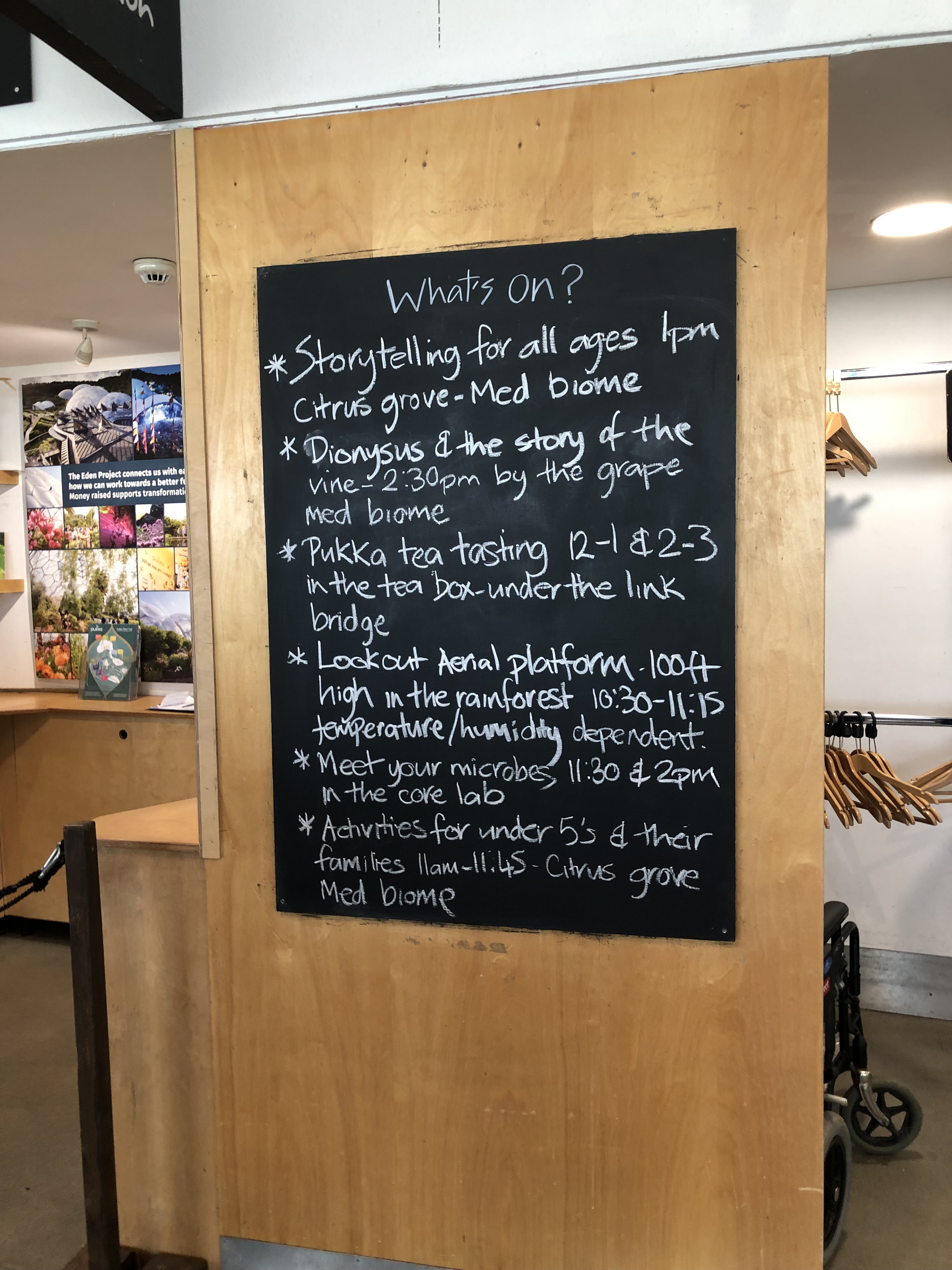 It's difficult to miss all of the different eco-friendly messages throughout the project, from recycling, to saving water and beyond. I won't go into detail as all of the things you learn are part of the experience, and some of the fact and figures are quite surprising.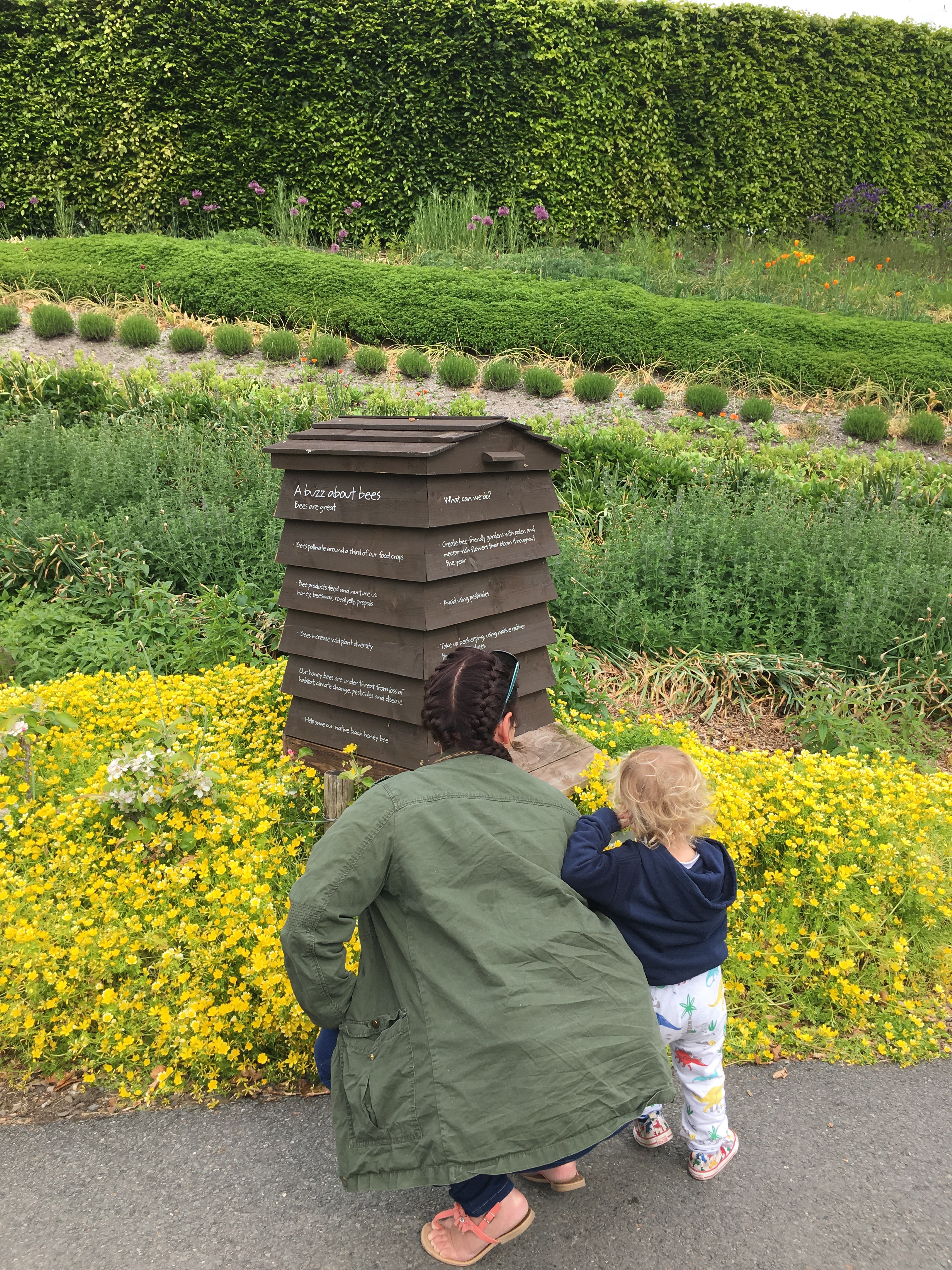 My favourite art installation is the giant bee – bee's are crucial to the eco system, they pollinate flowers and over a third of our food flowers rely on this process, and our bee's are under threat for a variety of reasons.
Outdoors, Arlo's favourite area was the sensory garden. A walkthrough area full of herbs and aromatic plants – we spent a long time walking through, using our senses to explore with delight…. mint, lavender, wild garlic and all sorts is on display.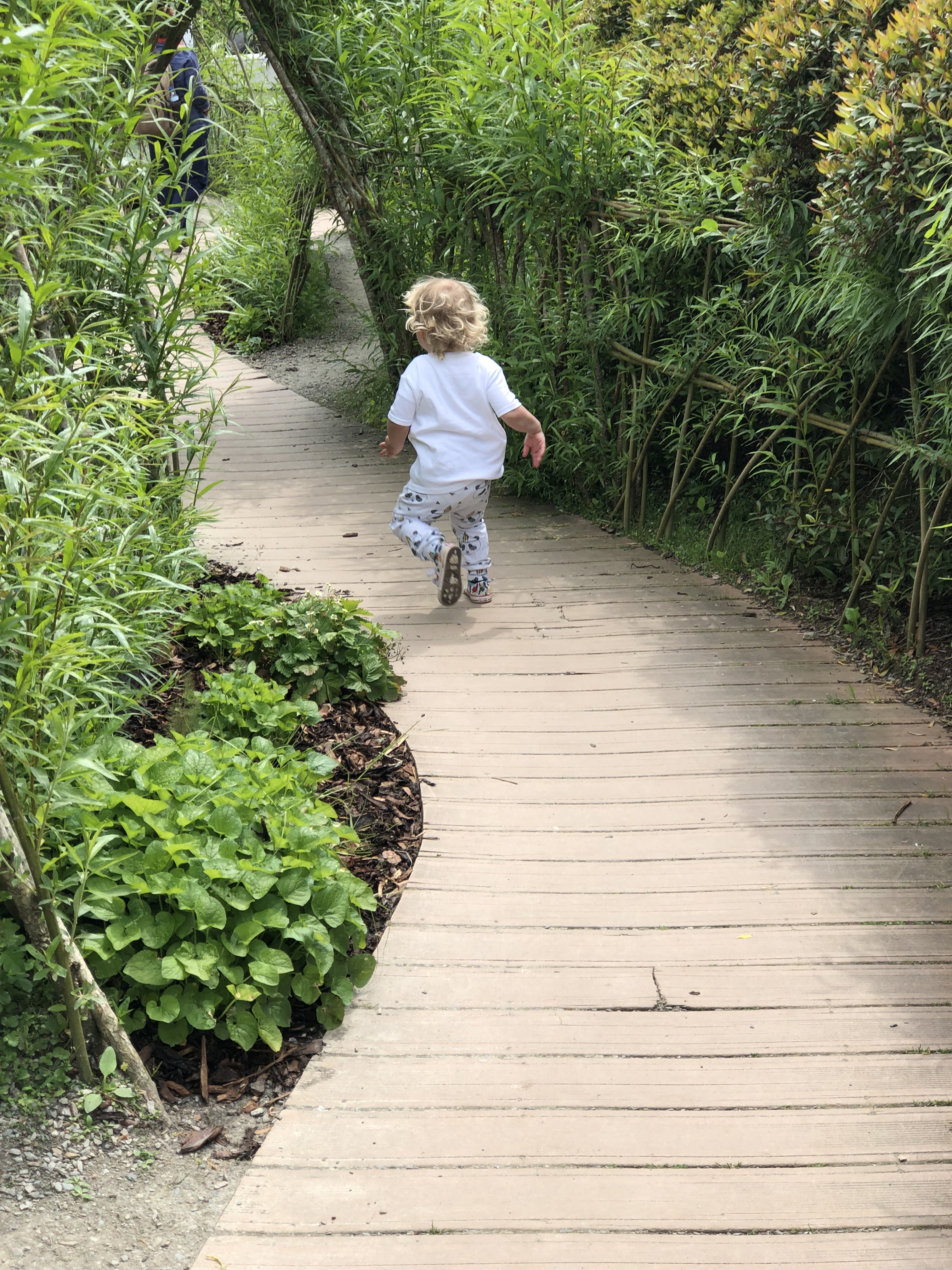 The clever garden design is split into zones, each reflecting a different part of the world, from allotments, to American prairies, so much thought has gone into this and it's truly as authentic as you can get, because the team at Eden work with people from across the globe when installing…. which I'll come onto later.
The main attractions are the biomes. You enter at the centre, between the two, where there is a huge two level atrium, with the ground floor hosting the Eden Kitchen with long wooden tables with benches which means there's plenty of space for large families, and an amazing menu.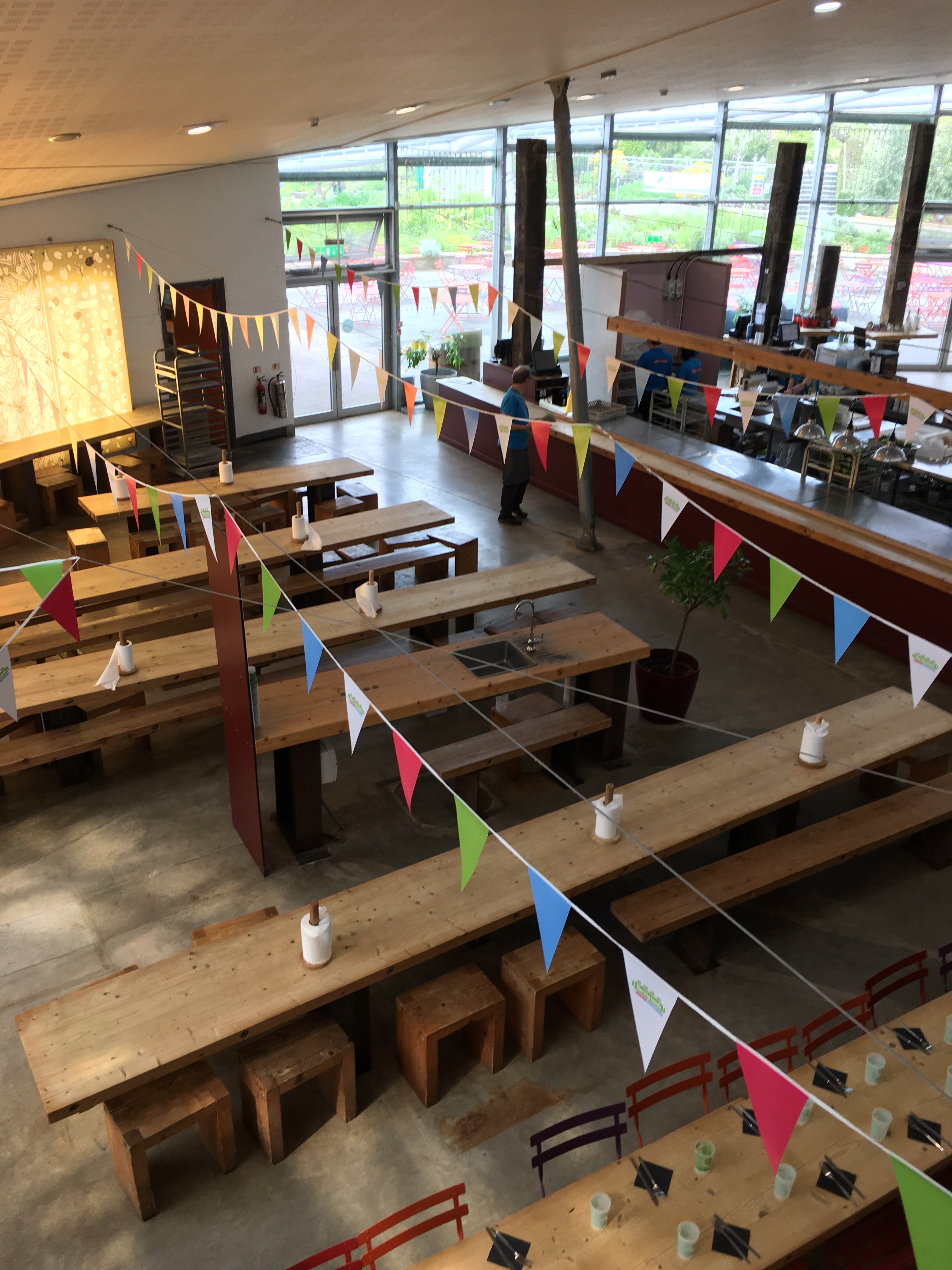 We watched the chef's from above as they prepared the fresh food from early morning and after our walk through the biomes couldn't resist the menus… jerk chicken for me (£9.50) and Arlo had marinated chicken wings, cassava fries and corn on the cob.
Kids food is very reasonably priced at £5.50 – our membership earned us a 10% discount. A lovely little touch is the provision of paper rolls at the table for cleaning sticky hands.
We decided to explore the Mediterranean biome first, which transports you right there, with all sorts of little details. The plants are of course the main feature, however the sculptures and installations add to the atmosphere, there's also a beautiful pizza restaurant here too.
We were invited by a member of staff to join a free of charge toddler activity "music in the med" – led by a charismatic conductor. Arlo really enjoyed singing and dancing along with musical instruments in this beautiful environment, and having checked the website there seem to be frequent activities for all ages so make sure to check before you plan your visit.
The walk through the biome led us toward Australia next, and my mum having recently visited Perth was delighted because it was so similar. After talking to the team, we discovered that indeed the Eden project had worked with a team based at Kings Park, so the plants here were planted with the advice of Australians, and not only that, the art work including the totems have been created by an Aboriginal artist too, so this truly is as close as you can get to Australia without the 24 hour flight!
Before you head into the rainforest biome there's a cloakroom, toilets and a store on the upper floor. I would advise to rehydrate and remove layers as it gets incredibly humid inside. The biome is full of wildlife, and some of the most amazing rainforest plants. One one side of the pathway you could be looking at African jungle and the other, South American plants will line the route!
The route takes you up a winding path and there are water fountains along the way. You will meet some unusual little birds, discover new fruits and then end up in the clouds, just when you think the heat is too much, there's a lovely little cold room to pause and rehydrate – ready for the rainforest canopy.
As you climb higher there's a waterfall, a rope bridge and cloud formations to discover before heading back down through sugar canes to discover the BaoBao shack and grab a tropical smoothie.
In this biome we also discovered how a Nigerian artist created sculptures from reclaimed wood after the fire damage to Falmouth harbour. The wood originated from Africa in the 1930's and we learnt all about how this particular type of wood from Africa is resistant to water so is used world wide by the shipping trade, and it was lovely to find out just how much thought had gone into this installation, and this delighted my dad to learn about his Nigerian heritage.
We spent all day at the Eden project, there's plenty more to see and do including an indoor science exhibition and an outdoor amphitheater, and even tea tasting sessions
.
Arlo was exhausted by 4pm, we took the land train to the top and spent a long time browsing the gift shop and nursery before heading home. So many unusual items, ethically sourced, eco friendly and locally produced – I ended up buying some succulents and a fab bar of chocolate.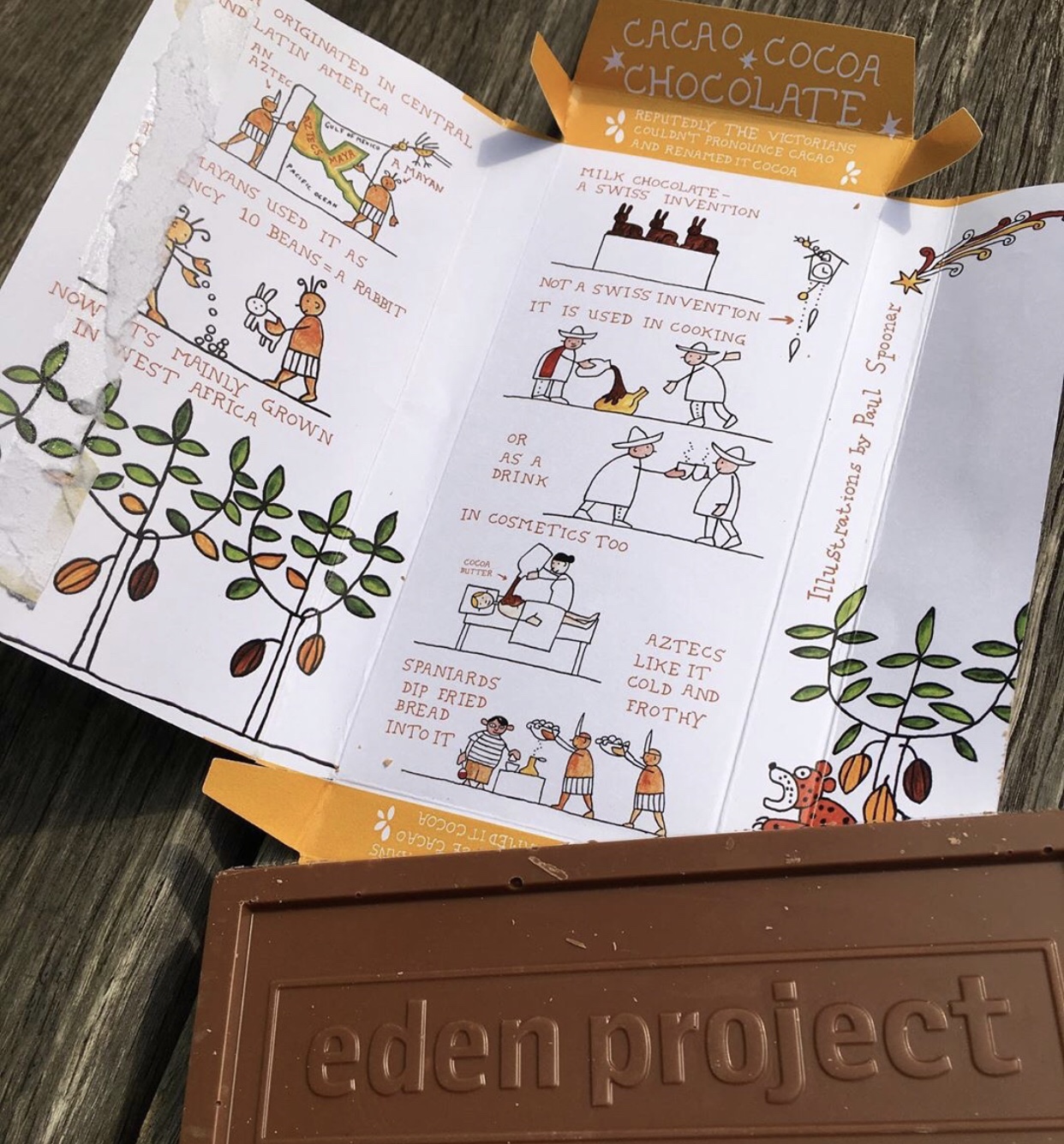 Thank you to the Eden project, we had a wonderful day and we will be back soon 🐝