Are you looking for childrens farms in the West Midlands? Here's a selection of some of our favourite places to visit farm animals in and around Birmingham.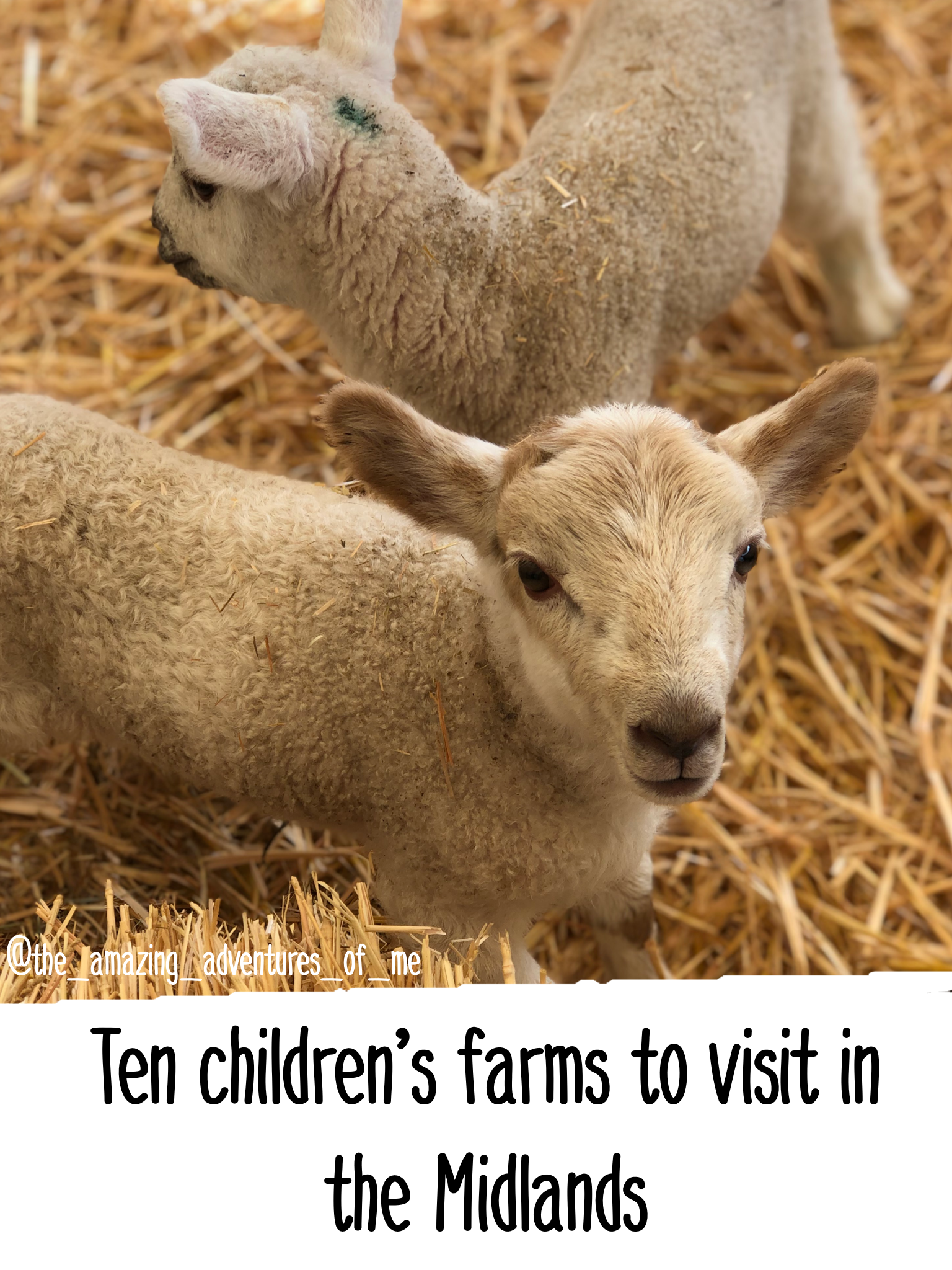 Attwell Farm Park is relatively new on the scene but it's been a favourite of ours for a while. A beautiful farm park in Worcestershire. There are the usual range of farm animals to meet and greet outdoors and in their huge barn, plus there's a cow shed and a barn outdoors with smaller animals such as bunnies and pigmy goats. The reason Arlo loves Attwell Farm Park is because of the extras, they have a huge bouncing pillow, a decommissioned fire engine and a newly revamped outdoor play area – plus indoor soft play, ride on tractors and a giant sandpit in the play barn. A small on-site cafe serves a delicious array of well priced snacks too.
Umberslade farm was one of the first we ever visited. They used host animal talks throughout the day but now it's all about visiting the play area and the cafe, but you can still explore the farm yard and take a wander through the estate.  The farmyard pigs have the funniest names and the barn is home to lambs and calves. My personal favourite is the shire horses, whereas Arlo loves the ponies because he had a trekking experience (book separately) as a Christmas treat.  
They have a wonderful indoor play area which is made from natural wood and a brilliant outdoor park area with climbing frames for all ages. The on-site cafe serves food and hot drinks too. Make sure you head out past the duck pond to greet the chickens.  If you fancy a long walk the Estate has very scenic views.
This is one of the more expensive family farm days out in the Midlands but it's a worth visiting, especially around Easter time when it's lambing season and all the baby chicks are around to meet too. When it comes to animals there's no shortage of creatures, with snakes lizards and exotic animals as well as the usual farmyard animals. My favourite event is the sheep grand national which is thoroughly enjoyable to watch, and Arlo loves the bird of prey shows and experiences.
Hatton is also home to a shopping village and hosts regular events such as the drive in movies and arts and crafts faulted throughout the year.
Oak Tree farm in Walsall is a low cost alternative, it's £3 for a little bucket of animal food, it's the kind of place to spend a couple of hours on a quiet afternoon, with a small play area and plenty of room for a picnic and treats from the cafe available.
This little farmyard is based on the Sandwell Valley site and is just that, a small yard with the usual farm animals but in the most beautiful Victorian setting. Adults entry is just £2, kids £1.50 and under 2's are free. You can buy bags of animal food for under £1 and wander around as many times as you like. We like to spend about an hour here before trekking across the bridge and around Sandwell Valley Country Park and the Swan Lake.
Okay so this isn't a place where the children's farm is the main attraction, but in the middle of the grounds there's a working farm yard and so you can enjoy a lovely wander around the pools and through the "deep dark woods" before meeting the cows, chickens and donkeys and heading back towards the main pool to spot the fish and ducks.
7. Lower Drayton Farm
Lower Drayton Farm is a delightful place to visit, offering a unique and memorable experience for the whole family. Located in the heart of the countryside, this farm provides ample opportunities for fun and adventure. From interacting with friendly farm animals to exploring the vast outdoor play areas, there is something for everyone to enjoy. The farm also offers camping options, allowing visitors to immerse themselves in the rustic charm of the surroundings. Whether it's experiencing the bustling atmosphere during Christmas time or embracing the beauty of nature in the summer, Lower Drayton Farm promises endless excitement and entertainment.
In Stourport this farm has one of our favourite petting experiences with the chicks and guinea pigs and have the friendliest and most patient teams. They have an indoor play area, cafe and all important ride on tractor too.
Not just a farm, if you're needing a full day out with more animals than you can date to dream of then this is the ideal place. Their dinosaur field alone is better than the WMSP exhibition. (Disclaimer: the dinosaurs aren't real)
They have two outdoor play areas, an indoor soft play and the "biggest and bestest" mud kitchen ever! (According to Arlo). My favourite however is the barefoot Walk.
This is the place to visit for forest fun, a whole new area to explore for outdoor lovers, and the main attraction is mini golf surrounded by Animals which you can pet. It's quite a surreal experience I must admit but so much fun to be had. This isn't a huge place to explore but great for a couple of hours.
Ash End House Children's Farm is a delightful and educational destination for kids of all ages. Located in the picturesque countryside, this charming farm offers a hands-on experience with a variety of farm animals. Children can pet and feed fluffy sheep, playful goats, and gentle rabbits. They can also learn about the daily care of cows, ponies, and chickens. The farm's friendly staff conducts informative and interactive sessions, teaching children about animal welfare and the importance of sustainable farming. With its beautiful surroundings and engaging activities, Ash End House Children's Farm ensures a memorable day out for the whole family. Visit today and immerse yourself in the wonders of farm life.
Northycote Farm is a captivating historic farm located in Wolverhampton, a city brimming with history and charm. This idyllic countryside escape offers a glimpse into the past, allowing visitors to immerse themselves in the rich heritage of the region. The farm is home to a variety of animals, including friendly goats, cows, and pigs, creating a delightful experience for both children and adults. Stroll through lush green meadows, explore the enchanting woodland, or simply relax in the peaceful surroundings. With its picturesque landscapes, educational activities, and warm hospitality, Northycote Farm is a perfect destination for nature lovers and history enthusiasts alike.
Churchfields Farm is a charming countryside destination nestled in the heart of Worcestershire, UK. Spanning over vast green pastures, this idyllic farm offers a delightful escape for families and nature enthusiasts. With its picturesque landscapes and friendly farm animals, Churchfields Farm presents an immersive and educational experience. Visitors can indulge in the farm's delectable ice cream, known for its exceptional quality and diverse flavors. Additionally, the farm hosts extravagant seasonal events, providing endless entertainment for all ages. The recent addition of a huge new play area has further enhanced the Farm's appeal, creating an environment where joy and laughter abound. 
We hope you find your own fabulous adventures, share your experiences with us on social media by tagging us on Instagram or Facebook and if you have any more suggestions let us know and we can add them to the blog!
For days out under £10 click here and for my guide to parks in Birmingham great for nature lovers click here
For my guide to local pumpkin patches click here
Alternatively if you're branching further afield I know some great mummy bloggers with guides to different cities for some fab days out.
Check out places in York from The Life and Times of Violet