We love getting creative and have all manner of resources to hand in our craft room at home, however one thing I am not a fan of is the cleaning up after a busy day of making stuff. This is where paint pop sticks come in and change the game.
Paint sticks work a little bit like a lipstick. They have a lid which pops off easily and then the base is twisted to bring the highly pigmented solid paint up in to the tube. Then you hold the sticks like you would a crayon or pencil and get creative.
They are just the right size for little hands to use, and very easy to work – the mechanism is intuitive and so Arlo didn't need any direction but figured this out all on his own.
There are various different pack sizes you can get, from a six pack with the classic or metallic colours up to a large multi pack of 24 with neons, rainbow brights and metallics – all our now on Amazon.
Paint Pop Paint Sticks Fun Tub (RRP £12.99)

Each Fun Tub contains 20 Paint Pop Paint Sticks – 12 Classic, 6 Neon & 2 Metallic colours
• Practical storage solution, with carry handle for convenience – take them with you!
• Great value pack that makes for a fabulous gift!
Paint Pop Paint Sticks 24 Pack (RRP £14.99)

The 24 pack set contains 24 assorted Paint Pop Paint Sticks: 12 Classic, 6 Neon & 6 Metallic colours
Paint Pop Paint Sticks Giant Storage Tube (RRP £19.99)

The giant storage tube contains a mix of 30 paint sticks and is perfect for storing them all away until next time!
PAINT AWAY THE MESS-FREE WAY! – Paint Pop Paint Sticks are the perfect introduction to painting and doodling. With little or no mess, Paint Pop Paint Sticks create a happy experience for all! Get creative and have fun
FAST DRYING & EASY CLEAN-UP – Our Paint Pop Paint Sticks are fast-drying, often in under 60 seconds. The glide-on paint can be easily applied and as they don't require any brushes or water far less time is needed for clearing up. Painting play can then be a happier, less stressful experience for both child and parent.
SUPER EASY – The Paint Pop Paint Sticks offer a simple Twist & Paint action which acts as a glue stick, meaning you simply take off the cap, twist the tube to push the paint upwards and then your child can start painting straight away. They also are also a nice, chunky shape which is ideal for little children's hands.
POPPING WITH COLOURS & CHILD FRIENDLY – All Paint Pop collections come in a variety of assorted super-bright, vibrant colours. All the paints are water-soluble and non-toxic, and all packs & tubes are readily recyclable.
WORKS ON VARIETY OF SURFACES – The Paint Pop Sticks can be used on a variety of different surfaces including paper, card, canvas, wood and even glass giving your child lots of creative freedom. You can simply wipe clean from glass and whiteboards using a damp cloth afterwards for minimal mess.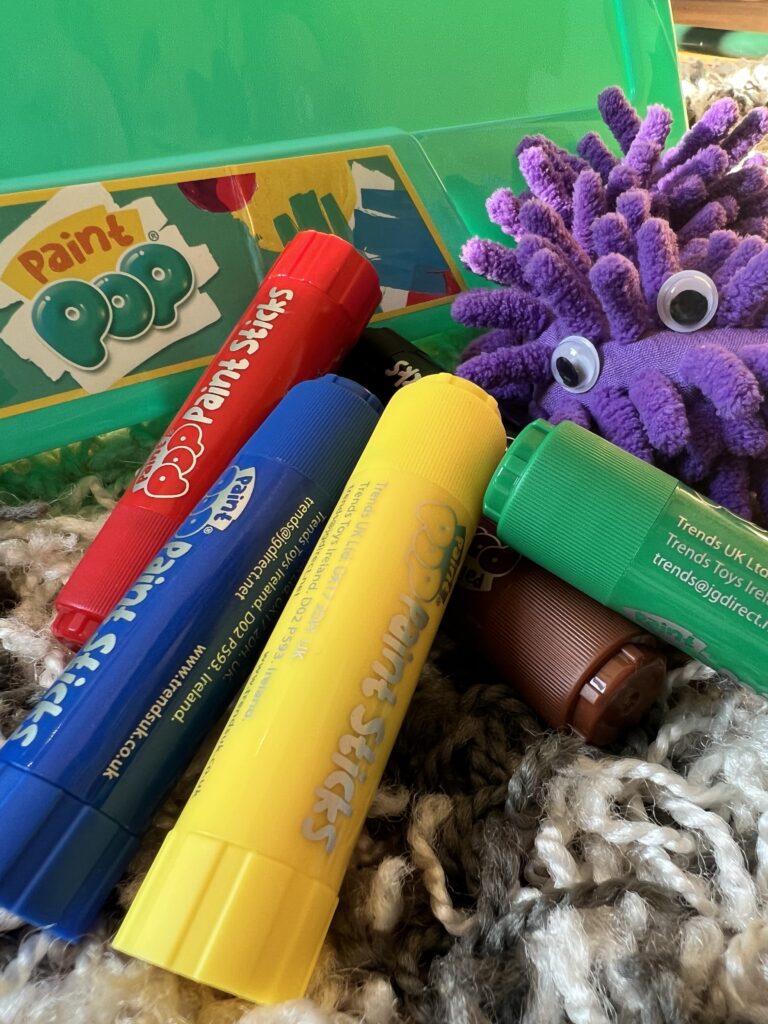 Paint Pop Paint Sticks Creation Station (RRP £24.99)
The creation station is a fabulous introduction to paint sticks – it's a fold up easel which comes with a six pack of crayons and a little purple monster cloth with Googly eyes.
The easel itself is double sided with a whiteboard which wipes clean and then a side with clips which you can attach a sheet of A4 paper to. The contrast in textures can be fun and we like to play a table top challenge where Arlo and I will describe something to each other and then draw it without the other seeing and then compare our drawings.
The paint sticks are highly pigmented which means you do not need a lot of pressure to get a good vibrant colour from them. I find that the paint does have a little stickiness or tack to it but this dries very quickly and leaves a texture behind which is more paint like than crayon like.
One thing we liked testing out was their ability to mix, Arlo loves testing out the primary colours to make secondary colours and we felt like they blended beautifully. Inside the box was a little pamphlet which gave some more creative ideas about blending, shading and potentially adding water to create more tones.
We give Paint Pop paint sticks a firm thumbs up and it's exciting to have a Creation Station and a 24 pack here to give away to a lucky reader – just click the rafflecopter link below to enter
T&c's apply – competition closes 3/10/2022
Don't forget to check out all our live giveaways here