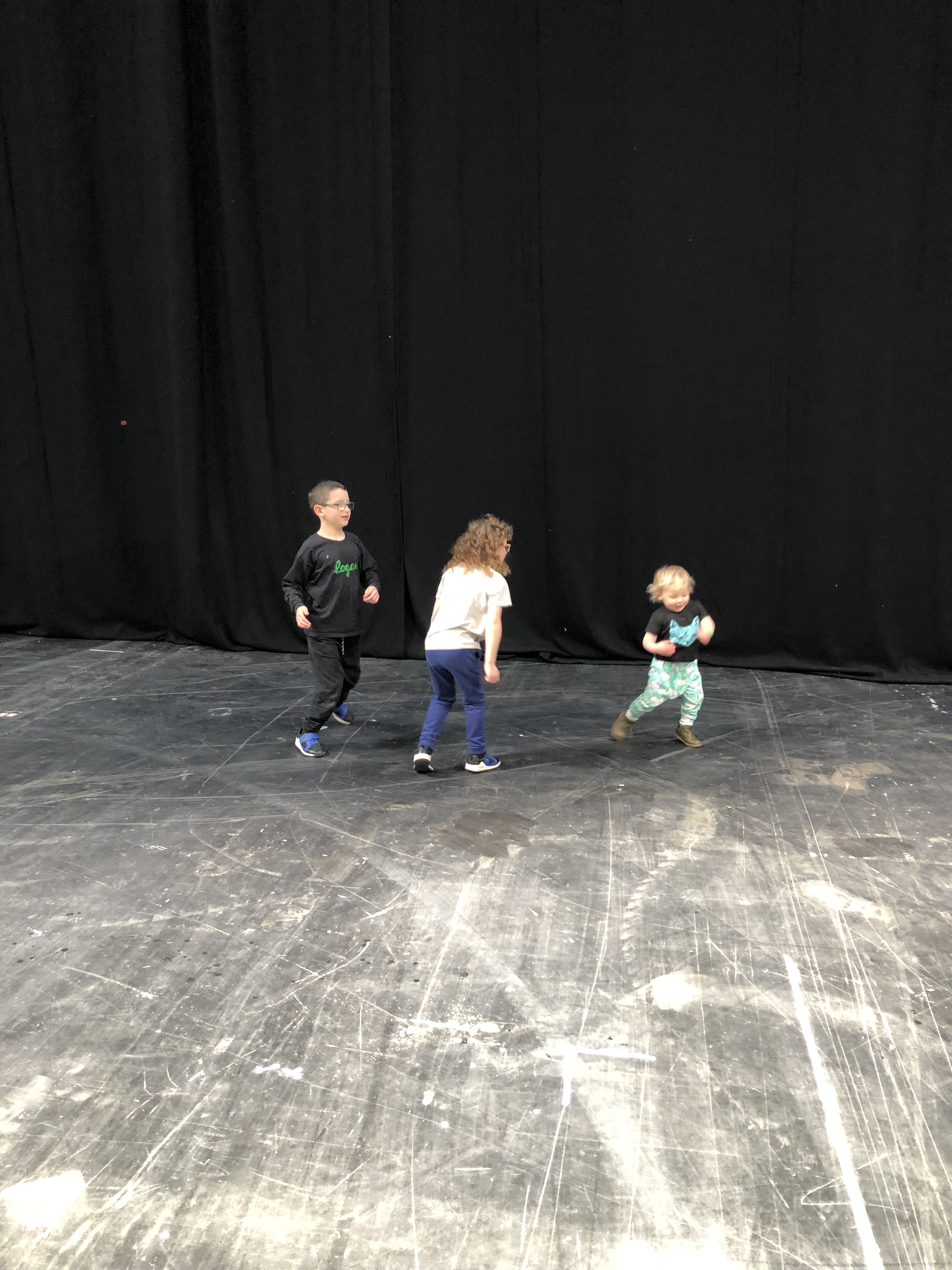 I don't know what I was thinking yesterday but I decided to take Arlo and two of his cousins to "Kidtropolis" on my own – and what in theory should have been a fabulous day out almost turned into a disaster.
Before we even entered the event they were all playing chase in the queue, Literally a minute after I took this picture Arlo knocked Logan's glasses from his face, Logan dropped Arlo. The glasses broke and Arlo then projectile vomited over all of us, whilst surrounded by thousands of people eagerly counting down 10…9…8 until the gates opened.
No big deal, I swiftly got everyone changed into clean clothes (I always carry lots of spares because these things happen)….. a member of staff quickly came over to help clean up the mess and as soon as the kids saw the soft play section all was forgotten.
The under 4's section was the first we visited, and all the kids ran off in different directions – it was at this point I realised I probably shouldn't have gone alone with three wildlings….. but it was too late to back out. There was a huge variety of attractions but it was quite difficult to manage the kids expectations, as there were different age restrictions for everything and it wasn't immediately obvious and the map in the guide book didn't have clear labels.
There was a huge inflatable assault course, I think this is one of the best I've ever seen and the older two went on this one several times. Each of these attractions was managed by an independent company with their own staff, and it seemed as though some were more professional and child friendly than others.
Logan was happy to join Arlo on a mini version in the under 4's area and he quickly tired out so had his afternoon nap in his stroller whilst we explored some other areas for the older two.
The fair ground ride was a big hit – the boys were so excited and nervous at the same time!
The roller blading arena was a fabulous idea – a really slick set up with skates and protective gear available in abundance. They had ten minute sessions and didn't over fill the space so the kids had a really good time trying this activity out and have asked if we can go to a roller disco again.
I also have to take a minute to praise the bumper cars – I've never seen this style of car – the kids picked up the controls quickly and were delighted to discover the big red button with inbuilt water pistols.
Lots of high octane activities, most of which we had to queue 10-15 mins for and only lasted 3 minutes – as a side note I think allocating fewer tickets for each session would have helped to manage the queues and deliver a better experience for all guests – it was a nightmare trying to contain the excitement of the kids on my own, and the queues were a little bit on the stressful side for me.
There were some fabulous promotional areas, the big brands really pulled out all the stops with kinetic sand, messy play, wooden trains and tablets all providing lots of entertainment and this was something we could all participate in – the floss challenge with Phillips was fun and we all received a goodie bag full of surprises which I won't spoil.
I would love to give the NEC a shining review as it is on my doorstep, and I love to support local attractions but there a few things which really do let the venue down. As this was an event specifically geared towards an audience of children and families it was disappointing to see a lack of catering options inside the event space and also to have to eat our snacks on the floor because there was no seating – next time inviting a kids brand and setting up a pop up cafe (like Ella's kitchen at the baby event) would solve these problems.
I would also add a child/baby friendly feeding and changing area – one baby change toilet inside the event space was not adequate.
In a timed event session, wandering around the huge NEC concourse to find a subway sandwich or another toilet would have meant missing out on play time so I just made do with what was available.
We didn't manage to get around the whole event in our four hours, and chose to leave queuing up to "meet and greet" characters, the kids preferred to play on the activities instead – I'm grateful that they made that decision for themselves (phew).
I think this event on paper is literally the stuff kids dream of, but for adults it's the stuff of nightmares. I think I would probably brave it again, but would have to travel with back up adults and pack more food/drink supplies to avoid paying over inflated prices.