Arlo has just turned six and so we have been inundated with Spider-Man themed toys as the Marvel Superhero is his current obsession – not just because of the second Spider verse movie (which is awesome) featuring Miles Morales but also because of the Spidey and his Amazing friends TV show which he tunes in to regularly. We were delighted to be sent out the Miles Morales Web Crawler to review – it's certainly going to help keep us busy as we count down to Spring 2024 … if you know you know!
In 1:24 scale this remote control vehicle is just like the one from the show, which comes in handy for all the play activities which spring from the imagination of a six year old inspired by their hero. Arlo could not wait to open this, he spotted the infamous red and blue Spider-Man brand colours as soon as I peeked inside the package to check the delivery and so of course we had to open it up immediately.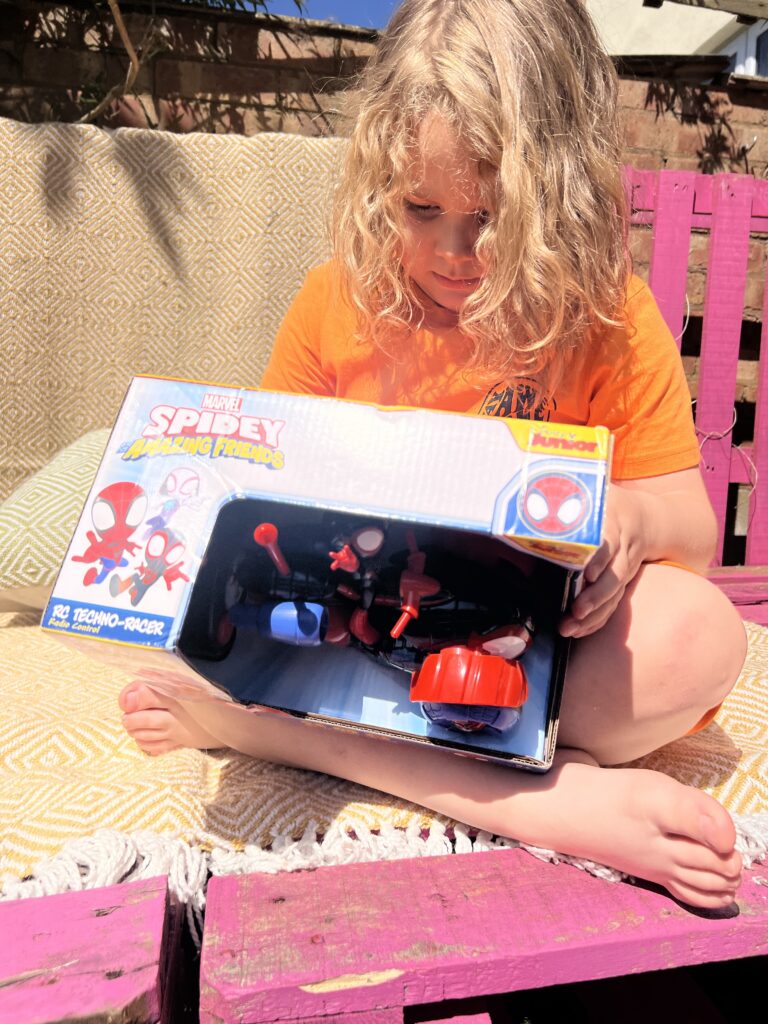 The box is really simple to get in to, I did have to grab a screwdriver and five batteries (x3 smaller AAA and x2 bigger AA) batteries for the vehicle and controller, which was a bit annoying but after playing with this for a couple of weeks we still haven't had to change the batteries over so it's doing well in that respect. The LED on the controller indicates when it's on and both the vehicle and controller have a switch. There's also a beep which sounds when it's been left on for a while reminding you to switch them off to save power.
The RC mechanics are simple and intuitive in that there's only two buttons to press – forwards/ straight ahead and backwards with a curve. Arlo picked up the controller whilst I was installing batteries in the vehicle and was ready to go with no parental support or advice which is a win in my eyes. It does say in the packaging that this RC vehicle is suitable for 3+ and I think this is true, although little ones might need some assistance.
The controller itself is pretty small and round so it's easy for little hands to hold and manipulate the controls. I also must add that the range in this is pretty good, Arlo's been able to get the vehicle up and down the garden a good 15-20 metres and it's still going strong which is great as it's very quick to move and keep up when running behind it.
We've been playing in the garden and the house on a variety of different textures including carpet, tiles, Lino, real grass and Astro turf as well as paving slabs and this crawler is speedy on them all. I think because it's quite light and small it can really pick up the pace and so it makes for great fun.
The vehicle comes with a character fixed in place, and he's in the right costume to match the on screen show which is available to watch on Disney Plus – so no matter how adventurous you are with recreating moments from the TV show, Miles Morales will always remain unscathed and ready for more adventures. Arlo's been busy putting Miles through his paces by constructing obstacles and small jumps and the paint work remains intact.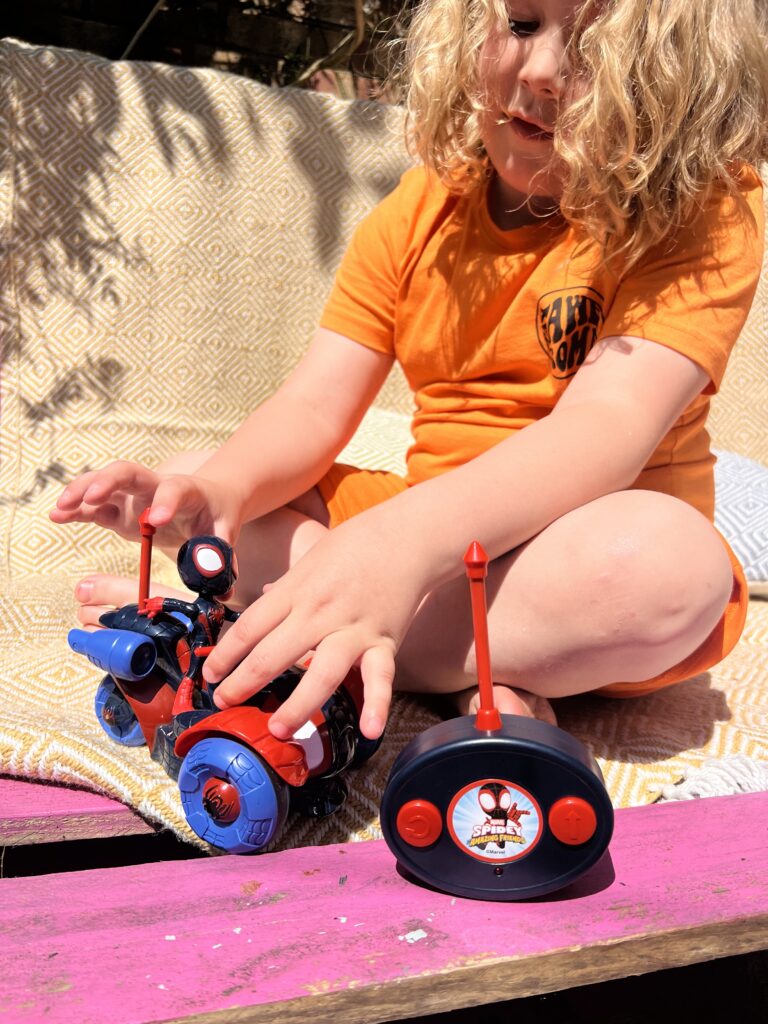 This Miles Morales web crawler is available to purchase now from Jada Toys and gets a huge thumbs up from us.