We happened to be in Torquay for a long weekend and my partner discovered Living Coasts whilst on an early morning stroll with Arlo, and purchased entrance tickets to go in and see the penguin feed, with no idea what to expect.
I finally managed to catch up with them for lunch a few hours later in Torquay and then we went back to Living Coasts as Arlo spent the entire meal excitedly chatting to me all about penguins.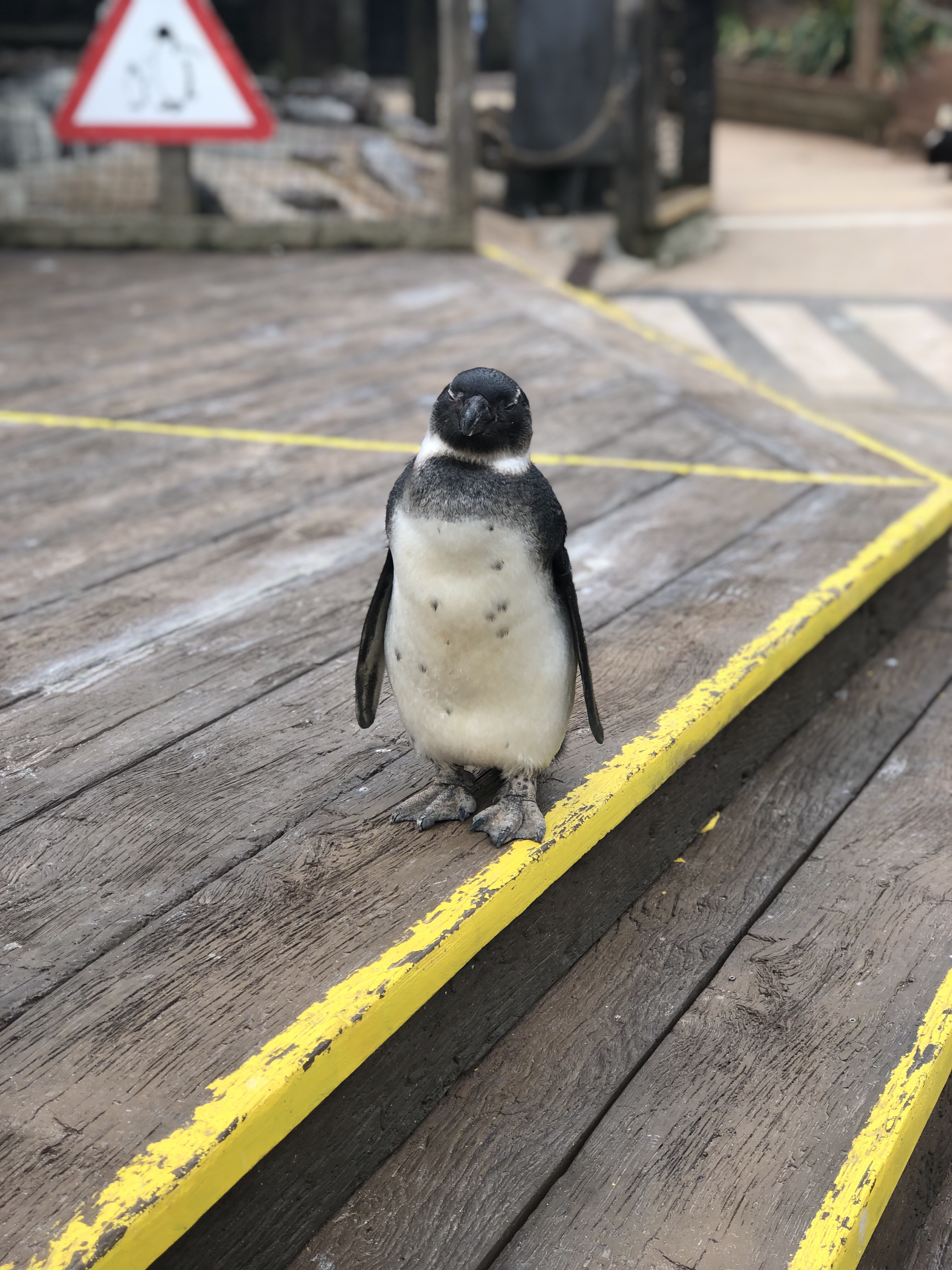 We went back and because storm Hannah was expected the entire attraction probably had about twenty guests including us, so we pretty much had the place to ourselves. It's hard to describe this experience as around every corner is a new surprise.
As soon as you get past the entrance the route takes you along a winding underground path, past a huge window behind which there are puffins diving which is delightful to watch. It's quite overwhelming to see this first of all as it's so unexpected so it's great to take the time to watch these birds enjoy themselves.
The bulk of the attraction is outdoors, you follow the route up to the coastal surface, and you're in an environment created to not only protect the animals inside but also give you amazing views across the coastline. This is very exposed to the elements but we were happy wrapped up in layers and obviously the penguins were even happier. We happened to arrive just in time for their feeding time.
The staff arrived with huge buckets of fish and delivered an excellent talk, describing the unique personalities of some of the penguins and pointing out differences between some of the species. We met a penguin as old as me in her thirties – I didn't know they could live this long!
As the talk drew to a close we walked through to meet the puffins again, this time above the surface and what a contrast to the view we had from underground. Lots of different species of birds live here, all seem to be thriving in this environment. Such a clever way to have built these attractions to showcase these animals, and give them the platform they all deserve to be appreciated.
The winding path took us along to see otters splashing about enjoying the blustery weather, with views again from above and underground and then we spotted a huge furry seal basking and another seal bobbing up and down in the water pool.
As arlo had already been around the venue earlier, he quickly ran around and hurriedly took me back underground to show me one of the best things I've seen.
The seal pool underground has a huge viewing bubble so you can sit inside this space and feel as though you're in the water and watch these beautiful creatures perform a gymnastics display in the water. We sat for half an hour watching and interacting with them as they liked to play. Seals are certainly one of Arlo's favourite animals after having the opportunity to meet some at the Sea Life Centre in Birmingham recently too.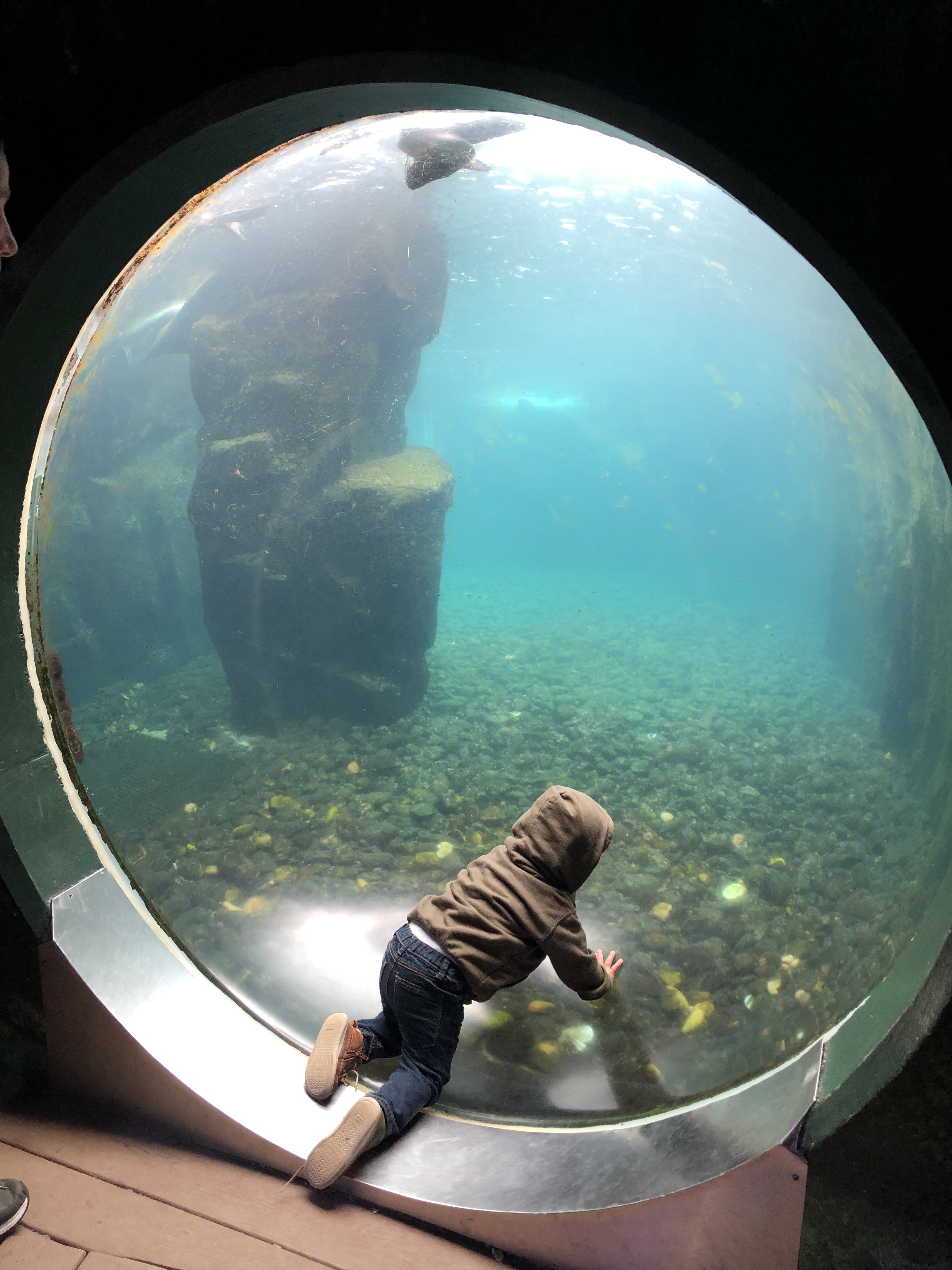 The aquariums were also in this section, it's magical watching sea horses and all of the different fish – Arlo's favourite was a huge tank which you could crawl underneath. Sporadically it released a rush of water which is obviously good for the fish but made him giggle too.
Around another corner we came across an underwater view of the seals diving and zooming around, which again we spent a lot of time watching. In amongst all of the animal displays there's some fabulous interactive things to play with – sand pits, rock climbing walls and a colouring in station – lots of different things for Arlo to get involved with, and which older kids would also enjoy.
There's a fabulous art work exhibition made from material found on the beach with a clear focus on the environmental issues facing the planet at the moment – it's a strong but important message delivered throughout and I feel as though everyone visiting will be impacted by this.
After having the opportunity to encounter animals such as this and interact so closely it's impossible to leave without thinking about how we can make some changes too. We really enjoyed our time here. If you're visiting Torquay then you can combine a ticket at Living Coasts with Paignton Zoo and you can also validate your tickets for re-entry for up to seven days.
Click Here to read about our experience at the zoo