Arlo is animal obsessed and his fascination with animals goes beyond the normal animals you'd expect a five year old to like. He would talk to you for hours about Duck Billed Platypus if you let him! So given the opportunity to review a new TV show featuring one of his favourite animals was an opportunity we couldn't miss.
We were sent out some information about the show alongside some awesome new Smiggle merchandise. I have to say that as soon as Arlo saw the backpack, without having ever seen the show he was excited. He pulled open the packaging and loved opening the zips of the backpack and wanted to immediately pack stuff in the bag to go for an adventure. When he realised we also had a lunch bag and pencil case I thought he might explode. Then when I played the First TV episode he stopped in his tracks and pulled up a chair.
When it comes to screen time I am an advocate for giving kids a little bit of appropriate time to engage with technology but I do like to keep a close eye on what's being absorbed and this show is just an sheer joy and wholesome fun. I found myself pausing to sit down and watch too.
"Dive into the wonderful world of Kangaroo Beach – the super-cute, preschool series that follows the adventures of four young animal
friends, sharing an action-packed summer of surf, sand and sun. Every day on Kangaroo Beach is filled with action-packed fun, offering
kids an exciting mix of edge-of-your-seat rescues and a loveable cast of characters."
Arlo is a huge fan of the beach and water. He's certainly got a lot more confident lately and has moved up three levels in the last year at his swimming lessons. When it comes to summer and we spend more time in the pool for leisure and so the water safety measures which are reinforced in the show have been very useful indeed.
"Join Joey Pounce, Gemma the Platypus, Neville the Wombat and Frizzy the Koala, as they train
to become junior cadets with their lifeguarding heroes – Bondi, Sandy and Big Trev.
Kangaroo Beach is designed to be not only hugely entertaining but also educational, with important messaging around water safety. The hope is that young children will be inspired to think first and inform themselves before they hop into the water – and once they do jump in, to have the time of their lives!"
Kangaroo Beach Gemma Junior Character Backpack £32
The new Smiggle backpack is now our swimming gear bag and one thing which I love about this is that it has two large main pockets so I can pop in quite a lot of "stuff" – there's plenty of space for suncream and goggles and dive sticks etc. as well as a towel. It's got lovely comfy padded straps and features a three dimensional duck bill which really stands out from the crowd.

Pack your mini-marine biologist gear and get set to explore the ocean with this sea-riously cute backpack. It's packed with features young cadets are 'shore' to
love: 2 spacious compartments, dual drink bottle sleeves, tri-colour strap detailing, applique flippers and 3D bill! Perfect for sea and land adventures.
Kangaroo Beach Double Decker Lunchbox £21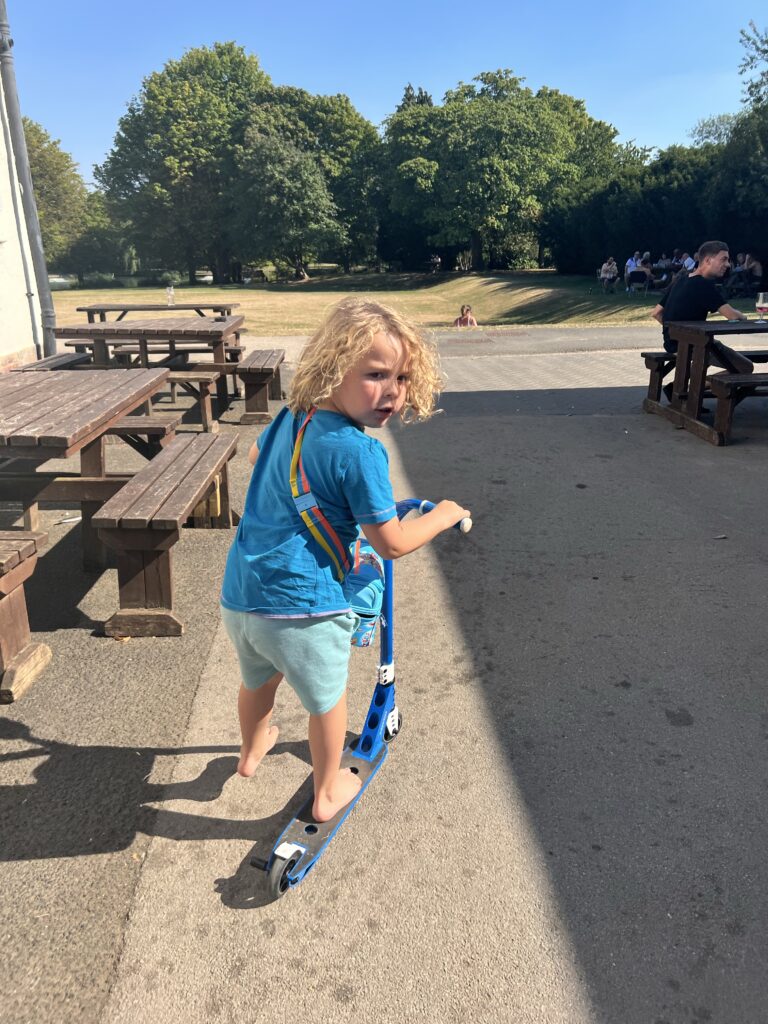 Of course being in Birmingham we don't get many 'real' beach days but we do have a local park hosting a faux beach which is a giant sandpit … and this is THE place to be for five year olds in Brum. We organise to meet our friends in the park for a picnic on a regular basis and Arlo likes to pack his own snacks. The Smiggle lunch bag is his new fave accessory – mainly because he can carry it and scoot along at the same time thanks to the strap. this is our star item from the range!
Make waves at lunchtime with this lunchbox, which features two tiers of storage to stash away on and off duty snacks separately. Insulated lining helps to keep lunch cool even in the blazing beach sun, and check out the ultra-fun design details including beach ball zips, embossed waves and tri-colour strap.
I like it because it's got spacious compartments – Arlo is a snack monster after all and it's padded like the rucksack so it offers insulation which keeps food cool. One thing I've noticed is Arlo likes to slip in little toys in to one of the compartments because he thinks it's a secret I don't yet know about.
Kangaroo Beach Character Pencil Case £12.50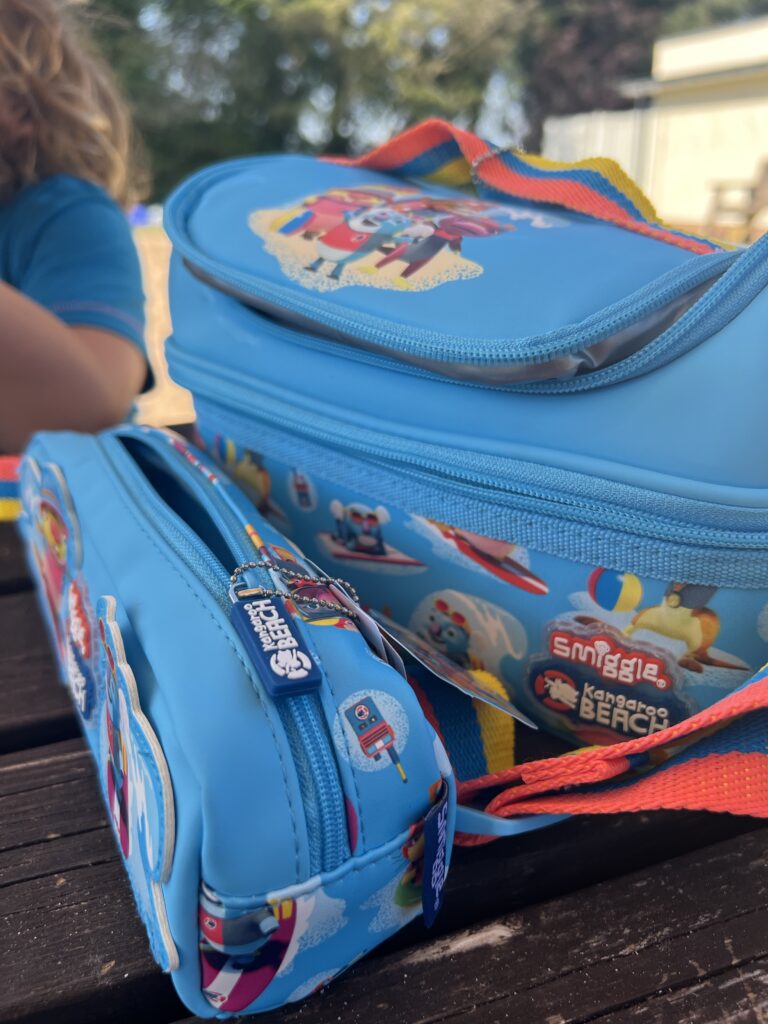 "Surfs up with this stationery favourite! This pencil case features sea-rously fun character details of all the cadets, plus a tri-colour carry handle, embossed waves and a handy ID card pocket! Perfect for stashing away stationery faves for any on-the-go adventure."
We also got sent a matching pencil case. If you follow our Instagram page you'll know we carry around a sketch book and coloured pens everywhere. It's a really easy way to keep Arlo amused if we need to sit still in a restaurant or in a queue. I usually grab a handful of pens and end up rummaging around in the bottom of my bag – the lids fall of the felt tips and leak inside my bag but now Arlo has this little pencil case he's started to take great care with his pens and look after them Himself.
One feature I noticed across all of the items is how easy the items were for little hands to manipulate. Zips can be a tricky one, and Arlo has struggled with how fiddly some are – this range has lovely bright rubber tags attached which really help matters and is great when you have a child as independent as Arlo.
I'm really impressed with Smiggle. I have to say that the price points at first made me wonder if they would represent good value and it's one place I have avoided for this reason as I knew arlo would want everything in the stores. I'm happy to say that I think the quality is there and I can now understand why they are so popular, especially as it's secured the licensing for some great brands like Kangaroo Beach. We'll be visiting our local branch to add more accessories to our collection – the hooded towel is top of my list!
The show can be watched daily on Milkshake at 7.35am.