I was given products free of charge to review on Instagram.
It's been a challenge trying to get hold of flour to make my own dough during this lockdown – and to be honest once I've added in food colouring and other ingredients it all adds up, which is why I was delighted when I was asked to review some "play stuff" which is currently available to order from Amazon.
I love using this kind of toy with Arlo, I think it's really great to develop manual dexterity and enhance those all important fine motor skills.
We received two sets in the post, each of which comes in really unusual packaging. The box has a small yellow clip which once released drops down the two sides to make a little play surface.
Both kits were designed in the same way, with hidden images within the bright illustrations. The Pizza and pasta set had lots of little peas to find and the picnic set had lots of creepy crawlies.
This helped inspire play – we opened up the picnic set first. The dough and tools are neatly stored away in the middle section. I was pleasantly surprised with how bright each colour was and also with the scent of the dough as it wasn't over-powering at all.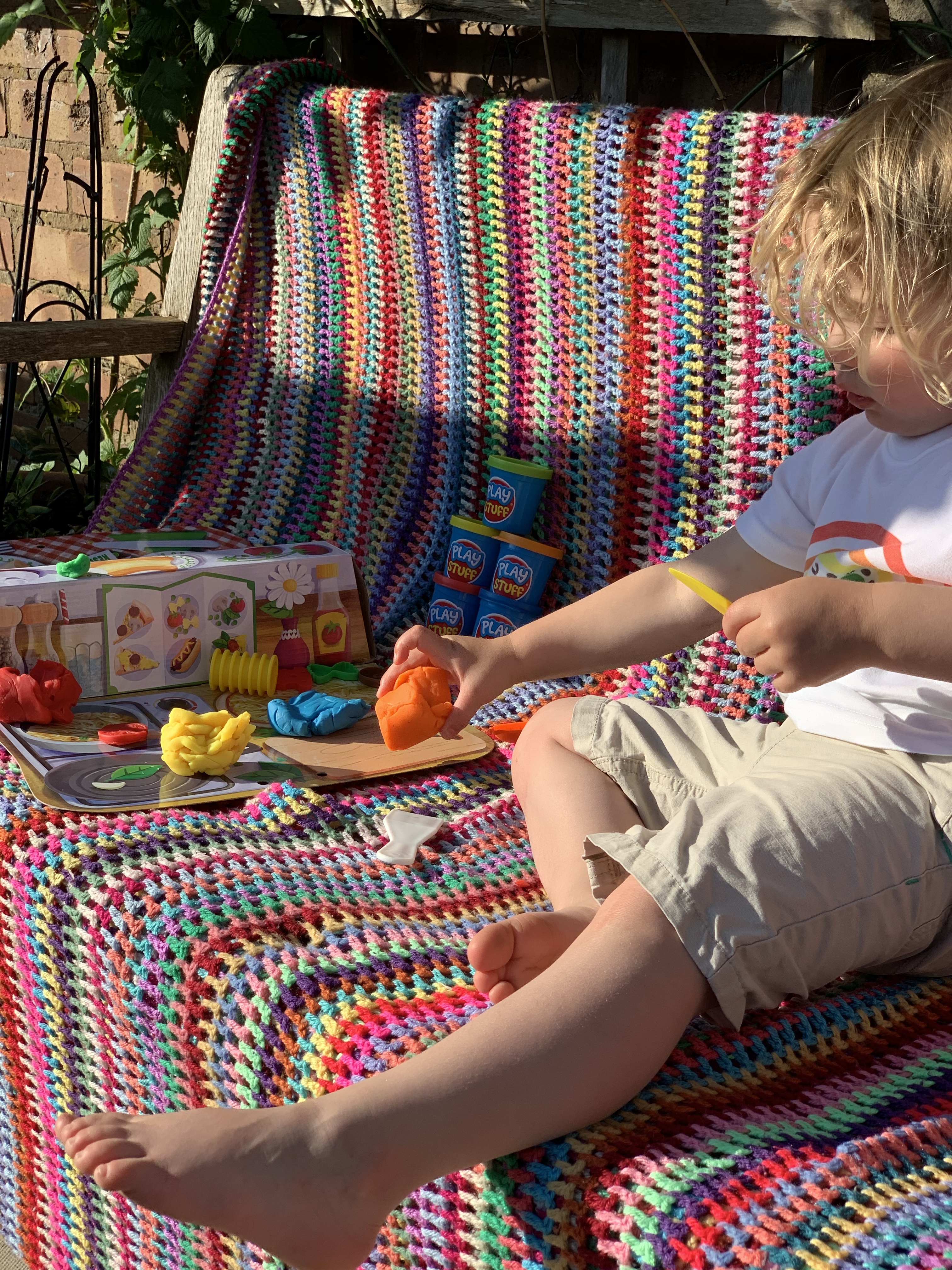 Both kits contained the same five colours but had their own unique tools and moulds relevant to the theme of the play mat – having the illustrations and themes helped us be more exciting than usual – I've never made cheese and salad from dough before!
We spent a while playing with both sets and the texture of the dough itself was firm but extremely malleable. We found that if small pieces touched it was easy to separate the colours, but also when working together some blue and red we were able to make a lovely purple.
Arlo got stuck in and was sitting on a handmade crochet blanket but there was no residue left behind or any colour transfer of the products to his clothing. We played for over an hour and the dough didn't dry out or change in texture. We really enjoyed these sets.
Arlo was also very happy to help put all the stuff back – choosing the right coloured lids for the dough and then popping them all back in the centre storage space before closing up the sides. I helped him snap the clip back on and he made sure to pick up the set and run to put it away too.