Let's start this off right now and say that I don't consider myself to be an "influencer" – at least, I don't really see myself fitting in with the likes of the jet set Kardashians or the reality tv stars. I'm not even within the clique of U.K. mum blogger elites. I'm just me and trying to be true to myself.
When did I join social media?
I have always been addicted to social media. It started back at Uni when I was introduced to linked in and I suddenly found myself able to stay connected to some of my friends from school and college even though I was hundreds of miles away from home. This was back in the day when you chose your eight my space friends and had a theme song for your page (blondie – Heart of glass is the soundtrack to my life!). I also used to take a digital camera out to clubs and then painstakingly upload grainy low res pictures to my profile. Even before this I had MSN messenger as a teen in school but then one evening Facebook was introduced to me by one of my dorm mates and life changed.
The dawn of a new age
My first few years of Facebook consisted of constantly changing profile pictures and quoting very obscure song lyrics. Not to mention random status updates in the middle of the night when I was under the influence. It makes me cringe just thinking about it. My number of Facebook friends grew as I would add every person I had a social interaction with, and also began to add people I vaguely recognised as Facebook suggested them.
The dawn of the iPhone and Instagram
I was fairly late to the party when it came to smart phones. I was a social butterfly and constantly losing or breaking phones on nights out…. I was still "pay as you go" until I was 25 but I took the plunge, got myself a smart phone on a contract as I was convinced to try and keep up with the younger people I worked with and then I also found myself on Instagram too. From this point onwards pretty much my whole life was plastered across social media. Selfies, first dates, meals and every new pair of shoes I've had since then. The content I used to share is almost embarrassing.
How becoming a mother changed my social life
Until 2016 I was still galavanting all over the place, to festivals in Europe and holidays abroad. I would think nothing of packing a bag to visit friends in another city and sharing my adventures with the world. My job included a lot of travel so I would log on and write reviews of hotels and restaurants and became a top reviewer on trip advisor. I also at the same time managed to used social media to connect with people who shared similar interests, fans of clothing brands I liked and sports I enjoyed such as mud running, of political debates where I could argue about trivial matters with people as opinionated as myself and groups to discuss the plots in cult classic tv shows. It shifted from using public statuses to conversing in private groups. Then I became pregnant and discovered mum forums.
Everything changed
My pregnancy was a nightmare from start to finish and that's a different story entirely. I became reliant on social media for all of my interactions because I couldn't participate in any of my usual hobbies, and being a first time mum raised so many questions I found Google to be an extremely stressful experience. At this point in time I lived 200 miles away from my home city and barely knew any parents and so I joined in with all sorts of mum and baby groups online and gosh it's a crazy little world. To be honest I now suggest that most of my expectant friends avoid these kinds of online forums as they can be toxic environments.
Life as a new mum
I found myself with a new baby and home alone most days. Quite luckily I managed to make some local friends with due dates around the same time on an online forum and arranged to meet up with some of the friendlier women and we became quite close friends "in real life" whilst on maternity leave. In fact we used to meet up a few times a week just for the company. At the same time nothing really prepares you for motherhood, you find yourself looking for answers to the most trivial things and you also want to share every single milestone your baby achieves, and quite quickly you find people start to unfollow you or delete you as a friend because they aren't interested. I'm okay with that now but at the time it felt harsh.
Child modelling for beginners
As it turned out, Arlo got an opportunity as a new born baby to do a filming project with the BBC – this was through social media as a friend shared a status with a casting call for newborns and so I found myself accompanying my child on location filming for the first three months of his life. It was a bit of a whirlwind experience, nowhere near as glamorous as you think but I was encouraged to find him an agent, and set him up his own Instagram page. There began my journey.
Foodstagram
By the time Arlo was six months his Instagram page was in full flow and I hadn't even discovered hashtags. Then suddenly I began weaning and a whole new world opened up. Our first little planned "content" project was a weaning advent calendar – I gave him a new food to try every day throughout the month of December and suddenly people began to share my posts and contact me for advice. I would prepare food to take along to real life mum meets and nothing was a set up for the camera and so I think people appreciated the real content. Looking back if I could do this project again I would have included so much more information and support for parents looking for advice.
Working with brands
I found myself invited to group chats for networking with other mum bloggers and I quickly discovered that people were using their Instagram accounts to earn money. I listened, I learnt and I figured that this was something I could also do, albeit having returned to work full time after maternity leave I found myself pushed for time and unable to implement and strategies. The main thing being creating quality content on a regular basis. To do this in any professional format you need to update your followers regularly or risk losing them. At the beginning of 2020 I decided to really focus on my blog. Being stuck at home I made a real effort to create engaging content, focusing on sharing our activities which staved off the boredom during lockdown. At some point I felt confident enough that I had something to offer brands
Creating the perfect picture
I took pictures all day long, experimenting with light, camera angles, editing software and just trying to work with all manner of products – I also worked on my Instagram captions and some of my play idea posts went viral where other posts were featured in the local press. Posts I shared could reach thousands of people who seemed to like what I was talking about and I realised that I could approach brands with my statistics and work with them.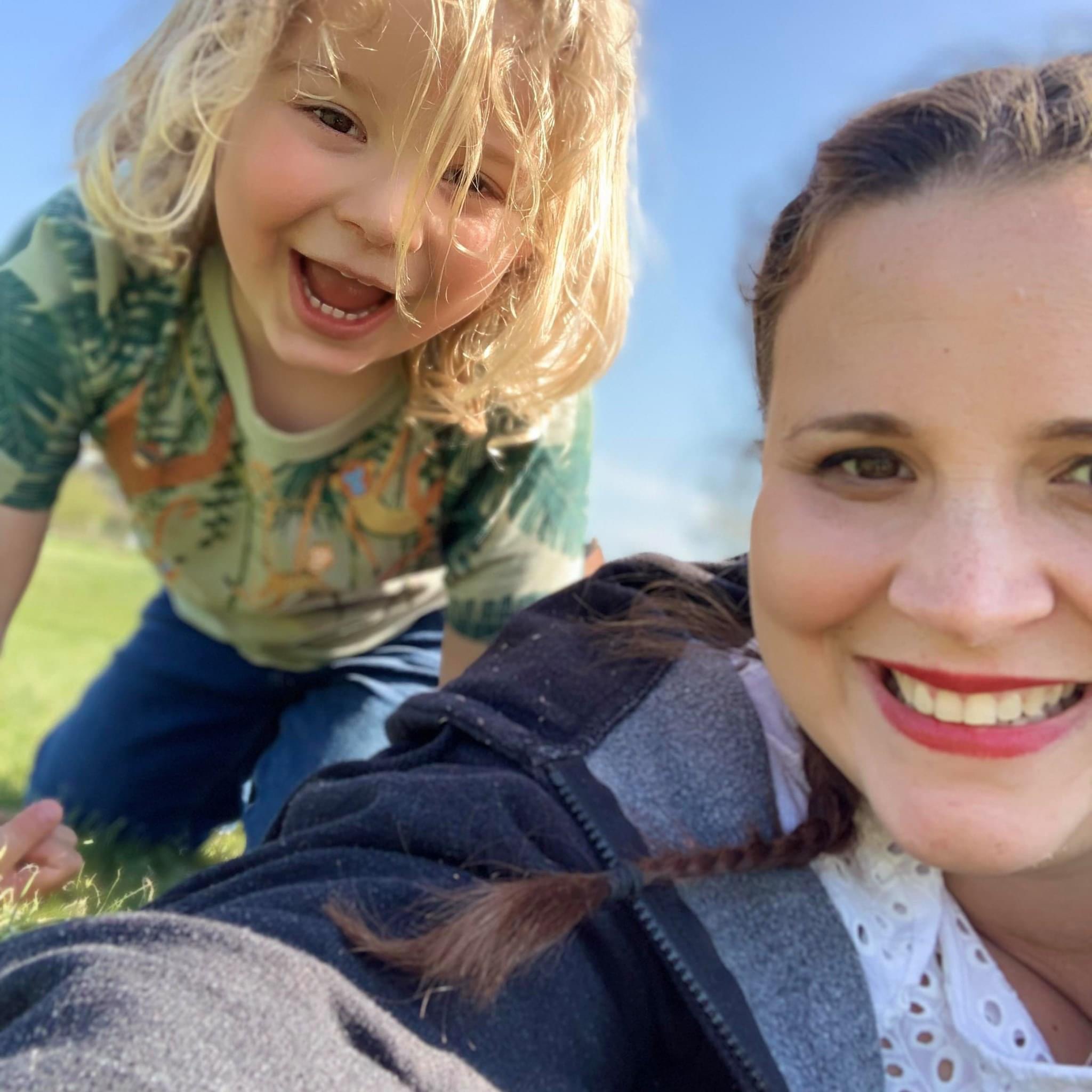 Give to receive
Brands will often include PR campaigns as part of their marketing budget and send out product samples to people for the purposes of review. There is the expectation that you will share your experience with your audience and this was my first venture in to working with brands and so I approached several companies myself to ask about their marketing plans. Mainly brands which I knew had worked with others and did have an ongoing campaign. Brands which I had already experienced for myself and was confident I would enjoy sharing with my followers.
Getting paid
At some stage I discovered PR companies and platforms which link brands to content creators for bigger campaigns. These kind of projects have budgets to offer people like me financial reimbursement for the content which is created. I must have applied and pitched for hundreds of opportunities and eventually got myself accepted for my first. This was a huge confidence boost. With every campaign I learnt more and more, and realised that I significantly undervalued myself at first.
The bad bits
Of course getting paid to post pictures or write blogs when you're getting "free stuff" sounds cushty but there's a constant pressure to do well. It's impossible to avoid checking how many likes and views you get on posts which are paid for by brands. I always declare #ad and it feels like as soon as you do this the Instagram algorithm hides your posts, and many peers agree – although that could just be a sheer coincidence. It's also becoming more and more challenging to distinguish yourself. Brands run campaigns with plans to work with many other bloggers and so separating yourself from the crowd, creating original content and being true to yourself is hard work. Sometimes I have a day or two when I put my phone in to airplane mode and ignore the notifications. Other days I sit down and contact as many PR companies and brands to pitch myself and apply for work.
The good bits
We have had an amazing year. Sometimes people ask me if I do things "just for Instagram" and yes of course I arrange food nicely for a picture and take snaps on days out, but I used to do that anyway. Of course I've always had a financial budget and often had to make decisions on days out based on my bank balance so it's wonderful to get to head out on PR trips and give Arlo the opportunity to play with new toys and books. I also have managed to make some amazing friends through social media, I have a supportive network where we share opportunities and offer advice – sometimes it's great to get an opinion on which picture is best for a brand or get the heads up that a new campaign is launching that's worth applying for.
The worst bits
Everyone has an opinion. Lots of people associate the influencing world with negativity. Inauthentic reviews from minor celebrities who haven't tried the products out at all, or who use filters to exaggerate the effects of make up. Lots of consumers make assumptions that you will say good things because you're getting paid to but that's not the case at all. I pride myself on being honest and when I've had a negative experience I contact the brand first of all to discuss this, give them the opportunity to make amendments – just like you would ask a waitress to change your meal if it wasn't right at a restaurant. Often these issues can be rectified simply, but if not then I have sent products back and chosen not to promote them.
The other side is the competitiveness. I'm of the strong opinion that there's enough space on social media for everyone. Brands often want to work with several people to share their campaign and so there's often many influencers in the same "niche" sharing similar content. I try not to compare myself to others, I barely have the chance to speak to all of my followers and reply to comments and messages let alone check what others are up to but there are some people who really do get stressed about this. I feel confident that I can offer something different and unique and I'm happy to support others in their endeavours too.
The other thing I really don't appreciate is the accusations of photoshop. I might sometimes edit a picture to remove other people from the background or brighten up the exposure but I don't photoshop anything, and last year I was accused of editing a bubble in to a picture of Arlo which I shared on the grid. I loved the picture which was a natural capture, Arlo was sat blowing bubbles on a chair whilst we were tidying up from an alfresco meal and was making them quite big. When I had that feedback I realised that people must be thinking that a lot of my images are edited and I felt that made me look like I was lacking in integrity. I'd never really given it a second thought before, I'm not one to worry about what others think. Luckily on this day I had taken videos too which I shared to my stories and now I like to try and capture raw video content just as much as I enjoy taking pictures.
What's in a name
The final pause for thought is about my blog name – changing the name of my Instagram page happened after a big online debate about consent and children's identity on the internet. Arlo didn't ask to be put on social media, and for now he seems to enjoy everything it entails however I made the decision to change my Instagram name from his name to something new and feature him less (and me more) on my grid. I changed my name to "the amazing adventures of me" referencing myself, rather than Arlo and turning a negative in to a positive (which is what I do) this created more opportunities for me. I'm not typecast in to the "mum blogger" niche and can write about anything I get up to and with my wide range of hobbies that gives me so much more to share as I'm not just a mum and so we have come full circle, and this influencer malarkey has actually helped me reintroduce my own identity after becoming a mother.
I've found the confidence in myself and after a year sharing my baking and craft projects I have decided to head back to university to become a Design and Technology teacher. Friends I made on social media helped me with my application and interview tasks and the support has been incredible. The work that I do through social media and my blog is helping me to support myself financially through this transition period and I'm enjoying every second. This summer I will be making the most of my time off and taking opportunity to write a selection of guides to help others and contribute to the blogging and influencing community.