This is a sponsored product post – featuring projects made from resources on Design Bundles
Christmas this year is going to be a little different. We all know that and talking about lockdown is not something I want to do. Instead I'm keeping myself busy at home with Christmas crafts until the big guy (my best mate Santa) comes to visit.
(Our snowmen decals have been created using snowman SVG files from design bundles )
As you all know there's always a project on the go in our house, but now more than ever crafting has become super important. It's a great way to pass the time. We dedicate a whole day to decorating gingerbread houses every year – each child gets their own house and a selection of sweets inside a personalised fillable bauble.
Arlo will happily get involved with Christmas themed projects and all the time he is exploring, learning and expressing himself creatively. There's so many Christmas craft projects for children to get involved with, all you have to do is think outside the box.
This Toddler Christmas apron is just perfect for Arlo to get involved in festive baking. I love how SVG files are so versatile when using vinyl.
I also like using SVG files for paper crafts – cutting out these house on my cameo from white card stock using a design bundles template took seconds. The ideas continue to buzz around and so these paper cut houses became the inspiration for our first Christmas window.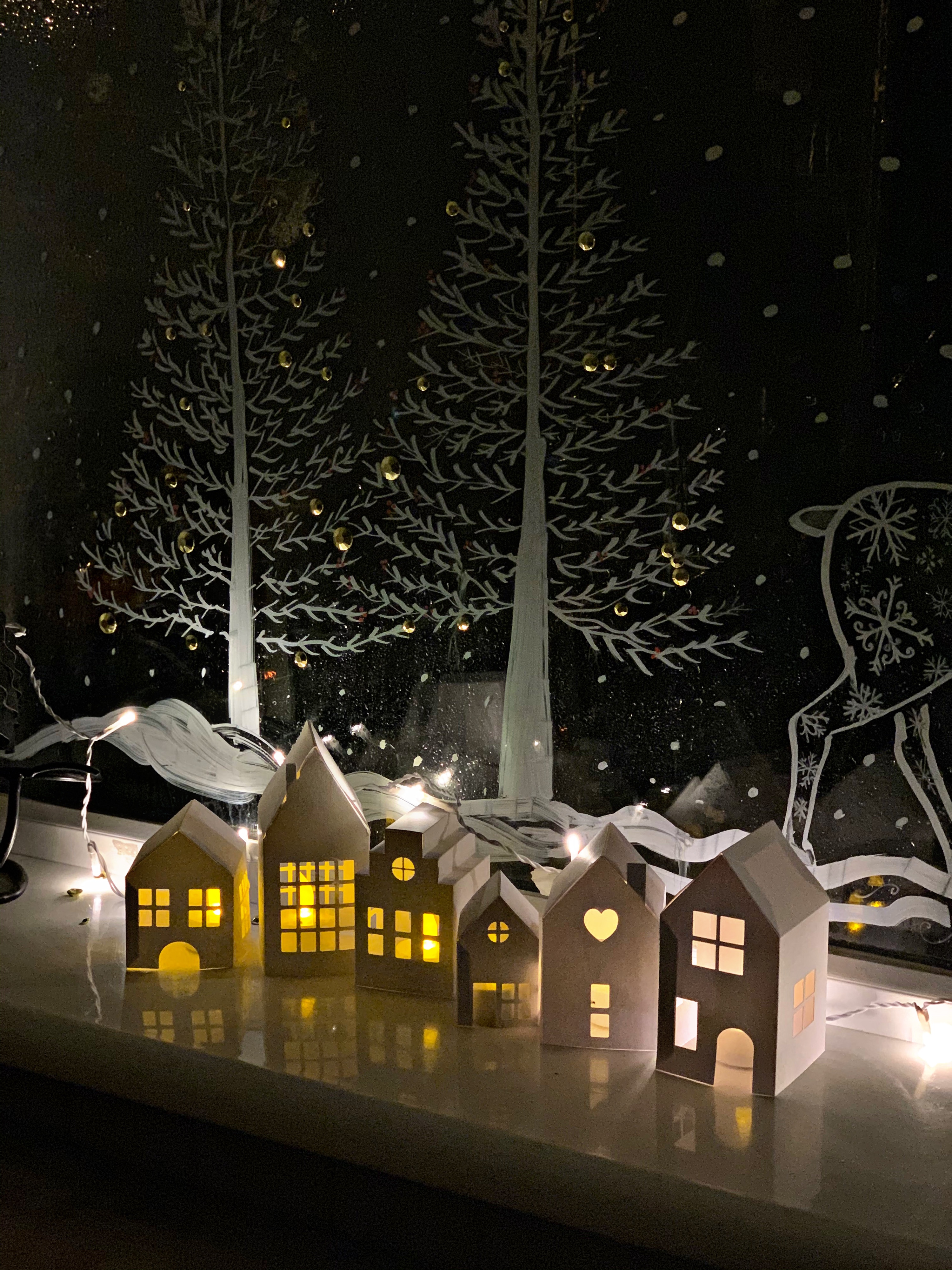 Paper craft hygge houses – I added battery powered candles to these and they glow beautifully on our window sill. We make a huge deal out of our themes and love to create displays within our home, these are talking points for us, and our Christmas tree this year is going to be full of our craft projects.
If we're going to be staying home it's going to be as cosy as possible on these cold winter evenings. There isn't a corner of our house which won't be touched by Christmas.
Hot chocolate station – the sign was cut from vinyl and applied to the glass of the frame directly with a contrasting green felt inside the frame for texture. I used the snowflakes from the same SVG file to add an extra touches to my jars and this is now our favourite place in the house.
Ever since we participated in "chase the rainbow" passers by have looked at our constantly changing window displays. We hope our Christmas window will brighten up the dullest of days for our neighbours.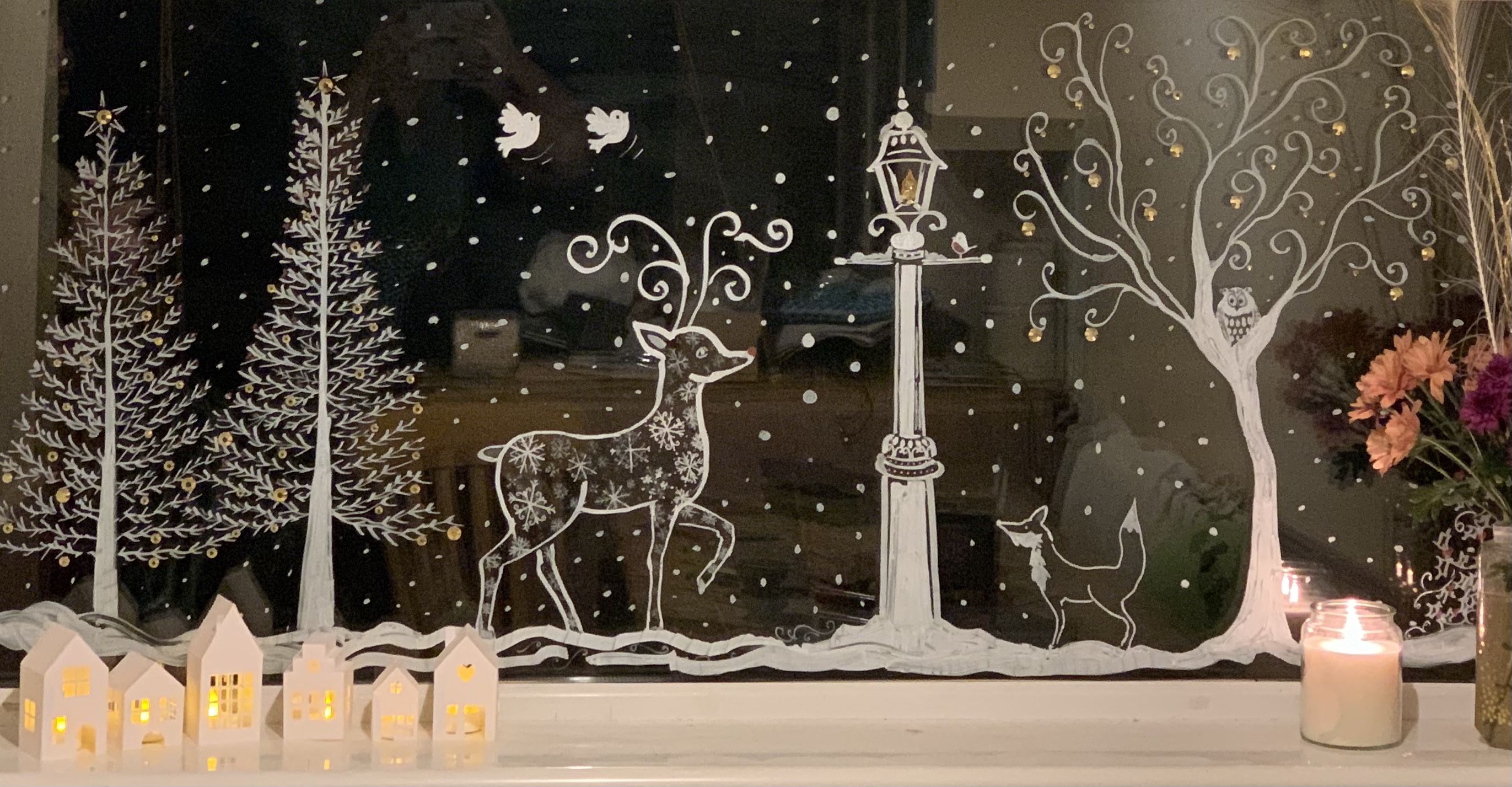 We are also using our craft projects to keep in touch with our family. We're always sending each other ideas, usually it's a team effort and we all contribute. We like to share our ongoing projects with each other and get very competitive, but it's also such a pleasure to be able to give someone a home made present.
Personalised Santa Sacks – Now more than ever when we are separated from our loved ones, little things like this really do help to spread joy and invoke the magic of Christmas. These Santa sacks are perfect to make for awkwardly shaped gifts and with vinyl applied to fabric these are long lasting so can be bought out year after year.
The reindeer log slice decorations were created using an SVG from design bundles
I bought these log slices for crafts ages ago and finally I've found a project for them. All of the projects pictured in this sponsored blog post have been created using resources from design bundles. Check out Santa hat SVG files for a bit of festive inspo.
I'll be writing up step by step instructions for each project I've featured and sharing this with you across the socials over the next few days.
As we count down through December keep an eye out for more of our Christmas themed arts and craft projects and listen out for the sleigh bells too!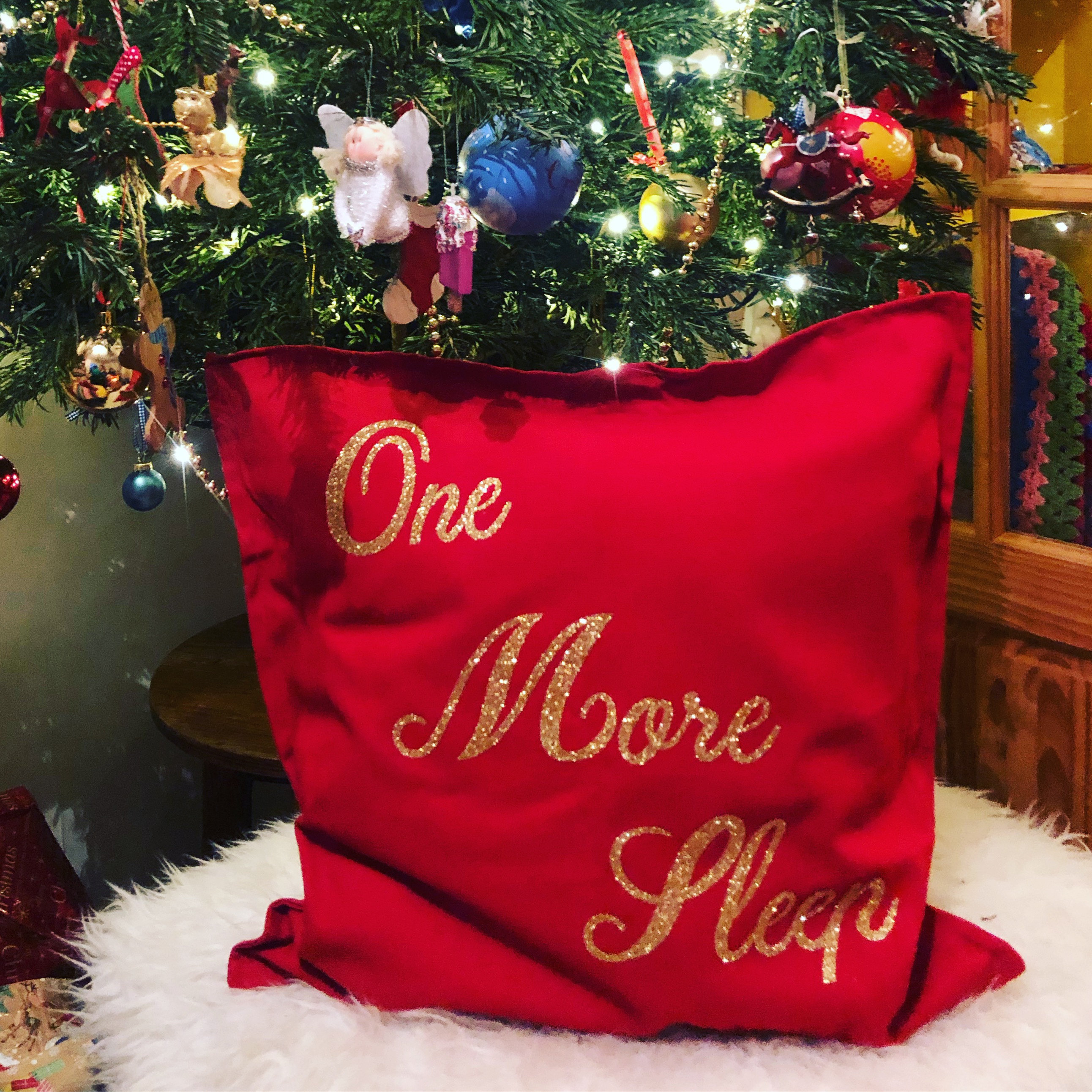 Let the countdown to Christmas commence!